News
Top Prospect Alek Thomas Promoted by Arizona Diamondbacks
Just Baseball's No. 27 prospect becomes the third from our top 100 to graduate this weekend.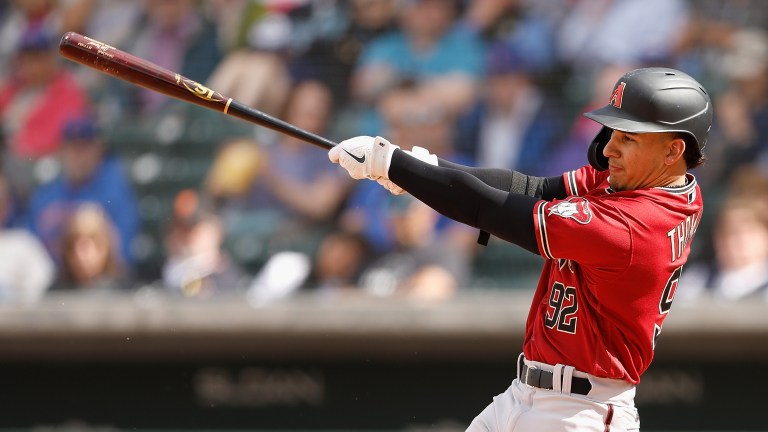 It has been a busy weekend full of prospect graduations in Major League Baseball. First, it was the Minnesota Twins promoting Royce Lewis to replace Carlos Correa at shortstop. Next, it was the Mariners announcing that top pitching prospect George Kirby would take the ball for his first start Sunday. Last night, Marlins prospect Joe Dunand hit a home run in first career MLB at-bat.
Now we have another young player set to make his MLB debut, as Diamondbacks outfielder Alek Thomas is getting the call to the show.
The 22-year-old was drafted by Arizona in the second round of the 2018 MLB Draft out of Mount Carmel High School in Chicago, Illinois. Thomas has done nothing but rake throughout his entire minor league career. Across 300 games played, Thomas has hit .309/.386/.495.
In 2021, Thomas hit 59 extra-base hits in 109 games played between Double-A and Triple-A. The sweet-swinging lefty really mashed once promoted to Triple-A, where he hit .369/.434/.658, with a 168 wRC+ in 34 games played. Thomas played 24 games at Triple-A to start this season and is now heading up to the show to join the Diamondbacks.
Scouting Report
Alek Thomas is one of the top prospects in the Diamondbacks organization, with the chance to be an impact player in their outfield for years to come. Thomas checked in at No. 27 in our latest top 100 prospect list. Here is the scouting report on Thomas from Aram Leighton.
27. Alek Thomas – OF – Arizona Diamondbacks
Age: 22 | Height/Weight: 5'11, 210 | Bat/Throw: L/R | 2nd Round (63), 2018 (ARI) | ETA: 2022
| | | | | | |
| --- | --- | --- | --- | --- | --- |
| HIT | RAW POWER | GAME POWER | RUN | FIELD | FV |
| 60/60 | 55/55 | 40/50 | 60/60 | 50/55 | 55 |
Thomas has as well-rounded of a game as you're going to find in the minor leagues. Above average tools across the board and phenomenal instincts make Thomas one of the highest-floor prospects out there but still possessing plenty of upside.
2021 Stats (AA/AAA): .313/.394/.559, 18 HR, 49 XBH, 146 wRC+, 20 K%, 10.5 BB%
Offense
Thomas has a lot of moving parts in his swing, but repeats them with ease and shows off elite barrel control thanks to his impressive athleticism. Body control is Thomas' best asset; he is rarely fooled and can still put good "B" swings on tough pitches. Thomas is sneaky strong and has surprising raw pop for his frame as well. A smart hitter who uses the whole field well, Thomas will make adjustments between at bats and even pitches making it hard to poke a hole in his approach. Thomas is a plus hit-tool guy who continues to get better each time I see him.
Defense/Speed
A good portion of Thomas' value will come from what he does in the field and on the bases, and he projects to be above average in both facets of the game. He's a 'gamer', he's always hustling and plays the game extremely hard. He gets out of the box well and his speed translates to center field, where he gets great reads and uses his above average speed effectively. His arm is comfortably below average, which puts added pressure on both his outfield reads and his ability in the box.
Outlook
Though he doesn't possess big tools, Thomas' hard-nosed approach to the game bodes well for his future as a big leaguer. There's some Ender Inciarte to his game, and he has the potential to be an even better hitter. As he continues to develop as a hitter, an increase in line drives is necessary to reach his full potential as an average Major League center fielder.