News
Minnesota Twins Call Up Former Top Pick Royce Lewis
With Carlos Correa heading to the IL with a fractured finger, the Twins are calling up top prospect Royce Lewis to take his place at shortstop.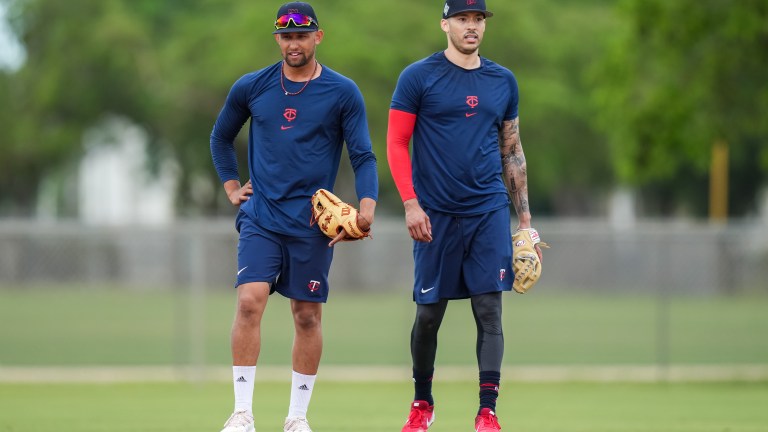 The Minnesota Twins were dealt a terrible blow today, as shortstop Carlos Correa is heading to the IL with a fractured finger. In his place, the Twins are looking for a spark in the form of one of their top prospects, Royce Lewis.
The Twins selected Lewis with the first overall pick of the 2017 MLB Draft out of JSerra Catholic High School. Lewis is an interesting prospect, who has been out of sight out of mind for some time around baseball circles.
Lewis put together a great Arizona Fall League performance back in 2019, hitting .353/.411/.565, with three home runs and nine doubles in 22 AFL games. Then, like most prospects, he missed the 2020 season of development due to COVID shutting down the minor league season. Lewis could have had a big year in 2021, but he tore his ACL in February and missed the entire season.
Now finally back on the field, Lewis has gotten off to a fast start in Triple-A, hitting .310/.430/.563, with 17 extra-base hits and a 166 wRC+ in 24 games. The 22-year-old will get his first opportunity at the big league level to show why he was the top overall pick in the draft five years ago.
Scouting Report
Lewis checked in at No. 7 in our list of the top 10 prospects in the Minnesota Twins farm system. He also made our top 100 list, coming in at No. 82.
Here is Aram Leighton's prospect breakdown of Lewis from the top 100.
82. Royce Lewis – SS – Minnesota Twins
Age: 22 | Height/Weight: 6'2, 210 | Bat/Throw: R/R | 1st Round (1), 2017 (MIN) | ETA: 2022
| | | | | | |
| --- | --- | --- | --- | --- | --- |
| HIT | RAW POWER | GAME POWER | RUN | FIELD | FV/RISK |
| 35/50 | 55/60 | 40/55 | 60/60 | 40/50 | 55 (Extreme) |
After not being seen in a game setting since 2019 due to injuries and 2020's MiLB season cancellation, Lewis looks healthy and much improved at the plate in 2022.
DNP in 2021 (Torn ACL)
Offense
When the Twins drafted him first overall in the 2017 MLB Draft, they saw an uber-athletic position player with a high-floor coupled with a high-ceiling. Unfortunately, things have not gone to plan for either Lewis or the Twins. After a rough 2019 Minor League season, Lewis broke out as the MVP of the Arizona Fall League. Just as things were looking up for the young prospect, an ACL tear abruptly ended Lewis' 2021 season before it began.
The good news for Lewis is that he doesn't turn 23 years old until mid-season and he is back healthy for 2022. There was some buzz around the backfields in Spring Training regarding how good Lewis looked, and the former top pick has made some extremely encouraging adjustments at the plate. Lewis eliminated his dramatic leg kick, which often threw his timing off as well as his balance. He now utilizes a toe tap to simplify things while letting his natural bat speed and athleticism produce the power.
A more under control Royce Lewis at the plate is a prospect who is worth getting excited about and aside from his MVP performance in the Arizona Fall League a few years back, Lewis has never looked better.
Defense/Speed
Lewis has shown he can handle shortstop throughout the Minor Leagues. His plus wheels and athleticism allow him to move around the field with ease and his plus arm strength only strengthens his defensive profile. Lewis could be a bit more consistent with his actions at times, but that will come with more reps…and we know he has lost out on plenty of those.
Even with the ACL tear in the rearview, Lewis can still fly and should steal bags at the highest level thanks to his ability to get to top speed relatively quickly. With more experience, Lewis will get better at picking the right spots to run, but he could easily be a 20-20 threat.
Outlook
Lewis has all the tools to be an impact big leaguer, and the adjustments he has made in the batter's box as well as just getting healthy have the hype train starting to fire up again for one of baseball's longest tenured top-100 prospects.
Possessing as much upside as anyone you are going to find in the back end of the top 100 list, Lewis has the ingredients to become an All-Star. The two H's: "health" and "hit-tool" (cheated with the second one) will be the key factors to whether Lewis can become the player everyone has long hoped he can be.