Analysis
Arizona Diamondbacks Offseason Outlook
With the ascension of many top prospects, the Arizona Diamondbacks rebuild is nearing an end as they open a window to contention.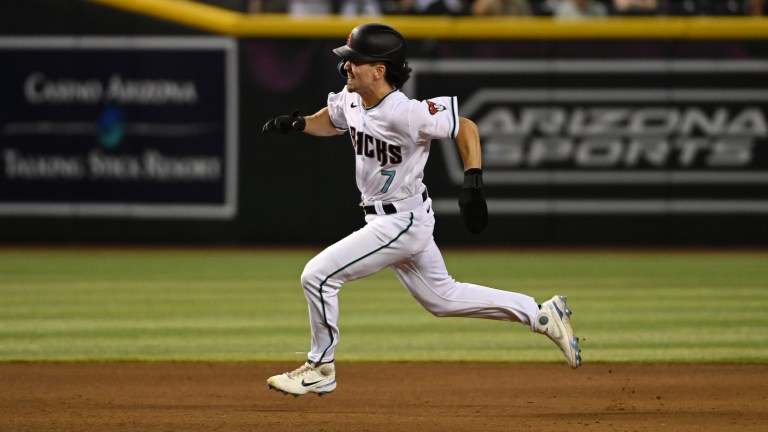 Despite earning a fourth place finish in the National League West and finishing below .500 for the third-straight season, the Diamondbacks show a lot of promise. Projected to win a mere 66 games in 2022, Arizona ended the year with 74 wins while playing in one of the more difficult divisions in baseball.
After showing flashes of excellence in limited time early in his career, Zac Gallen proved he's worthy of the title "Ace". Across 31 starts, Gallen posted a 2.54 ERA, 0.913 WHIP, and finished fifth in Cy Young voting. Diamondbacks fans saw the debut of their top prospects as Alek Thomas and Corbin Carroll gave the Arizona faithful a taste of what's to come.
Although trending in the right direction, the Diamondbacks are not currently constructed to compete with the loaded Dodgers and Padres rosters within their division. The good news? They are just starting to open their contention window and have plenty of talent, and youth, to build with and bring playoff baseball back to Chase Field.
The plan is to compete in 2023. Not sell the farm to chase a ring, but build on 2022 and steadily improve. A few moves need to be made in order to do so.
Address the Outfield Situation
Arizona kicked off the offseason by swapping Cooper Hummel for often injured Seattle outfielder Kyle Lewis. A low-risk, high-reward move that gives the Diamondbacks a righty outfield bat they desperately needed after moving on from Jordon Luplow. While injuries have stalled Lewis from reaching lofty expectations after winning the 2020 Rookie of the Year, it's the perfect type of risk to take. A 27-year-old under team control through 2026 with flashes of a plus bat.
Even if Lewis serves as the DH from time-to-time, the outfield is still crowded with lefty bats. Corbin Carroll, Alek Thomas, and Jake McCarthy, all rookies in 2022, showed they can be everyday players. Thomas looked elite in center with phenomenal instincts and top notch speed, but the bat will need to come around. McCarthy is one of the fastest players in the league and posted a 116 wRC+ in his first season. Carroll is a top-20 prospect in all of baseball.
If the Diamondbacks trade any of those three, it better be for a bona fide, established player. The more likely candidate would be catcher/outfielder Daulton Varsho. The 26-year-old ranked in the 99th percentile in Outs Above Average as an outfielder, while grading out well enough behind the plate to stick. Add his 27 home runs to the equation and you have a top-notch trade chip.
Flipping Varsho for pitching help just makes too much sense. The Diamondbacks could get someone in the #2 or #3 range to help solidify their rotation. Trading from an area of strength is never a bad idea. Hell, throw Pavin Smith in a trade for a bullpen arm while you're at it.
Let's say one of Thomas, McCarthy, or Carroll do not pan out. No problem. Druw Jones, the second overall pick in 2022, is in the pipeline as a replacement. The Diamondbacks #13 prospect, Dominic Fletcher, is also an outfielder and on the 40-man roster.
Add a Veteran Starter
The top three of Zac Gallen, Merrill Kelly, and Madison Bumgarner could be worse. Bumgarner is 33 and will hit free agency after next season. Kelly, 34, is under contract through 2024 with a $7 million option for 2025 making him a possible trade candidate at some point.
After the top three, the depth gets thin. I think many fans underappreciated the year Zach Davies had in 2022. While not spectacular, Davies posted a serviceable 4.09 ERA and 4.83 FIP while filling 27 starts. Finding a veteran would could fill the Davies role would allow Ryne Nelson, Tommy Henry, and other young options to fill a depth role in case of injuries.
A starting rotation of Gallen, pitcher acquired for Varsho, Kelly, Bumgarner, veteran signing would push this team past their 2022 win total. This move would also allow Arizona's top pitching prospect, Brandon Pfaadt, to start in the minors if he is not ready. The Diamondbacks could always look to trade this veteran if the younger options are knocking on the door.
Remember, you can't have too much pitching. Especially against the Padres and Dodgers.
Decide What Josh Rojas Will Be
I realize I am cheating a bit here. Deciding what Rojas will be is maybe more of an in-season move, but it could play into their offseason plans. Rojas, acquired in the Zack Greinke deal back in 2019, has played six positions since entering the league. He's played 103 games at third, 91 in the outfield, 90 at second, and 43 at short.
A career 3.5 bWAR player, Rojas posted a career high 3.2 bWAR in 2022 slashing .269/.349/.391 good for a 108 wRC+. A career 10.7% walk rate with a 22.7% strike out rate would grade Rojas as a solid player. But is a solid player the future at third? Or at second where Ketel Marte likely has to move to?
You do not see maybe every day third basemen posting nine home runs across 443 at-bats. The Diamondbacks tried Emmanuel Rivera at third and although he posted respectable numbers, I doubt there's much more to his ceiling. Prospects A.J. Vukovich and Deyvision De Los Santos have a chance to be the long-term answer, but both are a few years away.
So, is Josh Rojas an everyday third basemen or an elite utility guy?
I doubt they would pencil him in as an everyday shortstop as his defense there is lacking. To me, Rojas is an elite utility man on a great roster. Maybe he's the everyday third basemen for the 2023 Diamondbacks, but the front office needs to keep an open mind to finding an upgrade at third.
The lineup could use another power bat and third base is a great place to look. It could be this offseason, but even if it is not, the Diamondbacks will likely be aggressive going forward in propelling this team into the discussion with the Dodgers and Padres. No matter how ridiculous that might sound.
Realistically, this is year two of an upswing. Young players are still adjusting to major league pitching and the front office is still learning which players will stick. In terms of a rebuild team cycle, this is the most exciting year before entering legit contention.
The goal would be to fully understand which team needs must be addressed to make the next jump. Even with the improvements the Padres have made, and the stacked Dodgers roster, I think Arizona will surpass their 2022 win total.