List
The Best Position Player Tools in the Top 100
Who are the best in the Minor Leagues when it comes to each of the five tools used to evaluate prospects?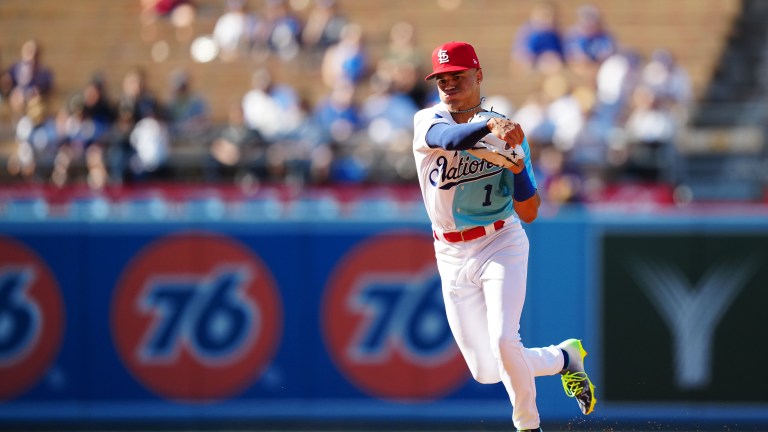 Last week, we published our end of season Top 100 Prospect Update which featured a lot of new names and big movers. When it comes to the tools department, baseball has never seen more freakishly talented players from the big leagues all the way down to the lower minors. Let's highlight the most impressive position player tools from the prospects featured on our Top 100 list!
Hit Tool: Sal Frelick (Milwaukee Brewers)
There's only two prospects with present hit tools of a 70-grade: Gabriel Moreno of the Blue Jays and Sal Frelick of the Brewers. Both prospects are elite in the bat-to-ball department, boasting some of the best zone contact rates in the minors. Frelick gets the slight edge thanks to lower chase rates, a lower swinging strike rate, and a zone contact rate that continued to rise as the season went on.
Others to watch: Endy Rodriguez (PIT), Jackson Merrill (SD), Kyle Manzardo (TB), Robert Hassell III (WAS)
Power: Elly De La Cruz (Cincinnati Reds)
Baking both raw power and game power into the equation, it is hard to deny that De La Cruz is the one to single out. Aside from the fact that De La Cruz launched the furthest homer of the season at 512 feet, he posted a max exit velocity of 118 mph and his 90th percentile exit velocity of 108 mph was tops in the entire Reds organization. The raw power translated into game power for De La Cruz, totaling 28 homers this season.
Jordan Walker (Cardinals) and Francisco Alvarez (Mets) are in the conversation, but Walker did not quite translate his raw power into game power to the degree that De La Cruz did, and Alvarez's batted ball data was just slightly behind.
Others to watch: James Wood (WAS), Elijah Green (WAS), Jasson Dominguez (NYY), Joey Wiemer (MIL)
Speed: Corbin Carroll (Arizona Diamondbacks)
This was relatively easy given the fact that Carroll is the only 80-grade runner on our entire top 100 prospect list. Not only is Carroll already the fastest runner at the MLB level according to Baseball Savant, the way that he is able to cut corners and make efficient turns is something to marvel at.
Elly De La Cruz and his insanely long, quick strides make him easily a plus runner or better, but he just does not quite get to his top speed like Carroll does and struggles to get the same angles rounding the bases because he is 6-foot-5. Brewers prospect Esteury Ruiz stole more than 80 bases this year and was arguably the closest to an 80 speed grade aside from Carroll.
Others to watch: Masyn Winn (STL), Sal Frelick (MIL), Elijah Green (WAS)
Infield Defense: Ezequiel Tovar (Colorado Rockies) and Brice Turang (Milwaukee Brewers)
I know. I am only supposed to pick one. I just can't separate Tovar and Turang defensively. Both are so impressive with the glove and have the athleticism, instincts and arm to make any play look easy. Both shortstops have the goods to compete for Gold Gloves annually.
Others to watch: Oswald Peraza (NYY), Bryan Rocchio (CLE), Jordan Lawlar (ARI), Edwin Arroyo (CIN)
Outfield Defense: Pete Crow-Armstrong (Chicago Cubs)
This man just glides through the outfield. The plus closing speed helps, but PCA gets ridiculous jumps and already takes efficient routes that you would expect from a veteran. He could a great centerfield for an MLB team right now.
Jackson Chourio and Corbin Carroll received consideration as well, demonstrating many of the qualities that PCA shows off in center. Chourio could overtake this spot by next year.
Others to watch: Druw Jones (ARI), Elijah Green (WAS), Robert Hassell III (WAS)
Throwing Arm: Masyn Winn (St. Louis Cardinals)
Winn caught the attention of many when he whizzed a fastball across the diamond at 100 mph at the Futures Game. A former two-way prospect who could run it up to the upper-90s on the mound, Winn boasts an 80-grade arm.
Brewers prospect Joey Wiemer and Dodgers prospect Andy Pages received consideration with ridiculous throwing arms from the outfield. Both of which easily earn marks of 70 grade.
Others to watch: Jordan Walker (STL), Elly De La Cruz (CIN), Henry Davis (PIT)
Catching Defense: Logan O'Hoppe (Philadelphia Phillies)
Traded to the Angels for Brandon Marsh at the trade deadline, O'Hoppe has become one of baseball's most well-rounded catching prospects. It's hard to poke a hole in his defensive game as O'Hoppe blocks and receives well with a plus arm to top things off.
Others to watch: Drew Romo (COL), Diego Cartaya (LAD), Endy Rodriguez (PIT)