Analysis
Milwaukee Brewers Future Is Bright With Outfielders Sal Frelick and Joey Wiemer
Dynamic prospects Sal Frelick and Joey Wiemer could be patrolling the Milwaukee Brewers outfield with Christian Yelich for years to come.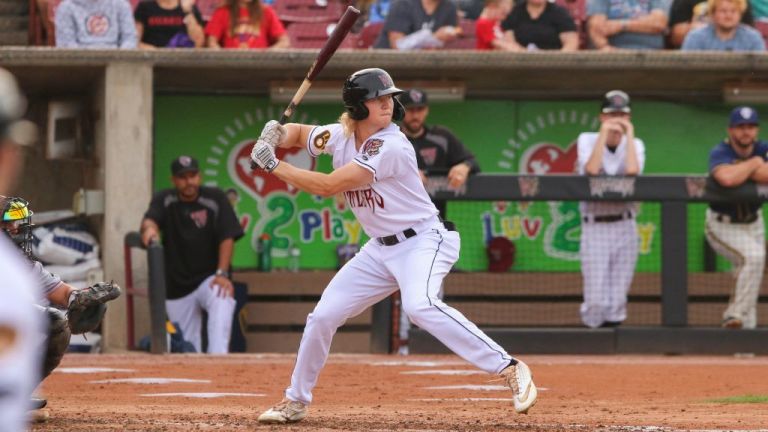 The Southern League, still known by many as Double-A South, is as talented a league as you are going to find and outfield duos like Sal Frelick and Joey Wiemer are a big reason why. Ranked No. 76 and No. 72 on our Top 100 list respectively, the pair of opposite-style hitters were really impressive in a series that featured a litany of difficult Montgomery Biscuit arms (Rays Double-A).
Wiemer is a prospect who I have long maintained that you need to approach holistically. By this I mean that we have to throw out a lot of the rationale we apply to the average prospect when evaluating someone like Wiemer. There's just not many guys out there with Wiemer's size, strength, athleticism, flexibility and psyche.
What looks incredibly complicated on the field is extremely simple in the mind of Wiemer and with an ability to hit the ball 440+ feet while also being fast enough to beat out choppers to third, I am going to put Wiemer in the "unique" bucket and bet on this guy continuing to Hunter Pence his way to the big leagues.
After launching 27 homers last season between Low and High-A, the 23-year-old only needed a couple weeks before he got going at the Double-A level. All of the sudden, the big-swinging athlete has his strikeout rate under 30% while still slugging at a .574 clip. As Wiemer notes in our conversation, he sees his speed as a big part of his game and being 12 for 13 on stolen bases this year after swiping 30 bags last year would back that up. Also, I saw the lone caught stealing and I would argue that Wiemer was quite safe.
Wiemer will almost surely have a 20/20 season again and could make a push for a 30/30 campaign. While the swing-and-miss is always going to be a part of his game, his off-the-charts slugging on contact, reasonable chase rates and ability to use the whole field should hedge that concern.
After watching Wiemer take batting practice as well, I have no doubt that this guy can mash with the best of them at the highest level. The more I watch in-game, the more confident I am in the 6-foot-5, 220 pound slugger continuing to find more consistency as well.
Sal Frelick, on the other hand, is a throwback type of player who is extremely fun and refreshing to watch in a different way than his teammate Wiemer. Frelick is your prototypical leadoff guy, boasting plus speed, elite bat-to-ball skills and just an overall knack for seeing a lot of pitches.
The 2021 first round selection did not blink in High-A to start the season hitting .291/.391/.456 in 21 games before earning himself a quick promotion to Double-A Biloxi.
As is the case for most prospects, the transition to Double-A has been a bit of a learning curve for Frelick, but even so, he is putting the ball in play plenty and adding solid defense. In our conversation, Frelick noted the strength he has added and how he has seen it translate into more homers in batting practice. That challenge, as is for most players of his profile, is finding a way to tap into more game power without undermining your identity as a player.
Frelick showed off his ability to spray the ball all over the field and spoil tough pitches at-bat to at-bat. To his pull-side, you can see sneaky pop, but the newly-turned 22-year-old is at his best when he uses the whole field.
A three-sport athlete in high school, you can see Frelick's ridiculous athleticism in the box. In fact, he gets away from occasionally being in a bad spot body wise because of how darn athletic he is. At times, his front side can get a bit soft on him which leads to a bit of barrel drag and more ground balls. Given Frelick's plus speed, ground balls are not the end of the world, but he has legitimate gap-to-gap power that can be seen when he stays on his back hip longer.
In batting practice, Frelick showed an ability to hit against a more firm front-side and sit in his back hip a bit longer and there were certain "A-Swings" that the left-handed-hitter got off in games where you could see the same strong lower half that he was flashing pre-game.
Frelick is so talented and really has made it this far on superb athleticism and a good approach. As the 15th overall selection in 2021's draft gets more at-bats under his belt, he will continue to take off and progress as one of the higher-floor prospects in the game, with still plenty to be excited about.