Analysis
Just Baseball's All-MiLB Team
From Just Baseball's No.1 overall prospect to a 25-year-old former 15th round pick, these are the most impressive performers in Minor League Baseball this season.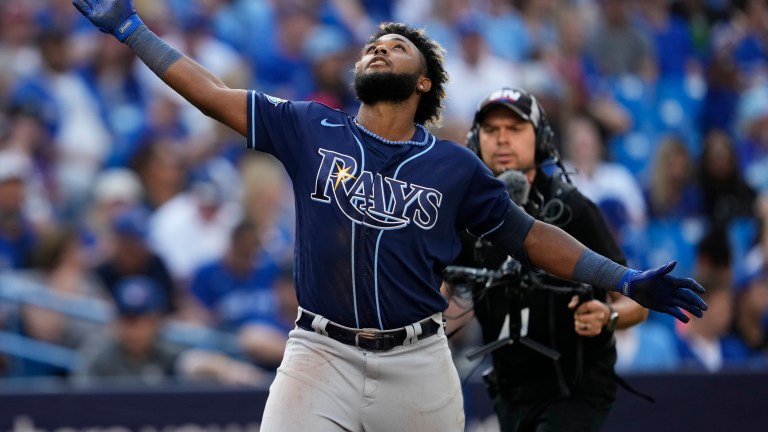 Just Baseball's Minor League Team of the Year has arrived! Once again, some of the biggest names in the Minor Leagues put up magical years, further pushing them towards their ultimate goal of becoming big leaguers. Along with top prospects, some guys truly burst onto the scene, like Cincinnati's Blake Dunn or Texas' Abimelec Ortiz.
Many of these names fall inside our Top 100 Prospects, including our MiLB Hitter of the Year in Jackson Holliday and MiLB Pitcher of the Year in Robby Snelling. Several non-statistical factors went into selecting this team, including age and level. However, the statistical output carried the most weight, propelling some players with less prospect "intrigue" into the first team over top-50 prospects.
Catcher: Samuel Basallo (Baltimore Orioles)
2023 Stats (A/A+/AA): 114 G, .313/.402/.551, 26 2B, 7 3B, 20 HR, 86 RBI, 12-17 SB, 19 K%
Aside from fellow teenage farmhand Jackson Holliday, Basallo's 2023 campaign was as impressive as any when you consider age, performance, and levels played at. Just 18 years old at the start of the season, Basallo ripped through the lower levels, hitting for power and average while keeping his punch outs in check.
He finished the year with four Double-A games, where he compiled seven hits and struck out just once. He may not stick behind the dish, but it's clear the Orioles have another special teenage power bat in Basallo.
Honorable Mentions: Andrew Cossetti (MIN), Jeferson Quero (MIL), Dalton Rushing (LAD), Thayron Liranzo (LAD), Ben Rice (NYY)
First Base: Jonathan Aranda (Tampa Bay Rays)
2023 Stats (AAA): 95 G, .339/.449/.613, 23 2B, 25 HR, 81 RBI, 15% BB%, 20 K%
After an incredible season in Triple-A in 2022, Aranda somehow topped that this season, launching seven more homers in nine fewer games while walking more, striking out less, and gaining 21 points in the batting average department.
The man has simply raked at every level, but his 2023 campaign was a statement that he has no business being in the Minor Leagues anymore. He was promoted to the big leagues for the final couple weeks of the season, where he held his own and is poised to carve out a role with the team in 2024.
Honorable Mentions: Troy Johnston (MIA), Spencer Horwitz (TOR), Austin Shenton (TB)
Second Base: Colt Keith (Detroit Tigers)
2023 Stats (AA/AAA): 126 G, .306/.380/.552, 38 2B, 27 HR, 101 RBI, 21% K%
An awesome start to his 2022 season was derailed due to a shoulder injury, but he picked up where he left off and then some at the upper levels this year. The feel to hit has always been there, but the power really broke through in his age-21 season, launching 27 homers between Double-A and Triple-A.
Keith is a dangerous blend of hit and power along with a patient approach that helped him walk at a 10% clip. He's a candidate to break camp with the Tigers next year.
Honorable Mentions: Termarr Johnson (PIT), Xavier Edwards (MIA), Thomas Saggese (TEX/STL)
Shortstop: Jackson Holliday (Baltimore Orioles)
2023 Stats (A/A+/AA/AAA): 125 G, .323/.442/.499, 30 2B, 9 3B, 12 HR, 75 RBI, 24-33 SB, 17 BB%
I mean, where do we start with this kid? He was absurd this season. The No. 1 overall pick in the 2022 draft, Holliday climbed four levels in 2023, finishing the year with the loaded Norfolk Tides who would go on to win the Triple-A title.
Along with Basallo, Holliday posted one of the most impressive Minor League seasons by a teenager we have ever seen despite aggressive promotions. He really started to settle into Triple-A despite being seven years younger than his average competition, mashing to a 1.018 OPS over his final 10 games. It's no surprise that he is the top prospect in baseball.
Honorable Mentions: Jett Williams (NYM), Masyn Winn (STL), Vaughn Grissom (ATL)
Third Base: Junior Caminero (Tampa Bay Rays)
2023 Stats (A+/AA): 117 G, .324/.384/.591, 18 2B, 6 3B, 31 HR, 94 RBI, 5-10 SB, 20 K%
Freakish power usually doesn't come with this much contact, but here we are. Caminero posted some of the most impressive exit velocities in all of baseball–including the big leagues–in 2023, in tandem with above average contact rates and a strikeout rate that dropped well into the teens after the first month of the season.
Caminero earned a late-season call up and compiled five hits over his final three games of the season, including a 107 MPH homer. He should be one of the Rookie of the Year favorites next season.
Honorable Mentions: Michael Busch (LAD), Coby Mayo (BAL), Tyler Black (MIL)
Outfield: Owen Caissie (Chicago Cubs)
2023 Stats (AA): 120 G, .289/.399/.519, 31 2B, 22 HR, 84 RBI, 14% BB%, 31% K%
Another young prospect with massive power potential, Caissie realized much of that in 2023, launching 22 homers and 58 extra-base hits. His 90th percentile exit velocity of 110 MPH was the best in the entire Cubs organization and puts him alongside Caminero and other elite MLB company in that department.
Strikeouts have been a concern, but Cassie improved as the season progressed–and as the tacked balls were taken out of circulation–mashing to a .307/.423/.510 clip with a 16% walk rate and 28% strikeout rate from July 14th onward.
Outfield: Roman Anthony (Boston Red Sox)
2023 Stats (A/A+/AA): 106 G, .272/.403/.466, 27 2B, 14 HR, 64 RBI, 16-23 SB, 18% BB%
18 years old at season's start, Roman seemed to get better as he climbed levels. He posted a 109 wRC+ at Low-A, 164 wRC+ at High-A and then closed the season with 10 games at the Double-A level where he hit to a 185 wRC+.
His all-fields power was impressive, launching balls over the Greenville Monster consistently, while flashing massive juice to the pull side. Anthony is extremely patient, running a 20% chase rate that helped him get on base at a .400 clip. His 2023 season has made him one of baseball's best outfield prospects.
Outfield: Blake Dunn (Cincinnati Reds)
2023 Stats (A+/AA): 124 G, .312/.425/.522, 17 2B, 23 HR, 79 RBI, 54-61 SB, 11% BB%
A 15th round pick in 2021, Dunn exploded this year, adding strength and power without compromising his plus speed. Dunn was one of three players in the Minor Leagues with at least 20 home runs and 50 stolen bases, joining Jonatan Clase (SEA) and Ryan Bliss (SEA).
He was also one of four players in the minors with more than 50 stolen bases and a batting average over .300. If you elevate the batting average threshold to .310, Dunn stands alone.
Honorable Mentions: Justice Bigbie (DET), Abimelec Ortiz (TEX), Lazaro Montes (SEA), Colton Cowser (BAL), Victor Scott II (STL), Heston Kjerstad (BAL), Ceddanne Rafaela (BOS), Pete Crow-Armstrong (CHC), Wyatt Langford (TEX)
Designated Hitter: Luken Baker (St. Louis Cardinals)
2023 Stats (AAA): 84 G, .334/.440/.720, 22 2B, 33 HR, 98 RBI, 16% BB%, 20% K%
Easily one of the most feared hitters in MiLB, Baker averaged a home run every 2.5 games in Triple-A, or every 9.5 at-bats. The power has always been there for Baker, but he broke through from a contact and approach standpoint, seeing his batting average jump by more than 100 points and on base percentage.
There was no hitter in Minor League Baseball slugging like Baker was, posting the only slugging percentage above .700 at any level.
Starting Pitcher: Robby Snelling (San Diego Padres)
2023 Stats (A/A+/AA): 22 GS, 11-3, 1.82 ERA, 103.2 IP, 1.12 WHIP, 10.2 K/9, 3.0 BB/9
After dominating to a 1.57 ERA through his first 51 2/3 innings of professional baseball at Low-A, Snelling earned the bump to High-A as a 19-year-old where he continued to dominate. In 34 2/3 innings at High-A, Snelling pitched to a 2.34 ERA while striking up 28% of batters and walking just 7.5%.
A polished three pitch mix with impressive athleticism and a clean delivery that helps him fill up the strike zone, the Padres felt comfortable pushing Snelling to Double-A where he made four more starts and compiled a 1.56 ERA. He has quickly become one of baseball's best left-handed pitching prospects.
Starting Pitcher: Drew Thorpe (New York Yankees)
2023 Stats (A+/AA): 23 GS, 14-2, 2.52 ERA, 139.1 IP, 0.98 WHIP, 11.8 K/9, 2.5 BB/9
A diabolical changeup and elite command helped Thorpe pick apart his competition in his first professional season. Starting at High-A, Thorpe pitched to a 2.81 ERA in 109 innings and struck out 32.4% of batters while walking just 7.7% before earning the bump up to Double-A.
He elevated his game at the Double-A level, carving to a 1.48 ERA in 30 innings, while striking out 44 and walking just five. It already appears as though the Yankees snagged a gem in the second round of the 2022 draft.
Starting Pitcher: Cade Horton (Chicago Cubs)
2023 Stats (A/A+/AA): 21 GS, 2.65 ERA, 88.1 IP, 0.99 WHIP, 11.9 K/9, 2.8 BB/9
There may not be a pitching prospect in baseball who enjoyed more helium than Cade Horton in 2023. He climbed three levels in what was his first full season on the bump at any level after Tommy John surgery limited him in college.
Horton closed out the year in dominant fashion at Double-A, surrendering just one earned run over his final three starts, two of which were postseason starts for the Tennessee Smokies. The right-hander has flashed four big league offerings and good command, making him one of the best pitching prospects in the game.
Starting Pitcher: Carlos F. Rodriguez (Milwaukee Brewers)
2023 Stats (AA/AAA): 26 GS, 2.88 ERA, 128.1 IP, 1.12 WHIP, 11.1 K/9, 4.0 BB/9
A double-plus changeup leads the way for Rodriguez and he used it to dominate Double-A hitters to the tune of a 2.77 ERA prior to his promotion to Triple-A. The 21-year-old mixes an assortment of pitches off of the changeup to keep hitters off balance picking up a fair amount of weak contact to supplement the whiff.
A sixth round pick in 2021, Rodriguez will likely start the 2024 season in Triple-A Nashville with a chance to make his debut with the Brewers sometime next season.
Starting Pitcher: Chayce McDermott (Baltimore Orioles)
2023 Stats (AA/AAA): 26 G/22 GS, 3.10 ERA, 119.0 IP, 1.15 WHIP, 11.5 K/9, 5.1 BB/9
The stuff has never been a question for McDermott, boasting a lively fastball with a pair of wipeout breaking balls off of it and a splitter. The challenge for the powerful right-hander has been command, and while it's still fringy, he mitigated the walks as well as he has as a pro and the result was a 3.10 ERA at the upper levels.
Of his 22 starts, McDermott struck out at least seven batters on a dozen occasions. Opponents hit just .167 against him on the season and he closed out the year with a 2.11. ERA over his final eight starts.
Honorable Mentions: Jackson Jobe (DET), Will Dion (CLE), Will Warren (NYY), Yoniel Curet (TB), Clayton Beeter (NYY), DJ Herz (CHC/WSH), Julian Aguiar (CIN), Allen Winans (ATL), Max Rajcic (STL)
Relief Pitcher: Orion Kerkering (Philadelphia Phillies)
2023 Stats (A/A+/AA/AAA): 49 G, 1.51 ERA, 53.2 IP, 0.89 WHIP, 13.2 K/9, 2.0 BB/9, 14 SV
You'd be hard-pressed to find a more impressive story than Orion Kerkering. A fifth round pick in the 2022 draft, Kerkering started the year at Low-A Clearwater and is currently pitching in the postseason for the Phillies as this is being written.
His slider is 80-grade, his fastball sits in the upper 90s, touching 100, and he fills up the strike zone. It's not surprising that Minor League hitters couldn't touch him. Prior to his MLB debut, Kerkering tossed 10 consecutive scoreless innings along with 16 strikeouts and just two walks.
Opponents hit just .108 against his slider on the season–which he threw 52% of the time–with a 51% strikeout rate. Kerkering will be a fixture in the Phillies bullpen for years to come.
Relief Pitcher: Anthony Maldonado (Miami Marlins)
2023 Stats (A/AAA): 37 G, 1.62 ERA, 50.0 IP, 0.90 WHIP, 14.0 K/9, 3.8 BB/9, 9 SV
Similar to Kerkering, Maldonado dominates with a slider that he throws more than his fastball. In a 120 at-bats against his slider, opponents hit just .067 with a 57% strikeout rate. That equates to eight hits total.
Maldonado likely would have earned a call up had he not gone down with an injury in June, but he returned to Triple-A Jacksonville in mid-August to pick up right where he left off. Over his final 11 appearances of the season off of the IL, Maldonado allowed just one run (0.59 ERA).
Honorable Mentions: Abner Uribe (MIL), Luis Guerrero (BOS), Erik Miller (PHI), Antoine Kelly (TEX), Luarbert Arias (MIA)