Analysis
Chicago Cubs and Miami Marlins Prospect Notes (Double-A)
The biggest takeaways from evaluating Cubs and Marlins prospects while their two Double-A affiliates squared off last week.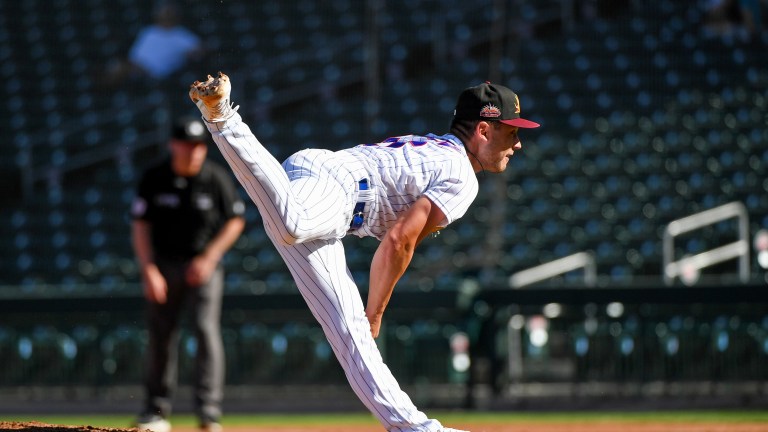 Less than week after releasing our Chicago Cubs top 10 prospect list, I got a chance to see some of the names who did not make the cut, but could soon. Whenever I embark on these trips, it becomes wildly evident how many talented players there are in the minors, who may be an adjustment away from putting things together.
The Tennessee Smokies have several players who fit the description, but not every prospect is heading in the same direction.
Ryan Jensen – RHP – Chicago Cubs
Bouts with secondary command issues has made things a bit difficult for Jensen since he was selected in the first-round of 2019's draft. After walking more than 15% of batters through his first five outings, Jensen worked with coaches to shorten his arm action.
I got a look at Jensen's first two outings since the tweak and his arm action was noticeably more repeatable and the results were undeniable. Not only did Jensen toss both two and three innings scoreless innings in the pair of appearances, but they were his only two outings of the year without a walk allowed.
Jensen's fastball was pretty impressive. Despite flattening out at times, Jensen's low release point and easy 96-98 mph velocity helps him buzz his four-seamer by hitters at the top of the zone as well as induce weak contact with his two-seamer.
I am really intrigued to see if the command of Jensen's slider can continue to improve with his adjustments as the offering looked comfortably above average when it was around the zone. Even in the much improved last two outings, Jensen did mix in some noncompetitive misses with the slider, but overall, he looked much more repeatable and confident with his mechanics.
Jensen is an elite athlete on the hill and is absolutely worth monitoring moving forward after this tweaks.
Jake Slaughter – 3B – Chicago Cubs
An under-the-radar prospect, Slaughter was selected in the 18th round out of LSU in 2018. After a rough 2021 season in High-A, Slaughter has improved in nearly every department offensively. Most importantly, the 25-year-old has much more control over his lower half, doing a better job of staying back on secondary stuff, while tapping into a bit more power in his back hip.
Slaughter already has more extra-base hits on breaking balls this year than he did in the entire season last year, has upped his average exit velocity by several miles-per-hour, and has slashed his roundball rate by around 10%.
A pretty direct and simple swing, Slaughter's stroke is still geared for line drives, but he has developed a much better feel to backspin the baseball and create natural lift/carry. There's some sneaky twitch from the third baseman, who impressed me by turning around 99 mph from Aneurys Zabala in on his hands for a base hit into left. Slaughter will surprise you with his above average speed on the bases, already 15 for 16 on stolen base attempts.
This version of Jake Slaughter could very well be a big leaguer if he can prove to be a defensive option at multiple spots. I think there's enough offense and athleticism here for the Cubs prospect to be a solid big league bench piece.
Javier Assad – RHP – Chicago Cubs
The 24-year-old, struggled in his first taste of Double-A last year, but has enjoyed a strong 2022 thanks to an uptick in velocity and development of his cutter. While Assad lacks a true plus pitch, he has six viable offerings that he is comfortable going to.
A pair of fastballs, a cutter in the upper 80s, slider in the mid 80s, a changeup and curveball make Assad a headache for hitters and the right-hander's entire arsenal has jumped by 1 mph or more. Assad has a high floor and could turn into a back-of-the-rotation arm or swingman who is capable of giving you plenty of different looks.
Alexander Canario – OF – Chicago Cubs
Traded alongside Caleb Killian by the San Francisco Giants for Kris Bryant, Canario has not been able to convert tools into consistent production. Plus raw power and one of the best arms in the minors along with some athleticism, Canario provides plenty to dream on. Unfortunately, the dream is seeming to become increasingly distant as the 22-year-old has abandoned any semblance of approach and finds himself swinging at just about anything thrown his way.
Canario is selling out for heaters and hangers and seeing a lot of spin in the dirt. Pitchers continue to spin the outfielder to death. As Canario's chase rates continue to rise, his outlook becomes a bit more bleak. I wouldn't fully write off a 22-year-old with Canario's raw tools, but he needs to show a semblance of a plan up there.
Troy Johnston – 1B – Miami Marlins
Johnston has been one of the hottest hitters in professional baseball. Over his last 100 at-bats, the first baseman has hit .410/.445/.740, with seven homers and 10 doubles. The power is an exciting development for Johnston, a hit-tool first prospect at a position that demands plenty of slugging.
The 24-year-old's added power has not come at the expense of his high contact rate, racking up 13 multi-hit games over his last 23 contests. After a breakout 2021 season, Johnston is continuing to strengthen his case as a legitimate big league bat.
Given the Marlins big league logjam at first base, the team seems to be realizing that Johnston may be closer to the big leagues than people think, putting him in the outfield twice during the last series after exclusively playing him at first base and designated hitter through his first 53 games this year. Johnston played plenty of outfield in his early pro days as well as his collegiate days at Gonzaga.
Johnston explained to me that his adjustments have been relatively simple: starting his load a bit earlier and finding a consistent cue for his timing have him mashing baseballs.
Josh Simpson – LHP – Miami Marlins
The Pensacola Blue Wahoos have one of the nastiest bullpens in the minor leagues and Josh Simpson is a big reason why. The 24-year-old southpaw has been a cheat code for the Double-A Marlins affiliate this season, striking out 45% of batters in his 31 innings of work.
Like most nasty minor league relievers, Simpson's command is what is holding him back from a big league bullpen, but his stuff can be near unhittable. Simpson's plus, plus breaking ball was one of the best I've seen below the big league level, boasting a ton of depth and sharp, late break.
Simpson's fastball sits 94-96 mph with some life and tunnels well with his banger of a curve. With 19 of his 23 appearances going scoreless, there's plenty of reason to believe that the 2019 32nd round pick could pitch his way to the Miami's bullpen by the end of the season.
Notes On Notable Prospects
Matt Mervis – 1B – Chicago Cubs: While the home run binge ended in Pensacola for Mervis, he still found ways to be productive and several of his outs were loud. It is easy to see how Mervis has made a smooth transition to Double-A as the big left-handed hitter has no problem catching up to high velocity, even at the top of the zone.
A former two-way player at Duke University and in the Cape Cod League, Mervis' athleticism was evident at first base and I believe he can be an above-average defender there.
Griffin Conine – OF – Miami Marlins: Conine showed off the power with three homers in the six-game series, including a 445-foot bomb to center field. Power has never been the question for Conine though and his plate discipline continues to look improved in 2022. Conine walked six times in the six-game series, upping his walk rate to 14% on the year.
While the 24-year-old could stand to see his strikeout rate slashed a bit more, he has posted an OPS of 1.001 over his last 150 at-bats with a 17% walk rate and 32.6% strikeout rate. That will play.
Blake Whitney – RHP – Chicago Cubs: After a disastrous 2021 season, Whitney has looked like a different pitcher for the Tennessee Smokies, nearly matching last season's inning total already while slashing his ERA from 6.41 to 2.79 and WHIP from 1.42 to 0.95. Whitney always had a difficult slider, but he has taken his splitter to the next level this season racking up swings-and-misses in bunches. Whitney is starting to look a lot like a solid big league reliever.