Rankings
Chicago Cubs Top Prospects
Despite back surgery shelving top prospect Brennen Davis, the Cubs have power in depth, revamping their system in just a couple of years.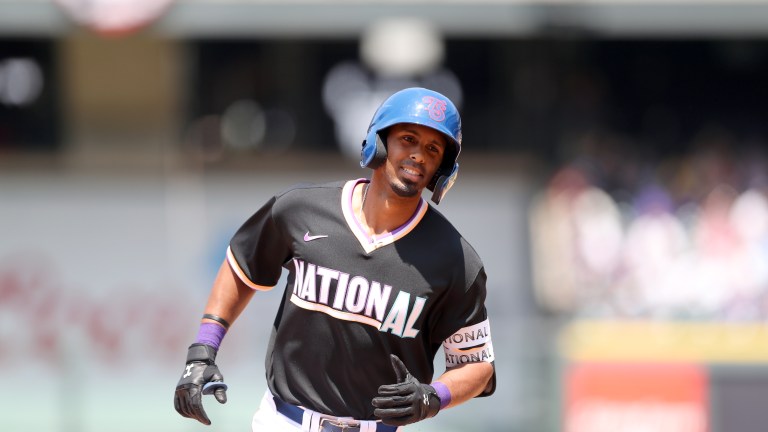 There's no doubting that the Chicago Cubs farm system is vastly improved from where it was in 2021. Of course, that required trading several core players, but given the fact that Anthony Rizzo, Kris Bryant, and Javier Baez were all rentals at last year's deadline, the Cubs made out phenomenally.
Even after last year's selection of Jordan Wicks, the Cubs could probably use some more pitching, but many of the organization's offensive prospects have made leaps in 2022. That includes Christopher Morel, who graduated after his 100th at bat of the MLB season.
Stay tuned to our MLB prospects podcast The Call Up for discussion on the team Top-10's and interviews with prospects in the Chicago Cubs system and all 29 others.
1. Brennen Davis – OF – (Triple-A)
Age: 22 | Height/Weight: 6'4′, 220 | Bat/Throw: R/R | 2nd Round (62), 2020 (CHC) | ETA: 2022
| | | | | | |
| --- | --- | --- | --- | --- | --- |
| HIT | RAW POWER | GAME POWER | RUN | FIELD | FV |
| 45/55 | 55/60 | 50/55 | 60/60 | 50/55 | 60 |
After a breakout 2021, injuries and a back surgery in May stifled Davis' momentum in the early goings of 2022. Davis has a chance to be a dynamic outfielder with an enviable combination of power and speed, but he will need to find health and consistency in Triple-A.
Offense
When Davis was drafted in 2018, he was seen as a tall, lanky kid with quick-twitch ability, but scouts were unsure what to expect with the bat. After all, Davis did not really focus on baseball until his senior season of high school, excelling on the basketball court as well.
Early in Davis' career, you'll also see an "armsy" swing that doesn't incorporate his lower half very much. An inconsistent lower half is common among younger players and is going to be even more pronounced when you are 6-foot-4, 175 pounds. Davis showed up in 2019 looking much more physical and has continuously added strength. Now listed at 210 pounds, you can see the physicality making its way into Davis' game.
It doesn't take much for Davis to generate power, especially now that his lower half plays a part in his swing. Limited effort and quick twitch athleticism allow Davis to control his body well. Despite his long levers, Davis typically does a good job of staying short to the ball. The outfielder has no problem hitting the ball where it's pitched and has shown an easy ability to leave the yard from foul pole to foul pole.
Defense/Speed
A plus runner, Davis has the goods to stick in center field along with an above-average arm which could handle either corner as well. Like many young outfielders the 22-year-old could improve on his reads in center, but his quickness from his days on the basketball court and recovery speed give him a margin for error. While stolen bases have not been a huge part of his game, Davis' plus speed and long strides make him an effective base runner. His strong instincts should allow him to steal 15+ bags annually.
Outlook
Davis earns high marks for his makeup and work ethic, which has been backed up by his consistent progression. The former second round pick has mashed his way to Triple-A in just 152 games. The power/speed combo that Davis possesses along with a good feel to hit evoke some young Matt Kemp memories. Davis has 30+ home run pop right now, and we don't think he's done adding juice.
2. Pete Crow-Armstrong – OF – (High-A)
Age: 20 | Height/Weight: 6'0′, 185 | Bat/Throw: L/L | 1st Round (19), 2020 (CHC) | ETA: 2024
| | | | | | |
| --- | --- | --- | --- | --- | --- |
| HIT | RAW POWER | GAME POWER | RUN | FIELD | FV |
| 45/55 | 45/50 | 40/45 | 60/60 | 55/70 | 55+ |
Acquired in the Javier Báez deal from the Mets last season, Crow-Armstrong missed all but six games of his 2021 campaign due to a shoulder injury. An advanced feel to swing the bat and elite defensive potential have PCA making up for lost time this season.
Offense
Due to 2020's pandemic and an injury that wiped out Crow-Armstrong's 2021 season, we were left not totally knowing what to expect from the former first-rounder this season. What became abundantly clear rather quickly was the fact that PCA has a bit more to him than many were giving him credit for around the time he was traded straight up for Javier Báez.
PCA starts with an upright stance before sinking into his backside as he gets his hands into a launch position. The move is simple and the 20-year-old repeats it with ease, which helps him be on time frequently.
A smooth, level swing that is geared for line drives, PCA has shown plenty of comfort spraying the ball all over the field. An area where he has surprised a bit more is the pull-side power department. Crow-Armstrong already has nine homers on the season and has recorded exit velocities of 107 mph on several occasions this year. Still with some room to fill out a bit and twitchy athleticism and bat speed which allow him to turn on pitches middle in with authority, 20+ home runs is not out of the question for the newly-turned 20-year-old.
Given the confidence that PCA has in his ability to put bat on ball, he can get a bit swing happy at times. Like many young hitters, the high fastball has been an area of temptation that he has succumbed to, though I expect the talented hitter to quell his aggressiveness against better pitching in High-A.
Defense/Speed
A plus runner with great instincts, PCA makes an impact both on the base paths and in the field with his legs. Defensively, Crow-Armstrong has a chance to be a Gold Glover in center field. His reads are great, as are his jumps and there's no doubt about his closing speed. An above-average arm is just the icing on the cake for a guy who should command the outfield as well as anyone in the business once he gets to the big leagues.
On the base paths, PCA has already made his speed known, swiping 13 bags in his 38 Low-A games prior to his promotion. There is probably some room for improvement in terms of picking the right spots to run and getting slightly better jumps from first base, but the speedster should be a 20+ stolen base threat annually.
Outlook
There was no doubt that PCA would be a solid, high floor prospect thanks to his elite defensive potential and speed as a left handed-hitting center fielder. The question seemed to be, "how much upside does he have?"
It seemed that the Mets weren't even sure of how much upside their 2020 first round pick had given their willingness to part with him for a few months of Javier Báez. As we are quickly learning, PCA has the ability to impact the baseball more than many expected and an All-Star ceiling is not outlandish. Even with nearly two lost seasons, he is still an extremely young 20 years old and has already hit his way to High-A.
Crow-Armstrong is a hard-nosed gamer who is doing all of the things we thought he would do pretty well, exceptionally well while doing the things we weren't totally sure he was capable of with the bat already.
3. Cristian Hernández – SS – (CPX)
Age: 18 | Height/Weight: 6'2, 180 | Bat/Throw: R/R | IFA: $3M – 2020 (CHC) | ETA: 2025
| | | | | | |
| --- | --- | --- | --- | --- | --- |
| HIT | RAW POWER | GAME POWER | RUN | FIELD | FV |
| 30/55 | 50/60 | 30/55 | 60/60 | 45/55 | 55 |
The youngest player to crack our top-100 prospect list, the 18-year-old Hernández has a feel for the barrel that you do not see from many players his age along with physical tools and projection.
Offense
Hernández swings the bat like a kid who has been in the minor leagues for several years. The teenager utilizes a gathering leg kick to get into his lower half and does a great job of timing it up as well as keeping his weight back.
Hernandez's swing is extremely smooth through the zone, where his barrel seems to live forever. The Dominican Republic native really impressed with the effortless power he could generate as a 17-year-old, encouraging the Cubs to shell out $3 million to sign him. The synergy of Hernández's upper and lower half along with his present feel for the barrel provide plenty of optimism that the Cubs prospect can hit the ground running once he makes his debut stateside.
Projecting Hernández's offensive upside is extremely difficult because of the fact that his athleticism continues to translate more onto the baseball field even as he continues to add strength and size. Just take our word for it, his offensive upside is immense to say the least.
Defense/Speed
Typically, teenage shortstops with tons of physical projection tend to move from shortstop to another position, however Hernández continues to get better at shortstop as he matures both physically and mentally. Hernández's plus speed translates to twitchy quickness in the field, showing off impressive range and the arm to complement it.
Expect the Cubs to continue to develop Hernández at shortstop as the youngster's tools evidently translate into plenty of defensive upside. In 2021, Hernandez swiped 21 bases in 24 tries in the DSL, for what that is worth, but stolen bases should be a part of his game at any level given his speed and quickness.
Outlook
Cristian Hernández is ahead of his years in a lot of aspects, especially at the plate. Still, Hernández has yet to make his debut stateside and has plenty to prove once he does. Again, trying to project a prospect as raw and early in his development as Hernández is extremely difficult, however the skillset and ahead-of-his-years polish make the 18-year-old a surefire top-100 prospect and one of the names we are most excited to follow in 2022.
4. Caleb Kilian – RHP – (MLB)
Age: 25 | Height/Weight: 6'4′, 180 | Bat/Throw: R/R | 8th Round (236), 2019 (SFG) | ETA: 2022
| | | | | | |
| --- | --- | --- | --- | --- | --- |
| FASTBALL | CUtter | CURVEBALL | CHANGEUP | COMMAND | FV |
| 55/55 | 55/55 | 50/50 | 45/50 | 60/60 | 50+ |
Kilian's stuff ticked up after he was acquired from the San Francisco Giants in the Kris Bryant trade. A strike-thrower who has a knack for missing barrels, Kilian should anchor the back of the Cubs rotation for years to come.
Arsenal
Though nothing quite jumps of the page stuff-wise, Kilian has an assortment of good pitches that he commands well. Kilian will attack hitters with variations of his fastball which has jumped from low-90s to mid-90s. His go-to is a heavy heater with good arm-side run and sink, working as a great weak contact inducer while setting up his above average cutter as well. On top of the sinker and cutter, Kilian will also mix in a four-seamer with some riding life at the top of the zone.
It is a bit Lance Lynn-esque the way that Kilian is able to attack hitters with variations of his fastball, but the 25-year-old also has a viable curveball and changeup which he will mix in as well. Kilian has more confidence in his sweeping curve at this stage, using it effectively against both lefties and righties.
Kilian's changeup is the pitch that is still in development for him, flashing above average with good arm side fade when he has a feel for it. The right-hander does a good job of maintaining his arm speed and repeating the same release spot as his fastball, but he is still working to find a consistent feel for the pitch. At times, the changeup will sail on Kilian or just not be a very competitive pitch, which is rare for the rest of his arsenal given his plus command.
Outlook
The combination of a deep arsenal and strong command have helped Kilian find success in the upper levels and it is fair to expect the 25-year-old to continue to get outs in the big leagues. Kilian may lack the raw stuff to be a No. 3 starter, but he has a great chance of being a really solid back-of-the-rotation arm who should be able to churn out plenty of quality starts and eat innings.
5. Owen Caissie – OF – (High-A)
Age: 19 | Height/Weight: 6'4', 190 | Bat/Throw: L/R | 2nd Round (45), 2020 (CHC) | ETA: 2024
| | | | | | |
| --- | --- | --- | --- | --- | --- |
| HIT | RAW POWER | GAME POWER | RUN | FIELD | FV/Risk |
| 35/50 | 50/70 | 35/55 | 50/45 | 30/45 | 55 (Extreme) |
Big time physical projection and a pretty good feel for the strike zone, Caissie has immense offensive upside, especially in the power department. Caissie received an aggressive assignment to High-A for 2022 and has responded well.
Offense
Standing at 6-foot-4, 190 pounds with already impressive present pop, many evaluators are eager to see what kind of power Caissie will be able to generate as he continues to fill out and mature physically.
Caissie has not totally tapped into his power in the limited game action we have seen so far due to some upper and lower half inconsistencies, as well as a steep path at times which causes his bat to drag through the zone a bit. As a result, Cassie found himself cutting the inside of the ball a bit too often and struggling to turn on pitches middle-in against higher quality stuff.
When everything is in sync for Caissie, you can see flashes of a potentially special power bat. As Caissie continues to iron out the inconsistencies with his lower half, there is foul pole-to-foul pole power potential for the Ontario, Canada native as he generates a ton of leverage and carry.
Defense/Speed
Caissie moves well for his size, but his limited experience is evident in his reads and routes in the outfield. A comfortably above-average arm and more than enough athleticism to be passable in a corner outfield spot, there is plenty of reason to believe that Caissie can develop into at least an average defender.
Outlook
Caissie is already putting on shows with his majestic batting practice homers, and with plenty of room for added strength and power in the tank, it really will come down to whether the 19-year-old can get his exciting power to translate into games.
With an impressive feel for the strike zone and sneaky good bat to ball skills, Caissie could be a middle-of-the-order masher capable of 35+ homers if the raw pop can translate into game pop.
6. Kevin Alcantara – OF – (Low-A)
Age: 20 | Height/Weight: 6'6, 190 | Bat/Throw: R/R | IFA: $1M – 2018 (NYY) | ETA: 2024
| | | | | | |
| --- | --- | --- | --- | --- | --- |
| HIT | RAW POWER | GAME POWER | RUN | FIELD | FV |
| 35/50 | 50/70 | 40/60 | 55/50 | 40/50 | 50+ |
Projectable would put it lightly with the 6-foot-6, athletic Alcantara. Acquired from the Yankees in the Anthony Rizzo deal, Alcantara has a chance to be a terrorizing middle-of-the order bat with sneaky complementary tools.
Offense
2022 has been our first full-season look at Alcantara, and the million-dollar international free agent has not disappointed. As you may expect with a tall, lanky hitter, there's some swing and miss concerns with Alcantara, but his athleticism helps him control his large frame through his swing.
By nature, Alcantara can get long at times with his swing and he has struggled at times to get around on velocity. However, when he does get around on middle-in pitches, there's a good chance it is traveling really far, really fast.
As Alcantara continues to fill out, he will be able to produce impact with less movement which should make things easier for such a large hitter. Even with his wiry frame, Alcantara has hit baseballs over 110 miles per hour on several occasions in the early going of 2022, including a 113 MPH homer.
The fact that Alcantara has been able to keep his strikeout rate somewhat in check during his first season outside of the Complex League has to be extremely encouraging for the Chicago Cubs brass. Upside wise, you can dream on 40 homers, but I am impressed at what Alcantara is already showing in the box as a teenager.
Defense/Speed
An above average runner, Alcantara covers ground efficiently with his long strides. While that speed may not be realized as much in terms of stolen bases, Alcantara's galloping steps help him close in on balls quickly in the outfield.
Alcantara has split time between center field and right field and takes pretty good routes already. If he does not slow down too much due to filling out, Alcantara has the ability to stick in center field and be at least an average defender out there.
Outlook
There's not many prospects with a profile like Alcantara. Sure, there's plenty of risk involved, but the soon-to-be 20-year-old boasts as much upside as any prospect in the Cubs system. Alcantara has a pretty advanced feel to hit relative to his profile, but he could benefit from potentially cutting down on his sizable leg kick in an effort to be as short, repeatable and efficient to the ball as possible.
If Alcantara can master the moves that work for him in the batter's box, it will be scary to see what he could be capable of. The good news for Cubs fans is: Alcantara is ahead of schedule in that regard.
7. Jordan Wicks – LHP – (High-A)
Age: 22 | Height/Weight: 6'4′, 180 | Bat/Throw: R/R | 1st Round (21), 2021 (CHC) | ETA: 2023
| | | | | | |
| --- | --- | --- | --- | --- | --- |
| FASTBALL | SLIDER | CURVEBALL | CHANGEUP | COMMAND | FV |
| 50/55 | 50/55 | 40/45 | 60/70 | 50/60 | 50 |
In need of pitching reinforcements in the system, the Cubs went the safe route with their first selection of the 2021 draft taking the high-floor, polished southpaw Wicks. Already boasting one of the best changeups in the minors and solid pitchability, the 22-year-old should climb through the minors quickly.
Arsenal
The best college southpaw in the 2021 draft class, Wicks carved through Big-12 competition with his plus changeup and overall feel to pitch. Though Wicks will not light up the radar gun, his high-spin fastball has plenty of riding life and late zip in the 92-94 MPH range.
Wicks' sneaky fastball sets up his tumbling changeup really well with late drop that dives under barrels. On top of the late, nasty movement the pitch boasts, Wicks helps it play up by matching the arm speed that he has on his fastball while hiding the ball effectively as well.
Wicks will use his average or better slider to get left-handed hitters out as it features a good amount of sweep and can push towards 3,000 RPMs. The offering flashes above average and with his cross-body release, it can be extremely difficult for left-handed hitters to stay on the pitch. The fourth offering for Wicks is an average curveball that he will mix in to steal strikes or give another look to right-handed hitters. While not a devastating out pitch, Wicks utilizes it well thanks to his impressive feel to pitch and savviness in mixing up his secondaries.
Outlook
When the Cubs selected Wicks 21st overall in 2021, even they knew that it was unlikely for the left-handed pitcher to become a frontline arm. That said, the Cubs were attracted to the high probability that the Kansas St. standout could be a solid rotation piece in the near future.
Wicks is thick, repeats his mechanics well, and could see a slight uptick in velocity. If that happens, the 22-year-old could have No. 3 upside, but his changeup and superb feel to pitch give him a great chance to be a solid No. 4 starter who will climb through the minors quickly.
8. James Triantos – 3B – (Low-A)
Age: 19 | Height/Weight: 6'1, 195 | Bat/Throw: R/R | 2nd Round (56) – 2021 (CHC) | ETA: 2024
| | | | | | |
| --- | --- | --- | --- | --- | --- |
| HIT | RAW POWER | GAME POWER | RUN | FIELD | FV |
| 50/70 | 40/45 | 30/40 | 50/50 | 40/55 | 50 |
The potential plus plus hit-tool is the calling card for Triantos, but he will need to make a bit more impact on the baseball to reach the next echelon in terms of future value.
Offense
A smooth stroke geared for line drives and a ton of contact, Triantos is adept at controlling the barrel. What the 19-year-old lacks in impact, he makes up for in part with a knack for finding the gaps in the outfield and holes through the infield.
Triantos is ahead of his years offensively, but it is difficult to imagine him tapping into much more power as he is pretty maxed out physically. Below average exit velocities and a slightly high ground ball rate paint the picture of a bat-to-ball infielder who can sneak some homers out of the yard if he catches one right. That said, Triantos does not chase much for an elite hit-tool prospect and has shown plenty of ability to get on base.
Defense/Speed
Triantos' best defensive tool is his arm as the former high school pitcher was clocked as high as 96 mph on the bump. His plus arm strength is more than evident at third base where he is able to make long throws look pretty effortless. Triantos' actions could be a bit smoother which should come with time and reps. A good athlete with decent footwork and a plus arm, Triantos has a good chance to be a solid defender at the hot corner.
Outlook
Off to an excellent start to his professional career, there is plenty to like with Triantos. That said, it is fair to question how much better things will get for the second round pick. Triantos should make smooth transitions to each level, but the overall impact that he can make may be somewhat limited.
Given the power prerequisite for third base in today's game, Triantos' may profile more as a versatile infield option who can move around the diamond and provide quality at-bats. Triantos is a high probability big leaguer, but a low probability all star.
9. DJ Herz – LHP – (High-A)
Age: 21 | Height/Weight: 6'2, 175 | Bat/Throw: R/L | 8th Round (252), 2019 (CHC) | ETA: 2024
| | | | | |
| --- | --- | --- | --- | --- |
| FASTBALL | CURVEBALL | CHANGEUP | COMMAND | FV |
| 55/60 | 40/45 | 60/70 | 35/45 | 45+ |
Strikeouts have never been an issue for Herz, punching out 37% of batters since he debuted in 2019. Herz has also handed out free passes at a 14% clip, but continues to see his stuff tick up.
Arsenal
Deceptive with stuff that continues to improve, Herz has dominated lower level hitters with a fastball that is difficult to pick up and a plus changeup. Herz's fastball sits 92-95, a good amount of separation velocity wise from his side-spinning changeup at 81-83 mph with plenty of fade. Herz's changeup has so much horizontal movement that he is even able to bury it below the barrel of lefties when he has a good feel for it.
Herz will also mix in an average breaking ball in the low 80s to steal strikes and provide a different look. The pitch lacks some depth and tends to be a bit slurvy, but when Herz has a good feel for it, it can be a viable third pitch.
Outlook
An above average fastball and plus changeup can be enough to dominate hitters at the High-A level, but the development of Herz's average curveball and below average command will likely determine his trajectory.
Herz has walked at least three batters in five of his first 12 outings and the Cubs have treaded lightly with him innings wise as he is averaging about three and 2/3 innings per start. Still just 21 years old with proven swing and miss stuff, Herz was plenty of upside. The walks are concerning, but Herz is a great athlete on the mound who has a chance to put things together in that department.
If Herz can even develop his command to average, he could be a solid back-end of the rotation arm, though a lights out southpaw reliever seems like a very probable plan-b.
10. Yohendrick Pinango – OF – (High-A)
Age: 20 | Height/Weight: 5'11, 170 | Bat/Throw: L/L | IFA: $400K – 2018 (CHC) | ETA: 2024
| | | | | | |
| --- | --- | --- | --- | --- | --- |
| HIT | RAW POWER | GAME POWER | RUN | FIELD | FV |
| 45/55 | 50/55 | 40/50 | 50/50 | 40/50 | 45+ |
A free-swinger with surprisingly impressive bat-to-ball skills, Pinango has hit through the lower levels and is starting to tap into more game power.
Offense
Pinango is a fascinating hitter to watch. At times, he looks out of control in the box, but finds a way to put the bat on the ball. Solid contact rates through the minors have helped him climb quickly, but now Pinango is getting better at picking his spots to fire those big-time hacks.
Stocky but athletic, Pinango is explosive with his lower half, turning on baseballs with authority. Pinango has flashed above average power to his pull side, putting up exit velocities of over 110MPH sporadically. So far in 2022, we are seeing a lot more 100+ MPH exit velocities from Pinango along with more of an effort to get the ball in the air. As a result, Pinango surpassed his home run total from the entire 2021 campaign in just 28 games this year.
It would be nice to see Pinango walk a bit more, but the increased power without much of an uptick in swing and miss is extremely encouraging for the 20-year-old's longterm outlook.
Defense/Speed
An average runner with an average arm, Pinango is comfortable in either corner and should be solid defensively. On the base paths, Pinango has good instincts and is an opportunistic base stealer. Average or better defense with 10-15 stolen bases seems like a safe expectation for Pinango.
Outlook
Pinango was 19 years old when he began his 2022 campaign in High-A South Bend, but you would never know it by the way he plays. Pinango is an extremely tough out for pitchers and does not really have much of a hole across his game. His impressive bat to ball skills have instilled plenty of confidence in the Venezuelan to pull the trigger often, but that could be something that catches up with him a bit in the upper levels.
Pinango has improved in regards to picking his spots to take the bigger swings and by leveraging his advantage counts, he has seen some big results in the power department. It seems like 20 homers with a high .200's batting average and solid complementary tools is a feasible outcome to hope for.
Other Names To Watch
Matt Mervis – 1B – (Double-A): Signed as an undrafted free agent out of Duke in 2020, Mervis has been one of the best stories in the minor leagues this year. Mervis has torn apart High-A and Double-A pitching this year, launching 15 homers through his first 50 games while hovering in the top-10 in the minors in wRC+ all season long.
Mervis discussed the adjustments he made coming into the year on The Call Up podcast and there's really no doubting that things are working for the 24-year-old.
Brailyn Marquez – LHP – (Double-A): Injuries and bouts with COVID have unfortunately delayed Marquez's 2022 debut, but the electric left-hander is still just 23 years old and is capable of things on the mound that few are. We've seen Marquez run his fastball above triple digits with a nasty slider, though the command can really disappear on him.
Miguel Amaya – C – (Double-A): A plus defender behind the dish with some raw power, we have yet to see Amaya's second stint at the Double-A level due to elbow surgery. While last year left a bit to be desired offensively, Amaya's defensive prowess, quality of contact and patience at the plate give him a solid chance at being a big league backstop.
Bryce Ball – 1B – (Double-A): Acquired from the Braves in the Joc Pederson trade, Ball has taken his offensive game to the next level in 2022. Not only is the 23-year-old on pace to shatter his career highs in production, but he is also whiffing at the lowest rate of his career.
Nelson Velazquez – OF – (Triple-A): Velazquez caught fire in the latter half of the season last year and carried his momentum into the Arizona Fall League. There's no doubting Velazquez's power and he is actually a good athlete for his size as well. However, the strikeout rate will need to drop from 36% for Velazquez to project as an everyday option in the corner outfield.
Ed Howard – SS – (High-A): Elite defensive potential and snippets of offensive ability have been overshadowed by injuries and inconsistency for Howard. The former first-round pick by the Cubs has hardly played more than 100 professional games to this point, so it would be silly to write him off.
Kevin Made – SS – (Low-A): Signed for $1.5 million out of the Dominican Republic in 2019, Made has displayed good bad to ball skills and improved patience at the plate. Exciting defensive potential paired with improvements at the plate have Made as an interesting name to follow.
Alexander Canario – OF- (Double-A): Acquired from the Giants in the Kris Bryant trade, Canario has big time raw power and one of the best outfield arms in the minor leagues. Like many prospects with his profile, it all comes down to whether he can hit enough.