List
2022 MLB Mock Draft 1.0
With spring baseball set to begin, we now take a look at the stars of tomorrow with our first Mock Draft for 2022.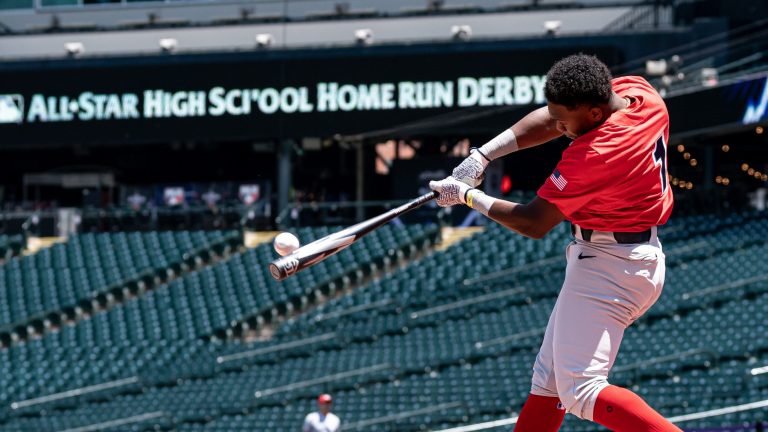 Now that the weather is starting to get warmer and college baseball is just about ready to get going, it is time to release our first mock draft. This year features tons of superstar-level talents along with some young and raw prep pitchers.
While the quality of college pitching isn't great, there are a ton of arms to watch this spring. As you may notice, almost all of the high school pitchers selected in this mock are committed to Vanderbilt. This is a pattern seen every year, showing the quality of Vandy's recruiting and reasons for annual success.
The biggest storyline this year is the quality of high school and college bats. Below, you will see some names that could be baseball's next wave of superstars. On the college side, power seems to be the most popular tool, along with a few well-rounded defenders.
We will update version one if any injuries arise, with other versions being published throughout the spring. Enjoy!
1. Baltimore Orioles – SS Brooks Lee, Cal Poly
Height: 6-2 | Weight: 205 lbs. | B-T: S-R | Age: 20 | Class: Sophomore
When it comes to amateur shortstops, Brooks Lee checks all of the boxes. Widely regarded as an early-round pick out of high school, Lee has done nothing but produce at the college level. The 6-foot-2 switch-hitter possesses a smooth swing from both sides of the plate, with the ability to grow into some more power. On defense, he has the actions, athleticism, and leadership qualities to stick at shortstop long term.
After missing most of his freshman year due to hamstring surgery, Lee impressed in 2021, slashing .342/.384/.626 with 10 homers in 55 games. Last summer, splitting time with Team USA and on Cape Cod, Lee shot up draft boards industry-wide.
The San Luis Obispo native was objectively the best player on Team USA's roster while owning a 1.099 OPS in 21 games on the Cape. Although the quality of prep bats this year is very good, Lee looks to be the best player in the class right now.
2. Arizona Diamondbacks – SS Termarr Johnson, Mays HS (GA)
Height: 5-8 | Weight: 194 lbs. | B-T: L-R | Age: 18 | Commitment: None
The best pure hitter in the class, Termarr Johnson showcases a smooth left-handed swing with up-and-coming power. Johnson has a stocky build at 5-foot-8 194 lbs., profiling as a second baseman long term. Some evaluators label Johnson as the best pure hitter in years, with some giving his hit tool a rare 80 grade.
The Georgia product does everything at the plate well, including advanced knowledge of the strike zone. His swing is a low-effort operation, but the ball jumps off of the bat to all fields. Johnson's defense is far from bad, and eventually landing at second or third base will be the most likely outcome.
3. Texas Rangers – OF Druw Jones, Wesleyan HS (GA)
Height: 6-4 | Weight: 180 lbs. | B-T: R-R | Age: 18 | Commitment: Vanderbilt
The son of baseball legend Andruw Jones, Druw features an explosive skill set that makes him arguably the best prep player in this class. Jones has serious five-tool potential, with the ability to be an advanced defender in center field, much like his father.
The Georgia native has put up impressive 60 yard dash times at Perfect Game events, recently clocking in at 6.31. Jones also has the ability to grow into more power in his 6-foot-4 180 lbs. frame. His swing needs work, with an out-of-sync operation, but the raw tools are there to create a perennial All-Star.
4. Pittsburgh Pirates – OF Chase DeLauter, James Madison
Height: 6-5 | Weight: 235 lbs. | B-T: L-L | Age: 20 | Class: Redshirt Sophomore
If there is one player the industry believes will breakout, it's Chase DeLauter. In 42 career games for the Dukes, DeLauter has slashed .385/.488/.657 with more walks (34) than strikeouts (24). The 6-foot-4 lefty has also made nine appearances as a pitcher, reaching the low 90s consistently.
DeLauter is praised for his knowledge of the strike zone, athleticism, and ability to have plus grades on all tools. The West Virginia native proved his worth versus high-end competition on the Cape Cod League last summer, owning a .986 OPS in 34 games.
5. Washington Nationals – INF Jace Jung, Texas Tech
Height: 6-0 | Weight: 205 lbs. | B-T: L-R | Age: 21 | Class: Sophomore
Brother of Rangers' prospect Josh Jung, Jace brings a similar toolset to the table. In 56 games for the Red Raiders, Jung produced an impressive 1.159 OPS with 21 bombs. The Big 12 Player of the Year has a chance to grade out at plus-plus hit and power tools.
On defense, Jung is limited, moving to second base last spring. His arm strength and range aren't great, so he will most likely stick there long-term. The Nationals have gone pitcher-heavy in the past five years, but a bat like Jung could climb quickly and be a fixture in their lineup for years to come.
6. Miami Marlins – OF Elijah Green, IMG Academy (FL)
Height: 6-3 | Weight: 214 lbs. | B-T: R-R | Age: 18 | Commitment: Miami
Elijah Green is another power-hitting prep bat in a stacked class. While Green dropping to six isn't a knock on him, it is more due to the quality of talent slightly ahead of him. This time last year Green was regarded as the best player in the draft but has faded out of the top five on many draft boards.
A unique mix of plus power, stellar defense, and blazing speed, Green may find himself back in the top five discussion before the spring is over. The Miami commit doesn't have a lot of physical projection left, but his advanced knowledge of hitting puts some polish on already exciting profile.
7. Chicago Cubs – RHP Dylan Lesko, Buford HS (GA)
Height: 6-3 | Weight: 195 lbs. | B-T: R-R | Age: 18 | Commitment: Vanderbilt
If there is one pitcher in this class that will remain a starter at the next level, it is Dylan Lesko. The 6-foot-3 righty features an exciting mix including a mid 90s fastball, high-spin curveball, and a changeup that has been regarded as the best in the class. Lesko can spot his pitches wherever he wants, with one of the more projectable frames in the class.
Lesko put up video game numbers last spring, striking out 112 batters in 60 innings, while also holding a 0.35 ERA. With multiple college arms going down with injury, Lesko seems to be far and away the best pitcher in this draft.
8. Minnesota Twins – OF Gavin Cross, Virginia Tech
Height: 6-3 | Weight: 210 lbs. | B-T: L-L | Age: 20 | Class: Sophomore
Gavin Cross has an interesting mix of power and arm strength that will likely land him in right field long term. The Tennessee product broke out last year for the Hokies, slashing .345/.415/.621 with 29 extra-base hits, 11 of them home runs.
Some optimism stems from Cross' 19 percent strikeout rate and six percent walk rate, which shows some swing-and-miss concerns. Many evaluators think that his power will make up for the swing decision issues, with an already filled-out body.
9. Kansas City Royals – 3B Jacob Berry, LSU
Height: 6-0 | Weight: 205 lbs. | B-T: S-R | Age: 20 | Class: Sophomore
Jacob Berry is very comparable to Texas Tech's Jace Jung, with some evaluators claiming that Berry has more power. Berry started his college career at Arizona, where he hit .352/.439/.676 with 17 bombs in his freshman campaign.
The switch-hitting corner infielder impressed as a high schooler with advanced power and a smooth swing from both sides. The COVID year saw Berry make it to campus, immediately solidifying himself as one of the best hitters in college baseball. Where he ends up positionally is a big question, with first base being the most likely outcome.
10. Colorado Rockies – 2B Robert Moore, Arkansas
Height: 5-9 | Weight: 170 lbs. | B-T: S-R | Age: 19 | Class: Junior
Son of Royals president Dayton Moore, Robert enrolled early at Arkansas, but quickly proved he was up to the challenge. Moore was off to a hot start in 2020 before the shutdown, owning a .847 OPS, and continued his success into 2021. After a productive summer in the Northwoods League, Moore returned to campus and put up a .283/.384/.558 slash line with 16 homers.
Defense is where Moore shines, with strong instincts, quickness, and advanced actions up the middle. Some evaluators believe he can stick at shortstop, but others believe his average arm strength will eventually move him to second base.
11. New York Mets (Comp.) – OF Brock Jones, Stanford
Height: 6-3 | Weight: 209 lbs. | B-T: L-L | Age: 21 | Class: Junior
In 2019, signability concerns landed Brock Jones on campus, and now he's looking at being a first-round selection. Jones played football for the Cardinals his freshman year, then decided to focus on baseball, and it paid off. In 56 games last spring, Jones hit .311 with 18 homers and 49 walks.
Jones knows the strike zone, walking at a 16% rate last spring. The Fresno area native closely resembles a linebacker, with most evaluators believing he can handle center field. Another strong spring could cement him into the top half of the first round.
12. Detroit Tigers – SS Cole Young, North Allegheny HS (PA)
Height: 5-11 | Weight: 179 lbs. | B-T: L-R | Age: 18 | Commitment: Duke
Cole Young's toolset is one of the best all-around profiles in the class. An advanced hitter, Young has shown the ability to handle velocity and possess the type of approach that scouts dream about. He has a crouched stance and a swing that sprays hits all over the field.
On defense, Young has the actions and range to stick at shortstop. His above-average arm strength and a strong first step allow him to throw out runners deep in the hole. Young is someone to watch this spring, with the possibility of moving up draft boards industry-wide.
13. Los Angeles Angels – C Daniel Susac, Arizona
Height: 6-4 | Weight: 218 lbs. | B-T: S-R | Age: 20 | Class: Sophomore
The brother of MLB journeyman Andrew Susac, Daniel is a physical, switch-hitting catcher with a strong arm behind the plate. The ongoing discussion between scouts is whether they prefer Susac or Kevin Parada at Georgia Tech. At 6-foot-4, Susac is big for a catcher but seems to handle the position well due to his athleticism.
Susac had a stellar freshman campaign, hitting .335 with 12 homers and 24 doubles. The industry will learn more about both Parada and Susac this spring, but it looks like Susac has a better chance to stick behind the plate.
14. New York Mets – RHP Brock Porter, St. Mary Prep (MI)
Height: 6-3 | Weight: 188 lbs. | B-T: R-R | Age: 18 | Commitment: Clemson
Only the second arm off the board, Porter is very similar to Georgia prep righty Dylan Lesko. The Michigan native has registered fastball velocities in the upper 90s and possesses two breaking balls. The changeup is regarded as his best secondary, with excellent movement.
His projectable frame could lead to more velocity down the road, making him one of the best prep pitchers in the class. Porter will need work on shortening his delivery and sharpening his command, although he already possesses solid control.
15. San Diego Padres – C Kevin Parada, Georgia Tech
Height: 6-1 | Weight: 197 lbs. | B-T: R-R | Age: 20 | Class: Sophomore
Kevin Parada was regarded as a top high school talent in 2020, but signability concerns landed him on campus. As previously mentioned, Parada is often grouped with Arizona's Daniel Susac, and some believe his pure hitting ability is a step above Susac. Last spring, the California-born backstop slashed .318/.379/.550 with nine bombs in 52 games.
Parada's defense is what raises most questions, but some believe he can improve enough to stick at catcher. A lot of evaluators believe he will eventually move off of the position, possibly landing in left field or at first base. However, if there is any program that can develop a catcher, Georgia Tech is the one.
16. Cleveland Guardians – LHP Carson Whisenhunt, East Carolina
Height: 6-3 | Weight: 209 lbs. | B-T: L-L | Age: 21 | Class: Sophomore
Carson Whisenhunt is viewed as a "safe option" when it comes to college pitching in this class. With a solid fastball, curveball, and an advanced changeup, Whisenhunt will almost surely remain a starter long term.
Last spring for the Pirates, Whisenhunt went 6-foot-2 with a 3.77 ERA in 13 starts. The South Carolina product is just one of many college arms that could rise or sink this spring. With a solid pitch mix and improved data, pitching well could move him up boards relatively quickly.
17. Philadelphia Phillies – LHP Jackson Ferris, IMG Academy (FL)
Height: 6-3 | Weight: 199 lbs. | B-T: L-L | Age: 18 | Commitment: Mississippi
If there is one high school arm that scouts believe will move up draft boards by July, it is Jackson Ferris. The North Carolina native put up unreal numbers at IMG Academy, posting a 0.55 ERA with 86 strikeouts in 50.2 innings.
Ferris has interesting arm action, with a three-pitch mix that includes a fastball, curveball, and changeup. The fastball can reach 97 and his changeup tunnels well with the pitch. His curveball has produced spin rates in the 2600-2700 rpm range with late life. Many evaluators noticed inconsistent command of all three pitches over the summer, so there is some room for improvement.
18. Cincinnati Reds – RHP Blade Tidwell, Tennessee
Height: 6-4 | Weight: 200 lbs. | B-T: R-R | Age: 20 | Class: Sophomore
With Arkansas right-hander Peyton Pallette going down with elbow surgery, Blade Tidwell slots in as the best college pitcher in the class. This could change as we get deeper into the spring, as Tidwell has some shoulder issues and some less-than-impressive numbers last season. Tidwell mostly uses his high 90s fastball and slider, with a curveball and changeup that haven't been consistent.
The Tennessee native faced adversity last spring, holding a 3.74 ERA in 18 starts for the Volunteers. In 98.2 innings, Tidwell allowed 12 home runs and only struck out 90 batters. Many evaluators will look for improvements this spring, but his health is an unknown approaching opening day.
19. Oakland Athletics – LHP Brandon Barriera, American Heritage HS (FL)
Height: 5-11 | Weight: 171 lbs. | B-T: L-L | Age: 17 | Commitment: Vanderbilt
Brandon Barriera hails from the same high school as Eric Hosmer, Triston Casas, and Zack Collins. To put it simply, Barriera is labeled as an "undersized lefty" who excels at throwing strikes. His repertoire includes a low-to-mid 90s fastball, a plus slider, and a changeup.
Barriera is a fiery competitor that isn't afraid to go after hitters. Due to his profile and pitch mix, many believe that Barriera could be a safe option towards the back of the first round. He didn't throw his changeup a ton, so a possible move to the bullpen may be in order down the stretch.
20. Atlanta Braves – RHP Landon Sims, Mississippi State
Height: 6-2 | Weight: 227 lbs. | B-T: R-R | Age: 21 | Class: Junior
Landon Sims has been nothing but dominant out of the bullpen for Mississippi State, posting a 1.82 ERA with 123 strikeouts in 69 1/3 career innings. Now, the Georgia native will get a chance to start for the national champion Bulldogs. Starting will be an adjustment for Sims, who primarily throws a mid-to-high 90s fastball and wipeout slider.
For some scouts to be confident in Sims, he will need to learn a changeup. His profile still screams reliever, which could give him a solid floor if starting doesn't work out. Unless learning a changeup gives him trouble, Sims is a guy who could fly through a system and make his debut sooner rather than later.
21. Seattle Mariners – 3B Cam Collier, Chipola JC
Height: 6-1 | Weight: 219 lbs. | B-T: L-R | Age: 17 | Commitment: Louisville
Cam Collier is just 17 but reclassed from the 2023 class to attend Chipola Junior College, where he will play this spring. Collier, like many in this class, is the son of a former big leaguer in Lou Collier. The junior college route has produced prominent first-rounders in past years, such as Bryce Harper and Tim Anderson, with Collier looking to follow suit.
The Georgia native has been praised for his quick hands and line-drive approach that produces loud contact. Evaluators are split on whether he will stick at third base long term, but a strong arm and quick actions make it a possibility.
22. St. Louis Cardinals – C Logan Tanner, Mississippi State
Height: 6-0 | Weight: 215 lbs. | B-T: R-R | Age: 21 | Class: Junior
The conversation of college catchers is mostly centered around Kevin Parada and Daniel Susac, but Logan Tanner should be in the discussion as well. Highly regarded out of high school, Tanner has always been seen as a good defender behind the dish. The Mississippi native was once a pitcher, hitting the mid 90s consistently, and that same arm strength translates as a catcher.
The most likely outcome for Tanner is a strong-armed catcher with power, much like Mike Zunino or Willson Contreras. Evaluators don't love his hit tool, so the power will have to carry Tanner throughout his career.
23. Toronto Blue Jays – LHP Bryce Hubbart, Florida State
Height: 6-1 | Weight: 185 lbs. | B-T: L-L | Age: 20 | Class: Redshirt Sophomore
Bryce Hubbart is another "safe lefty" option for teams this summer. Hubbart had a solid spring at Florida State in 2021, appearing in 16 games, with a 3.80 ERA and 94 strikeouts. Even more impressive, Hubbart posted a 0.87 ERA in six starts in the Cape Cod League.
Hubbart features a high-spin fastball, curveball, and changeup that generates swings and misses often. The Florida native also throws a ton of strikes, something shown through his walk rate on the Cape.
24. Boston Red Sox – LHP Noah Schultz, Oswego East HS (IL)
Height: 6-9 | Weight: 225 lbs. | B-T: L-L | Age: 18 | Commitment: Vanderbilt
Without a doubt, Noah Schultz is the most interesting player in this mock draft. He may only throw in the upper 80s to low 90s, but Schultz comes out of a three-quarters arm slot in a 6-foot-9 frame. The Illinois product also features a slurvy slider that is thrown in the mid-70s and a changeup that could develop into an above-average offering.
It is needless to say that Schultz creates very uncomfortable at-bats for opposing hitters. Uncommon for his size, Schultz repeats his mechanics well and excels at throwing quality strikes. The Vanderbilt commit also has room for more velocity, and if he goes to school, will be draft-eligible as a sophomore in 2024.
25. New York Yankees – OF Dylan Beavers, California
Height: 6-4 | Weight: 206 lbs. | B-T: L-R | Age: 20 | Class: Junior
This draft is filled with power-heavy college bats, with Dylan Beavers being no exception. The Cal outfielder put up a huge season last spring, with an OPS of 1.031 and 18 homers. Beavers may move into the same conversation as other bats such as Brock Jones or Gavin Cross, but struggles for Team USA and on the Cape have caused some concern.
Beavers has a chance to be an above-average defender, as well as an athletic runner, splitting time between RF and CF last season. Adjustments to his swing could shoot him up draft boards by July, but for now, he is projected as a late first-round talent.
26. Chicago White Sox – LHP Tristan Smith, Boiling Springs HS (SC)
Height: 6-1 | Weight: 202 lbs. | B-T: R-L | Age: 18 | Commitment: Clemson
Yet another prep lefty, Tristan Smith brings an interesting pitch mix and physical profile to the table. While he only stands 6-foot-1, some evaluators believe he has the best stuff in this class. Smith features a mid 90s fastball, along with a sharp breaking ball.
Due to the lack of a third pitch and shaky control, a future as a reliever may come down the road. If Smith shows promising development in a changeup and improved control, he could move up the board and be valued more.
27. Milwaukee Brewers – SS Carter Young, Vanderbilt
Height: 6-0 | Weight: 180 lbs. | B-T: S-R | Age: 21 | Class: Junior
There is no doubt that Carter Young is one, if not the best, defender in this class. His hit tool is a big concern, only managing a .252 batting average, but hit 16 homers last spring. Young's defense, speed, and actions at shortstop make him a lock to stick at the position long term.
If you're looking for a comparison, Cole Tucker comes to mind. While Tucker was a high school pick, he came into the draft with a below-average hit tool and stellar defense. A team may invest in making Young a better hitter, but at the very least you are getting a great defender and team leader.
28. Houston Astros – 3B Peyton Graham, Oklahoma
Height: 6-4 | Weight: 171 lbs. | B-T: R-R | Age: 21 | Class: Redshirt Sophomore
Oklahoma third baseman Peyton Graham has the upside of a power-hitting, strong-armed third baseman. After excelling in the shortened 2020 season, Graham returned to campus with more power. The Texas product hit 11 homers last spring, complemented by a .902 OPS.
While he struggled on the Cape last summer, evaluators believe Graham will have a big spring this season. Graham has moved all over the diamond, with most of his time spent at third base, where he is an above-average defender with a strong arm.
29. Tampa Bay Rays – LHP/1B Reggie Crawford, Connecticut
Height: 6-4 | Weight: 235 lbs. | B-T: L-L | Age: 21 | Class: Sophomore
Reggie Crawford shined as a two-way player at UConn before being shut down to get Tommy John Surgery, which will keep him off the mound in 2022. Even though he has only logged eight innings in two years for the Huskies, many evaluators believe his future is as a pitcher. As a hitter, however, Crawford has a career .309/.349/.543 slash line with 14 bombs in 64 games.
On the mound, Crawford's fastball can reach triple digits, along with a wipeout slider that makes him a legit first-round talent. A lack of a third pitch may influence his future as a reliever, but like White Sox's lefty Garrett Crochet, Crawford could find himself in the big leagues rather soon.
30. Los Angeles Dodgers – RHP Peyton Pallette, Arkansas
Height: 6-1 | Weight: 180 lbs. | B-T: R-R | Age: 20 | Class: Junior
Peyton Pallette was viewed as not only the best college arm but the best pitcher in this draft class until he went down with Tommy John Surgery. The elbow injury and surgery will keep him out the entire season, but his talent and track record will still get him drafted this July.
When he is on the mound, Pallette is dominant. The 20-year-old righty features a fastball that reaches the high 90s, along with a deep curveball that is regarded as his best pitch. Pallette also has a changeup that is still developing but could carve out a path as a starter.
31. San Francisco Giants – RHP Andrew Dutkanych, Brebeuf Jesuit HS (IN)
Height: 6-3 | Weight: 210 lbs. | B-T: R-R | Age: 18 | Commitment: Vanderbilt
Another Vanderbilt commit, Dutkanych is one of the more advanced prep arms in this class. His pitch repertoire includes a mid 90s fastball with run, a high 80s slider, and a curveball. While he hasn't thrown it a ton, Dutkanych also features a changeup that could develop into an above-average offering.
A top performer at showcases, Dutkanych has an easy, low-effort operation with a ton of projection. When it comes to prep arms, Dutkanych looks like a guy who could rise by spring's end. His overall profile, pitch mix, and body will be very appealing to teams this July.