Analysis
MLB Draft Betting Preview: Who Will Be the Top Pick in the 2022 MLB Draft?
Just Baseball's best value plays for betting on the first round of the MLB Draft.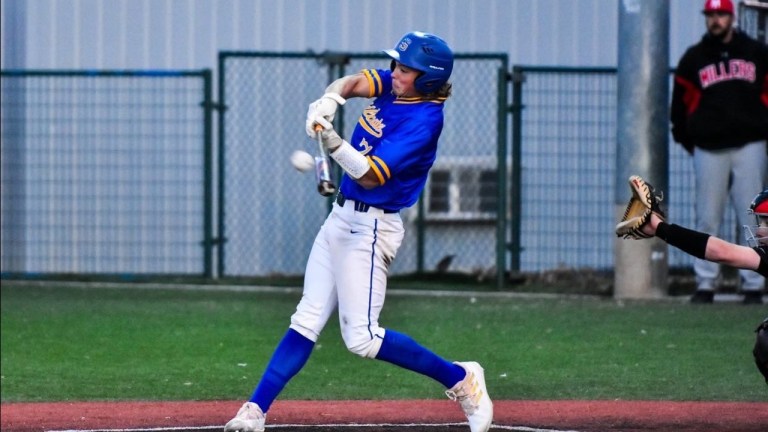 Strap in folks, the MLB Draft takes place at the MLB Network Studios on Sunday, July 17, and it is much different than the NBA, NFL, or NHL Draft.
The MLB Draft isn't as highly regarded from a promotional standpoint, as most players won't debut for their teams for at least two years. More often than not, most of these players taken after the first round will never make it to the big leagues. It's a harsh reality, as grinding through the minor leagues is one of the hardest things to do in sports.
The MLB Draft is difficult to bet on because the best player is not often drafted first. It's a complicated process, as teams have a set amount of money called their "bonus pool" to use. Baseball is such a funny sport. Why wouldn't they let a team take the best player available and pay him whatever they want? Nope. Doesn't work like that.
There are plenty of leans that are above the -200 threshold which I'll place at the bottom of this article. Here are the top four best bets to consider for the 2022 MLB Draft.
I highly advise checking out our Mock Draft 3.0 to see where we think these players will be drafted. All odds are courtesy of DraftKings.
Who Will Be The Number One Pick?
This is a value play first and foremost. The more research I do and more people I speak with, it seems to be down to two candidates. The first is Brooke Lee, who I believe is the safest prospect in the draft. He reminds me of a switch-hitting Alex Bregman. He projects to stick at shortstop and should be a doubles machine when he eventually makes the major leagues.
The second is Jackson Holliday, who we currently have mocked as the number one pick. He's been flying up draft boards as he has all the skills to be a fantastic shortstop at the big league level. The difference here is age, and of course, money. The Orioles have a couple of options. They could under-slot Lee and take the safest option, or they could take the potential superstar in Holliday. The Orioles' recent success could allow them to swing for the fences with this pick rather than go with the safer option.
While Druw Jones could be a generational-type prospect, there are rumors circulating he could go to college instead of taking the money this year in the draft. This is Andruw Jones' son we are talking about, so he doesn't really need the money. Holliday seems much more likely to take the money if he were to go number one, and the Diamondbacks seem to be the most likely destination for Jones at the number two pick.
Termarr Johnson is a very exciting prospect but seems very unlikely to be taken with the number one overall pick. He's been recently sliding in mock drafts and sits at No. 8 in our mock draft.
I believe the choice will be between Brooks Lee and Jackson Holliday. Considering that Brooks Lee is now -350 and Jackson Holliday is +1100 to go number one, I'll be on Holliday.
The Pick: Jackson Holliday to be Drafted Number 1 (+1100)
1 Unit to Win 11 Units
________
Dylan Lesko Draft Position O/U 16.5 (-120/-110)
This is my favorite pick. Dylan Lesko is the best pitcher in this draft. If you look at most mock drafts, including ours, he should be the first pitcher taken on draft day. The only thing keeping him from being taken early in the top 10 picks is Tommy John surgery. He had the procedure in April and shouldn't pitch for at least a year.
Even with injury concerns, there are too many teams that need pitching within the first 16 pitches that can't pass up on this high school right-hander. Aram Leighton and Ryan Miller mocked him to the Rockies at No. 10, and we would be shocked if he fell beyond the Mets at pick 11 or 14. He should be well within this range. Check out the scouting report from Mock Draft 3.0:
Scouting Report: Easily the best pitcher in the class, Lesko's pitch mix includes a mid-90s fastball, high-spin curveball, and a changeup that has been regarded as his best offering. While his curveball is still developing, the fastball/changeup combo will generate a ton of swings and misses at the next level. Lesko's best tool may be his command throughout his repertoire, surely making him a starter long-term. Lesko's recent Tommy John surgery won't affect his draft stock much, as he is still viewed as the best arm in the draft.
The Pick: Dylan Lesko Under 16.5 Draft Position (-110)
Unit Size: 2.2 Units to Win 2 Units
___________
Daniel Susac Draft Position O/U 17.5 (+140/-175)
The catcher from Arizona is not going to be drafted with the 18th pick or above. We currently have him mocked to the Angels at 13. I wouldn't be surprised if he was taken at 10 by the Rockies, 11 by the Mets or 12 by the Tigers. He's the second best catching prospect in this draft behind Kevin Parada, who's a freak show himself (in the best way possible). Here are the awards that Daniel Susac won this year.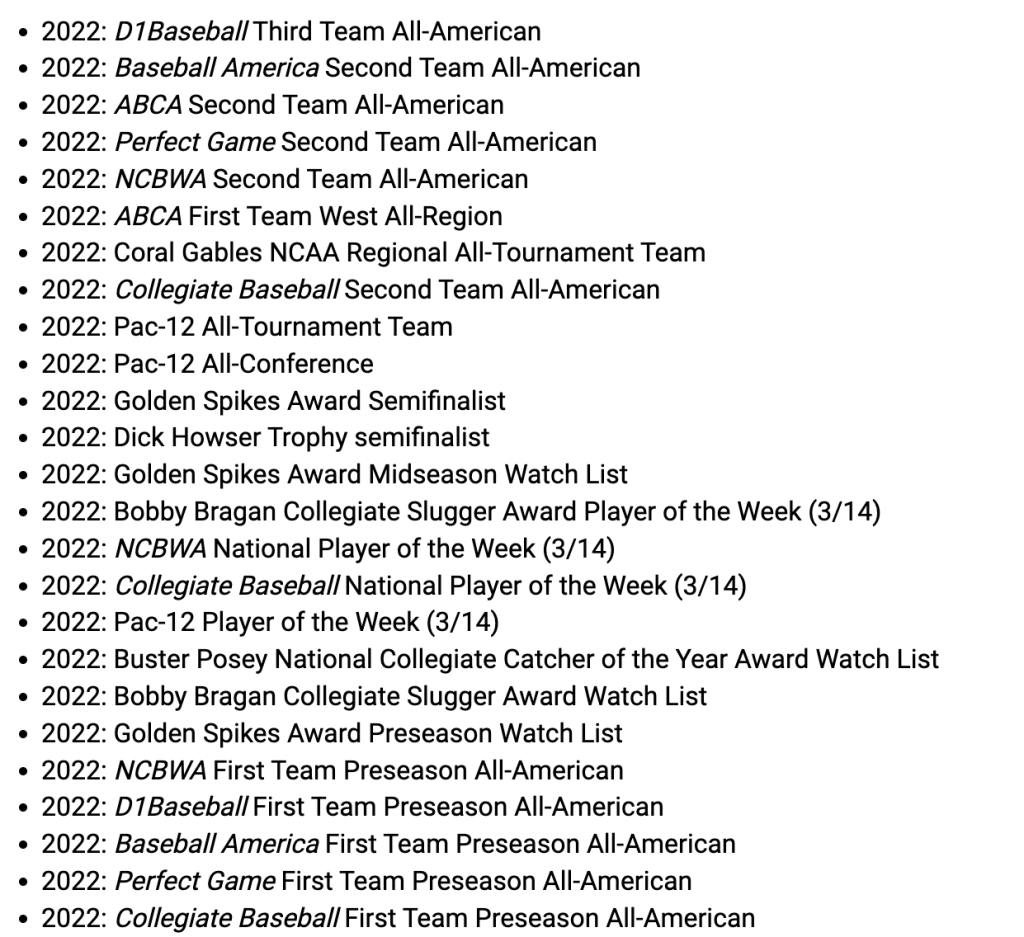 If this guy gets drafted outside of the top 17 picks, I'll be shocked. If he gets drafted outside the top 15 picks, I'll be very surprised. Read his scouting report from Mock Draft 3.0.
Scouting Report: Susac ditched switch-hitting this spring, opting to use his right-handed stroke full time. It's safe to say he hasn't disappointed, putting up video game numbers last season. Coming out of high school, Susac was a power-over-contact hitter but has since proved that he has the bat-to-ball skills to do both at a high level. Behind the plate, despite his big frame, Susac is athletic and has a strong arm.
The Pick: Daniel Susac Under 17.5 Draft Position (-175)
Unit Size: 1.75 Units to Win 1 Unit
________
1st To Be Drafted: Cooper Hjerpe vs. Gabriel Hughes (+100/-130)
This one is a bit of a wildcard, as both pitchers are projected first rounders. Most mocks are split on whether Hughes will be drafted before Hjerpe, but most have them around the middle-to-late first round.
I believe Hjerpe is the best college pitcher in the class, and he's performed everywhere he's been. Hjerpe was a Golden Spikes Award finalist, racking up 161 strikeouts in 103 innings to go along with a 2.53 ERA in his sophomore season at Oregon State.
Gabriel Hughes is fantastic in his own right with a fastball/slider combination that has scouts drooling. His 6'4 right-hander had a dominant season at Gonzaga, throwing 98 innings while striking out 138 batters en route to a 3.21 ERA.
Check out the scouting reports from Mock Draft 3.0.
Scouting Report (Cooper Herpe): Hjerpe won't blow up the radar gun, despite reaching 95 at times, but his deception makes the fastball one of the hardest to hit among college pitchers. Hjerpe's recent performance has seen him shoot up draft boards. His changeup works well off of the fastball, along with a mid-80s wipeout slider that may be his best offering.
Scouting Report (Gabriel Hughes): An early riser in this class, Hughes features an electric fastball and and good curveball that should produce whiffs at the next level. His pitch mix is rounded out with an average changeup, but some believe it has room for development. Hughes is pretty much filled out, being pretty physically imposing at 6'4″, 220 pounds. His control needs improvement.
I believe that Hjerpe is the better prospect and that will be reflected on draft day. It'll be fun to watch as it's very possible they are taken right after another.
The Pick: Cooper Hjepre Drafted Before Gabriel Hughes (+100)
Unit Size: 1.0 Units to Win 1 Unit
_________
Leans
Jace Jung Draft Position Under 14.5 (-235)
Justin Crawford Draft Position Over 13.5 (-250)
Zach Neto Draft Position Over 12.5 (-105)
Brock Jones Drafted Before Drew Gilbert (+350)
Jackson Holliday Drafted Before Elijah Greene (-550)
Jacob Berry Drafted Before Gavin Gross (-215)
Kumar Rocker Drafted Before Carson Whisenhunt (-250)
Peyton Graham Drafted Before Cayden Wallace (-350)