Analysis
Young Players Who Could Become Breakout Stars This October
There is no place better for a young player to make a name for themselves as a breakout star than in the MLB playoffs.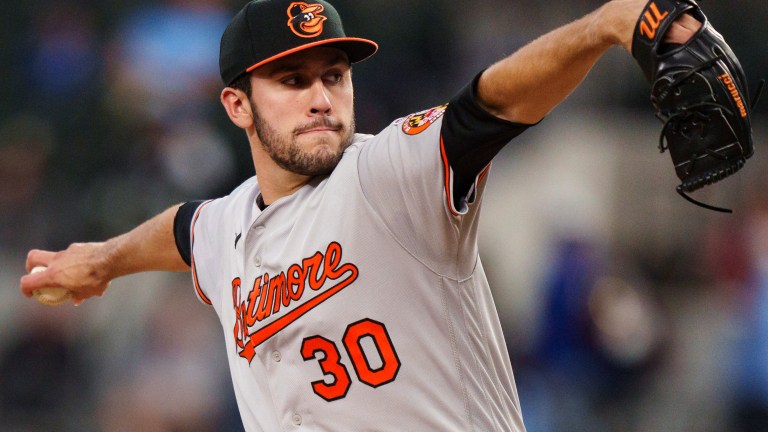 The playoff field is officially set and we're heading into the most exciting month of the year for baseball fans everywhere. With the playoffs starting this week, it's exciting to consider the variety of possibilities we could witness this year. One of the most exhilarating aspects of playoff baseball is the players that break out on the national scene with big-time performances in October.
Astros' shortstop Jeremy Peña made himself known to the entire baseball world as he put up a 1.005 OPS with four home runs as a rookie in the 2022 playoffs, winning both the ALCS and World Series MVP awards on the Astros path to a title.. He's one of many young players to take the league by storm and announce their name to the entire baseball world during the playoffs.
The league is filled with young talent right now which is evident when considering many of the league's youngest teams are legitimate contenders in the playoffs. It's entirely likely that someone not even on my radar will take the league by storm in October, but any of these players mentioned could play that role.
For the sake of this piece, I attempted to go with primarily players that have not received a lot of national attention to this point which is the only reason you won't find players like Corbin Carroll or Gunnar Henderson. The two soon-to-be Rookies of the Year will obviously have the opportunity to take their name to the next level, but many are already very familiar with their names. Nothing is quite like playoff baseball and these young talents will look to put their stamp on the game this year.
Grayson Rodriguez (Orioles)
The top seed in the American League is the exact description from above in regard to youthful teams leading the charge in the modern era of baseball. The Orioles are loaded with young talent and numerous players who can take over the media in the playoffs. But I went with the player who could truly be the ace of their staff in October.
Grayson Rodriguez had a rough start to his MLB career but has the ability to be a true ace for many years in Baltimore. His season numbers may not look elite but he has been one of the best pitchers in baseball across the past two months. In his last seven starts of the regular season, Rodriguez had a 2.20 ERA across 41 innings pitched. He has been electric down the stretch and led the way to a handful of wins.
Ranked as a top-level prospect prior to the season, many know the name Grayson Rodriguez, but he has also been overshadowed by the likes of Adley Rutschmann, Gunnar Henderson, and others on the Orioles roster. This could be a prime opportunity for the world to get to know him if he were to throw six innings of shutout ball in a pivotal playoff game (Is this a prediction? Yes, yes it is).
If the Orioles make a deep run in October, the world will likely learn the name Grayson Rodriguez in the process.
Evan Carter (Rangers)
I already detailed how much Carter can impact the Rangers when looking at potential X-factors in the American League, but he's worth mentioning twice. Ranked as our 11th prospect in baseball a few months ago, Carter was called up in September with the task of sparking an offense that desperately needed it after falling out of first place in the division. He did exactly that.
Carter started his career with a bang and his production has been a huge part of the Rangers locking down a playoff spot. His name has become popular in recent weeks but could be taken to the next level in October. Carter has game-changing power and defense and it feels likely he'll do something on either side of the ball to make his name known on the big stage.
The Rangers' offense can hang with anyone in the playoffs but Carter has a chance to make his presence felt even while surrounded by stars like Corey Seager and Marcus Semien.
Bobby Miller (Dodgers)
The Dodgers boast one of the league's best farm systems every year due to their exceptional organizational talent evaluation and development. One of their recent young players to prove worthy is starting pitcher Bobby Miller.
Many young pitchers have been forced into action this season due to the injuries throughout the Dodgers pitching staff, but none have shown what Miller has to this point.
Behind Clayton Kershaw and Lance Lynn, the Dodgers rotation is going to be filled with young players in October given that they'll be without Walker Buehler, Julio Urias, Tony Gonsolin, and Dustin May. Bobby Miller is the pitcher who stands out as a guy who could establish himself as an elite rotation piece of the future given the circumstances.
Miller has 22 starts under his belt since being called up to take a rotation spot in May.
While it hasn't been perfect, Miller had a 3.21 ERA in five starts in August and a 3.58 ERA in his five September starts. He continues to look better as he develops and his 1.12 WHIP is a sign of potentially even more dominance to come in the future. The Dodgers will need Miller and their other young arms to step up in order for them to compete with the Braves. I expect Miller to have one of those starts in the postseason that establishes his name as one to follow closely heading into 2024.
Edouard Julien (Twins)
The Twins head into October after running away with the weak AL Central, while still not being considered much of a contender in the American League. Despite being the third seed, they have the worst record of all six teams, while playing in by far the weakest division. With that said, they have a rotation that can take them deep into games and a few pieces on offense that can change the game.
One of the most productive offensive players on the roster has been rookie infielder Edouard Julien. Through his first 108 career games, Julien has a 136 wRC+, an on-base percentage nearing .400, 16 home runs. Simply put, he has been the best hitter at many times this year in Minnesota and not nearly enough people are familiar with his name.
While veterans Carlos Correa and Byron Buxton are the known leaders for the Twins, players like Julien and Royce Lewis (if healthy) will be the key to Minnesota's offense competing.
Abner Uribe (Brewers)
You may be wondering why a relief pitcher is being featured on a list with many of the best rookies and second-year players in the game. Because Abner Uribe is one of the nastiest pitchers we have seen this season and everyone will get to see that this season.
With a 1.76 ERA through his first 32 MLB games, Uribe has become the perfect complement to Devin Williams in the back of the bullpen for Milwaukee. With over 21 inches of vertical drop and an average velocity of 99.4 MPH, his turbo sinker (which he throws over 60% of the time) is one of the single most impressive pitches in the game.
Command can be an issue at times as he walks over 15% of hitters, but Uribe's stuff is undeniable with a strikeout rate of over 30% and excellent whiff numbers. People who have never seen him pitch will immediately be impressed by the latest bullpen star in Milwaukee.
Yainer Diaz (Astros)
Over the past few months, there's an argument to be made that Yainer Diaz is the most underrated hitter in baseball. With Houston missing core pieces such as Jose Altuve and Yordan Alvarez for large portions of the season, they needed players to step up behind Kyle Tucker and Alex Bregman. Diaz appeared in a few games last season but has broken out in a big way in this year, while not even playing every day for the Astros given the presence of Martin Maldonado.
In 103 games, Diaz put up a 128 wRC+ with 23 home runs resulting in a slugging percentage of .540 on the year. He split games between catcher and designated hitter throughout the season but has impacted the game offensively all year long with his power.
The plate approach continues to be one of the limitations for Diaz as he has one of the lowest walk rates in baseball, but his power could impact the game at any time especially when operating out of the bottom half of the loaded Astros' lineup. Hopefully, the Astros find a way to get his bat into the lineup because he can make things happen at the plate.
Junior Caminero (Rays)
The Rays are known across the baseball world for their ability to develop talented prospects year in and year out. This year is no different as one of the best prospects in baseball will have a chance to announce himself on the national stage. After launching his first career home run on the last day of the regular season, Junior Caminero feels like a prime candidate to have a massive October.
The Rays roster is filled with injuries and they've been forced to turn to a number of young players this season but Caminero has power that changes the course of an entire game. His numbers don't stand out yet, but he has less than 40 at-bats to his name. With that said, he has shown his speed with a max sprint speed of 29 MPH already, as well as his power with a max exit velocity of 112 MPH. The tools are all there for Caminero to become a superstar.
The Rays roster is far from the complete version of this team and they will need a variety of lesser-known pieces to step up in order to compete with the Rangers in the Wild Card and potentially their divisional competitor in the Orioles. Caminero could be one of their most important players if his bat can heat up when it matters the most.
Gabriel Moreno (Diamondbacks)
Half of the Diamondbacks roster could viably be considered for this list, but I decided to go with their catcher of the future who was acquired this past offseason and has quietly been excellent down the stretch. Since returning from an injury on August 13th, Gabriel Moreno is slashing .311/.382/.496 with a 137 wRC+ while remaining an elite defensive catcher behind the plate. He has flown largely under-the-radar, but Moreno's breakout should not be ignored.
With Corbin Carroll leading the charge and Zac Gallen starting Game 2 on the mound, Arizona should have a legitimate chance to take down the Brewers in the Wild Card series. Moreno is one of the various lineup pieces that could help push them further in this process. He has been nothing but steady recently and can help Arizona continue to exceed expectations as they weren't even expected to be a playoff team at the onset of the season.
Moreno is best-known for being part of the Daulton Varsho trade but he has the chance to breakout like the rest of this list with a strong showing in the postseason.