Analysis
Why Didn't the St. Louis Cardinals Add an Ace This Offseason?
They passed on free agents and refused to part with their prospects. Now, the Cardinals have to figure out a way to piece it together.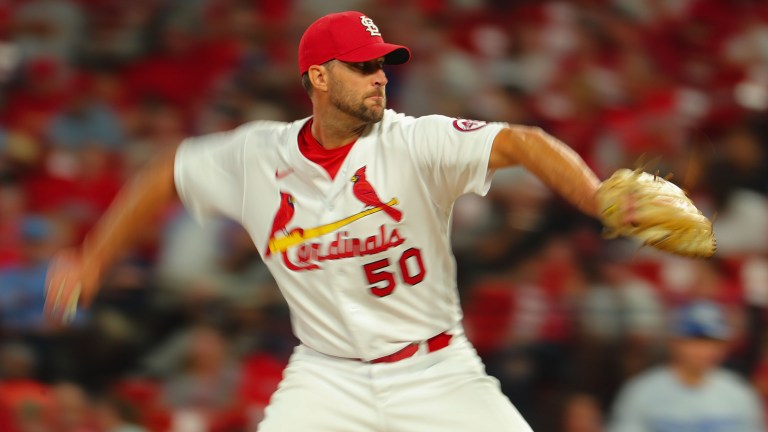 First of all, let me say this.
If you hit the panic button 15 games into the season, you've got problems.
But….
The St. Louis Cardinals starting the season 6-9, in last place in the NL Central, when their roster is loaded with talent is also a problem. The sky is, by no means, falling (yet) in St. Louis. But to start the year, the Cards are doing more to lose games than they are to win them.
And to be honest, at least on the offensive side, it might be a bit of an anomaly.
The Cardinals' offense ranks sixth in batting average (.272), sixth in on-base percentage (.345), fifth in hits (141), fifth in BABIP (.330), sixth in average exit velocity (90.3), third in number of balls hit 95 miles per hour or harder (172) and ninth in hard-hit percentage (43.4).
So how in the world are they ranked 23rd in runs scored, with just 62 total?
Well…that's baseball, Suzyn.
While leaving runners on base has been a problem so far this year, it is likely one that irons itself out as the sample size grow. However the real problem the Cardinals have is one that fans have been screaming about for years. The starting rotation, as it stands, has been flat-out not good enough.
The current rotation of Miles Mikolas, Steven Matz, Jordan Montgomery, Jack Flaherty and Jake Woodford have combined to go 3-7 with a 5.13 ERA and 1.65 WHIP. Teams are hitting .304 against them, second-worst in the league to the Oakland A's (.308).
To break this down even further, in 79 innings pitched, they've allowed a league worst 95 hits, 12 home runs (T-10th worst), 45 earned runs (T-7th worst), and have issued 35 walks (T-6th worst).
In 15 games played, they've had just two quality starts, both of them by Jordan Montgomery. For comparison, in 15 games played the Dodgers have had nine quality starts.
Everyone around the league loves Adam Wainwright, but this isn't an issue Wainwright can solve alone. We saw him struggle with velocity in the World Baseball Classic, then go on the shelf with a groin injury shortly after that. And while he IS doing well in his rehab and should be back soon, you can't expect a 42-year-old man to be the saving grace of the team.
All of this begs the question, "why didn't the Cardinals go get a top-end starting pitcher?"
They've had their options.
Back in January, Ken Rosenthal linked them to Pablo Lopez. That obviously didn't happen. Many say it's because the Cards didn't want to part with Lars Nootbaar. Lopez eventually went to the Twins and has shoved in his first three starts of 2023.
The Twins gave up Luis Arraez to get Lopez, and while he is leading the world in batting right now (he's hitting .471!), Minnesota doesn't regret the trade for a second because they finally have someone anchoring their rotation.
St. Louis loves their own guys, which is great, but you do have to give to get in this league. And they have been hesitant to give for a long time now.
If you go back a few years, you can find the similarities in the Cardinals' pursuit of Zach Wheeler. This tweet is from 2019.
But it's not just the trade market. There were several free agent pitchers available over the past few years.
Two offseasons ago, there was talk the Cardinals and Max Scherzer had mutual interest. He's from the St. Louis area, was drafted by the Cardinals back in 2003 and would've given them the bonafide ace they've needed.
He went to the Mets.
Then this past offseason, three aces were available – Jacob deGrom, Justin Verlander and Carlos Rodón. To a certain extent, you can understand the Cardinals' reservations about all three guys. Rodón and deGrom come with considerable injury concerns. Signing Justin Verlander would mean having two 40-year-old pitchers in your rotation.
But there was also a stockpile of reliable, middle-of-the-rotation arms to be scooped up this winter. Chris Bassitt, Nathan Eovaldi, Jameson Taillon, hell even Noah Syndergaard were all available. The Cardinals didn't pounce on any of them.
Which is fine, until your starting rotation begins the year the way it has.
Now you could also argue those mid-rotation arms don't move the needle much more than someone like Steven Matz, who's already on the team. And you might be right. But then, wouldn't it make getting that top-tier arm THAT much more important?
This is why I suggested a couple weeks ago the Cardinals would finally unload their prospects for Corbin Burnes. But Milwaukee starting the season 10-5 and in first place really puts a damper on those trade talks, now doesn't it?
Do the Cardinals really want to pay Shohei Ohtani half a billion dollars this winter? If they do, and the Angels are out of it by July, then surely the two teams would at least have a conversation about a trade. Then again, Angels owner Art Moreno has said several times he wants to keep Ohtani. So I wouldn't necessarily call that promising.
I've got one more thought in my brain. What about Shane Bieber?
Cleveland is extremely forward-thinking when it comes to balancing staying competitive and under budget. If the Guardians fall out of contention, I could see it. But I could also see the AL Central being a dogfight for 162 games, and the Guardians looking to add at the deadline, not subtract.
Ultimately for most teams, the trade market won't start to materialize until the deadline and what is available then is a mystery. This is what puts the Cardinals in such a tough spot based on their reluctance to make a move this offseason, because they are basically stuck with what they have.
This is really about to hinge on Matthew Liberatore after all, isn't it? And maybe I've just wasted about 1,000 words when, in reality, this was the plan all along.
Liberatore looks like a completely different pitcher from the one we saw in 2022. In three Triple-A starts this year, he's allowed just two earned runs in 17 innings pitched. He's struck out 24 batters and allowed just 10 hits. Even more encouraging, his fastball velocity is way up. Last year, he averaged 93.7 mph on his fastball. Look at this year so far…
Sooner or later, the Cardinals are going to have to make the call. He looks too good. And it wouldn't shock me if Liberatore is the answer. This organization knows how to draft and develop talent. So they get a little more benefit of the doubt than other teams.
But if he ISN'T the answer, where do the Cardinals turn? We might not know that answer for a few months.
I would make one suggestion to Cardinals fans, though. Do not watch highlights from Sunday afternoon's game between the Diamondbacks and the Marlins.