Analysis
Five Bold Predictions for the National League Central
It's hard to bet against the St. Louis Cardinals, but baseball's most unpredictable division will always have some tricks up its sleeve.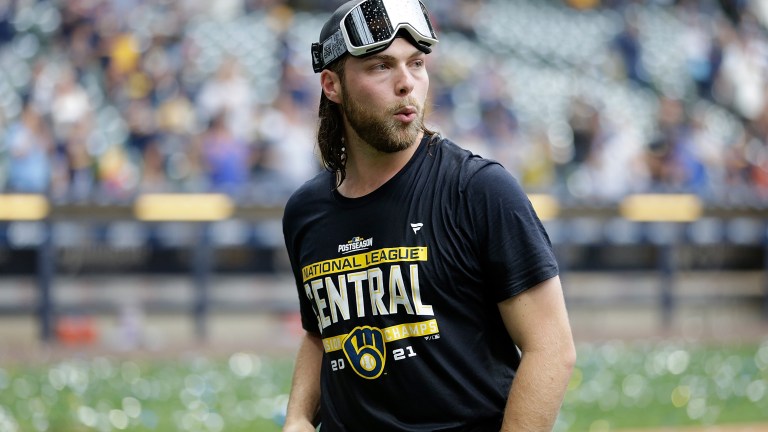 The NL Central is always so fascinating to me.
We look at the teams on paper. We say something to the extent of: "X team should run away with the division." And then, like every other year, there's a September sprint to the finish.
Without a doubt, the St. Louis Cardinals have the best team on paper. But they don't play the games on paper. The division's cannibalistic. It always is. That's what makes the NL Central so great.
So let's explore these five bold predictions.
Chicago Cubs
Bold Prediction: The Cubs will win 90 games
The Cubs were 74-88 in 2022, and they definitely didn't get worse.
How many wins do a former MVP and a World Series-winning shortstop add? Cody Bellinger obviously isn't the same 8.6-bWAR player he was in 2019. But he's also not the -1.7-bWAR player from 2021.
If nothing else, the Cubs are still getting a very good defensive center fielder.
But take a look at this moonshot from Monday. Bellinger looked pretty comfortable smashing this hanging breaking ball. He doesn't have to hit 40 of them. But 25-30 just might do the trick.
Now to Dansby Swanson.
Last year, he was worth 5.7 bWAR with a 116 wRC+. He won the Gold Glove at shortstop and set a career-high in runs scored, runs batted in and stolen bases. Is that repeatable? Maybe. Maybe not.
But Swanson brings something to this team that not many other players can boast. In his past two seasons, he's played 162 and 160 games. Almost every day, there he is at shortstop. And at a time in sports when we can't get professional basketball players to play one back-to-back all year, it's even more admirable. That kind of durability goes a long way.
Toss in a Hosmer/Mancini lefty-righty split and a more comfortable Nico Hoerner, and that's a lineup that can do some damage.
On the mound, a rotation including Jameson Taillon, Marcus Stroman, Hayden Wesneski and Justin Steele is very solid.
The bullpen? Whatever. Just call up Jeremiah Estrada already. Please, my dynasty fantasy team is begging you. No, but seriously, the Cubs will find some guys to get a few outs. They've already found one of them in Michael Fulmer.
A lot has to break (or, in Chicago's case, blow) in the right direction. But again, these are bold predictions, not reasonable predictions.
Cincinnati Reds
Bold Prediction: Greene-Lodolo-Ashcraft is the best young pitching trio in more than a decade
The analytics gods are going to smile down on me for this one.
(Clears throat)
The trio of Hunter Greene, Nick Lodolo and Graham Ashcraft will become the best young three-man combination since the Giants had Tim Lincecum, Matt Cain and Jonathan Sanchez.
Why, you ask? Three different, yet equally fun, reasons.
Greene has heat, Lodolo has sink and Ashcraft has sweep.
Let's start with Greene.
He's got pedigree and stuff, the full makeup of a young, budding superstar. More or less a fastball-slider guy, he still put up a 30.9 strikeout percentage last season. The reason for that is his run. His fastball had 11.7 inches of horizontal movement in 2022, 3.5 inches more than the average four-seamer. Combine that run with otherworldly velocity, and you have 6'5″ and 242 pounds of intimidation. It's only a matter of time before it all comes together.
Then there's Nick Lodolo.
He doesn't have the gas Greene has, but he has plenty of other weapons. Lodolo reminds me of Inspector Gadget. There's always a tool to bust out to get the job done.
He's a true four-pitch guy, throwing a sinker, four-seam, curve and change each more than 10% of the time. Though he finished 2022 with a 3.60 ERA, he sported a 29.7 K% and a .215 expected batting average against.
The explanation here is movement.
His sinker combines drop (1.9 inches above average) and break (3.1 inches above average). His curveball breaks even more (3.9 inches above average). Finally, his four-seamer has 8.5 more inches of horizontal movement than average. Combine that movement with a 6'6″ frame and an unconventional arm angle, and it's no wonder batters make such weak contact against Lodolo.
Finally, we come to Graham Ashcraft.
You look at the surface numbers (4.89 ERA, 1.42 WHIP, 71K in 105 IP last season) and you might wonder why he's included in this prediction. But go under the hood, and you can see the potential is there.
Ashcraft's slider can be absolutely devastating. It drops 4.4 inches and breaks 6.3 inches more than an average slider. It produced an xBA of just .229 and had a 35.6 K% last season. Now, if he can get the cutter and sinker to complement it more consistently, you have the makings of maybe the best #3 in the National League.
The Reds probably won't contend. But man, if these guys post, 2024 will be a wild ride.
Milwaukee Brewers
Bold Prediction: Corbin Burnes is traded… within the division
The Brewers' season is going to go one of two ways.
Number one: Brice Turang, Joey Wiemer and the other prospects are ready for the big leagues. They hit well enough to keep the Brewers in contention, and the team relies on Corbin Burnes, plus a trade deadline acquisition, to push them into the playoffs.
Turang's already had his big league moment.
The other option, and in my opinion, the more likely scenario, is that the Brewers don't hit enough, and they lose a lot of close games. What happens if they're 33-38 at the All-Star break? They were 57-45 and had a three-game lead in the NL Central on August 1st last season when they traded Josh Hader.
So, it's not exactly out of the realm of possibility the Brewers are selling by the deadline.
And who guarantees you the best return from another team? Corbin Burnes. Guy's arguably the best pitcher in baseball. He'll have one and a half years of control left, and while that's obviously an impediment to any trade, let's not forget these two sides fought over $750,000 this winter.
That's like me and you fighting over the last slice of a $20 pizza.
On the other side of the coin, you can almost bet your life savings there will be a handful of teams dying to lure a sure-fire ace like Burnes away from his current team.
Does GM Matt Arnold dare do any business with the Red Birds? If the Brew Crew is 10 games under .500 in the middle of August and the Cardinals offer the right names…
Crazier things have happened.
St. Louis Cardinals
Bold Prediction: The Cardinals trade it all for Corbin Burnes
We're just going to roll this prediction right over.
Even before the season started, we knew the Cardinals needed a starting pitcher. Miles Mikolas, Adam Wainwright, Steven Matz, Jordan Montgomery and Jack Flaherty make for a good rotation. But to win the World Series, this club needs to add an ace.
Burnes is the most obvious choice, and not just because of the natural fit and his familiarity with the rest of the division. But think about what it would actually take to acquire him. Pitching prospects. Hitting prospects. Hell, maybe even somebody's firstborn.
But seriously, the Cardinals, unlike many other teams around the league, HAVE the prospects to give.
Nolan Gorman, Masyn Wynn, Tommy Edman, Brendan Donovan, Jordan Walker, Juan Yepez, Tyler O'Neil, Dylan Carlson, Lars Nootbaar is a helluva logjam to have. You quite literally cannot play all those guys. Plus, the Cardinals have Matthew Liberatore waiting to make a rotation… be it in St. Louis or somewhere else.
Here's the other thing. Logjams don't clear themselves up. They need catalysts.
Maybe the catalyst in this case is the best pitcher in the game.
Hey Masyn Wynn, do you like cheese?
Pittsburgh Pirates
Bold Prediction: They draft Dylan Crews in June… and he plays in September
If you've never seen Dylan Crews play baseball, then BOY, are you missing out.
In 128 plate appearances this year, LSU's top cat is slashing .543/.664/.947 with 51 hits, 11 doubles, 9 home runs and 35 runs batted in. He also has 22 walks to 13 strikeouts. Video game stats. And this season isn't an aberration. Crews tore the cover off the ball last year too.
He should go 1-1 to Pittsburgh come the 2023 MLB Draft. If and when he does, why not keep the cannonballs coming? Play him. Let's see what he's got.
Remember when Stephen Strasburg did it? It was the most electric thing I've ever seen.
More to the point, they're actually building a core there in Pittsburgh. Spending more time together could be good for them.
Double Crews missiles. Or is it Cruz missiles? However you want to spell it, it's going to be fun.
Design the damn t-shirt already.