Analysis
Who Should Be the Favorite to Win the AL Central in 2022?
With the Yankees and Astros running away with their respective divisions, the one race to watch in the AL is to see who wins the Central.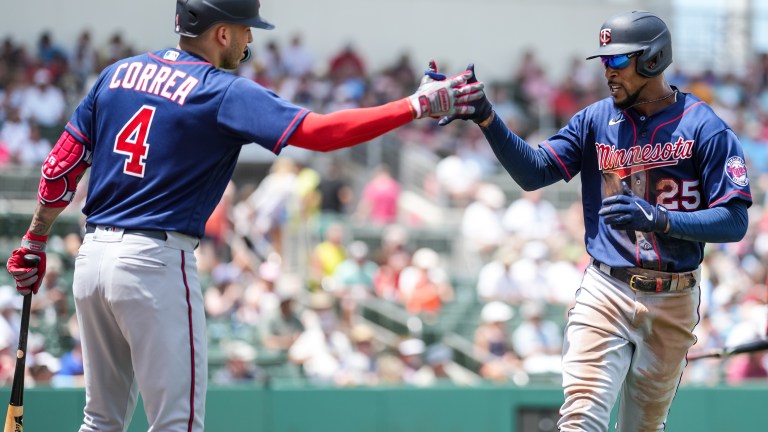 Everyone's focus is on the American League Wild Card race. With so many teams in the mix, it's hard not to focus on it over the next weeks leading up to the deadline.
With the Astros and Yankees comfortably ahead in their division, that leaves one American League division up for grabs, the AL Central.
The Twins currently are in first place, but the Guardians and White Sox are five or fewer games out of first. With each team likely looking to add at the deadline we wanted to pick the brain of Just Baseball's White Sox and AL Central expert, Elijah Evans.
Clay: Elijah, the AL Central might be one of the weakest divisions, but that doesn't mean the division race cannot be fun. Of the three top teams, which has impressed you the most and which has disappointed you?
Elijah: It might be "weak" compared to some of the other divisions, but at least it's competitive!
So far this season, the Minnesota Twins have shocked fans of the other four teams in the division as they've gone from a complete dumpster fire last year to the favorite to win this division. The early additions they made in the offseason flew under the radar, but have made a significant difference as guys like Sonny Gray and Gio Urshella have helped turn around this franchise.
However, no move was more important than the biggest signing in recent Minnesota history: Carlos Correa. While his numbers may not be at the level some fans expected, his impact on this roster has been drastic. This team has set itself up to reclaim its throne atop this division much to the surprise of Cleveland and Chicago.
Now onto the team that has not only been the most disappointing team in the division, but also the most disappointing team in the league: my Chicago White Sox.
On paper, the talent on this roster is not even in the same category as the likes of the Twins and Guardians. Many in the industry, including myself, had this team winning this division by 10+ games, but here we are in July approaching the All-Star break, and this team is five games back.
Based on the product they've put on the field, it's honestly shocking that they even have a chance to make the playoffs still. From coaching (we'll get to him later) to injuries to underperformance to clubhouse tension, just about everything has gone wrong for this club. However, they still have a chance to turn things around simply because of the division.
Clay: We probably need to mention how big of a disappointment the Tigers have been, but let's focus on the contenders. The White Sox have a roster that seems pretty set, yet the results aren't as expected. How can a team without prospect depth get creative in adding to this roster?
Elijah: They have no choice but to retool at this point. Some people think a hardcore sell is needed and others believe that they need to trade the few top prospects they have and go all in. In reality, the solution is likely a balance of those options.
Let's take a brief look back at the Atlanta Braves last year. Trading for Jorge Soler, Joc Pederson, and Eddie Rosario was not considered to be amazing at the time. However, those pieces were crucial to their late-season success and their eventual World Series Championship.
The White Sox don't appear destined for a World Series, but they will have to get creative with adding low-cost players. They need to search the market and add some undervalued trade targets that can flourish in the right role. This may require them dipping into some major league players, but that has to be considered at this point.
Clay: I think the White Sox have a good, not great roster. The lack of tradable assets concerns me as well. The Twins are in a similar spot with the difference being their asset pool. They have the prospects or young MLB talent to land a big piece. But will they go all-in on one player or look to add a few contributors to the rotation and bullpen only?
Elijah: I'd argue the Twins have the most possible options at this deadline. While they have a fairly young team with a decent amount of team control, they have a big issue to address. Carlos Correa has an opt-out at the end of the year if he so chooses. The Twins do not wanna lose this guy after only one season which leads me to believe they're going to at least try to bring in a major piece.
Given the competition they face, I believe the Twins feel pretty confident in their offense's ability to win this division. However, they have a pretty inexperienced rotation behind Sonny Gray and seem to be another arm away from having a very competitive rotation. Insert the top-two trade candidates on the market.
If Minnesota wants to take a swing and go for it, they should already be on the phone with Oakland and Cincinnati. Minnesota needs either Frankie Montas or Luis Castillo. Adding one would make this team indisputably stronger than the Guardians or White Sox heading into the final stretch.
Getting back to your question, I don't think this team stops at one major piece. Even if they strike a deal for one of the big arms, I would still expect a bullpen arm or two to be added. This is not a team that wants to sit back and let things happen. They will be looking to add a major piece in addition to a few smaller ones in the coming weeks.
Clay: BANG! I love it. A team seeing the opportunity to win a division and going for it. I think whoever makes the most of their deadline moves wins the division. The team we haven't mentioned is the Guardians. The pesty Guardians.
Cleveland has the deepest farm of the three teams and theoretically could improve their roster the most. Will they add a Sean Murphy or an impact outfielder or continue their typical path of acquiring younger assets with years of control?
Elijah: The Guardians have been the Guardians. They have been about average as they typically are and have hung around long enough to have a realistic chance at winning this division. However, like you said Clay, they tend to not go for it.
This team has by far the best long-term outlook in terms of farm system depth, young pieces, and tons of arms. That's why I don't really see them making a huge splash. As a baseball fan, I would love to see them go out and get one of the big catchers (Murphy or Contreras) and an impact outfield bat. History shows it's unlikely.
The more realistic option for the Guardians is to acquire a controllable bat, appearing to be pushing for the playoffs while not sacrifice any of their future. As constructed, this roster is likely not going to make substantive noise against teams like the Yankees and Astros even if they win the division. Trust in their system and play the long game while their division rivals will both likely be giving away young pieces.
Clay: I'm begging Cleveland, for once, to be aggressive. Their resistance to add a big piece is my biggest concern with Cleveland. Looks at these three contenders, what is your biggest concern with each?
Elijah: Each team has concerns for sure and that's why we sit here in July with none of these three looking like true contenders. As you mentioned earlier, the team that best addresses these issues will likely be the team representing this division in October.
Twins- Can their pitching hold on? The Twins have control of their destiny right now. They lead the division by a few games and have a four-game series with Chicago this weekend. My biggest worry for them is the pitching depth and the ability of their arms to remain steady the rest of the year. As of now, they're relying on an aging Chris Archer, an inconsistent Dylan Bundy, and the young Joe Ryan to get them 5-6 innings a night. Furthermore, veteran relievers such as Tyler Duffey and Emilio Pagán have struggled a lot this year. Maybe they'll prove me wrong, but that doesn't really inspire me.
Guardians- Who is hitting every day other than Jram? The Guardians offense has been significantly better than most people expected thanks to major contributions from players such as rookie Steven Kwan, first-time All-Star Andrés Giménez, and the powerful Josh Naylor. These players have helped ease the pressure on superstar Jose Ramirez, but there remain multiple stagnant spots in the lineup. There will need to be more consistent production from the non-Kwan outfielders in addition to the catching position (TRADE FOR SOMEONE) if the Guardians offense is going to remain solid.
White Sox- Is this a team or a group of individuals? This team has been incredibly frustrating to watch all season, yet I don't think anyone doubts the talent this team still holds. The biggest issue looming over this squad is the lack of effort and cohesion that has become increasingly obvious to everyone that watches them play. Tony La Russa has been getting rightfully criticized all year for his in-game decision-making, his lack of clubhouse leadership, and his inability to turn talent into wins. Whether the Sox move on from La Russa or work through it internally, they stand no chance if they can't come together and play as a team that wants to win baseball games.
Clay: Well, we have dissected each team. Talked needs and concerns. Now, it's time for predictions. What do you think the final AL Central standings look like come October?
Elijah:
Twins (86-76)
White Sox (84-78)
Guardians (83-79)
Tigers (70-92)
Royals (64-98)
This is going to be a race to the finish line and I think the top three teams will all finish within around five games of each other just as they are right now. As much as it pains me to say, I think the Twins will come out on top, just edging the White Sox in an epic three-game series to finish the season. The Twins have the least obvious issues and will likely be the biggest buyers at the deadline. I think they take back their division crown as the White Sox can't maintain their success from last season.
When it comes to the playoffs, I expect Minnesota to have a hard time with whoever slots into the third Wild Card spot in the new playoff format. I have them losing in three games in the Wild Card round to finish off another disappointing October from this division.
For the record, even if they made it out of the first round, they would get swept by the Yankees or Astros.