Analysis
All-Star Andres Gimenez Enjoying Breakout for the Cleveland Guardians
Originally the headlining piece that came back in the Francisco Lindor trade, Andres Gimenez has been a revelation for the Guardians in 2022.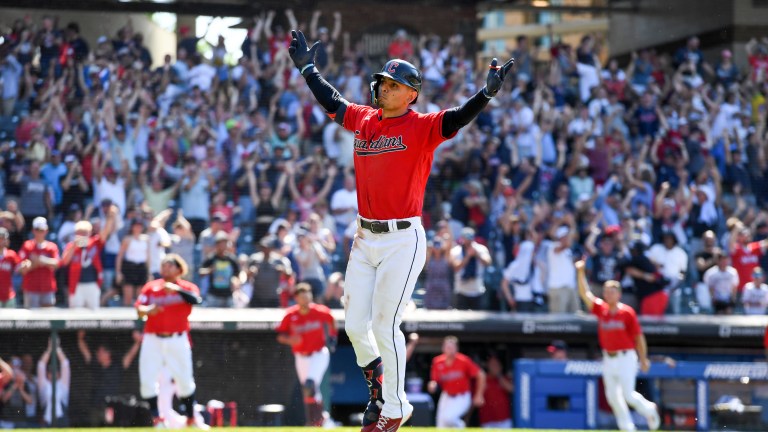 When the Cleveland Guardians traded four-time All-Star Francisco Lindor prior to the 2021 season, they hoped that one of the four players they got back could one day rise to a similar status in the game.
Two shortstops were included in the deal, with both Amed Rosario and Andres Gimenez having been sent in the trade from the Mets. Rosario was the more well-known commodity at the time, as a player who was once considering one of the best prospects in all of baseball.
Rosario already had over 400 games of big league experience under his belt and was set to fill Lindor's spot at shortstop for the Guardians. But anyone who really understood the value of these players knew that Gimenez was the headlining piece to the deal.
Still just 22 years old at the time, Gimenez was coming off a very impressive rookie campaign in 2020, where he hit .263/.333/.398 with a 105 wRC+ in his first taste of big league action. The slick-fielding middle infielder was the Guardians best bet to fill their void at shortstop long-term, but he was not considered a lock to become the same type of perennial All-Star that Lindor was.
Any doubts about Gimenez's prospects were only illuminated in 2021, as he struggled mightily in his first tour of duty with the Guardians and ended up spending half the season back down in Triple-A (a minor league level he actually never played with the Mets).
This year though, Gimenez has been an absolute revelation for Cleveland, fulfilling all of the promise they could have hoped for when making the deal. He has been Cleveland's second-best player, doing an admirable job as the Robin to Jose Ramirez's Batman and that duo will be playing together in the Midsummer Classic next week after both were named All-Star reserves.
Breakout Season for Gimenez
Last year, Andres Gimenez simply looked overmatched at the big league level. He hit .218/.282/.351, with a 73 wRC+ and struck out 25.7% of the time. However if we look at the full breakdown of his season, there was some level of optimism by year's end that he was about to figure things out.
Gimenez's first half OPS in 2021 was .534, which he improved mightily in the second half to .702. Last September, Gimenez hit .271/.307/.457, with a 106 wRC+ that was more in-line with the season he posted for the Mets in 2020. Still, nobody could have seen this 2022 version of Gimenez coming.
Through 79 games played this season, Gimenez is hitting .297/.356/.475, with nine home runs, 40 RBIs and a 136 wRC+. Among qualified AL second basemen, Gimenez is second in batting average and BABIP, third in slugging, wOBA and wRC+, and fourth in fWAR and on-base percentage.
Bottom line, Gimenez is one of the top performers among all middle infielders in the American League, which is why he was selected to the first All-Star Game of his career.
Better Season than Francisco Lindor?
In 2022, Andres Gimenez is an All-Star and Francisco Lindor is not. That is pretty shocking considering where we were with these players less than two years ago.
Granted, the path to the All-Star game was far less crowded for Gimenez, who did not have great players like Dansby Swanson and Trea Turner standing in his way like Lindor did. The Mets shortstop has been worth exactly three wins based on fWAR, whereas Gimenez is trailing with a 2.2 fWAR.
Still, it is pretty crazy to think that Gimenez is having a better offensive season than Lindor based on the stats we care about like wRC+.
Traditional stats favor Lindor, as he has hit six more home runs and has 50 RBIs on the season, compared to Gimenez at 40. Lindor also gives the Mets premium defense at shortstop, while Gimenez has been playing his strong defense primarily at second base.
Looking at it under the context of the future of the Guardians though, there is no doubt that this has turned into a very nice trade. Across his career with the Guardians, Lindor was the best shortstop in baseball based on fWAR. Due to that fact, he was set to be paid as the top shortstop in the game and Steve Cohen happily obliged with a $341 million decade-long contract.
The Guardians could have never paid him that kind of money.
Instead they retooled their roster around Jose Ramirez, who signed a five-year, $124 million extension in April, which begins in 2024. This new deal guaranteed Ramirez $141 million over the next seven seasons, which is an absolute bargain compared to the deal Lindor got from the Mets.
Meanwhile, Gimenez still won't even be arbitration-eligible until 2024 and is under team control through 2026. That is four more seasons of control after this year, giving the Guardians all of the leverage they want to eventually come to terms with him on a team-friendly extension.
It is not fair to Lindor to call Gimenez an upgrade for the Guardians, because if we are strictly talking production, he is not. It is however fair to point out that Gimenez is much better value for a small market franchise that won't ever be able to pay absolute top dollar to their stars.
Gimenez's Future with Cleveland
Andres Gimenez might be an All-Star this year, but that does not mean he will be making regular appearances in the Midsummer Classic. There is still a lot to prove for the 23-year-old, but this is a fantastic start.
The only question is how sustainable is his success?
The one issue for Gimenez is that he does not draw a ton of walks, so there is more pressure on his hit tool to be a productive big leaguer. Gimenez's walk rate decreased at each stop throughout his minor league career and this season it sits at 4.9%, the lowest mark of any stop in his professional career.
Luckily his 20.8% K rate is palatable, and by making contact 73.8% of the time, Gimenez is able to get extra hits using his speed. The 5'11" infielder can fly on the bases, recording a sprint speed that ranks among the top six percent of the league. This has led to his .351 BABIP, as he is very tough to get out when he puts the ball in play.
Gimenez' .295 expected batting average is right on line with his actual .297 batting average, so there is no reason to predict a regression in his game. With 22 extra-base hits already this year, Gimenez has also shown more pop than you might expect from his slender frame.
Really though, when we project out the future for Gimenez, the one thing that will always be a separating factor for him is the glove.
Since making his MLB debut in 2020, Gimenez has been worth exactly 11 DRS and 11 OAA. This year, Gimenez has primarily played second base, where he has been worth 5 DRS and 2 OAA. With soft hands, a strong arm and great baseball I.Q. the Guardians should have a plus defender wherever they put him in the infield.
Assuming he can at least replicate his offensive success to some degree, the Guardians may just have another building block of the future to pair with Jose Ramirez long-term.