Analysis
Colorado Rockies Offseason Outlook for 2023-2024 Free Agency
Coming off the worst season in franchise history, the Colorado Rockies are trying to establish a core that can be built around in the future.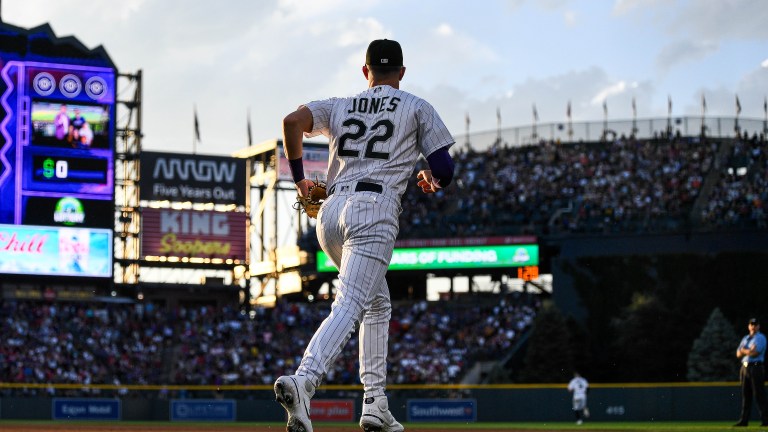 Having played their first 100-loss season in franchise history, to the inexperienced eye, it would appear the Colorado Rockies have a lot of work to accomplish in the offseason.
That's not entirely true. Yes, they need pitching — more on that in a minute — but through all the losses a young core of position players provided a sense of the team's future.
Where are the Rockies strong?
Third baseman Ryan McMahon and second baseman Brendan Rodgers are Gold Glove finalists and winners, respectively, and in 2023, their defense remained solid though Rodgers missed much of the season due to a shoulder injury.
Rookie shortstop Ezequiel Tovar distinguished himself defensively (expect a Gold Glove nomination), and the bat evened out over the course of the season. In Tovar, the Rockies have the kind of infield defender that has been a hallmark of the franchise.
The revelations, though, came in the outfield. Nolan Jones, acquired from the Cleveland Guardians, began learning the outfield and creating outfield assists at a stunning rate.
The bat was strong as well, and he was the Rockies' most valuable player as measured by fWAR (3.5) and rWAR (4.3). He will surely get some Rookie of the Year votes.
Equally revelatory was center fielder Brenton Doyle. Although he struggled at the plate (40 wRC+), his defense was a series of SportsCenter highlights, and he had the most productive defensive season of any Rockies center fielder. If he does not win a Gold Glove, there is no justice in the world.
Right field was a revolving door. Veteran (and recently extended) Charlie Blackmon spent some time there as well as Kris Bryant, Michael Toglia, Hunter Goodman, and Sean Bouchard. (Like Rodgers, Bouchard lost much of the season to injury.) Probably, Bouchard is the best fit in right, but expect the Rockies to experiment there in 2024.
Catcher Elias Díaz has one year remaining on his contract and was a replacement-level catcher (0.0 fWAR) as well as the Most Valuable Player at the All-Star Game. The Rockies signed Austin Wynns as a backup catcher, and he was fine (in the tradition of most backup catchers).
In 2024, expect to see Rockies' top prospect catcher Drew Romo make his MLB debut. (He was promoted to Triple-A Albuquerque before the end of the season and is currently in the Arizona Fall League.)
In all of these positions, the Rockies appear to have largely set their roster. These players need to start hitting for power (they had a collective league-worse 78 wRC+), but it seems unlikely this group will change much.
Where are the Rockies muddled?
There are the issues in right field, but between the designated hitter and expected player injuries, these problems will probably sort themselves out.
The most obvious traffic jam is at first base. Elehuris Montero began to show real serious power in the second half of the season and became a more-competent first baseman, a position he is learning.
When the Rockies traded CJ Cron to the Los Angeles Angels, it appeared the team had made a decision about their future at first: a Toglia-Montero platoon.
However, after returning from another injury, Kris Bryant also began playing at first, taking away opportunities for Montero. This is an issue the Rockies will need to sort out in the offseason. Given that they have also played Goodman there, and it's Toglia's natural position, there are too many options to allow sufficient development time for any player.
Where will the Rockies be focused?
This project began in 2023, but the Rockies will continue to address their need for pitching.
Coors Field is always hard on pitchers, but 2023 was especially so. Germán Márquez and Antonio Senzatela underwent Tommy John surgery and may miss all of 2024; Ryan Feltner, too, missed much of the season due to a skull fracture suffered in a game against the Reds; Austin Gomber struggled early, found himself on the mound, and then ended his season prematurely due to a back injury. Staffing the starting rotation became a game of managerial whack-a-mole.
The Rockies signed Chris Flexen and Chase Anderson to one-year deals. Both were serviceable pitchers. In addition, Peter Lambert returned after a lengthy stint on the Injured List. Kyle Freeland was the Rockies most steady pitcher though he had some of the lowest run support of any pitcher in MLB (3.3 RS/IP), leaving him with a record that does not reflect his season.
Look for the Rockies to bring back either Anderson or Flexen or both and to trade for near-MLB-ready pitching. (The Rockies have many evaluative problems, but they have shown some ability to find pitchers with stuff that will play at Coors Field.)
The story of the bullpen was equally chaotic, through for different reasons.
Although the Rockies lost lefty reliever Lucas Gilbreath to Tommy John surgery early, they replaced him with a series of signings, including Brand Hand (who was traded to Atlanta) and Brent Suter. The Rockies hope to re-sign Suter, but there will probably be demand for his services from other teams.
The rest of the bullpen was a parade of young arms: Victor Vodnik; Gavin Hollowell; Evan Justice; Tommy Doyle; Matt Carasiti; Nick Mears — the list goes on. They did not consistently do well, but they received important MLB exposure.
Not everyone was a rookie, however. Daniel Bard had a disastrous season (-0.5 fWAR) and finished the season on the IL. Tyler Kinley, one of MLB's best relievers coming off the IL, struggled to return to form.
Meanwhile, Jake Bird (84.1 IP) and Justin Lawrence (75.0 IP) were some of the most-used relievers in baseball.
The numbers (a league-worst 5.41 ERA) do not really reflect what happened in the Rockies bullpen, which will probably be improved in 2024.
What will the Rockies be doing in the offseason?
General manager Bill Schmidt has shown a willingness to deal, and there is no reason to think this offseason will be any different. Expect Tovar, Jones, and Doyle to be untouchable. Other players, the Rockies may be open to moving.
The Rockies will specifically need to acquire MLB-ready starting pitching, a task probably best accomplished through trade; they will need to sort out (again) the first-base traffic jam; and they will need to take steps to ensure some of their rookies (most notably Doyle and Montero) report to Spring Training as more-accomplished hitters.
Also, look for Schmidt to pick up more pitchers like Pierce Johnson and Brad Hand, relievers he was able to flip for prospects at the trade deadline.
This will be a busy and important offseason for the Rockies' front office. They will probably not be contenders in 2024, but they need to set themselves up for 2025.