Analysis
What We Learned From the First Week of the 2022 MLB Season
Key observations from what we watched during the first week of baseball action this season.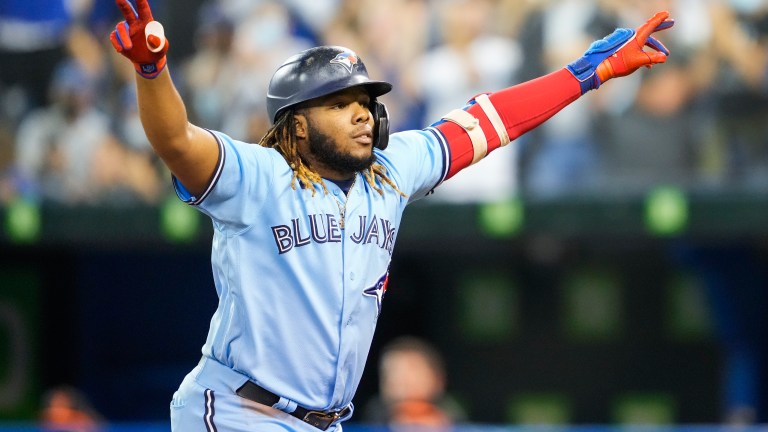 After a long and frustrating offseason, baseball is finally back. Seven days into the season and we've already seen a Vladimir Guerrero three-home run game, seven innings of perfection from Clayton Kershaw, and the Colorado Rockies take a division lead. Wait, What?! More on that later.
While it's still too early to panic or crown a World Series Champ, week one left us with plenty of takeaways.
Steven Kwan is Legit
The rookie outfielder for the Guardians has done nothing but impress. His success has helped propel Cleveland to the top of the league in batting average (.308) and hits (70). Most rookies are welcomed into the league with a steep learning curve and struggle to begin the season.
Not Kwan, who went 116 pitches before having a swing and miss. Slashing .526/.655/.737 with eight walks (leading league) and only one strikeout is about as good as it gets.
Better yet, he's making the pitchers work as he has nine at-bats that resulted in a full count. Add Kwan to Myles Straw at the top of the Guardians lineup and you get two speedsters who will score a lot of runs.
The Rockies Are off to a Hot Start
What a way to start the season in Colorado. Taking two of three from the Dodgers and rolling that into a two-game sweep versus the Rangers. The Rockies already have two road wins, something that took them 19 road games to achieve in 2021.
Kris Bryant has looked good early but has yet to leave the yard. Lesser-known Connor Joe has been fantastic. After putting up sneaky good numbers in 2021, Joe has started 2022 slashing .316/.458/.684 with two home runs. He does a little bit of everything and has played a couple different positions.
Maybe the most surprising part has been the pitching staff. Colorado ranks third in the league in ERA at 2.54. The bullpen has only surrendered two earned runs and although it hasn't been exactly pretty, it has worked.
A team with so much negativity surrounding the franchise recently, the early season success has been a breath of fresh air.
Nolan Arenado is Locked In
Nolan Arenado might just steal all the storylines from the Pujols/Molina/Wainwright fairytale season. Arenado leads the team in home runs, RBI, total bases, doubles, and hits. He currently ranks in the 98th percentile in barrel percentage and the 94th percentile in average exit velocity. Both of which were below the 50th percentile in 2021.
The Cardinals lineup has plenty of solid players combined with emerging players like Tyler O'Neil and Dyaln Carlson. We all know Paul Golschmidt will be a plus player and if Arenado can continue to be much better than he was in 2021, the Cardinals will not need a 17-game winning streak to get into the playoffs.
Blue Jays Are the Most Talented Team in the AL East
The Tampa Bay Rays might want to have a word, but from what I have seen, the Blue Jays have more talent. Vladimir Guerrero is already in mid-season form. The three-home run game on the 13th will not be his last of the season.
George Springer might be the difference maker. After missing a huge chunk of 2021, Springer has started off hot slashing .370/.414/.704. Having Springer healthy at the top of this lineup will take this team to a new level. The Blue Jays currently lead the league in home runs with 11 and that's with Matt Chapman and Bo Bichette off to less than ideal starts.
Over the past year the Blue Jays have remade their rotation. Starting with the trade for Jose Berrios, Toronto went on to add Kevin Gausman and Yusei Kikuchi to help complete the rotation with Hyun-Jin Ryu and youngster Alek Manoah. That's a deep rotation with a high ceiling. Jordan Romano has proven to be a shut-down high-leverage bullpen piece than can shorten games as well.
Kershaw's Still Got It
While Rangers fan might not accept it, Clayton Kershaw is still a Dodger. Returning for his 15th season in Dodger blue, there were plenty of questions about the 34 year-old's health leading into the season.
Kershaw quickly silenced any concerns as he pitched seven perfect innings in his first start. Add 13 strikeouts to that line and it's clear that the veteran has still got it. With the Dodgers missing an important rotation arm, Kershaw's success will be even more important this season.
Complaints about Dave Roberts removing Kershaw during a perfect game lead to many angry fans. You all can discuss it amongst yourself, but I see why Roberts did it. A Kershaw at this level needs to remain healthy and sharp for the full season and if pulling him "early" in game one helps, so be it.
Rookie Report
How refreshing is it to see top prospects open the season in the Show?
Service manipulation has made this a rarity in the past, but fans seem excited to watch the wave of young talent in 2022. Julio Rodriguez, Spencer Torkelson, Hunter Greene, Bobby Witt Jr and many more rookies have produced mixed results
The Good- Hunter Green faced the defending World Champions on the road and still put up respectable numbers. Sitting around 99 mph on the fastball helped lead to seven strike outs in five innings. He gave up two home runs and wasn't perfect but showed how high his upside is leading to his first career win.
Matt Brash is going to be all over the pitching ninja's twitter page. The 24 year-old Mariner came out and flashed his ridiculous movement striking out six in his debut. I am not sure if he's in the rotation long-term, but the stuff is nasty enough to be an impact relief option at the very least.
Seiya Suzuki has not needed the adjustment period most players need when coming from overseas. Three of his first six hits have gone for home runs and he has walked as many times as he's struck out. The Cubs lineup no longer has the list of household names from their World Series team, but Suzuki's bat will certainly help fans transition into the next era of Cubs baseball.
The Bad– Bobby Witt Jr, Julio Rodriguez, Spencer Torkelson have combined for six hits in fifty-five at bats with twenty-four strikeouts. Of course, it is still just week one.
All three of these players have high ceilings and I have no doubt they will turn it around. Torkelson has three hits and a home runs over the past two games and is looking much more comfortable than his first couple of games.
Favorite Stat of the Week
While the Kwan stat from above is a fun one, I find this Giancarlo Stanton stat hilarious.
If you don't follow the Just Baseball Stats & Info Twitter page, I highly suggest it. Hitting a ball this hard is ridiculous. However, most probably didn't think much about it as it resulted in an out. Baseball, man.