Rankings
MLB Rookie Rankings
These MLB rookies have been the most impressive out of the gate in 2022.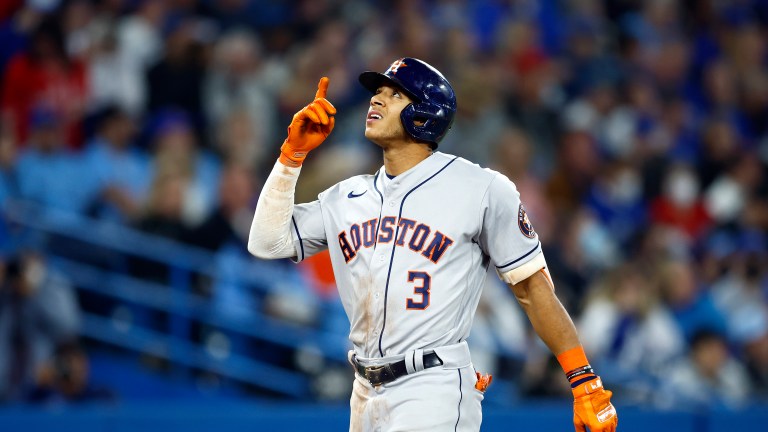 At the end of each month, we will be checking in on MLB's rookies. The acclimation process to the Major Leagues is extremely difficult, especially with big league scouting reports working against you.
For that reason, these rankings will likely be very fluid. Just as we don't expect Julio Rodriguez and Bobby Witt Jr. to continue to hit in the low .200s, it would probably be generous to assume that Stephen Kwan can sustain .354 batting average or that Sheldon Neuse will maintain an .864 OPS.
That said, let's check in on baseball's best rookies through the first month of the season.
5. Mackenzie Gore – LHP – San Diego Padres
What a rollercoaster the last calendar year has been for one of baseball's longtime top pitching prospects. The good news with Gore is that this stretch has been the most enjoyable part of the ride since he dominated High-A in 2019.
Gore has rediscovered his command and feel for an assortment of offerings at the big league level, but has dominated with his mid-90s fastball, holding opponents to a .171 batting average and 25% whiff rate. The 23-year-old has looked increasingly impressive in each of his three starts this season, most recently dominating the Cincinnati Reds to the tune of 1 ER and 10 K's in his last outing.
Gore's fastball reliance is likely a tad unsustainable, but the fact that he has been able to find success by going after hitters with the heater has to bode well for his confidence. It is worth noting that two of Gore's three starts thus far have come against the lowly Cincinnati Reds, but Gore looked just as impressive in Spring Training.
Sure, there may be some ups and downs through the duration of the season for the former top prospect, but I'm buying what MacKenzie Gore is selling.
4. Steven Kwan – OF – Cleveland Guardians
The legend of Steven Kwan is one that has taken many by surprise. Despite slashing .328/.407/.527 with an unheard-of 9% strikeout rate, Kwan was on few radars entering the season. Kwan has continued to do what he has done since his days with Adley Rutschman and Nick Madrigal at Oregon State, which is put the bat on the ball as much as anybody.
The 5-foot-9, 175-pound outfielder is hitting .340/.439/.472 with more walks than strikeouts through his first 16 games. While Kwan is not going to slug much, he almost never swings and misses, posting the lowest whiff rate in all of baseball.
Kwan boasts above average speed, however stolen bases are not a huge part of his game and the 24-year-old is more of a left fielder then center fielder. Still, Kwan's throwback style and phenomenal ability to get on base gives him a ton of value at the top of the Guardian lineup while sitting solidly inside our top 100 prospect list.
3. Jeremy Peña – SS – Houston Astros
A third round pick out of the University of Maine, Peña got off to a spectacular start in Triple-A last season, slugging 10 homers in 37 games before being lost for the season due to a wrist injury.
You wouldn't know Peña missed the majority of his 2021 season if you watched him during Spring Training as the 24-year-old generated a ton of buzz within Astros circles and beyond. Peña has not been intimidated by the thought of filling Carlos Correa's shoes and has been an impact shortstop for the defending American League champions in almost every facet.
Peña is already an elite defender at shortstop, pacing the position with four defensive runs saved and checks in at 17th among all position players in fWAR (1.1). While the offensive consistency has been a bit rookie-esque through the first 22 games, Peña has remained productive with his five homers, nine extra base hits and 127 wRC+.
An aggressive approach may result in some ups and downs through Peña's rookie season, but his quality of contact, elite defense and impactful speed make him as dynamic of a young player as you are going to find.
2. Joe Ryan – SP – Minnesota Twins
After a taste of the big leagues last year–but not enough to lose his rookie status–Ryan has been laughably good through his first four outings of 2022. Ryan is currently tied with Carlos Rodon for third in all of baseball with a 1.17 ERA and seems to be getting stronger each start.
After a shaky first outing, Ryan has complied 19 innings of one-run baseball with 21 strikeouts against just two walks. Ryan's stuff seems like it is relatively average, but his fastball is extremely difficult for hitters to pick up and features the coveted rising action that forces hitters to either miss under the pitch or pop it up weakly.
Because hitters have to gear up for Ryan's difficult fastball, the right-hander's slider tunnels off of the pitch effectively. Both offerings have yielded high whiff rates with an opponent batting average below the Mendoza Line. Ryan will also mix in a changeup and curveball with success, allowing him to give hitters a different look the second or third time through the lineup.
It is probably safe to assume that Ryan will come down to earth a little bit, but his phenomenal command paired with a difficult fastball and slew of effective secondaries make Ryan a safe bet to get outs all year long.
1. Seiya Suzuki – OF – Chicago Cubs
As mentioned in the intro to this piece, the acclimation process to the Major Leagues can be extremely difficult for most players; Seiya Suzuki is not most players. The 27-year-old Japanese slugger played parts of nine seasons in the competitive Nippon Professional Baseball League where he crushed nearly 200 homers, while getting on base at a better than .400 clip. When it was announced that Suzuki would be looking to make a move to the Major Leagues, there was no shortage of potential suitors, however it was the Chicago Cubs who were willing to guarantee the NPB star $85 million.
Suzuki has not missed a beat stateside. His approach for a first-year player is incredible, demonstrating some of the lowest chase rates in the league and elite walk rates. Beyond the approach, Suzuki flat out has an impressive ability to impact the baseball. According to Baseball Savant, the Cubs outfielder ranks in the top 25% of the league in: average exit velocity, max exit velocity, barrel percentage and expected slugging.
Outfield defense has dinged Suzuki a bit in the fWAR department (0.8), but he is an above average runner with an undeniable skillset which should translate into better outfielder defense as the right fielder continues to get used to big league fly balls.
I know I said that the rookie rankings could shuffle a bunch throughout the season, but I would not be surprised to see Seiya Suzuki hold onto the top spot all year long.