Analysis
We All Know Why Fernando Tatis Jr. Isn't an All-Star, and It's Stupid
Fernando Tatis Jr. wasn't just robbed of an All-Star selection, he was BLACKLISTED by Baseball Elitists from the very beginning.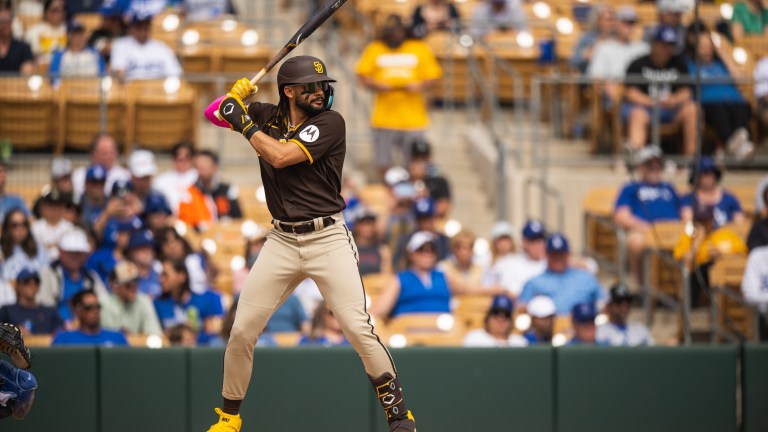 Time is a flat circle. We go through this nonsense of All-Star snubs every year; no matter what, we never seem to learn. "It is SHAMEFUL that Lamonte Wade Jr. was left off the All-Star team, I'm disgusted," says unbiased Twitter user GiantsFunFest230, or others of a similar ilk, every year when the final rosters are announced.
There's always going to be someone left off — the result, and hang on to your seats for this, of there being limited spots to begin with — and there will always be some route for the biggest snubs to make it anyway (e.g. Wander Franco replacing Aaron Judge), but these are facts that the outrage police somehow forget every year.
But this time is different, because Fernando Tatis Jr. was not just robbed of an All-Star selection, he was BLACKLISTED from consideration by the Baseball Elitists/Illuminati from the very beginning. 
Well, blacklisted in a more Vibes sort of sense, anyways. Tatis Jr. has been about as effective as one could be coming off of not just a lengthy suspension but also surgery for a shoulder injury that had been plaguing him for years. Despite the overall struggles of his team, Tatis is slashing an impressive .285/.344/.522 with 16 home runs, 14 steals, and a 136 wRC+. It's not quite the level of his MVP-caliber season in 2021 (157 wRC+), but considering all the extenuating circumstances, it's an absolute win. 
But that's not all! He's also decided to become an incredible defender, as a treat. The former shortstop has played almost the entirety of the 2023 season in right field, where he's put together highlight after highlight. He's currently leading ALL of baseball in defensive runs saved (15), and his 7 outs above average mark is tied for third best among all outfielders and second among NL outfielders. 
I cherry-picked a tad with those OAA numbers, but it feels appropriate given the cherry-picking some of you ghouls (fans) have been doing of your own accord. When you break it down, there are two important — and equally, by any reasonable measure — inane reasons for Tatis being snubbed from an All-Star selection. 
The first is quite obvious: there's an unofficial Suspension Tax associated with Tatis right now. Following his suspension for PEDs dropping after last year's trade deadline, Tatis' name was, rightfully, dragged through the mud. Not only did he break the rules, but he did so at a crucial point for a Padres team that had just gone all-in with the trade for Juan Soto. 
But when it comes to cheating from players, fans love to suddenly grow a backbone. Wherever you look, there have been cheaters and asterisks permeating throughout the entire ecosystem of baseball from the very beginning. There's an odd sense of purity — something the game has never had (an entire race being barred from the sport for so long puts an asterisk on everyone from the early days, as far as I'm concerned) — that fans tend to cling to. 
It's totally reasonable for players, and essentially peers, to be critical of Tatis' transgressions (where those players are when there are literal abusers on full-display remains to be seen, although that's a separate and much more nuanced conversation entirely). But for fans? Put down your beer for twenty seconds and look at all the nonsense your favorite team, and its players, have had in recent memory. Giants fans? Go google Logan Webb. Marlins fans? Go google Dee Strange-Gordon. Yankees fans? Go google…pretty much everything? 
Despite missing 20 games, Tatis' 3.3 fWAR is tied for 11th best among position players. Yet out of the top 15 players by fWAR, only he and Francisco Lindor didn't make the All-Star cut.
Lindor is a bit understandable considering defense isn't always, understandably, the most eye-catching thing a player can do, and his bat has only started to catch fire somewhat recently. But Tatis? He's done it all on both sides of the field, been as entertaining as always, and clearly shown remorse for his previous actions that, comparatively speaking, feel quite tame. 
It's also worth pointing out that Tatis seems to have genuinely grown out of his weird, abrasive phase that's typical of a young person. He's barely raised even the slightest of grievances, instead having only garnered praise from manager Bob Melvin and defense from teammate Manny Machado. He's served his time, and pretending he's some sort of devilish delinquent that shouldn't be honored due to an antiquated sense of sports morality is silly.
It robs you and everyone else of appreciating superstar talent because of a notion more suited to the ages of hot air balloons and actual cocaine being in Coca-Cola bottles. Grow up.
As for the second reason? It's a lot simpler, but seemingly with little to no coverage: the Participation Trophy clause. That's right, we not only have a tax but a clause, too! What a fun league!
Of course, I don't mean to elicit any of the lazy commentary typically associated with "participation trophy" as a phrase, but rather in the very literal context of MLB. Because of mostly, I'd presume, money and coverage reasons, every team has to have a representative in the All-Star game.
The same sport that consistently sees teams refrain from competing for championships for money reasons wants to make sure those teams are rewarded for not investing in talent. The same sport with a team that said "See ya losers!" in the middle of a season wants to make sure everyone gets a shot.
This is all, of course, in a vacuum. There is a certain limit of pitchers and relievers that you have to acquiesce to, which is why someone like Elias Díaz makes the roster; we just NEED to make sure those poor Rockies and their snake-oil-brained owner gets some representation. Or, in the case of the Phillies, Nick Castellanos and his 85th-best fWAR mark deserves a shot over Tatis because their fans will start a riot or whatever. (Editor's note: Castellanos was elected on the player ballot, not selected by the commissioner's office, but the point still stands.)
Fernando Tatis Jr. is hardly the only puzzling All-Star snub we've seen or will see. That's just the reality. But while measuring a player's impact isn't an exact science — nor should it be, nerds — it feels like we're doing a tremendous disservice to a player who, at the very minimum, is Rad.
Aside from Shohei Ohtani (and potentially Elly De La Cruz, somehow, already??) Fernando Tatis Jr. is the most exciting player the sport currently has. We shouldn't forget how much we love him just because he made a silly, goober mistake as if that's uncommon for an individual in his early twenties.
Use your heart, enjoy what's fun, and let loose a little bit.