Analysis
2022 Fantasy Player Profile: Fernando Tatis Jr.
Our 2022 Fantasy Player Profiles continue with Fernando Tatis Jr., a popular top pick in keeper and one-year leagues.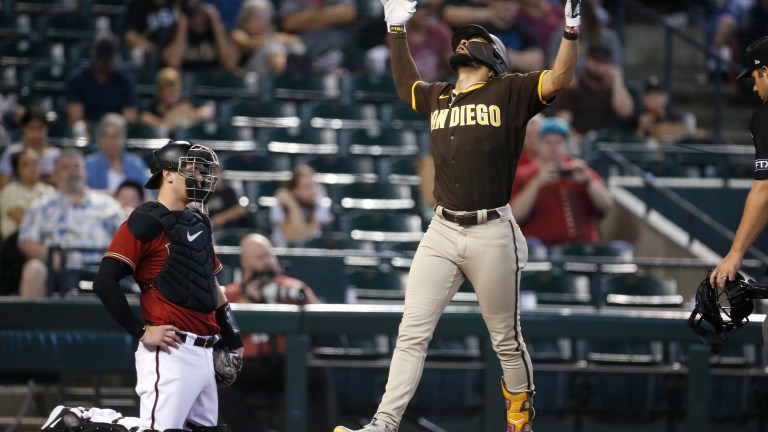 The San Diego Padres have a superstar running the show at the shortstop position for the foreseeable future. Despite have a shoulder injury during the heart of the season, Fernando Tatis Jr. may have somehow seen his fantasy value increase in 2021.
I am a big position versatility guy. If you are in a deep league (keeper or one-year), it is important to draft players that can fill multiple positions in the off-chance a key player is hurt or is given a Sunday off. Normally the shortstop position is a premium position. Over the last few years, shortstop has presented the fantasy community with some of the most premiere players in the league. With Tatis Jr. playing outfield in the second half of 2021, he has now established himself as a fantasy shortstop with outfield eligibility that nobody expected.
The numbers Tatis Jr. brings to the table are elite at either position you use him at, posting a .282/.364/.611 slash line with 31 doubles, 42 homers, 97 RBI's, and 99 runs scored while having only 478 at-bats under his belt this past season. Tatis Jr. can also bring speed to a lineup, stealing 25 bases this on a team that generally loves to steal in any given situation.
The only problems with Tatis Jr. from 2021 were health and clubhouse issues. The left shoulder that Tatis Jr. partially dislocated is still not at full health and will remain a concern heading into the 2022 season. Tatis Jr. has elected to not get shoulder surgery according to MLB.com and could therefore be a more volatile choice for a top pick in a one-year league if he re-aggravates it.
Tatis Jr. missed 30 games in the 2021 season, something that many believed would wind up being a season-ending injury before San Diego plugged him into the outfield to protect his shoulder.
Fantasy players should not be too concerned about Tatis Jr. and his tiff with Manny Machado. However, the two players certainly feed off each other from a fantasy perspective. One hopes their little feud is over and they can move forward into the 2022 season with a clean slate.
However, if there are issues between the two again in the upcoming season, expect the Padres to address the issue in any way possible to accommodate their star shortstop. That could mean the worst for Machado and the locker room, something that can always hurt the numbers of a player. I don't expect this to happen and wouldn't put too much stock into this being a key concern when drafting Tatis Jr.
Fernando Tatis Jr. might be the best player in baseball and is an easy top-five pick in any league. This kid is special and has the potential for a 40-40 season in the near future. Let's not forget this stud is only heading into his age-23 season.