Analysis
MLB All-Star Rosters: Biggest Position Player Snubs
Names like Wander Franco, Brandon Nimmo, and Fernando Tatis Jr. headline this year's list of MLB All-Star Game snubs.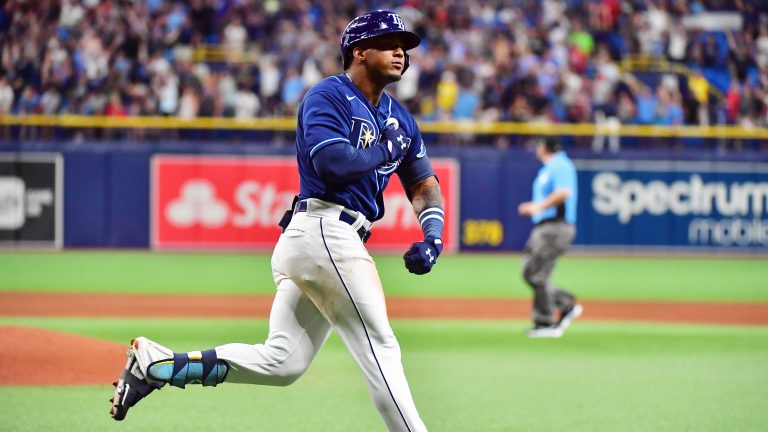 The complete rosters for the upcoming MLB All-Star Game were announced on Sunday evening. By and large, the best players in baseball were selected to play in the Midsummer Classic, but as always, some of the most deserving candidates were left off the squads.
Without further ado, here are the biggest position player snubs of 2023. Some of these guys could still be selected as injury replacements, but some will be left high and dry.
Wander Franco, SS
Wander Franco isn't the favorite for AL MVP, but he's got as good a chance as anybody to finish second, and finishing second to Shohei Ohtani is an achievement in and of itself. Franco leads the AL in position player bWAR and ranks just behind Ohtani in fWAR and WARP.
The Rays' shortstop is an elite defender at one of the hardest positions on the diamond. He's on pace to steal 51 bases. Oh, and he's a damn good hitter too; among qualified shortstops, only Bo Bichette has a higher OPS or wRC+.
So yeah, Franco should be an All-Star. He deserved the starting nod, and when that ship sailed, he should have been named a reserve.
Snub Severity Score (SSS): 4/5. Franco is one of the most deserving All-Stars in the game, but so were Seager and Bichette. This snub is bad, but I understand why it happened.
Fernando Tatis Jr., OF
As a result of his PED suspension, Fernando Tatis Jr. lags behind many of his fellow NL outfielders in games played. For the same reason, he probably wasn't a popular choice on the player ballot.
Nevertheless, he absolutely deserves to be an All-Star. He's a five-tool stud, and there is no question he has outplayed Lourdes Gurriel Jr. and Nick Castellanos this year. You can't boot Castellanos from the team without replacing him with another Phillies player, but I'd argue Zack Wheeler is more deserving of a spot on the team anyway (we'll get to that later).
SSS: 5/5. There's no good reason Tatis isn't an All-Star.
Brandon Nimmo, OF
Speaking of outfielders more deserving than Gurriel and Castellanos, Brandon Nimmo is another massive snub. He's as talented as either at the plate, and he's a faster baserunner and better defender at a more valuable position.
Moreover, the NL All-Stars don't have a single full-time center fielder on the squad. Corbin Carroll, who has played 26 games in center this year, is the closest they've got. I'm not saying the All-Star team needs players from every position, but it's weird not to have center field represented at all.
I mean, Wander Franco lost out to Whit Merrifield (Whit Merrifield!) because Merrifield plays second base. If the league is going to be that strict about positions in the infield, why not the outfield as well?
SSS: 4.5/5. Nimmo doesn't have a slam dunk All-Star case like Tatis, but he's clearly more deserving than two of the NL All-Star outfielders.
Paul Goldschmidt, 1B
If Brandon Nimmo makes the squad, Pete Alonso doesn't need to be chosen as the Mets' lone representative. In turn, that frees up a spot at first base for the much more deserving Paul Goldschmidt.
There's not a whole lot to say here; in pretty much every category besides home runs, Goldschmidt is the superior player.
SSS: 3/5. With the way things shook out, the Mets needed an All-Star, and Alonso wasn't an awful choice. Then again, I could make the case that Goldschmidt is more deserving than Matt Olson too.
Luke Raley, 1B/OF
Maybe Luke Raley got short-changed because no one knows what position he plays? Then again, whether he's a first baseman, a corner outfielder, or a designated hitter, he should be an All-Star.
Raley doesn't quite qualify for the batting title, but his 165 wRC+ is absolutely ridiculous. He leads AL rookies with 2.6 fWAR, and his fWAR also ranks 13th in the American League. Every player above him on that leaderboard (except for Wander Franco) was named to the All-Star squad.
It's particularly egregious that Yordan Alvarez beat Raley for a spot in the AL outfield. The two have very similar triple-slash lines, and Raley has played far more defensive innings than the Astros slugger.
SSS: 4/5. Raley is having a terrific season, and he absolutely deserves to be an All-Star. Don't be surprised if he's one of the first injury replacements to be named.
Ryan Noda, 1B
Ryan Noda's numbers don't scream "All-Star," especially at first base, but looking at the competition, it's clear he's the deserving backup to Yandy Díaz.
Noda trails Vladimir Guerrero Jr. by 11 points of OPS, but he leads Vladdy by six points of wOBA, a stat that more accurately measures the value of Noda's league-leading walk rate. Moreover, he leads Guerrero by nine points of wRC+, a comprehensive offensive metric that considers the very different home ballparks each plays in.
SSS: 2/5. Noda is more deserving than Guerrero, but he isn't blowing anyone away with his numbers this season.
Geraldo Perdomo, SS
I'm happy for Orlando Arcia, but he's not the National League shortstop having the best breakout year. Geraldo Perdomo is a good defender, a great baserunner, and he's outperforming Arcia at the plate.
I can't complain that Dansby Swanson was named the reserve after Arcia won the fan vote, but it's a shame Perdomo isn't on the team.
SSS: 3.5/5. Arcia is a fun choice, but he's also the wrong one. It's that simple.
Jeimer Candelario and J.D. Davis, 3B
This one sucks, plain and simple. Two underdogs having fantastic seasons lost out to a couple of big-name superstars. Jeimer Candelario and J.D. Davis are having great years at the plate, and the defensive metrics like them too.
Meanwhile, Austin Riley is having a down year, and Nolan Arenado is still catching up after a slow start.
The Cardinals need an All-Star, but I've already made the case for Goldschmidt. What's more, if Candelario were on the team, Josiah Gray wouldn't need to be there, thus opening up a spot on the pitching staff for Zack Wheeler.
SSS: 5/5. Neither snub warrants such a high score on its own, but when the two most deserving players at a position are both left off the team? That's bad.
Ketel Marte? Or Thairo Estrada? Or Ha-seong Kim?, 2B
I'm torn about which NL second baseman should have been chosen as the backup for Luis Arraez, but there's one thing about which I'm absolutely sure: It shouldn't have been Ozzie Albies.
I love Albies. He's always fun to watch, even when he's beating up on my beloved Philadelphia Phillies. But the National League has several All-Star-worthy second basemen this year, and he just isn't one of them.
If I had to pick a reserve at second base, I'd go with Marte, but it's an incredibly close call. Marte has excellent offensive numbers, and he's the only NL second baseman who comes close to Arraez with the bat. However, both Estrada and Kim are talented all-around players. They aren't dominant hitters, but they compensate with their gloves and their legs.
SSS: 2/5. There isn't a huge snub here, because it's so hard to decide which of these players should get the nod. Still, it's disappointing that the more famous player won out over several more deserving candidates.
Minor Snubs
Brandon Drury, 2B
If it were up to me, there wouldn't be a backup second baseman for this year's AL All-Star team. There are too many great shortstops who deserve the populate the infield instead.
However, since there has to be a reserve at every position, I think Brandon Drury should have made the team over Whit Merrifield. There's a huge gap between Marcus Semien and every other AL second baseman, but Drury has similar offensive numbers to Semien and holds his own with the glove.
Jose Altuve's injury struggles opened up an opportunity at second base, and it's Drury who should have taken it.
SSS: 1/5. I don't really think Drury should be an All-Star, but he deserves it more than Merrifield.
Matt Chapman, 3B
I'm really quibbling with this one, but Matt Chapman has had stronger first half than Josh Jung. In an ideal world, José Ramírez would be the starter and Chapman the reserve.
However, the gap between Chapman and Jung is small, so I can't be too mad that the rookie earned the nod instead.
SSS: 0.5/5. I hesitated to include this one on the list.