Analysis
MLB All-Star Rosters: Biggest Pitcher Snubs
The snubs aren't quite as bad on the pitching side of things, but hurlers like David Bednar, Joe Ryan, and Logan Webb deserve to be All-Stars.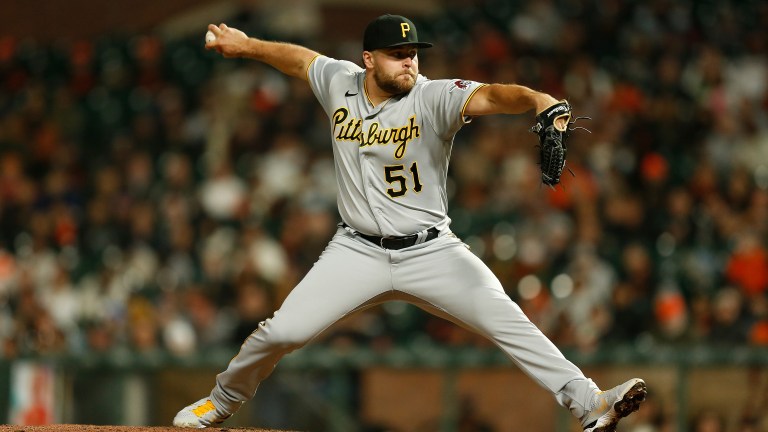 Yesterday, I wrote a rundown of the most egregious position player snubs on the 2023 MLB All-Star rosters. Superstars like Wander Franco and Fernando Tatis Jr. were left off the AL and NL squad, respectively, while lesser players will be traveling to Seattle in their place.
There aren't quite as many snubs on the pitching side (in part because fans don't vote on the pitchers), but there are still some deserving All-Star hurlers who didn't hear their names called on ESPN last Sunday.
Thankfully, some of these guys will still get to go to the Midsummer Classic, as the league has yet to announce any All-Star substitutions. The NL will need to replace Clayton Kershaw (shoulder) and possibly Bryce Elder (scheduled to start Sunday), while the AL will need to replace Shane McClanahan (back). Framber Valdez isn't on the IL, but he might also choose to sit out the All-Star Game as he nurses a sprained ankle.
Even if some of these pitchers are named as replacements, it's not quite the same to be a second choice. These are the biggest pitcher snubs on this year's All-Star rosters.
David Bednar, RP
David Bednar is arguably the best reliever in the National League, and he is the most egregious snub from either league's pitching staff.
Bednar has a lower ERA, xERA, and FIP than Alexis Díaz, Camilo Doval, and Devin Williams. He has a higher fWAR and Win Probability Added than Josh Hader. He has the lowest walk rate and highest strikeout-to-walk ratio among qualified NL relievers.
The Pirates closer is trailing all four NL All-Star relievers in saves, but in 2023, I would have hoped we had moved past saves as the primary metric for evaluating relievers.
Díaz, Williams, and Doval are the lone representatives for their respective teams, but Bednar deserved the nod over Hader. Alternatively, he could have gotten the nod over Doval if J.D. Davis or Logan Webb hadn't been snubbed themselves.
Snub Severity Score (SSS): 4/5. All four relievers on the NL All-Star team are incredibly talented. Still, the league should have found a way to make room for Bednar.
Logan Webb, SP
Only one starting pitcher on the NL All-Star team doesn't deserve his spot: Josiah Gray, the league-appointed rep for the Washington Nationals. However, if Jeimer Candelario hadn't been snubbed at third base, Gray wouldn't need to take a spot from a more deserving pitcher.
Logan Webb ranks among the top six NL starters in all three versions of WAR. Marcus Stroman is the only other pitcher who can say the same. Webb leads the league in innings pitched, and there's no denying they've been quality innings too. He ranks third among qualified NL starters in xFIP and SIERA and fourth in strikeout-to-walk ratio.
One could also make the case for Zack Wheeler, who ranks second in the league in FanGraphs WAR thanks to his sparkling 2.83 FIP. If Wheeler were on the squad, his Phillies teammate Nick Castellanos wouldn't need to take the place of a more deserving outfielder (Fernando Tatis Jr., Brandon Nimmo).
From a roster-building standpoint, Wheeler is the better choice, but Webb is ultimately the more significant snub.
SSS: 3/5. Let's face it, Candelario never really had a shot in fan or player balloting. That being the case, Gray was a fair choice to be the Nationals' only All-Star. Nevertheless, it's a shame that an ace like Webb was the odd man out.
Joe Ryan, SP
It's hard to complain too much about the starting pitchers selected in the American League. Luis Castillo and Michael Lorenzen were chosen as the lone representatives from their teams. After those two, the other seven starters on the squad are pretty deserving of their spots.
Perhaps you could argue that Ohtani doesn't deserve to be an All-Star on the merits of his pitching alone, but he was selected to the team as the starting DH, so he isn't actually taking a spot away from another pitcher.
Personally, I wouldn't have chosen McClanahan, whose underlying numbers aren't nearly as impressive as his traditional stats. Still, I understand why a pitcher with an 11-1 record and a 2.53 ERA was such a popular All-Star choice.
All that being said, I was still disappointed to see Joe Ryan left off the American League pitching staff. I would have picked Ryan over McClanahan; by almost every underlying metric (K/9, BB/9, SIERA, xERA), Ryan has been the superior pitcher, and he also leads McClanahan in innings pitched.
As fate would have it, with McClanahan on the IL, there's a good chance Ryan gets to go in his place after all.
Alternatively, Ryan could have earned an All-Star nod over Lorenzen if the Tigers had a different representative for the game. But more on that in a moment…
SSS: 2/5. I would have loved to see Ryan get some recognition for his terrific breakout season, but I understand why things shook out the way they did.
Jason Foley, RP
Has Jason Foley been one of the four best relievers in the American League this year? That's debatable. But at least it's debatable. Michael Lorenzen, on the other hand, has absolutely no business being on the All-Star roster.
Foley ranks fourth among AL relievers in fWAR, ahead of All-Stars Kenley Jansen and Emmanuel Clase. He's also outperforming both in ERA, FIP, and xFIP.
Jansen is on the team because the Red Sox need a rep, but Clase is only there because of saves and name recognition.
I'm not saying Clase isn't a deserving All-Star. But one could make a reasonable case for several other arms ahead of him, including Foley, Aroldis Chapman, Clay Holmes, and Griffin Jax.
More to the point, Foley was snubbed not because he's been so much better than Clase or Chapman or anyone else, but because he's a much better fit for the All-Star team. With Foley on the squad, Lorenzen doesn't have to be. It just makes sense.
SSS: 0/5 or 5/5. On his own merit, Foley wasn't snubbed at all. But the Tigers need a rep, and it absolutely should have been Foley instead of Lorenzen.