Analysis
Despite Limitations, the Brewers Keep Winning
Don't look now, but the Milwaukee Brewers are running away with the NL Central.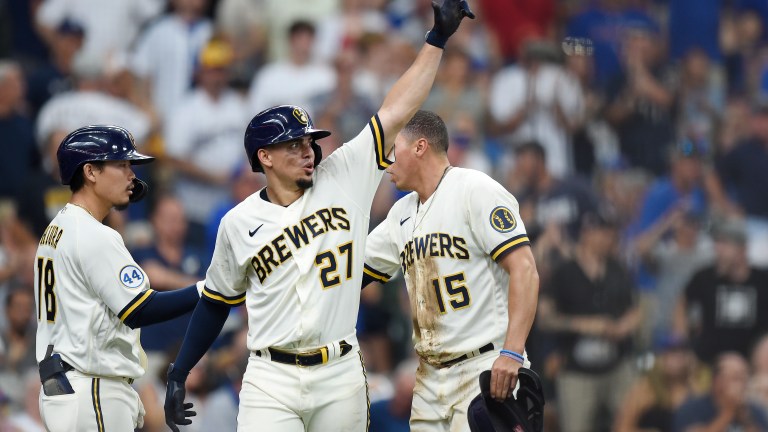 Before the season started, few people pegged the Brewers as NL Central favorites, let alone a team that could win the National League pennant (FanDuel gave the Brewers the 11th worst odds of winning the World Series back on March 29th). However, that's exactly where we're at. The 50-33 Brew Crew currently have a 7.5 game lead in the division and the fifth best record in baseball after winning 10 straight games.
They have some limitations, notably the 23rd ranked payroll in baseball and a flawed offense, but the team keeps on winning. Led by an elite trio of starting pitchers, the Brewers might be the best team no one is talking about.
Dominant Starting Pitching
No team has had a better, and more consistent, top of the rotation in 2021 than the Milwaukee Brewers. Brandon Woodruff (1.87 ERA, 2.79 FIP), Corbin Burnes (2.41 ERA, 1.44 FIP) and Freddy Peralta (2.22 ERA, 2.96 FIP) have all been as good as any pitcher not named Jacob deGrom. All three of them have K/9's in double-digits, and allow less than one home run per nine innings. Burnes, specifically, ranks in the top 10% of pitchers in strikeout rate, walk rate, whiff rate, chase rate and xERA. He's a bonafide ace.
As a whole, Milwaukee ranks seventh in starter ERA, second in FIP and third in starting pitcher WAR. If the Brewers make it to the postseason, their three-headed monster is going to be very difficult to deal with. The good news for Milwaukee is that their great pitching doesn't even stop there.
Elite Back-end of the Bullpen
The Brewers are no stranger to having a strong bullpen. 2021 is the seventh straight season they've ranked in the top 15 of team bullpen WAR. This year, it's been all about Josh Hader. The two-time All Star is having the best season of career, with a comical 0.55 ERA, 0.74 WHIP and 15.2 K/9 in 32.2 innings. Unsurprisingly, he leads all relievers with a 2.0 WAR. Needless to say, the 27-year-old will be headed to his third career All Star game in just over a week.
Besides Hader, Devin Williams has followed up his 2020 breakout with another strong campaign. The 26-year-old righty has a 3.19 ERA and 14.2 K/9 in 31 frames. Those two form a dominant one-two punch to finish the job for their starters.
Flawed Offense Finding a Way
I'm going to preface this by saying that offense is without a doubt this club's biggest weakness. Milwaukee is currently dead last in team batting average (.219), 24th in OPS (.688) and 20th in wRC+ (90). Despite all of that, the team is a much more respectable 14th in runs scored. That's because the Brewers simply get on base. They're 6th in MLB in drawing walks. The offense has also been extremely balanced, with 10 different players have hit at least five home runs. Avisail Garcia notably leads all Brewers with 15 big flies.
Better Days Ahead?
This group should only get better as the season goes on as well. Since acquiring Willy Adames from the Rays on May 22nd, the Brewers are second in baseball in runs scored and have a 29-10 record. The 25-year-old shortstop is having one of the best offensive stretches of his career in his 39 games in the Cream City.
| | |
| --- | --- |
| Willy Adames 2021 Season | |
| with Rays (41 games) | 142 plate appearances, .197/.254/.371 triple-slash, 5 HR, 51 K |
| with Brewers (39 games) | 158 plate appearances, .293/.373/.543 triple-slash, 8 HR, 36 K |
On top of that, 2018 NL MVP Christian Yelich has missed 34 games, and has yet to go on a hot streak (five home runs, .796 OPS). Milwaukee has also had key contributors like Travis Shaw, Lorenzo Cain and Kolten Wong miss large chunks of the season. If and when they all get healthy at the same time, this will be a much different looking lineup.
Fundamentally Sound
When your club is limited in one facet of the game like the Brewers are offensively, you have to make up for it by playing clean baseball. That's exactly what Milwaukee does. Defensively, they're in the top-third of the league. The Brewers are eighth in MLB in team defensive runs saved (DRS) and starting catcher Omar Narvaez ranks eighth out of 61 qualifiers in pitch framing, per statcast.
The Brewers also have the third fewest outs made on the bases in the league (OOB). They don't beat themselves. Milwaukee is basically the antithesis of the league's most disappointing team, the Yankees (25th in DRS, 30th in OOB).
Where To Go From Here?
For the Brewers to take the next step and become a true threat to the Dodgers, Padres and Giants in the National League, they need to add another bat. Specifically, they're in desperate need of another corner infielder. Brewers' first basemen are a paltry 26th in the league in wRC+ (82), and their third basemen aren't much better, sitting 23rd in the category (83). The return of Travis Shaw should help, but Milwaukee should look to the trade market for at least one more piece. Here are some realistic corner infield trade options:
| | |
| --- | --- |
| Corner Infield Option | 2021 Stats |
| Jonathan Schoop (Tigers) | .277/.325/.476 triple-slash, 15 HR, 116 wRC+ (323 plate appearances) |
| Carlos Santana (Royals) | .244/.364/.409 triple-slash, 13 HR, 113 wRC+ (338 plate appearances) |
| Jesus Aguilar (Marlins) | .259/.318/.449 triple-slash, 12 HR, 110 wRC+ (296 plate apperances) |
| CJ Cron (Rockies) | .249/.347/.459 triple-slash, 11 HR, 108 wRC+ (242 plate appearances) |
| Asdrubal Cabrera (Diamondbacks) | .241/.343/.400 triple-slash, 5 HR, 104 wRC+ (201 plate appearances) |
The Brewers don't have the deepest prospect pool, but names like Bryce Turang and Ethan Small should be enough to acquire one of the players listed above. Turang has enjoyed a strong season for the Brewers in Double-A, and the acquisition of Willy Adames could make him expendable.
If Milwaukee can get more offensively out of their first and third basemen to go along with their already dominant pitching, this will be a team that can pull off an upset come October.