Analysis
State of the Division: NL West
A surprise team forms a three-headed monster of a division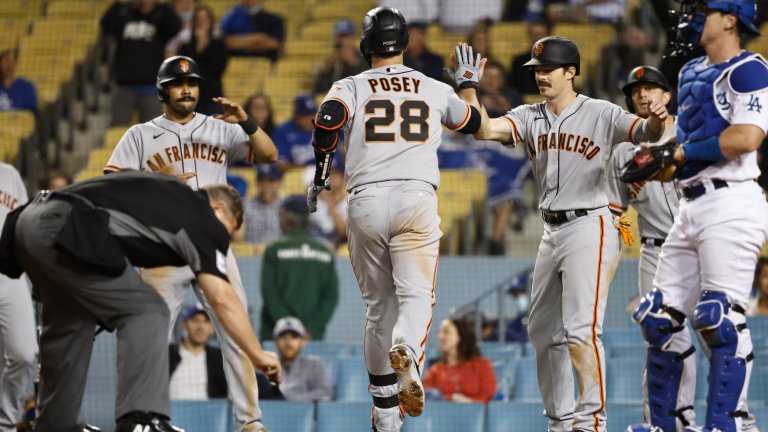 The National League West has been a complete dogfight since the beginning. As most people expected, the Dodgers and Padres are two of the better teams in the league, and certainly have the tools to win the World Series in 2021.
What did the "experts" not expect? The San Francisco Giants being the first team in the National League to 40 wins. Add them into the mix, and this division is a three-headed monster heading into the summer.
San Francisco Giants – First Place
The saying "pitching and defense wins games" could not be more accurate in describing how the Giants have found success in the early portion of 2021.
The offense has certainly played its part as well, ranking fifth in the league in OPS (.724) and featuring a nice run differential of +69.
Brandon Crawford, Buster Posey and Evan Longoria have all made a case for the Comeback Player of the Year Award, and have produced at a level most did not believe they could get back to.
However, the Giants' pitching has been the story early on this season.
Kevin Gausman would be a Cy Young Award favorite right now if Jacob deGrom didn't exist. Gausman has the third-lowest ERA in baseball at 1.43. He features a 7-1 overall record and has logged 10 quality starts in the process (Trevor Bauer, Brandon Woodruff and Shane Bieber are the only players with 11). His WHIP ranks third in baseball at 0.78, just behind deGrom and Woodruff.
Additionally, the Giants have gotten a breakout season from Anthony DeSclafani, and resurgence from Alex Wood, to bolster their rotation. Rounding out the staff, Johnny Cueto has been somewhat inconsistent and Logan Webb has been serviceable when healthy.
Los Angeles Dodgers – Second Place
The Dodgers haven't been healthy all season. One could argue this is why they haven't played up to their full potential.
In the early going this season, the Dodgers have had injuries to Cody Bellinger, Corey Seager, Max Muncy, AJ Pollock, Zach McKinstry, Edwin Rios, Yoshi Tsutsugo, Dustin May, Tony Gonsolin, Jimmy Nelson, David Price, Scott Alexander and Corey Knebel.
Probably the most concerning injury has been to Mookie Betts, who has dealt with back and shoulder soreness. His numbers have certainly suffered, hitting at a .253/.368/.452 slash line. This is well below Mookie's career standards.
While the Dodgers have struggled with consistency, Albert Pujols has become a key bat in the lineup after heading up the 5 Freeway from Anaheim. He's been surprisingly productive, posting an .817 OPS and slugging 5 homers in only 61 at-bats since being acquired.
The Dodgers still rank among the league leaders both offensively and on the mound. Once they return to full strength, expect them to find themselves with a larger target on their backs.
San Diego Padres – Third Place
The Padres get a lot of hype because of Fernando Tatis Jr., and rightfully so.
Tatis Jr. is in the heart of an MVP-caliber season, posting a 1.008 OPS with 19 homers and 13 stolen bases.
Outside of San Diego's phenom at shortstop, the overall offensive production has been less than stellar
Manny Machado is having a down year, Jake Cronenworth has been incredibly streaky, Trent Grisham has been very good when healthy (but has missed 29 games) and Wil Myers has been a huge disappointment.
The Padres starting pitching has been very good at the top with Yu Darvish at the helm and Joe Musgrove stepping up. However, Blake Snell has been a complete disaster in his first season with the Friars, Chris Paddack hasn't been much better, and Dinelson Lamet has had a hard time staying on the field. San Diego needs more consistency from the back-end to take the next step.
Colorado Rockies – Fourth Place
You might forget the Colorado Rockies and Arizona Diamondbacks also play baseball. That's because they find themselves at the bottom of arguably the best division in baseball.
The Rockies have been a mess from the start and all eyes will be on a struggling Trevor Story at the Trade Deadline.
Story has an uncharacteristic .714 OPS and has had trouble staying healthy this season. He is not expected to re-sign with the Rockies in the offseason. Therefore, the Rockies must get what they can for him now. When talking about potential trade targets, Oakland seems like a match made in heaven with the way Elvis Andrus has struggled at shortstop in the Bay Area.
Arizona Diamondbacks – Last Place
For the Diamondbacks, Ketel Marte is really the only position player worth talking about. He's picked up right where he left off following his injury, delivering a .952 OPS in 28 games this season.
Marte is only 27-years-old, and has three team-friendly years left on his contract, meaning he could be the piece Arizona looks to build around in the near future. However, it's equally possible the Diamondbacks deal him at the deadline to jumpstart their rebuild.
Additionally, players like Pavin Smith, Josh Rojas, Carson Kelly, Geraldo Perdomo and Daulton Varsho will have opportunities to carve out roles this season for the future of the organization.
On the mound, Zac Gallen continues to show promise, but forearm and elbow injuries have limited him to just six starts so far this season. Outside of that, there's not much to get excited about, as Arizona's 5.34 team ERA is the worst in all of baseball.