Analysis
Toronto Blue Jays Trade Deadline Wrap-Up
The Toronto Blue Jays added some bullpen arms and a shortstop at the trade deadline, but was it enough to help them reach the postseason?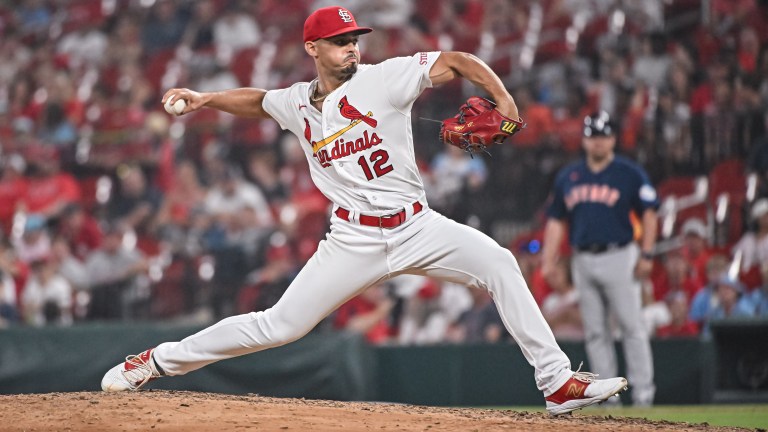 The Toronto Blue Jays are currently in the thick of the AL Wild Card race, holding the third spot while also sitting third in a tight AL East division. The Boston Red Sox and New York Yankees are both within striking distance.
The Blue Jays are a team poised to contend given their current core, but the club has had a rollercoaster of a campaign, going on impressive stretches and beating tough teams but also struggling at times to score with runners on base. It doesn't help that they've lost numerous games to their division rivals.
In such a tight race, the Blue Jays needed to get better at the trade deadline. Namely, they needed to add another bullpen arm or two, as well as a right-handed bat that could mash left-handers.
Adding to the Blue Jays Bullpen
General manager Ross Atkins and the Jays' front office got to work early, trading for St. Louis Cardinals southpaw Génesis Cabrera back on July 21st, sending catching prospect Sammy Hernandez the other way.
Cabrera can be a bit wild at times, evidenced by his 5.1 BB/9 through 32.0 innings with the Cardinals this year, but he can strike out opponents when he is on. He has used his slider and high-90s fastball to generate 43 strikeouts this year.
So far with the Jays, he has allowed three earned runs through six innings of work, all of which came against the Baltimore Orioles during his last outing on Monday.
Going back to the Cardinals well nine days later, the Blue Jays would also acquire fireball-throwing right-hander Jordan Hicks, one of the more intriguing bullpen rental options available. With the ability to throw above 100 MPH with regularity and armed with a sweeper, he can be dominant but also be wild at times. Similar to Cabrera, he has been known to allow a few free passes.
Heading to back St. Louis were pitching prospects Sem Robberse and Adam Kloffenstein; Robberse ranked as the Jays' No. 7 prospect at the time of the trade, per MLB Pipeline.
Hicks made his Blue Jays debut against the Baltimore Orioles on Tuesday and allowed three hits and two earned runs in just one inning of work while striking out none.
The Right-Handed Bat
Staying on theme, the Blue Jays acquired shortstop Paul DeJong and cash from the Cardinals in exchange for pitching prospect Matt Svanson, who was recently promoted to Double-A New Hampshire.
DeJong is primarily considered a defense-first type of player, sitting in the 97th percentile in Outs Above Average (8) while also boasting a .990 fielding percentage. Still, he should help with the Jays' troubles against southpaws. This season, the righty batter owns a .233/.297/.412 slash line with 13 home runs and a .710 OPS through 81 games.
Collectively, the Blue Jays have hit worse against left-handed pitching this year, so adding another right-handed bat in DeJong (.266 average and a .822 OPS vs. LHP this year) is a step in the right direction. DeJong will also come in handy on the field, considering Bo Bichette just went on the 10-day IL with a right knee injury, something the team will need to monitor down the stretch.
The Cardinals will cover half of DeJong's remaining salary, while they will also cover either of his buyouts, as the Florida product has club options for both the 2024 and 2025 seasons.
Blue Jays Trade Deadline Wrap-Up
Overall, the Blue Jays' front office improved the bullpen and added a right-handed bat, two things the roster needed. Still, another bat for the bench could have gone a long way for a club flirting with a playoff spot.
Adding Cabrera and Hicks to the relief corps helps on numerous fronts, especially since Cabrera adds another left-handed option other than Tim Mayza, who will now be able to pitch in more high-leverage situations.
Meanwhile, with Jordan Romano on the 15-day IL with a back injury and no guarantee of a quick return, Hicks can slot into high-leverage spots as well. With his fastball and sweeper, he should continue generating strikes when everything is clicking.
Trading away Svanson, Kloffenstein, and Robberse does impact the farm system depth, but the club was able to hang onto their other top pitching prospects. With the core of the rotation on the books for the next two to three seasons (minus Ryu), it's a risk the front office can afford to make.
DeJong fits in well because of Bichette's injury, but another player for the squad, like Tommy Pham or Mark Canha, would have been the finishing touch. That said, the current haul is nothing to slouch at compared to how the rest of the AL East fared at the deadline.
The Blue Jays can still take their chances on a waiver wire player as well as explore internal options like Spencer Horwitz or Davis Schneider down the stretch, but considering how both Santiago Espinal and Cavan Biggio have struggled to put the ball in play, one more veteran bat would have been icing on the cake.
Regardless of how the new players contribute, the Blue Jays need to find a way to play consistent baseball and find a way to beat their AL East rival squads. Otherwise, their chances of making the postseason this year might go up in smoke.