Analysis
Top 10 Relievers Remaining in the 2023 Free Agent Class
Several of the top free agent relievers are already off the board, but plenty more bullpen options remaining on the open market.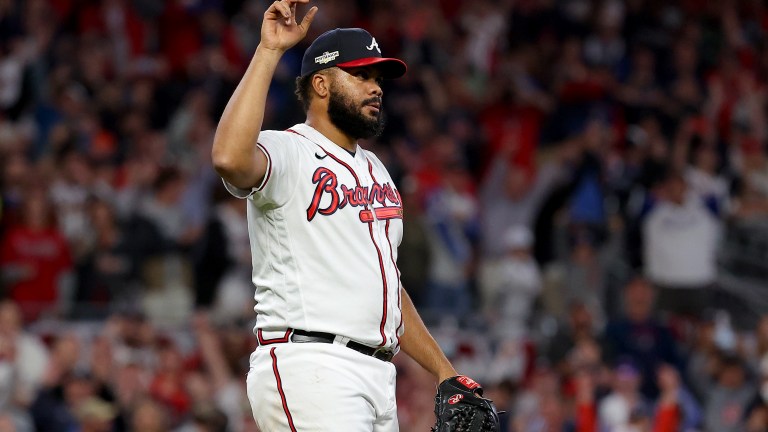 As the offseason began, free agent relievers were coming off the board at a rapid pace. First, it was Edwin Díaz signing a record-breaking contract to stay with the Mets. Then, Rafael Montero and Robert Suarez signed multi-year deals of their own not long after. Thus, within a matter of days, all three of the highest-ranked relievers on our top 50 free agents list were set for 2023 and beyond.
Since then, things have slowed down a bit. For teams in need of bullpen help, there are still plenty of options remaining. This includes a few top-tier relievers, several talented veterans for the middle innings, and a couple of high-risk, high-reward pitchers for the right team to take a flier on.
Without further ado, these are the top 10 free agent relievers left on the market this offseason.
1. Chris Martin – 1.6 fWAR
Throws: R
Age: 37
2022 Traditional Stats: 4-1, 56 IP, 3.05 ERA, 2 SV, 2 BS, 9 HLD, 74 K
2022 Advanced Stats: 11.89 K/9, 0.80 BB/9, 0.96 HR/9, 2.18 FIP, 2.01 xFIP, 2.55 xERA
Martin had one of the best seasons of his career in 2022. He set a new high in innings pitched, with his highest-ever strikeout rate and his lowest-ever walk rate.
From the trade deadline through the end of the season, he was arguably the best reliever in baseball, posting a 1.19 ERA and a league-leading 34:1 strikeout-to-walk ratio. While his advanced age (he'll be 37 next year) might lead to some hesitancy, he still throws a 95-mph heater, so there's no reason to worry about his arm falling off just yet.
2. Adam Ottavino – 1.1 fWAR
Throws: R
Age: 37
2022 Traditional Stats: 6-3, 65.2 IP, 2.06 ERA, 3 SV, 3 BS, 18 HLD, 79 K
2022 Advanced Stats: 10.83 K/9, 2.19 BB/9, 0.82 HR/9, 2.85 FIP, 2.79 xFIP, 2.35 xERA
Ottavino was fantastic for the Mets in 2022, pitching one of the best seasons of his career. After years of struggling to keep his walk rate down, he finally figured it out. What's more, he induced a ton of ground balls, further limiting the damage opposing lineups could do against him. The results were excellent. He made 55 scoreless appearances in 66 games, good for a 2.06 ERA.
3. Kenley Jansen – 1.1 fWAR
Throws: R
Age: 35
2022 Traditional Stats: 5-2, 64 IP, 3.38 ERA, 41 SV, 7 BS, 0 HLD, 85 K
2022 Advanced Stats: 11.95 K/9, 3.09 BB/9, 1.13 HR/9, 3.21 FIP, 3.46 xFIP, 2.34 xERA
Jansen is the most famous name remaining on the market, and perhaps the only true "closer" left. He showed some signs of slowing down last season, but he remains an excellent pitcher and his track record speaks for itself. Hitters struggle to make good contact against him, so as long as Jansen limits his walks he still has the stuff to be an elite late-inning presence.
4. Taylor Rogers – 1.0 fWAR
Throws: L
Age: 32
2022 Traditional Stats: 4-8, 64.1 IP, 4.76 ERA, 31 SV, 10 BS, 4 HLD, 84 K
2022 Advanced Stats: 11.75 K/9, 2.52 BB/9, 0.98 HR/9, 3.32 FIP, 3.26 xFIP, 4.11 xERA
Rogers is one of the few left-handed free agent relievers available this winter, which should work in his favor. His 4.76 ERA looks a little scary, but that's inflated by a handful of disastrous outings. His underlying numbers are much more reassuring. Rogers has been a strikeout machine for the past four seasons, and he's absolutely dominant against left-handed batters. His suitors should be wary that he struggled badly in September, but that shouldn't stop him from receiving plenty of solid offers as the best lefty option out there.
5. David Robertson – 0.7 fWAR
Throws: R
Age: 38
2022 Traditional Stats: 4-3, 63.2 IP, 2.40 ERA, 20 SV, 8 BS, 3 HLD, 81 K
2022 Advanced Stats: 11.45 K/9, 4.95 BB/9, 0.85 HR/9, 3.58 FIP, 3.71 xFIP, 3.05 xERA
After missing close to three full seasons with elbow issues, Robertson returned at full force in 2022. His 2.40 ERA ranked 12th among qualified NL relievers. He slowed down in September and October, but even at partial strength, he was a capable pitcher, and he performed well in eight postseason appearances.
Robertson would be even higher on this list of free agent relievers were it not for his age, his recent Tommy John surgery, and a dip in his velocity at the end of the 2022 season. But even with all that baggage, he's one of the best bullpen upgrades available.
6. Andrew Chafin – 0.9 fWAR
Throws: L
Age: 33
2022 Traditional Stats: 2-3, 57.1 IP, 2.83 ERA, 3 SV, 1 BS, 19 HLD, 67 K
2022 Advanced Stats: 10.52 K/9, 2.98 BB/9, 0.78 HR/9, 3.06 FIP, 3.27 xFIP, 2.92 xERA
Chafin has been one of the better left-handed relievers in baseball over the past two years, and like Taylor Rogers, his southpaw status should work in his favor. Even better, he's a lefty who knows how to handle right-handed batters, which makes him a valuable arm in the age of the three-batter minimum. Chafin doesn't have overpowering stuff, but he throws a nasty slider that opposing batters just don't know how to handle.
7. Craig Kimbrel – 0.9 fWAR
Throws: R
Age: 35
2022 Traditional Stats: 6-7, 60 IP, 3.75, 22 SV, 5 BS, 2 HLD, 72 K
2022 Advanced Stats: 10.80 K/9, 4.20 BB/9, 0.60 HR/9, 3.23 FIP, 4.04 xFIP, 3.51 xERA
Kimbrel is a wild card heading into 2023. On the one hand, he's a proven stud and a longtime closer. On the other, his 2022 season was a bit of a roller coaster and it's hard to know what to expect from the aging reliever going forward. Kimbrel's velocity dropped continuously as the year went on, and by September he was struggling to miss bats and record strikeouts. The Dodgers left him off of their NLDS roster, which is hardly a good sign.
8. Matt Moore – 1.3 fWAR
Throws: L
Age: 34
2022 Traditional Stats: 5-2, 74 IP, 1.95 ERA, 5 SV, 1 BS, 14 HLD, 83 K
2022 Advanced Stats: 10.09 K/9, 4.62 BB/9, 0.36 HR/9, 2.98 FIP, 3.87 xFIP, 2.83 xERA
Moore was phenomenal this past season, but the question is whether or not he can keep it up. After struggling badly as a starting pitcher over the past few seasons, Moore switched to a full-time bullpen role in 2022. He was excellent. In 74 innings he put up a 1.95 ERA and 2.98 FIP. His fastball showed more life than it had in years, and his other pitches worked better as a result. However, he got a lot of help from a low batting average on balls in play and a minuscule home run rate that might not be sustainable going forward.
9. Michael Fulmer – 0.7 fWAR
Throws: R
Age: 30
2022 Traditional Stats: 5-6, 63.2 IP, 3.39 ERA, 3 SV, 4 BS, 25 HLD, 61 K
2022 Advanced Stats: 8.62 K/9, 3.96 BB/9, 0.57 HR/9, 3.57 FIP, 4.45 xFIP, 3.78 xERA
Fulmer wasn't quite as good in 2022 as he was the year prior, but he was still a sturdy bullpen piece – something nearly every team could use. His age will be his biggest advantage over his fellow free agent relievers. He's one of the youngest arms available in a class headlined by veterans in their mid-to-late thirties.
10. Tommy Kahnle – 0.0
Throws: R
Age: 33
2022 Traditional Stats: 0-0, 12.2 IP, 2.84 ERA, 1 SV, 0 BS, 1 HLD, 14 K
2022 Advanced Stats: 9.95 K/9, 2.13 BB/9, 1.42 HR/9, 4.38 FIP, 3.14 xFIP, 2.39 xERA
Tommy Kahnle will be a risk, but he could also make the GM that takes a chance on him look like a genius by season's end. Kahnle has dealt with various injuries over the past three seasons, pitching only 13.2 innings since 2020. When he can stay on the field, however, he still has powerful stuff.
Kahnle made nine appearances for the Dodgers at the end of the regular season, posting a 1.04 ERA and 9.00 K/BB. His fastball was averaging close to 96 mph and touching 98, and his changeup was completely devastating. There's a reason Dave Roberts gave him the ball in three of four NLDS games.