Analysis
Top Five Landing Spots for Dylan Cease
The Chicago White Sox might have the best trade asset in baseball with Dylan Cease, but will actually they move their ace, and if so, where to?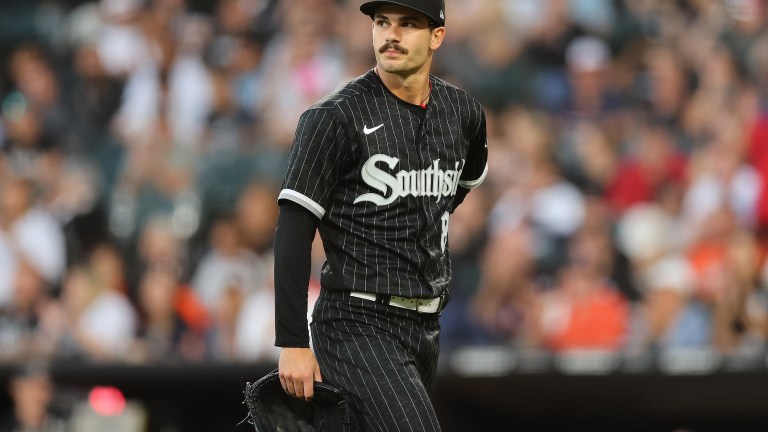 The White Sox are struggling and have been the entire season despite the lofty expectations many had for them just a little over a year ago. The team appears to be one of the biggest sellers around the league in the next week with plenty of rental trade assets and a few more valuable chips.
While they certainly won't move him without adequate value, Dylan Cease is probably the most valued asset that the team will listen to offers this week. Despite a rough season right now, Cease is a highly talented arm with two additional years of team control after this season.
With his performance improving noticeably since the beginning of June, plenty of teams will be contacting the White Sox about the possibility of acquiring their young ace. While his value has decreased marginally this season, Chicago won't settle for anything less than a large package of young talent for Cease.
I'm not sure I believe that the organization will ultimately make the move but there are a handful of teams that could offer what the White Sox are looking for in a trade. To make a deal of this nature, the trade partner has to be a team ready to go all-in on contending right now, with ample assets in their farm system to make it happen. While I believe the top three teams, listed below, are the clear partners for this type of deal, I've got five with the ability to do it.
Baltimore Orioles
The most obvious trade partner for Cease, since the rumors began of him being attainable, is the Orioles. They've recently taken the lead in the AL East over the Rays and have simply been one of the best teams in the entire league, despite an incredibly young roster with a starting rotation that lacks proven stars at the top of it.
With the best farm system in baseball, headlined by a plethora of talented young hitters, the Orioles certainly have the need for Cease and the assets to make it happen.
Tyler Wells and Kyle Bradish have been excellent for Baltimore this season and will remain key fixtures in the rotation for an eventual playoff run. Grayson Rodriguez was expected to be a key piece but struggled out of the gate. While he looked better in his most recent starts after being recalled, he's not ready to be one of the top arms in the rotation just yet.
Meanwhile, Dean Kremer and Kyle Gibson have done a solid job holding it down, but aren't necessarily pitchers that a contender wants to be starting in a playoff game.
John Means could be a key add for the team as he's nearing a return to the mound, but another big-time pitcher seems like a must for the Orioles' playoff run. While they may go the route of a short-term answer, Dylan Cease could be a long-term mainstay in the rotation of a team that figures to be a perennial contender with their current core.
The Orioles wouldn't have to even consider trading Jackson Holliday to make a deal happen, given the amount of talent in their system. Hitting prospects such as Keston Hjerstad, Joey Ortiz, Connor Norby, and Colby Mayo would all instantly become key pieces for the White Sox lineup in the near future. The Orioles have possibly the best package to offer, but the question is if they're ready to make a huge move like this.
Texas Rangers
The most surprising top team of the year is the team that has dished out the most money over the past two winters. The Rangers are fully in win-now mode and are prepared to make the moves needed to hold onto the division and make a playoff run. They already made the move to add an elite bullpen arm when they traded for Aroldis Chapman at the end of June.
With Jacob deGrom out for the season and the foreseeable future in 2024, the one hole on this roster may be another rotation piece that can pitch in a key game. While they'll likely make other moves between the margins in the bullpen and maybe another bench piece, adding another arm in the rotation could be the big move.
The Rangers' rotation has been very solid led by Nathan Eovaldi and Jon Gray. Those two will be the first options in a playoff series and are locked into their spots. Martin Perez and Andrew Heaney have taken a step back from their 2022 seasons and haven't been the most reliable but have experience in working through issues and pitching at a higher level. Dane Dunning has taken a huge step forward in the absence of deGrom, but also has experience coming out of the bullpen.
Figuring out which of the three later arms comes out of the bullpen isn't a concern as any of them would be able to pitch effectively in relief if the team were to add another quality starting option such as Cease. The Rangers' farm system is quietly one of the best in baseball headlined by consensus Top-10 prospect Evan Carter and recent 4th overall pick Wyatt Langford.
The Rangers have the ability to hold onto that pair of outfielders and still put together an excellent package of players. They have three high-upside arms to offer in Owen White, Brock Porter, and Jack Leiter with various near-ready offensive players. Justin Foscue and Dustin Harris could be starters in Chicago immediately or at least in 2024, while Luisangel Acuña and and Sebastian Wolcott are intriguing and very talented pieces.
A combination of some of those players would be hard for the White Sox to turn down and wouldn't harm the Rangers' future all that much. They would add another elite starter for the next two and a half years and will definitely have the financial ability to extend Cease as well. If the Rangers remain as aggressive as they've been, they could potentially be the leading candidate for Cease.
Los Angeles Dodgers
The Dodgers have to be considered a potential landing spot for every big-time player on the market. They've swung some of the biggest deals over the past decade for players such as Manny Machado, Max Scherzer, Trea Turner, and plenty of others as well. While they often go for rental players, they will at least be doing their due diligence on a player of Cease's caliber.
The Dodgers are going to add pitching in one way or another given the injury to Dustin May, the underperformance of a few younger arms, and the health and stability of others. Their rotation doesn't look quite as strong as usual but adding Cease in addition to the return of our guy Walker Buehler would make it the best playoff rotation in the league.
With league-ready talent throughout their minor league ranks, they could offer a lot of what the White Sox would want in a trade. Furthermore, they have two elite catching prospects, Diego Cartaya and Dalton Rushing, and the White Sox have essentially no projectable catching options in their system right now.
They can offer so many players that could very quickly become key members of the White Sox lineup and rotation. The Dodgers have the depth to give up a package for Cease and make themselves an even bigger threat come October. A pitcher such as Gavin Stone or Ryan Pepiot could be another interesting headliner in a deal with plenty of younger pitcher options that could be added in as well.
With two more years of control, this would also allow the Dodgers to not have to increase payroll by that much, while adding another star to their rotation. If they're ready to make a huge move for this year and the future, this is potentially their best option.
New York Yankees
The classic deadline buyers aren't playing very well as of late. The Yankees face a very tricky deadline with them currently in last place in the AL East.
The Yankees have holes up and down their roster, but could definitely use another pitcher behind Gerrit Cole and Carlos Rodon. I don't think they're preparing for a serious championship run this season, but Cease isn't a rental and would be around for a while.
The Yankees would certainly have to include some of their few premium assets such as Oswald Peraza or Everson Pereira. They have a few other young and exciting prospects like Spencer Jones and Drew Thorpe. They have enough to acquire Cease, but I don't expect the Yankees to be a legitimate threat to make this type of move. However, it's the Yankees and you can never count them out for a big-time player.
Cincinnati Reds
This team has won over the hearts of baseball fans all over with their incredible past few months led by a group of impressive rookies. With Elly De La Cruz, Matt McLain, Spencer Steer, and many others set to lead this team for a long time, the future of Reds baseball hasn't been this bright in a while.
The team has overperformed expectations in a big way and they're in the midst of a divisional race with the Brewers and a loaded NL Wild Card race as well. They have clear playoff aspirations and look to be buyers this deadline but they may be a year off from a move of this caliber. With so many young players on the roster and many more in the system, the Reds aren't even supposed to be in their contention window just yet.
The Reds lineup is loaded with tough starting decisions daily right now, but the pitching staff has been the area of concern. With Hunter Greene and Nick Lodolo both dealing with injuries this season, the rotation isn't quite at the caliber of a playoff threat. However, I'm not sure now is the time to push the chips in. However, as mentioned prior Cease is not a rental and would slot into the top part of the Reds rotation for the next few years.
I could see the Reds competing with other potential offers without including Noelvi Marte, but it would deplete the rest of their system noticeably. I think it's a bit too soon for the Reds to make this move, but they're an interesting team to keep an eye on as they have a big need and plenty of young talent to make it happen.