Analysis
Texas Rangers Trade Deadline Guide
The Texas Rangers are looking like a World Series contender this year, who will be searching for those finishing pieces at the trade deadline.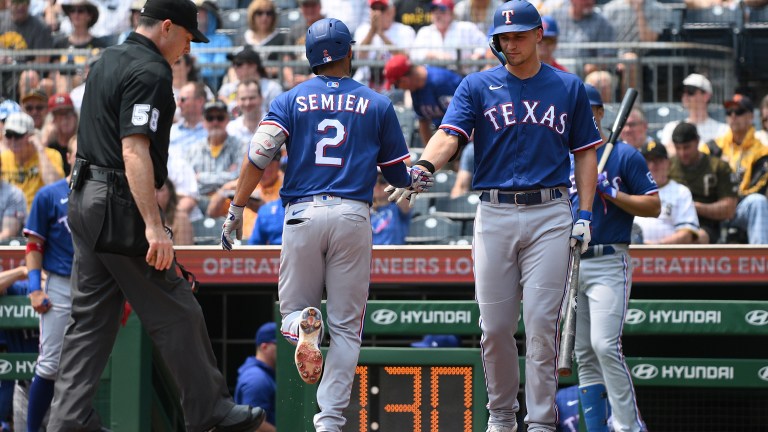 Possibly the most surprising team in the league in comparison to expectations has been none other than the Texas Rangers. They have been the clear-cut best team in the American League West this season, after two winters of spending big and the rise of some critical young contributors.
Despite the loss of prized free agent Jacob deGrom for the rest of the season, this team easily leads its division and is now in a position to legitimately push for a World Series this year.
The Rangers' offense has been one of the most potent in baseball and is fairly clearly the deepest lineup in the league. They currently feature a player like Leody Tavares, who hits ninth often for the Rangers, that would be a top-of-the-order bat on many teams given the way he has played this season.
Supporting the lineup is a pitching staff that has been steady for the most part. Nathan Eovaldi has stepped up with the loss of deGrom and has been an ace for the team with veterans Martin Perez, Jon Gray, and Andrew Heaney behind him. Dane Dunning has also emerged as a quality option during a breakout season that has seen him perform as one of the better members of the staff.
While the bullpen could be viewed as the biggest weakness, Texas wasted no time addressing it early by adding Aroldis Chapman before the month of July even struck. I still think there's more work to be done in that area but adding an experienced veteran with World Series experience was a step in the right direction.
The Rangers will buy this trade season and that's pretty clear. So, let's hone in on the areas they could look to add, and for the sake of this piece, we're going to break it down into five categories the Rangers should be considering.
Short-Term Starting Pitcher
Potential Targets: Lucas Giolito, Jordan Montgomery, Michael Lorenzen, Paul Blackburn, Brandon Woodruff, Eduardo Rodriguez, Lance Lynn, James Paxton, Kyle Hendricks, Drew Smyly, Rich Hill
The market for pitched has been well-documented in recent weeks with various teams that are on the edge of selling or not. Some of the names listed may not even be attainable, but the Rangers should be checking in on all of them.
Most of these listed arms are purely rentals with some having options and/or one more year of team control. Regardless, the Rangers have the assets to acquire any of these pitchers without harming their farm system significantly as they currently boast one of the best in the league. The team is in an excellent position to add a pitcher, even if it's a rental, that helps bolster their rotation this season and gives them another reliable option behind the likes of Eovaldi, Gray, and others.
The White Sox feel like a natural trading option with the Rangers and Lucas Giolito has been one of the better options in this category. He had a major down year in 2022 but has bounced back nicely as the most consistent White Sox arm this year.
Lynn is a former Ranger that could come much more affordably than Giolito but has looked much better as of late than his season numbers suggest. We'll get to another Chicago player later as well.
The Cardinals appear ready to sell and veteran Jordan Montgomery could be a low-cost addition for the Rangers that would slot in nicely at the back of their rotation. He showed last season the ability to be a legit playoff-caliber arm at times. The Cubs are also struggling to remain afloat in the NL Central and may soon become a team we see enter the seller category as they shift their focus to their young core and away from veterans like Hendricks and Smyly.
Some of the rebuilding teams around the league also have a starter that could garner a return worth moving the player such as Lorenzen of the Tigers or Blackburn of the Athletics. Both of these arms are having quality seasons and would be a solid short-term option for plenty of teams looking to deepen a rotation with the playoffs in sight.
Meanwhile, the Tigers' best asset is likely Eduardo Rodriguez but his availability is not always certain.
You really never know what to expect with Milwaukee during deadline season, but if they decide to sell for some reason, Woodruff would become one of the most valuable pieces on the market.
This category feels like a no-brainer for the Rangers. While some other areas we're going to get to may be a bigger commitment, Texas could acquire one of these pitchers for a pair of prospects that doesn't harm their system significantly and they're about to add Wyatt Langford to said system as well. Go get a reliable middle-to-back of the rotation pitcher that can help this team down the stretch and in the playoffs.
Big Game Ace
Potential Targets: Shane Bieber, Dylan Cease, Marcus Stroman, Corbin Burnes, Max Scherzer
This is the move that changes the trajectory of an organization and puts the Rangers up there with the league's top contenders (they might already be there too…) heading into the home stretch.
Any of these five potential pitchers would instantly become the game one or game two starter in a playoff series and essentially take the role the Rangers had expected Jacob deGrom to be in this season.
Adding another ace-level pitcher to this roster would be the dream for Texas fans that are thriving right now during the resurgent season that has them in a great position right now to make their way back into the playoffs.
Unfortunately for Texas, there's a chance that none of these five pitchers will even be available for trade. Who and how they choose to attack the starting pitching market will likely depend heavily upon which teams decide to blow things up.
Right now, it seems as if the most likely to move would be either of the Chicago arms given that the White Sox and Cubs are seeming to be heading toward selling right now. However, Cease is a potential cornerstone for the White Sox given that he's got two more years after this one of arbitration.
The Rangers are one of the few teams that could put together an enticing package for Cease and have the resources to extend him long-term as well. They can easily package three or four of their top prospects without having to include Langford or top prospect Evan Carter, while still meeting the potential price of Cease.
Meanwhile, Stroman has been arguably the best of this group this season but has a player option he'll most likely decline at the end of the year which makes him a rental in essence. Stroman would be a big add but giving up major prospect capital for a three-month rental always comes with risk.
Shane Bieber and Corbin Burnes are somewhere in between the two mentioned prior as they both have one additional year of arbitration in 2024. Both pitchers have been at the very top of the league at different points in their careers with them both taking home Cy Young awards in the past four years, but neither has been quite their peak self this year.
While still elite, this could be a good time for the Rangers to capitalize on marginally reduced value and make a move for one of the established stars with the hopes of extending them sometime in the next year before they hit the market after next season.
Bieber has some concerning underlying numbers this year as his stuff has ticked down while Burnes has seen a serious decrease in his strikeout rate, despite still impressive but reduced stuff.
There's an inherent risk whenever a team considers a monster trade, but the Rangers are clearly in win-now mode. The most complicated option is Max Scherzer if the Mets decide to eat money in order to prepare themselves for a huge offseason and next season.
Scherzer turns 39 years old this coming week and comes with a massive player option of $43 million next year, that he's likely to accept at this rate.
He's in the midst of a down year while dealing with a suspension situation as well, but ultimately this is Max Scherzer we're talking about here. He's one of the best of the generation and with the Mets' ability to eat money, this deal could make sense for the short-term of Texas.
All five options for Texas would be a blockbuster that could shake up the American League. I'm not saying it's going to happen, but if anyone in the American League is in a position to do this, it might be Texas. Having an elite farm system with ownership and management willing to spend big is a luxury in this league and allows Texas to consider going for it right now.
I'd have a hard time saying Texas isn't the favorite to come out of the American League if they were to bring in one of these pitchers.
Bullpen Help
Potential Targets: Scott Barlow, David Robertson, Brooks Raley, Alex Lange, Jason Foley, Jordan Hicks, Chris Stratton, Kendall Graveman, Joe Kelly, Reynaldo Lopez, Keynan Middleton, Brad Hand, Daniel Bard, Justin Lawrence, Brent Suter, Sam Moll, Hunter Harvey, Carl Edwards Jr.
I'm not going to spend much time on this section because we know how easy it often is to acquire relief help at the trade deadline. Every rebuilding team around the league will look to move their quality bullpen pieces for a prospect that could be part of the future.
That's why you'll see numerous options here from teams like the Royals, Rockies, A's, and others that are not competing any time soon.
Some of the stronger options on this list come from St. Louis and Chicago, which we've already talked about as they're two of the most disappointing teams and will look to retool.
The Rangers bullpen has some reliable pieces but it's never a bad idea to add more pitching depth for a playoff run. They could add the majority of these arms for one solid prospect. With Chapman, Will Smith, and Brock Burke in place, the Rangers have three trustworthy left-handed options. I expect they'll add at least one experienced right-hander to the bullpen before the end of the month.
Legit Closer
Potential Targets: Josh Hader, David Bednar, Kenley Jansen
The way I'm differentiating this category is the three options that would be the closer OVER Chapman, more often than not, as opposed to some options in the previous category that could sometimes make saves.
With the addition of Aroldis Chapman, they now have a guy they can rely on to close games in October. But could they add someone else that might be even better in a closing role right now than Chapman? I think they'll consider it.
While the Padres still seem committed to this season, a rough week or two could prompt them to sell some of their big-name pieces such as Josh Hader. The veteran closer has been back in elite form after a rough transition last year. While they don't need another lefty, the idea of finishing games with Chapman and Hader is mouth-watering.
Bednar's name has been in trade talks for a while and with Pittsburgh following out of contention recently, it could be time to capitalize on his value as a star closer with many years of arbitration. However, the Pirates might believe he can remain their closer for years at his age which may push them to hold onto him.
The Red Sox have had a pretty good season all things considered and may want to keep pushing for a playoff berth but their competition is stiff. Jansen would be another huge add to the bullpen.
While it's not an area of need per se, the Rangers will add to their bullpen in one way or another, and adding a star closer can't hurt their chances.
Versatile Bat/Platoon Outfielder
Potential Targets: Dylan Carlson, Tyler O'Neill, Ramon Urias, Cody Bellinger, Jurickson Profar, Lane Thomas, Mark Cahna, Adam Duvall, Yan Gomes
Let's be clear: The Rangers do not need a bat. Their offense is possibly the deepest in the league with multiple breakouts that have helped support their star middle infield duo.
There's no spot in the lineup you look at and think they need to change, but adding another useful hitter isn't a bad idea. I could see them taking a chance on an outfielder that could be more of a platoon option and/or replace Grossman or Jankowski. The Cardinals could be the team to reach out to on that front with Carlson, O'Neill, and likely others on the market right now.
I also think a few teams could look to move veterans like Duvall and Cahna which would add some more pop and depth to the Rangers team. Adding a backup catcher like Yan Gomes to the mix could be an option to minimize Mitch Garver catching down the stretch.
A reunion with Jurickson Profar would be fun and his versatility would make for a great bench piece in the playoffs. The Rangers could surprise me and add a huge piece but I see any offensive changes being in the form of a platoon or bench player that just further deepens their options come playoff time. This offense is locked and loaded already.
Prediction
The Rangers are ready to make things happen. This prediction is a complete guess in reality, but these are the types of moves we think Texas will make in the next few weeks to get them ready for a playoff push this October.
The Rangers acquire Jordan Hicks from the Cardinals
The Rangers acquire Jurickson Profar from the Rockies
The Rangers acquire Kendall Graveman or Joe Kelly from the White Sox
The Rangers acquire Marcus Stroman from the Cubs or Max Scherzer from the Mets