News
MLB Testing Out Designated Pinch Runner in Atlantic League
New rules are being tested in the Atlantic League, as MLB wants to keep adding more speed in the game with the designated pinch runner.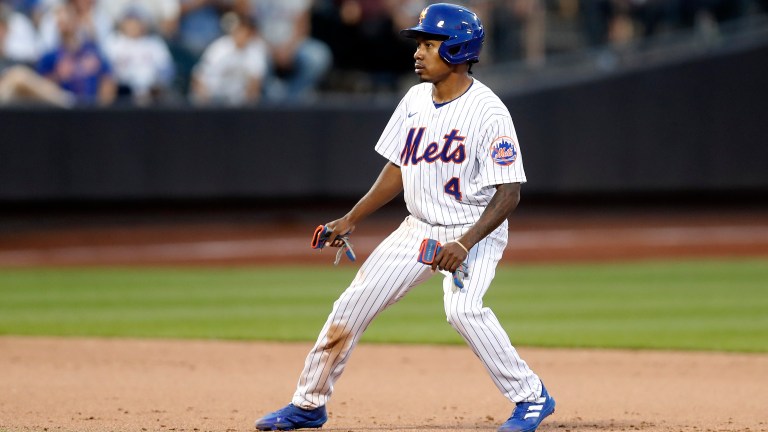 Major League Baseball announced Tuesday that three new potential rule changes will be tested in the Atlantic League, all of which are likely to be polarizing.
The most notable of the trio, as noted by Ryan Fagan of Sporting News, is the "designated pinch runner."
"New to the Atlantic League this season will be the use of a designated pinch runner. Each club will list a player who is not otherwise in the starting lineup as a designated pinch runner. That player may then be substituted at any point into the game as a baserunner. The player who is substituted for, as well as the pinch runner, may then return to the game without penalty."
For example, the 2022 New York Mets could have used Terrance Gore as their designated pinch. runner. If Pete Alonso came up with two outs in the bottom of the first inning and walked, Gore could then be substituted in to pinch run. Clearly, he would have had a better chance to score from first base on a hit than Alonso. Regardless of how the inning ended, Alonso would then return to being the first baseman and No. 3 batter in the order.
It's not immediately clear if there would be a limit on how many times a team could use a designated pinch runner in a given inning or throughout the course of the game.
Elsewhere, Jayson Stark of The Athletic says that the Atlantic League will also experiment with a one disengagement rule and the controversial "double hook" rule.
The one disengagement rule is fairly simple. Beginning in 2023, MLB pitchers can only disengage twice during an at-bat. Stepping off the mound and pickoff attempts count as disengagements. If a pitcher steps off the mound three times during an at-bat, it counts as a balk. If a pitcher throws over to the base a third time and doesn't successfully pick off the runner, the runner is awarded the next base. Under this rule, there would just be one less chance for disengagement.
As far as the "double hook" rule, Stark first introduced the idea in January of 2021. Under this concept, the hitter that starts as the DH would only remain in the lineup as long as the starting pitcher does. Once the starting pitcher comes out of the game, the DH would either have to exit or come in to play a position. The thought is that this would lead to starting pitchers staying in the game longer.
The Atlantic League is independent, but has partnered with MLB to essentially be the Guinea pigs for potential rule changes in recent seasons. Their 2023 season will begin on April 28.