Analysis
Top 10 Most Underrated Hitters in Major League Baseball
There are some hitters around Major League Baseball who simply get overlooked. Here are the top 10 underrated hitters in baseball right now.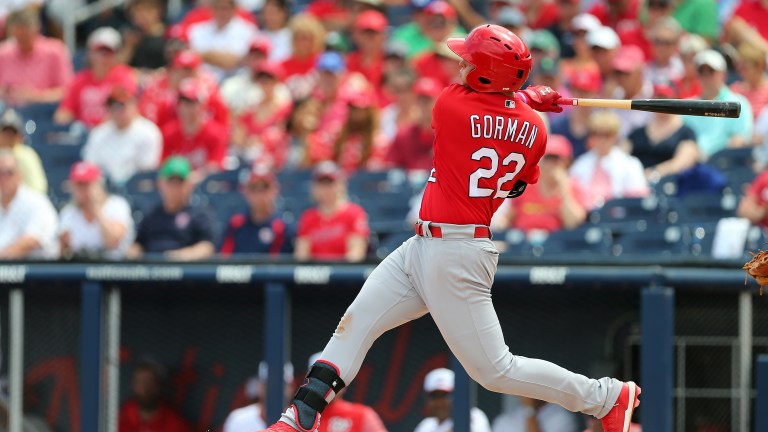 With 30 teams in the league, it's hard to keep track of every player. Some players are flashier than others drawing more attention to them. With all due respect, this is why some of the less flashy players fall under the radar.
On Monday's episode of The Just Baseball Show, Peter and Jack analyzed the most underappreciated hitters in baseball this season. Some players have displayed growth by increasing their numbers monthly while others have responded to poor 2022 seasons with loud 2023 seasons.
CJ Abrams
After being a piece in one of the biggest trade deadline moves in recent memory, Abrams name fell off the map a bit. A rocky first year in San Diego and Washington, slashing .246/.280/.324 and a .604 OPS wasn't near the league's expectations. Playing for a team in total rebuild mode did not help elevate his name anymore.
However, Abrams has put his name back on the map catching fire post-All-Star break. Since then, he's slashing .306/.355/.500 with a .855 OPS and 129 wRC+. He's recaptured the National's leadoff spot and is finally looking like the first domino to fall in the Nationals' rebuilding plans.
This season, Abrams holds a .733 OPS with 11 HR and 27 SB. His power has been impressive as of late, given it's not the strongest element of his game.
Isaac Paredes
Pete Appel said it best, "Another Rays' fleece job." Making his debut at 21 years old, Paredes didn't shine enough for the Tigers involving him in a player swap for Tampa Bay Rays outfielder, Austin Meadows.
Paredes has been busy in his 100 games this season. Shattering expectations since the trade, Paredes has shown a likening to Tampa Bay with a 3.2 WAR. He puts together competitive at-bats with an 18 K% and 10 BB%. He's a threat to leave the yard with 21 HRs and a .508 SLG.
It only makes sense that Parades finds himself not too long after arriving in Tampa Bay. His 146 wRC+ speaks for itself and for those Fantasy Baseball players out there, probably not a bad pickup either.
Jeimer Candelario
Making his debut in Chicago back in 2016, Candelario was soon traded to Detroit where he spent five seasons playing ball before signing with Washington last offseason. With the Cubs trying to sneak into a Wild Card spot, they went back to their old friend.
Despite being a hot name in a seller market, Candelario's expectations in Chicago were overlooked. Placed on a Cubs team looking up at the Division-leading Milwaukee Brewers and America's team at the time, the Cincinnati Reds.
Candelario is making a case right now for the best trade deadline pickup. With the Cubs, he's slashing .483/.545/.759 with a 1.304 OPS in eight games. Alright, an eight-game sample size isn't a ton but the guy still rakes. This season he's earned a .375 OBP while slugging .501 in 452 plate appearances. This is a 29-year-old switch-hitting corner infield with a 130 wRC+ and 3.7 WAR both better than Fernando Tatis Jr. and Austin Riley this year.
Spencer Steer
On one of the most exciting teams in baseball, Spencer Steer's name has been lost in the shadows of whatever you want to call Elly De La Cruz. Yes, De La Cruz has been tremendous for the Reds, but Steer has been a huge part of making this lineup one of the best in baseball.
Hitting the ground running to start the year, Steer had a .928 OPS and 144 wRC+ from May through June. This got the Steer name to float around baseball for a couple of months as the Reds were surging through the Central. This is around the time we forgot about Steer and De La Cruz made his mark in baseball deservingly so.
Jack McMullen phrased it perfectly when describing Steer, as "one of those guys who slow heart rates." This season, he's slashing .270/.352/.462 with 17 bombs and a .814 OPS. Don't forget his nine stolen bases this year too. His 115 wRC+ beats Manny Machado and Julio Rodriguez this year. Similar to Paredes, Steer is a tough out with a 10 BB% and 20 K% and on top of that, he's doing it all at 25 years old.
Jack Suwinski
The Pittsburgh Pirates put the league on notice after their surprising 20-9 start to the season. Suwinski has made a name for himself since then, despite his team's downward spiral. His power is what scares pitchers, clubbing 21 HRs and slugging .466 through 99 games so far this year.
His power pairs well with his .336 OBP and 119 wRC+ however the biggest weakness in Suwinski is his strikeout rate. Suwinski is getting punched out 33% of the time, which is depleting his average down to .213. His potential, power, and ability to play defense keeps him in the lineup every day but if can nibble away at his strikeout rate, Jack Suwinski will be a problem in the box.
Nolan Gorman
The disappointing St. Louis Cardinals season and determining who deserves the blame for their efforts has concealed the outbreak of Nolan Gorman. Month by month, the 23-year-old infielder has been through it all. A .960 OPS in May followed by a head-scratching .143 AVG and .440 OPS in June, eventually blossoming into a .944 OPS and 154 wRC+.
Since the All-Star break, he's hitting .309 with a 1.058 OPS through 19 games. However, similar to Suwinski, Gorman holds a 30 K% that's weighing down his .245 AVG this year. Another one of his flaws has been winning the lefty vs lefty matchups. In 59 plate appearances, he's hitting .275 with a .885 OPS and 2.5 WAR against lefties. Presenting his ability to make adjustments at 23 years old, this guy will be a big bat in St. Louis for years.
Ketel Marte
After signing his five-year $76 million dollar extension, Marte was awful in 137 games last season. Hitting .240 with a 102 wRC+ and 1.5 WAR does not paint a $15.2 million dollar of average annual value. A 16 K%, 130 wRC+ and 3.0 WAR? Now that's a little easier to swallow.
It could be that Marte is finally on a winning team giving him some more motivation. Could be the fact he's been battling injuries for a few years now and finally feels like himself again. Jack McMullen believes it's more of the opponent. '
When opponents get the lineup card, they are circling Corbin Carroll, Christian Walker, then Ketel Marte. Throughout his career, Marte's been the first guy teams circle, and now he's third.
The Diamondbacks taking some weight off Marte's shoulders may have allowed Ketel to be Ketel. Marte hasn't been great from one side either, he's been great from both. He's slashing above .275/.350/.470 from both sides with an OPS over .840. Marte will play a significant role as this Diamondbacks roster gets more experience and more talent surrounds him.
Triston Casas
Triston Casas is turning into a superstar before our eyes. The Red Sox 2018 first-round pick has been great for a team buried in a talented AL East division. Casas has 17 HRs on the year tied with a .832 OPS.
The 23-year-old is getting better by the day. In April he slashed .137/.284/.301 with a .585 OPS, but took a step forward in May with a .767 OPS. In June he earned a .851 OPS giving baseball a sneak peak for his outburst in July. Seven bombs with a 1.200 OPS and slashing .348/.442/.758 is just ridiculous over 21 games.
Through his monthly improvements, his walk rate gradually climbed and simultaneously his strikeout rate diminished. Since the All-Star break, Casas has a 13.8 BB% and 1.191 OPS. Crushing baseballs on a daily basis with 11 batted balls at 110+ mph this year doesn't come along too often. The Red Sox have a star in the making when they turn their ship around.
LaMonte Wade Jr.
With no disrespect towards Wade's game and not being a flashy player, he's been deeply undervalued ever since the San Francisco Giants' legendary 107-win season in 2021.
Wade was a great bat against right-handed pitching for the Giants in 2021. His year was solid slashing .253/.326/.482 with a 116 wRC+. However, it's been his 2023 season that is the most impressive.
In 20 games in June, Wade hit .301 with a .890 OPS but went cold in July hitting under .200 with just a .488 OPS. A rough July sparked a hot start in August going 8-for-23 with two homers and has improved his WAR by 0.5 over the course of the season. He's the perfect leadoff guy in San Francisco with a 16.4 BB%, the second-highest in MLB only behind Juan Soto.
JP Crawford
A franchise shortstop is what every fan of a team dreams of. Elly De La Cruz, Oneil Cruz, and Wander Franco to name a few. JP Crawford is probably not the first name that comes to mind.
With the Seattle Mariners treading above water to stay alive in the American League Wild Card hunt, Crawford has been a bright spot on this team. An impressive .415 SLG and .382 OBP has his American League-leading 14.9 BB% to thank. His 131 wRC+ outlasts other stars around the league like Paul Goldschmidt and Marcus Semien.
The former No. 7 overall top prospect back in 2017, has overcome a bumpy two years in Philadelphia before arriving in Seattle. Over the last two seasons, he's only managed to form a 101 OPS+ compared to this season, where he owns a 126 OPS+.