Analysis
Chicago Cubs Were Right To Keep Cody Bellinger To Win Now
The Cubs could have sold-high on Cody Bellinger at the deadline, but instead doubled down and added one of the best available rental bats.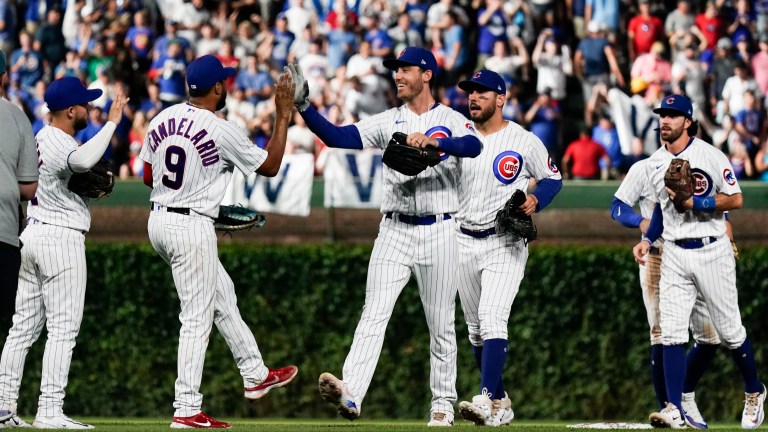 When the calendar turned to the month of July, it felt as if the 2023 season was slipping away from the Chicago Cubs. They went into the Fourth of July sitting seven games below .500, and they were seven games back of first place in one of the most winnable divisions in baseball.
However, since July 4th, the Chicago Cubs have completely flipped the script.
Since that date, the Cubs lead MLB with 195 runs scored, and they have gone 20-10 in their last 30 games. As a team, they are posting the second-best wRC+ (125) and third-best OPS (.831) over that stretch as well.
Over the course of the past month, they've battled back from being 8.5 games back in the NL Central and now sit just 1.5 games back from the division lead.
The Cubs are firing on all cylinders at the plate. They're averaging 5.10 runs per game on the year, and they are making a surge up the NL Central standings. After winning eight of their final 10 games in July, their season outlook quickly pivoted as the trade deadline approached.
The Cubs were once viewed as sure-fire sellers with some of the most desirable talent on the market in Marcus Stroman and Cody Bellinger.
Instead, the Cubs surveyed the landscape of the NL playoff picture and felt they had a real shot at making a playoff push this season. Not only did they hold onto two of their most valuable assets, but they went out and bought one of the most coveted bats on this year's trade market.
It was clear the Cubs felt they had the roster makeup to compete in 2023, and they went and made their lineup even better at the trade deadline.
All stats taken prior to play on August 8th.
Cubs Acquire Jeimer Candelario
Jeimer Candelario was one of the more sought-after pieces at this year's trade deadline. He was one of the better rental bats on the trade market, and he would have been a good addition for any contending ball club's offense. In the end, Candelario ends up with the Chicago Cubs, the organization he started his major league career with back in 2016.
Candelario's Defensive Flexibility
Candelario was the picture-perfect addition. He will provide a significant injection of offense for the Cubs, and his positional versatility will have a positive ripple affect on the players around him in the lineup.
With the Washington Nationals this season, Candelario saw most of his playing time at third base and designated hitter. However, since joining the Cubs last week, he has spent five of his first seven games at first base.
Candelario effectively replaces Trey Mancini at first base, whom the Cubs designated for assignment a few days after Chicago acquired Candelario. He will serve as a significant upgrade at the position, and it will allow Chicago to utilize Cody Bellinger's athleticism in the outfield even more as well.
With Candelario being able to play both corner infield positions, his presence in the lineup provides yet another element of lineup and positional flexibility for skipper David Ross.
Candelario's Offensive Production
Candelario is putting together an impressive season at the plate. In 448 plate appearances, he is slashing .272/.356/.499 with an OPS+ of 135 and a wRC+ of 129. He is putting together one of the best power-hitting seasons of his eight-year career while maintaining above average contact rates as well.
Candelario has 34 doubles on the season, which is the third-most in Major League Baseball. Along with his two triples, he also has launched 17 home runs. He has never hit more than 19 homers in a season, but he is on track to fly past that mark in 2023.
Given Candelario's impressive extra-base hit totals thus far, it's no surprise to see him putting up a career-high Isolated Power (ISO) number, which currently sits at .226. He has been successful at translating his extra-base hits into run production as well. He has 56 RBIs on the season, which is already the second-highest mark of his career.
When looking at what might be fueling Candelario's bump in offensive performance, his biggest improvement has been his elite performance against fastballs.
In 2023, Candelario is hitting .330 against fastballs and is posting a whopping .590 slugging percentage against the pitch type. He also has a wOBA of .429 against heaters this year, and all three categories are significant increases from last season's numbers.
While he has seen success against all variations of fastballs, the 4-seam has been his bread and butter. Candelario has a Run Value of 19 against 4-seam fastballs, which is the second-best run value in baseball amongst all pitch types.
Candelario brings a little bit of everything to the batting order. Not only is he a threat for power at the plate, but he brings a disciplined approach with above average bat-to-ball skills to the lineup as well. His well-rounded offensive game and switch-hitting versatility will be welcomed to the Cub's lineup.
Cubs Choose to Keep Cody Bellinger
The Cubs had a chance to cash in on one of the best pieces on the trade market at this year's deadline. While technically Bellinger isn't a true rental, it's looking like he will likely hit free agency come season's end. Bellinger has a mutual option for $12 million next season, but with how successful of a season he is putting together, it's likely he declines the option to seek a longer-term deal in the offseason.
Instead, the Cubs elected to hold onto the center fielder as Bellinger continues to be the heart and soul of their offense.
In his last 30 games, Bellinger is posting a wRC+ of 214, which is the second-highest mark in baseball over that stretch. Since the trade deadline, he is 14 for 26 with nine RBIs, including two doubles and a home run.
No matter how you slice it, Bellinger has been one of the best hitters on the Cubs this season. He leads the team in wRC+ (149) and OPS (.935), and his 3.8 fWAR is second on the team only behind Dansby Swanson. His 55 RBIs are the second-most on the team, and he has been an elite run producer in the heart of Chicago's lineup.
In 347 plate appearances, Bellinger is hitting .332, while posting a stellar slugging percentage of .552 with an OPS that is nearly .300 points greater than last season's number.
He might not post 40+ home run numbers like he did back in 2019, but Bellinger continues to be a power threat at the plate. He has 35 extra-base hits this season, including 18 doubles and 16 homers. In turn, his .219 ISO is his highest mark since his MVP-winning 2019 season.
Bellinger has developed into a more well-rounded hitter this season, and it's illustrated by his impressive wOBA of .394, which leads all of baseball at the center field position (min 300 PA). He is putting together more efficient plate appearances than in previous years, and his revamped approach this season is at the heart of his success.
Bellinger's Improved Approach
In his final two seasons in Los Angeles, Bellinger's ballooning strikeout rate was a major shortcoming of his game. He greatly struggled to put the bat on the ball, and he was frequently chasing pitches outside of the strike zone.
This season, however, Bellinger has cut his strikeout rate by an astonishing 12.3%. It currently sits at 15%, which is in the 89th percentile. Unsurprisingly, this impressive feat has been fueled by substantial improvements in his contact rates.
Bellinger's whiff rate sits at 19.6%, which is in the 80th percentile and is a 7.6% decrease from a season ago. More importantly, Bellinger is making more frequent contact on pitches within the strike zone. His zone contact rate is up nearly 7% from 2022 and currently sits at 84.4%, which is a career-high.
Not only has Bellinger shown substantial improvements in his bat-to-ball numbers, but he has managed to cut his chase rate by 3.8% as well.
Bellinger has been an entirely different hitter this season. He went from being a shell of his MVP-winning self a season ago to being at the core of one of the top offenses in baseball in 2023.
Chicago's decision to hold Bellinger at the trade deadline is incredibly telling as to what the front office thinks this roster is capable of. The Cubs will lean on Cody Bellinger as they attempt to make a playoff push in the coming months.
Improvements in the Margins
In addition to the acquisition of minor league right-hander Josh Robertson, Chicago made a minor addition to their bullpen to help round out their pitching depth down the stretch this season.
The Cubs acquired right-handed pitcher Jose Cuas from the Royals in exchange for outfielder Nelson Velázquez. Velázquez hasn't been able to find consistent playing time in his two seasons with the Cubs, so Chicago elected to flip the 24-year-old to bolster their bullpen depth.
Cuas has thrown 82.1 innings across two big league seasons. He has a career ERA of 3.94 to go along with a WHIP of 1.64. Cuas has struggled with pitch command throughout his career, illustrated by his 12.2% career walk rate, and he has struggled to limit hard contact this season, posting a barrel rate of 14.6%.
Yet, he has a pitch mix that can produce swings and misses. He has a whiff rate of 31.1% to go along with an above average strikeout rate of 26.8% in 2023. Cuas won't be an arm to see high-leverage situations for the Cubs this season, but he'll serve as a depth piece with some enticing strikeout potential.
Final Thoughts
As the trade deadline approached, the Chicago Cubs were sitting on a handful of valuable assets who are likely to hit free agency at the end of the season. They had an opportunity to cash in on some expiring pieces and shift their focus to next season.
Instead, the Cubs saw a window of opportunity, and they took advantage of it. They were playing with a notable energy, their roster was starting to get healthy, and despite a sluggish first half of the year, they still remained within striking distance in their division.
The Cubs have the third-best run differential in the National League at +67, and no other team in the NL Central has a positive run differential. They have a very realistic shot at grabbing hold of their division.
The Cubs managed to improve their roster with an impactful bat without surrendering a significant amount of prospect capital. They addressed a key position while maintaining some of their best assets, and now their roster is better positioned to make a playoff push.
As we approached the month of July, Cubs fans might have been anticipating a fire sale come this year's trade deadline. Now, just over one month later, the Cubs came away as buyers at the deadline and have crawled within two games of first place in the NL Central.