Analysis
Is Freddie Freeman the Best Hitter in Baseball?
If there is one hitter who you can count on being amazing every year, it's Freddie Freeman. Who once again finds himself in the MVP conversation.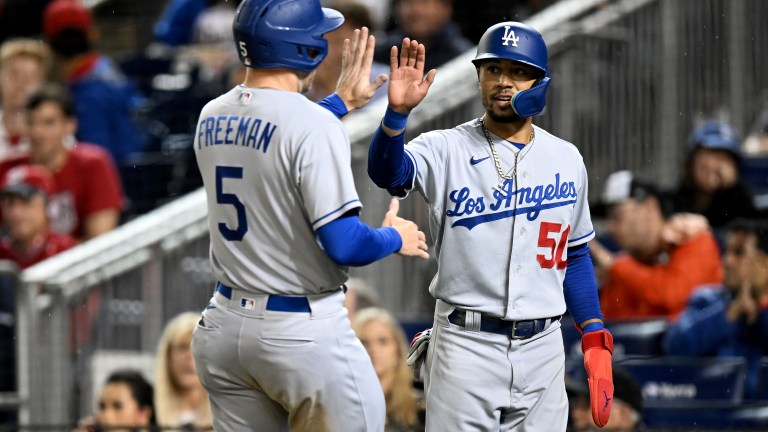 One of the best parts of sports is debating about who's the best player or who's better than who. Freddie Freeman has edged his name next to other top hitters in the league while emerging as a strong MVP candidate this season.
Being in the MVP conversation is nothing new to Freeman, as he has consistently been one of the game's best hitters year over year.
Freeman finished second in NL Rookie of the Year voting in his first season as the Atlanta Braves' first baseman finishing with a .282/.246/.448 slash line including a 20-game hitting streak through August. Constantly avoiding the injured list, Freeman is a reliable player to pencil in the lineup building a 234 consecutive games played streak through the 2014 and 2015 seasons.
Unfortunately, a wrist injury sidelined Freeman for nearly a month breaking the MLB streak amongst active players. But only twice in his career has Freeman missed more than 15 games in a season (excluding 2020's covid season) consistently dodging the injury bug which most players struggle to avoid.
His 2015 wrist injury would continue to cause Freeman problems during the offseason, which doesn't come as a surprise due to how important wrist flexibility is for a smooth swing like Freeman's. The wrist injury would be the source of his sluggish start to the 2016 season, however, putting the pieces back together was no problem for Freeman finishing the season with a .302/.400/.569 slash line and a 6.6 WAR.
Through his first six seasons, Freeman had a .289/.374/.485 slash line earning a spot on Canada's national team which participated in the World Baseball Classic in 2017. Despite being born in California, both of Freeman's parents have Canadian citizenship allowing him to play for Team Canada.
He won his first Gold Glove in 2018, along with his third All-Star game appearance and second career season playing all 162 games. He lead the league in hits and doubles that year hitting over .300 for his third-straight season while barreling 23 home runs and driving in 98.
In his final two seasons with the Braves, Freeman won the MVP during the shortened 2020 season and then was finally about to hoist the World Series Trophy in 2021. Unfortunately that would be his last moment for the Braves, as he went on to sign a six-year $162 million dollar contract with the Los Angeles Dodgers creating a super team in LA with Mookie Betts, Trea Turner, and many other stars.
It's a challenge to find a spot in Freeman's career where he plateaued or showed signs of regression because he simply just doesn't stop hitting the ball. The time has come where when someone asks you who are your top five hitters in baseball, Freddie Freeman should be one of the first names you mention.
The most impressive part of Freeman's games is his hands during his swing. To me, every kid playing baseball should watch this clip above which displays perfectly how to get your hands inside a baseball and shoot it the other way. His ability to get inside a 94 MPH fastball and backspin it over the left-center field fence is what makes him such a dangerous hitter.
This skill-set makes it more difficult for pitchers to jam him and create weak contact. His ability to let the baseball get deep in the zone and barrel it with power to the opposite field is a hard skill to master. Freeman does not swing and miss often, placing him in the 79 percentile in whiff percentage this season.
As you would have predicted, Freeman has a .327/.406/.525 slash line since putting on the Dodger blue. He finished with a 157 wRC+ and a career-high 7.1 WAR in 2022, easily surrounding himself with some of the better players around the league.
This season has been no different coming off a dominant month of May leading all of baseball in AVG, runs scored, RBIs, and WAR. In addition to tearing the cover off the ball, Freeman has just a 14% strikeout rate, continuing to separate himself from other hitters around the league.
For the second time in his career, Freeman had a 20-game hitting streak through May which unfortunately ended June 2nd.
The month of May hasn't been the only friendly month for Freeman this year, it's been every month. Continuing to simply gather hits with the talent to launch a ball over the wall positioning him second in the NL in OPS (.960) and AVG (.331). He leads the NL with a 212 wRC+ and a .722 sluggig percentage. Freeman also stands in the 99 percentile in xwOBA.
Freddie Freeman is not only in the race for NL MVP this season but a player who has an argument for best hitter in baseball. Not a flashy player like the Braves' Ronald Acuna Jr or a funky player shuffling at the plate like Juan Soto. Freeman plays his style of baseball and it's done well over his 14-year career with the Braves and Dodgers.