Rankings
Top 10 MLB Third Basemen for 2022
Just Baseball's rankings of the top third basemen in baseball.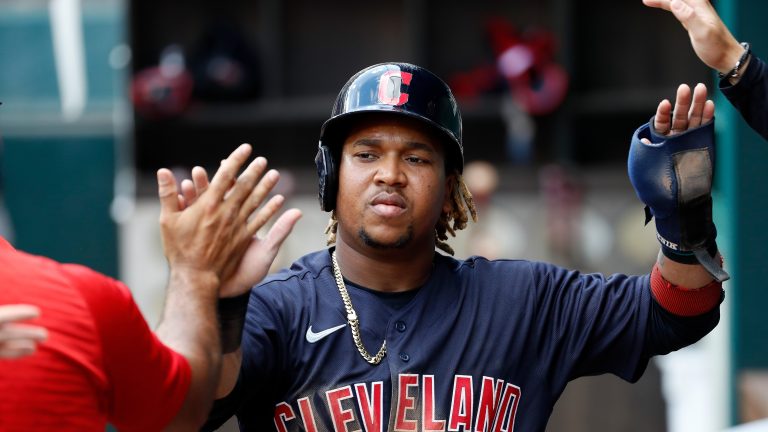 Welcome to our official positional rankings for the 2022 MLB season!
In this series, you'll find our rankings for the best players at each position in Major League Baseball. These rankings are not a measure of performance since 2019; we are projecting the ten best at each position for 2022.
All types of analysis went into these rankings. We look at every advanced analytic we can to make our lists, but we include intangibles not typically found in the numbers. This is not a perfect list, but no list truly is.
The third base position is one of the toughest positions to rank. There are multiple superstars coming off injuries and down seasons, while younger players have made a massive jump. We rewarded offensive prowess but gave an extra bump to well-above-average defense.
We have accounted for defensive and offensive production since 2019, with an emphasis on 2021. The age you'll see next to each name reflects what they will be on Opening Day.
We will use some advanced baseball jargon in this article. You'll see stats such as WAR, OAA, fWAR, DRS, etc. The defensive stats will reflect their time solely at second base. We suggest quickly reading about those stats at the links attached, and as always, please feel free to reach out on Twitter with any questions.
Honorable Mentions
Josh Donaldson – New York Yankees
Josh Donaldson may not be on the best contract and is 36 years old, but there is a reason the New York Yankees made the move to acquire him this offseason. The guy flat-out rakes.
Donaldson ranked in 99th percentile in average hard hit% last season, which means he is still hitting the ball harder than almost every other hitter in the game. The third baseman walks at a great 13.6% clip and barrels up baseball with the best of them. He hit 26 home runs in 135 games played last year and he also posted a 1 OAA, as he is still a slightly above-average defender at third base.
Jeimer Candelario – Detroit Tigers
Jeimer Candelario has gone a bit unnoticed playing for the bottom-dweller Detroit Tigers, but his star is about to rise if this team starts to contend this year. Last year, Candelario hit .271/.351/.443, with 16 home runs, 67 RBIs and a 119 wRC+. Now hitting in a much better lineup with the addition of Javy Baez and the promotion of Spencer Torkelson, Candelario could have a career-year this season.
Ke'Bryan Hayes – Pittsburgh Pirates
Nolan Arenado may finally have some competition when it comes to the Gold Glove discussion with Ke'Bryan Hayes entrenched at the hot corner for the Pittsburgh Pirates. Hayes actually outperformed Arenado in both of the main advanced defensive metrics last season, with 16 DRS and 13 OAA.
Offensively Hayes underwhelmed in his rookie season, posting an 88 wRC+, but the 25-year-old former top prospect certainly has the potential to be far better this year.
Eduardo Escobar – New York Mets
When it comes to production from third basemen, few players have been more consistent over the last few years than Eduardo Escobar. In the last three full 162-game seasons, Escobar has posted an fWAR over 3.0 each year.
Last season, Escobar hit .253/.314/.472, with 27 home runs and 90 RBIs. Since 2017, Escobar has hit the 10th-most home runs of any third baseman with 111. That is more than Justin Turner, Alex Bregman, Kris Bryant and Josh Donaldson.
The Top 10
10. Alex Bregman – Houston Astros (Age: 28)
2021 Stats: 91 G, .270/.355/.422, .777 OPS, 115 wRC+, 12 HR, 55 RBI, 2 SB, 11% BB, 13.3% K, 2.0 fWAR, 2 DRS, 0 OAA
Alex Bregman still checks in at number 10, but he runs the risk of falling out of the top 10 entirely based on some of the trends of the last few seasons. Since 2019, Bregman has struggled against breaking balls. Bregman used to crush them, hitting around .300 against sliders and curveballs. Since 2020, he's hitting closer to .200, and he's seen his production fall during those years.
Do I have to say what happened after that season? I'll let you use your imagination.
But when he's on, he's simply one of the best all-around 3B's. He's still third in fWAR and first in wRC+ since 2019 at the position, and he's walked more than he's struck out in that span. He's a slightly above-average defender at third as well. Bregman is someone we'll be watching closely this year. He's truly one of the toughest players to rank going into the season
9. Matt Chapman – Toronto Blue Jays (Age: 28)
2021 Stats: 151 G, .210/.314/.403, .717 OPS, 101 wRC+, 27 HR, 72 RBI, 3 SB, 12.9% BB, 32.5%, 3.4 fWAR, 10 DRS, 17 OAA
The best defender on planet earth. He's won three Gold Gloves, and already has two Platinum Gloves to his name.
Still, it is hard to understand exactly who is going to be moving forward after a down year in 2021. He was dealing with a hip injury, which limited his production to the point where it was the worst offensive season of his career. Some of the power numbers remained. He hit 27 bombs and hit a couple of balls well over 110 miles per hour. But while he was great at taking walks and not chasing, his swing and miss numbers were borderline worst in the league.
With that being said, he's healthy now. If Matt Chapman can return to hitting at a .250 clip with 36 bombs and a .848 OPS like he had in 2019, on top of being the best defender on Earth, No. 9 on this list is going to be criminal in two months.
8. Justin Turner – Los Angeles Dodgers (Age: 37)
2021 Stats: 151 G, .278/.361/.471, .832 OPS, 127 wRC+, 27 HR, 87 RBI, 3 SB, 10% BB, 16% K, 4.0 fWAR, -2 DRS, 0 OAA
Justin Turner hasn't stopped hitting since he was released by the Mets and joined the Dodgers in 2014. He's got a higher wRC+ than Nolan Arenado, Anthony Rendon, and Manny Machado since 2014, and he hasn't slowed down at all.
He finished fourth at the position in wRC+ last season at 36 years old and his 27 home runs matched a career-high. Turner's rarely striking out, he sprays the balls to all fields and walks at a 10% clip. He's not the defender he once was, which drops him a bit in this list, but he's not a hole over there either. Now he can even spend some time at DH to keep his bat in the lineup. Justin Turner flat out rakes and he has a career 132 wRC+ in the playoffs. In the playoffs!
7. Yoan Moncada – Chicago White Sox (Age: 26)
2021 Stats: 144 G, .263/.375/.412, .787 OPS, 122 wRc+, 14 HR, 61 RBI, 3 SB, 13.6% BB, 25.5% K, 4.5 fWAR, 3 DRS, -1 OAA
The 27-year-old entered the league in 2016 with otherworldly expectations. He was the top prospect in all of baseball! However, it took him a little bit to get acclimated to big league ball.
In 54 games as a 22-year-old, he was average. As a 23-year-old, he was bad. Moncada had a 97 wRC+ and a league-leading 217 strikeouts.
But then he dropped the strikeout rate and put together an exceptional 2019 campaign. He hit .315 with a .915 OPS and pumped out 25 bombs. COVID hit him hard in 2020, but he regained his form in 2021. Last year, Moncada hit .263 with a 122 wRC+, walked as much as anyone, and had a 4.5 WAR season.
He's transformed as a baseball player. Moncada was the top prospect in baseball because he was a smooth second baseman with power that swiped nearly 100 bags in two years. He'll swipe a few, but his main strength is that he's a doubles machine, with a rocket for an arm, and counters his high whiff rate with exceptional zone discipline. Overall, he's a well-rounded third baseman, and certainly top-10.
6. Anthony Rendon – Los Angeles Angels (Age: 31)
2021 Stats: 58 G, .240/.329/.382, .711 OPS, 95 wRC+, 6 HR, 34 RBI, 0 SB, 11.6% BB, 16.5% K, 0.7 fWAR, -6 DRS, -6 OAA
How do you rank a player that not so long ago was easily top 3, but he put up terrible defense and a .711 OPS in 2021?
We aren't particularly worried, but slightly cautious about ranking Anthony Rendon as the sixth-best third basemen.
Rendon dealt with a hip injury all season, which dampened his ability to move laterally on the infield and generate power in his swing. That led to his worst offensive and defensive season to date. Hip injuries are the worst, and some players are never the same again after surgery.
Rendon was asked how he's feeling this season, saying it's "night and day" how he feels from last season. If we get 90% of what Anthony Rendon was, we are still looking at a fringe top-five third basemen. An elite bat, great defense, and championship mentality is what you get from Rendon, we just hope he can rebound.
5. Austin Riley – Atlanta Braves (Age: 25)
2021 Stats: 160 G, .303/.367/.531, .898 OPS, 135 wRC+, 33 HR, 107 RBI, 0 SB, 7.9% BB, 25.4% K, 4.2 fWAR, 13 DRS, -6 OAA
It took some time for sure, but Austin Riley has finally established himself as the type of player we were all expected him to become for the Braves when he was a top prospect. Riley debuted to play 80 games in 2019, and had an 85 wRC+ with a 36% strikeout rate. In 2020, He cut the K rate but hit .240 with a .716 OPS and was a 0.0 WAR guy.
Then came 2021!
Riley broke out in the biggest way. A 135 wRC+. A WAR north of 4.0. He slashed .303/.367/.531 with 33 home runs and 107 RBIs. He got his first Silver Slugger, he finished seventh in MVP voting, and won a World Series title. The defense is difficult to quantify, considering how far apart the DRS and OAA are. When we watch Riley, we see a decent defender but nothing that truly stands out as elite. The bat however, is ridiculous. He's not just one of the best hitters among third baseman; he's one of the best hitters in the game.
4. Rafael Devers – Boston Red Sox (Age: 25)
2021 Stats: 156 G, .279/.352/.538, .890 OPS, 134 wRC+, 38 HR, 113 RBI, 5 SB, 9.3% BB, 21.5% K, 4.7 fWAR, -13 DRS, -13 OAA
Our fourth best third basemen has been in the league since 2017, yet he's only 25 years old.
Rafael Devers of the Red Sox has not only been one of the best bats at the position, but in the entire league.
Here's all the stats Devers finished top three in 2021 at third base. Home runs, RBI's, wRC+, batting average, slugging, doubles, hits, runs, wOBA, xWOBA. We basically just listed every hitting stat except on-base percentage, which he finished seventh.
The defense is the problem, and that's what keeps him out of the top-three. Devers rated as the worst overall defender at the position. We aren't saying he's absolutely the worst, but he sure isn't good at the hot corner Nonetheless, He's been such a good hitter for so long, and instead of regressing, we think he can be even better at the plate this year.
3. Nolan Arenado – St. Louis Cardinals (Age: 30)
2021 Stats: 154 G, .255/.312/.494, .806 OPS, 113 wRC+, 34 HR, 105 RBI, 2 SB, 7.7% BB, 14.7% BB, 4.0 fWAR, 6 DRS, 10 OAA
He's played nine years of Major League Baseball and has nine Gold Gloves. That pretty much says it all when it comes to his defensive prowess, although five Platinum Gloves add to that elite resume as well.
Nolan Arenado is no slouch with the bat either, as he has won four Silver Sluggers, and he's a six-time All-Star. FOR HIS CAREER, he's averaging 35 homers and 113 RBIs on a yearly basis with a .288 average and an .880 OPS.
The OPS number ticked down in his first year in St. Louis. Last year, he hit .255 with the lowest OBP he's had since his rookie year in 2013. BUT, the guy still hit 34 homers and drove in 105. If a 113 wRC+ and a 4.0 WAR season causes you to jump off the Nolan Arenado train, I can't help you. The numbers don't point to him regaining the elite form in Colorado, but would anyone be surprised if he did? We wouldn't be.
2. Manny Machado – San Diego Padres (Age: 29)
2021 Stats: 153 G, .273/.347/.489, .836 OPS, 122 wRC+, 28 HR, 106 RBI, 12 SB, 9.8% BB, 15.9% K, 4.4 fWAR, 6 DRS, 3 OAA
Is Manny Machado the most underrated player in baseball these days?
He's one of the best defensive third basemen of all-time and can still play a solid shortstop when he feels like it. He's got a laser beam from third, and if you made a top 10 list of plays of the decade, he'd probably have a few of them. He has hit at least 32 home runs in five-straight seasons, and in 2021, he hit 28 home runs and swiped 12 bags. Machado has also never struck out above 20% in his whole career.
He's still just 29 and has racked up 40.4 fWAR for his career. His 30s will be fun as he makes his Hall of Fame case.
1. Jose Ramirez – Cleveland Guardians (Age: 29)
2021 Stats: 152 G, .266/.355/.538, .893 OPS, 137 wRC+, 36 HR, 111 RBI, 27 SB, 11.3% BB, 13.7% K, 6.3 fWAR, 10 DRS, 7 OAA
The question shouldn't be where Jose Ramirez ranks among third baseman, but instead how close is he to being a top-10 or even top-five player in the game. There isn't a trait or skill on the baseball field that Ramirez doesn't do exceptionally well.
In 2021, Jose Ramirez led all qualified third baseman in wRC+ at 137, and he was 1.6 wins above replacement better than the next best player at the position. He had the lowest strikeout rate of all qualified third basemen. He had the same slugging percentage as Rafael Devers. He had a top-five OBP. His 36 homers were the second-most, only behind Devers. And he was one of seven third basemen with an average exit velocity on batted balls north of 90 mph.
Defensively, Ramirez has sneakily been phenomenal throughout his career. Outs above average among third baseman: Matt Chapman leads, Ke'Bryan Hayes follows, then Ryan McMahon, Nolan Arenado, and Jose Ramirez.
He's the most consistent third baseman in baseball. Since his age-24 season five years ago, he's got three top-three MVP finishes, and last year finished sixth. He's a three-time All-Star, and a three-time Silver Slugger winner. Career .855 OPS guy, coming off of 36 homers and 103 RBIs?
Yes please. You're the king.