Rankings
Top 10 MLB Center Fielders for 2023
Some of the best athletes in the game, including both of last year's Rookie of the Years, clip the heels of one of the greatest of all time.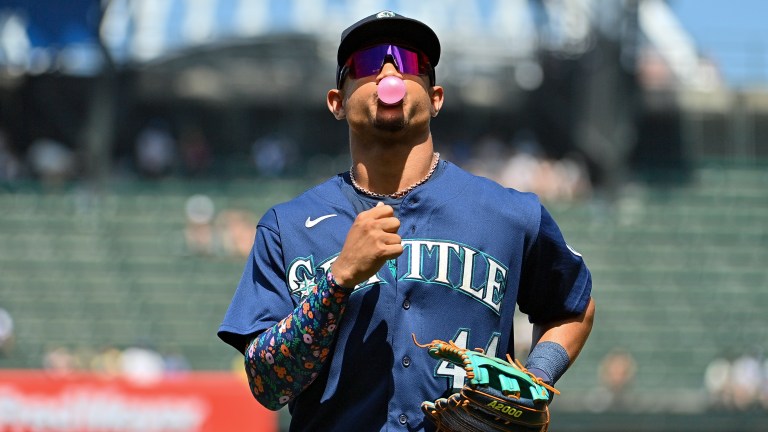 To Be Determined: Jazz Chisholm – Miami Marlins
2022 Traditional Stats: 60 G, .254/.325/.535, 14 HR, 45 RBI, 12 SB
2022 Advanced Stats: 2.6 fWAR, 139 wRC+, 27.4% K%, 8.7% BB%, 2 DRS (2B), 3 OAA (2B)
The new MLB The Show 23 cover star has logged over 1,300 career innings at second base, over 300 at shortstop, and a whopping zero in center field. We've already seen some defensive growing pains in Grapefruit League play for Chisholm, but there's no denying his insane production in an incredibly limited sample size in 2022. If Chisholm can develop into an above average center fielder defensively, his bat can continue to do the talking that has earned him star status 205 games into his Major League career.
Honorable Mention: Dylan Carlson – St. Louis Cardinals
2022 Traditional Stats: 128 G, .236/.316/.380, 30 2B, 8 HR, 42 RBI, 5 SB
2022 Advanced Stats: 2.4 fWAR, 100 wRC+, 19.3% K%, 9.2% BB%, 6 DRS, 3 OAA
One of the better defensive outfielders in all of baseball, Carlson experienced the classic "Sophomore Slump" that so many talented hitters endure. Coming off of a 2021 campaign which saw him finish third in NL Rookie of the Year voting, Carlson's OPS dropped by nearly 90 points and his home run total plummeted from 18 to eight. If Carlson can regain the power he possessed just one season ago, he can immediately shoot into this top 10.
Honorable Mention: Chas McCormick – Houston Astros
2022 Traditional Stats: 119 G, .245/.332/.407, 14 HR, 44 RBI, 4 SB
2022 Advanced Stats: 2.0 fWAR, 114 wRC+, 26.0% K%, 11.3% BB%, 0 DRS, 5 OAA
A newly-minted World Series hero, McCormick has proven to be a more than viable option in center field for the reigning World Champion Astros. While providing reliable defense in the middle of the outfield, he's become an above average hitter, posting nearly identical seasons in his first two Major League campaigns. Nothing's particularly flashy in McCormick's game, but the Astros need reliability from him, which he provides in droves.
10. Harrison Bader – New York Yankees
2022 Traditional Stats: 86 G, .250/.294/.356, 10 2B, 5 HR, 30 RBI, 17 SB
2022 Advanced Stats: 1.5 fWAR, 86 wRC+, 19.8% K%, 4.8% BB%, -1 DRS, 7 OAA
The 28-year-old Bader has had spurts of offensive excellence so far in his Major League career, but has also had his droughts. Take 2021 and 2022 for example: in '21, Bader logged a .785 OPS and 16 home runs in 103 games, compared to a .650 OPS and just five home runs in 86 games in '22.
While Bader has had his ups and downs offensively, he has consistently played elite defense, earning him a Gold Glove during his time in St. Louis. His brief Yankee showing during the regular season was so-so, but he turned it on in the postseason, logging five home runs and an OPS just under 1.300 in nine games. If he can ride that wave at the plate into 2023, Bader may be in play for a big contract next offseason.
9. Corbin Carroll – Arizona Diamondbacks
2022 Traditional Stats: 32 G, .260/.330/.500, 9 2B, 2 3B, 4 HR, 14 RBI, 2 SB
2022 Advanced Stats: 1.4 fWAR, 130 wRC+, 27.0% K%, 7.0% BB%, 1 DRS, 1 OAA
2022 MiLB Stats: 93 G, .307/.425/.611, 22 2B, 8 3B, 24 HR, 62 RBI, 31 SB
Just Baseball's No. 1 overall prospect at time of the 2022 end of season update, Carroll does legitimately everything at an above average level. An elite runner, Carroll can track down nearly everything in the outfield, and his 31 stolen bases at the Minor League level last year proves that his talents translate to the basepaths.
While Carroll does possess solid power (already hitting a ball 107.5 MPH at the Major League level), his calling card offensively may be hit discipline, as he logged an OBP over .420 across Double and Triple-A. A 5.5-6.0 fWAR season, while seemingly unlikely, is not improbable for Corbin Carroll in his rookie season.
8. Luis Robert Jr. – Chicago White Sox
2022 Traditional Stats: 98 G, .284/.319/.426, 18 2B, 12 HR, 56 RBI, 11 SB
2022 Advanced Stats: 2.1 fWAR, 111 wRC+, 19.2% K%, 4.2% BB%, -4 DRS, 2 OAA
If we've learned anything from Luis Robert's first 222 MLB games, it's that he possesses as much raw talent on a baseball field as anyone in the game. On a per-162 game basis at this point, Robert's hitting .289 with a .474 SLG, 35 doubles, 26 home runs, 95 RBIs, and 19 stolen bases.
His main issue, at the point, is durability. Robert missed nearly 100 games in 2021 with a right hip flexor tear, and he missed the final 60 games of the season in 2022 with a wrist sprain. If Robert's injury woes continue, we may be talking about him in the same way the baseball community has narrated Byron Buxton's career as opposed to other superstars.
7. Cedric Mullins II – Baltimore Orioles
2022 Traditional Stats: 156 G, .258/.318/.403, 32 2B, 16 HR, 64 RBI, 34 SB
2022 Advanced Stats: 3.4 fWAR, 106 wRC+, 18.8% K%, 7.0% BB%, 5 DRS, 8 OAA
Just one season removed from a 30/30 campaign in 2021, it's unlikely that Mullins ever replicates that success that he once captured. However, Mullins has seemingly elevated his floor as a player, proving that his "baseline" season will look a lot like his 2022 did: a slightly above average hitter with some pop, immense speed, and excellent defense in center field.
With the defensive value that Mullins brings to the table, 3.0-3.5 fWAR feels like his floor over a full season. Mullins has transitioned his narrative from being a stop-gap to a better option in Baltimore to fully factoring in to Mike Elias' future plans for the roster.
6. Bryan Reynolds – Pittsburgh Pirates
2022 Traditional Stats: 145 G, .262/.345/.461, 19 2B, 27 HR, 62 RBI, 7 SB
2022 Advanced Stats: 2.9 fWAR, 125 wRC+, 23.0% K%, 9.1% BB%, -14 DRS, -7 OAA
One of the best pure hitters at the position, Reynolds logged a well-below average season in 2022. The career .281 hitter with an .842 OPS experienced a 20-point dip in batting average, 40-point dip in OPS, and drastic drop off in extra-base hits. However, Reynolds did have his most prolific power-hitting season of his career, swatting 27 home runs in 145 games.
While Reynolds may be a matter of time in center field (the Pirates are already experimenting with moving him into a corner), multiple .300 seasons in the first three full seasons of his MLB career indicate that the bat is here to stay for the newly-turned 28-year-old. The question now becomes, where is he playing his future baseball?
5. Byron Buxton – Minnesota Twins
2022 Traditional Stats: 92 G, .224/.306/.526, 13 2B, 28 HR, 51 RBI, 6 SB
2022 Advanced Stats: 4.0 fWAR, 136 wRC+, 30.4% K%, 8.9% BB%, 8 DRS, 8 OAA
With each passing season, Buxton is becoming one of the greatest "what-if" stories in recent memory, across all sports. In eight Major League seasons, Buxton has played over 100 games once; that came back in 2017, when he won a Platinum Glove for his efforts in center field. This past season, Buxton was the only player in the top-50 in MLB in home runs with fewer than 100 games played.
When he's on the field, there's no doubting his superstardom. He's arguably as toolsy as Ronald Acuña Jr. and Fernando Tatis Jr., but much like those two mercurial talents, we have yet to see consistent output from the 29-year-old.
4. Brandon Nimmo – New York Mets
2022 Traditional Stats: 151 G, .274/.367/.433, 30 2B, 16 HR, 64 RBI, 3 SB
2022 Advanced Stats: 5.4 fWAR, 134 wRC+, 10.5% BB%, 17.2% K%, -3 DRS, 6 OAA
When Brandon Nimmo is on the field, he is an incredibly productive talent for the New York Mets. In his seven year Major League career, Nimmo has played over 100 games twice; in 2018, he accumulated 4.8 fWAR in 140 games. This past season, Nimmo posted career-bests in games played, fWAR, K%, RBIs, and runs scored.
The Mets are banking on durability with Nimmo by signing him to an eight-year, $162 million deal this offseason. The question, much like Buxton and Robert, isn't about production when on the field; it's about how often he'll get to be on the field.
3. Michael Harris II – Atlanta Braves
2022 Traditional Stats: 114 G, .297/.339/.514, 27 2B, 19 HR, 64 RBI, 20 SB
2022 Advanced Stats: 4.8 fWAR, 136 wRC+, 4.8% BB%, 24.3% K%, 8 DRS, 7 OAA
Let's be honest. Was anyone expecting Harris to be this good, this quickly, besides maybe Harris himself and his immediate family? The third round pick by the Braves out of high school in 2019 debuted at 21 years and 82 days old, becoming the second high schooler from the 2019 Draft to make his MLB debut, only behind CJ Abrams. Harris his the ground running much quicker than Abrams, bashing and gliding to National League Rookie of the Year honors over teammate Spencer Strider.
Harris plays the game that every kid wants to play growing up. Along with perennial Gold Glove-caliber defense, Harris hit .300 while flirting with 20 home runs and going 20-22 in the stolen base department. Also, much like Sandlot baseball, Harris was reluctant to keep the bat on his shoulder, walking at less than a five percent clip. What Harris already does at an incredibly young age is astounding; if he can evolve into a disciplined hitter, superstardom may be his next step.
2. Julio Rodriguez – Seattle Mariners
2022 Traditional Stats: 132 G, .284/.345/.509, 25 2B, 28 HR, 75 RBI, 25 SB
2022 Advanced Stats: 5.3 fWAR, 146 wRC+, 7.1% BB%, 25.9% K%, 3 DRS, 6 OAA
Simply put, the "J-Rod Show" is worth the price of admission. Less than one full season into his Major League career, Rodriguez inked a 12-year, $209 million extension with the Mariners that can escalate to a maximum value of $470 million if he achieves all of his incentives.
How can this be worth it? Well, receiving 29 of 30 first place votes for AL Rookie of the Year certainly helps. If not that, then how about earning an All-Star nod at 21 years old, stealing the show at the Home Run Derby, finishing seventh in MVP voting, and netting a Silver Slugger? Rodriguez will be a perennial threat to go 30/30, and he likely has multiple MVP candidacies in his future.
1. Mike Trout – Los Angeles Angels
2022 Traditional Stats: 119 G, .283/.369/.630, 28 2B, 40 HR, 80 RBI, 1 SB
2022 Advanced Stats: 6.0 fWAR, 176 wRC+, 10.8% BB%, 27.9% K%, 0 DRS, 3 OAA
The modern-day Mickey Mantle is the best center fielder in the game for 2023, and may hold this spot until he decides to hang it up. Trout's accolades are comical: a career 1.002 OPS, three MVP's, nine Silver Sluggers, 10 All-Star appearances, and more career WAR than Pete Rose, Joe DiMaggio, and Nolan Ryan.
Last year, Mike Trout logged the third 40-homer season of his career. He did it in 119 games. Need we say more?