Analysis
The Diamondbacks Are Wasting No Time Leaning Into the Future
By cutting ties with Madison Bumgarner, the Diamondbacks are showing us that they're serious about winning in 2023 and beyond.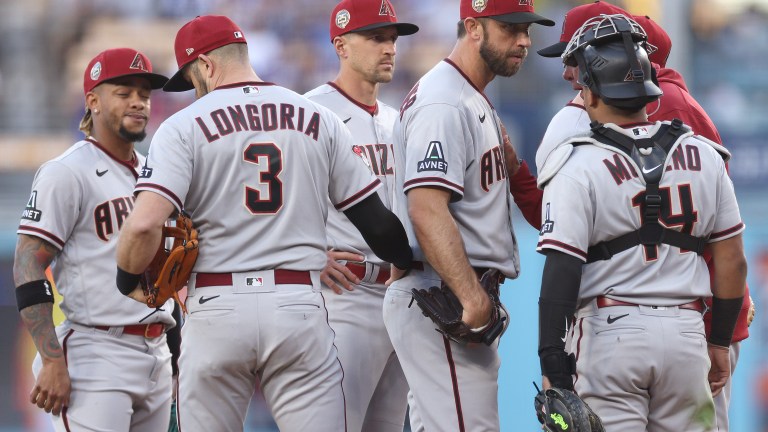 One of the bright spots through the first four weeks of the 2023 MLB season has been the emergence of the Arizona Diamondbacks.
After downing the Kansas City Royals Wednesday afternoon behind yet another Zac Gallen masterpiece, Arizona holds a 14-12 record — good for the top spot in the NL West.
The Diamondbacks appear to be operating on an expedited timeline after tying for a league-worst 52 wins just two seasons ago.
Not only is the team competing with other squads in the National League playoff mix — with series wins over the Milwaukee Brewers, St. Louis Cardinals and two over the Los Angeles Dodgers, along with a 2-4 record against the San Diego Padres — but it's acting the part of a team trying to win as well.
Madison Bumgarner cleared waivers and was officially released on Wednesday after being designated for assignment on Apr. 20.
After signing the four-time All-Star to a five-year, $85 million deal leading into the 2020 season, Arizona will eat approximately $34 million after cutting ties with the 2014 World Series MVP.
Not only does this move take a 10.26 ERA out of the Diamondbacks' rotation, but it also signals that they're here to win this season.
It certainly would have been easy for general manager Mike Hazen and the rest of the front office to justify keeping Bumgarner on the 26-man roster based on the veteran's contract and status as a postseason legend. But that wouldn't have helped the team win games in 2023.
Far too often, we'll see teams that don't fancy themselves contenders roll out veterans past their prime with bloated contracts just because they've made a sizable commitment and don't want to spend money on a non-rostered player.
But with a winning record through 26 games and one of the more difficult schedules in MLB, Arizona is embracing its bright future and deciding to go for it.
Led by young stars Gallen and Corbin Carroll, the new era of Diamondbacks baseball has officially arrived.
Now, Arizona may not make the playoffs or even finish with a record above .500 when the 162-game grind comes to an end, but this is looking like the season where it establishes itself as a team to watch for the coming years.
With that said, let's take a look at what the Diamondbacks are building and who will be the pillars of the team as they try to burst through the window they've cracked open in the early goings of 2023.
The Core Pieces in Place
Any talk of Arizona's future has to start with Carroll.
The 22-year-old is already locked into an eight-year, $111 million deal that will keep him in a Diamondbacks jersey through 2030. So far, he's making that vote of confidence look like it could be a steal for Arizona.
Through 99 plate appearances this season, Carroll is slashing .311/.374/.556 and has stolen 10 bases on 11 attempts while posting the second-fast sprint speed in MLB.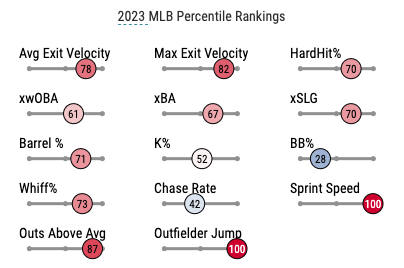 In addition to Carroll, Gallen has emerged as a frontline starter over the past two seasons in the desert.
The fifth-place finisher in NL Cy Young voting last season, Gallen set a franchise record by throwing 44.1 straight scoreless innings between Aug. 2 and Sep. 11. He's seemingly picked up right where he left off this season, currently sitting at 28 consecutive innings of scoreless work.
While Gallen may not have the same long-term deal as Carroll, he doesn't become arbitration eligible until after the 2024 season and won't reach free agency until after 2026.
With Carroll and Gallen as the two cornerstones, who else will be a key contributor as the Diamondbacks open their window of contention?
Well, a couple of the obvious answers entering the 2023 season have underperformed so far.
Alek Thomas and Jake McCarthy have both been far below league average offensively, and the latter was demoted to Triple-A on Tuesday. With that said, both have fewer than 500 plate appearances in their MLB careers and may have been unlucky this season — both have been vastly underperforming their expected stats.
Gabriel Moreno is another young piece that figures to be a mainstay in the Diamondbacks lineup. Despite still struggling to hit for power, the centerpiece of the Daulton Varsho trade is hitting for a respectable average and has been one of the top defensive catchers by DRS in 2023.
The team has also tried out a group of young pitchers this season who look to become a part of Arizona's core:
| | | | | | | | |
| --- | --- | --- | --- | --- | --- | --- | --- |
| Pitcher | Age | GS | IP | K% | BB% | ERA | FIP |
| Ryne Nelson | 25 | 5 | 27.0 | 14.7% | 14.7% | 5.33 | 4.88 |
| Kyle Nelson | 26 | 0 | 11.0 | 32.6% | 6.5% | 0.87 | 2.84 |
| Drey Jameson | 25 | 3 | 17.0 | 21.3% | 16.0% | 3.71 | 5.86 |
Diamondbacks pitchers 26 and younger to make five or more appearances this season
Looking even further into the future, the Diamondbacks have one of the top farm systems in baseball, led by the likes of Druw Jones, Jordan Lawlar and Brandon Pfaadt.
While the future is undoubtedly bright in Arizona, the front office is wasting no time in prioritizing the present – as demonstrated by the Bumgarner move.
With that said, the product on the field right now is entertaining, but we'll have to wait and see if entertaining proves to be enough to break a five-year playoff drought.