Rankings
Arizona Diamondbacks Top Prospects For 2023
Led by No. 1 overall prospect Corbin Carroll, the Diamondbacks' future is looking incredibly bright.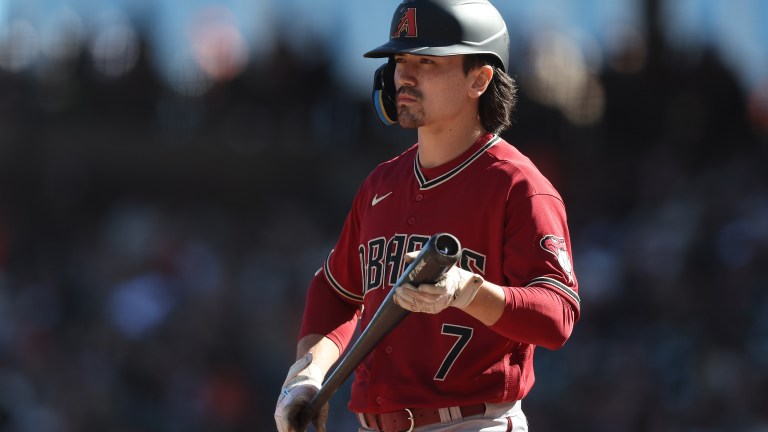 After showing glimpses of what's to come at the end of last season, the Arizona Diamondbacks may be one of the more "fun" teams to follow in all of baseball in 2023. Front-end talent in the starting rotation is complemented by a deep assortment of young starters looking to break through, while young bats bursting with talent will be at the top, middle, and bottom of the order on Opening Day. The hope won't die out too quickly, though, with ample talent lining every level of the system.
1. Corbin Carroll – OF – (MLB)
Age: 22 | Height/Weight: 5'10, 170 | Bat/Throw: L/L | 1st Round (16), 2019 (ARI) | ETA: 2023
| | | | | | |
| --- | --- | --- | --- | --- | --- |
| HIT | RAW POWER | GAME POWER | RUN | FIELD | FV |
| 55/60 | 60/60 | 50/55 | 80/80 | 60/70 | 70 |
An absolute speedster with phenomenal baseball instincts and a veteran's presence in the batter's box, Carroll is a safe bet to be a solid big leaguer with perennial All-Star potential.
Offense
Carroll starts almost completely upright and then proceeds to drop his weight into his back hip and sink into his back side. An elite athlete, Carroll controls his body exceptionally well, staying in his back hip and using the whole field well. His efficient bat path is quick to the ball while staying in the zone for a long time. Carroll finds the barrel easily with a swing geared for line drives, but hits the ball so hard that he is a home run threat as well.
Though Carroll played in a very hitter-friendly Pacific Coast League, he has produced a max exit velocity of 111 MPH and his 90th percentile exit velocity of 107 MPH just edges out Christian Walker for the best mark in the D-backs organization. He has more bat speed than you'd expect given his small frame, leading to sneaky pop to the pull-side.
A grinder at the plate, Carroll is constantly battling and is a hard player to get out. He already has a polished approach that led to a 15% walk rate in the upper minors this season. Carroll has the ability to drive the ball with authority, but he also can slap balls into the ground with a great chance of beating them out. He is consistently clocked with sub-four second run times to first base. Carroll has the offensive profile of a top of the order catalyst who can do it all. He should be a high on-base guy with a chance to hit as many as 30 home runs depending on his approach.
Defense/Speed
Carroll has the makings of an easy plus defender in center field. His 80-grade speed and 5-foot-10 frame allow him to reach his top speed relatively quickly, giving him closing speed that few others possess.
His reads are already at least big league average, and the combination of his speed and efficient routes make it seem like he can get to any baseball. Due to the presence of Alek Thomas, Carroll has seen action in left in the early goings of his MLB career where he is already a plus-plus defender. He's a lock to stick in center field long-term if the D-backs prefer him there over Alek Thomas. He has the upside to be a premier, Gold Glove caliber center fielder.
Outlook
Carroll faced a lot of adversity since being drafted in 2019. A shoulder injury followed 2020's cancelled season, delaying his development quite a bit. Carroll made up for lost time by reaching the Major Leagues in just 142 Minor League games, a testament to his polish and knack for hitting.
Already making an impact at the big league level, we still haven't seen the best of Carroll. After all, he remarkably has only 700 professional plate appearances under his belt. Carroll has true five-tool upside with elite makeup and instincts. The D-backs could very well have their face of the franchise in Carroll.
2. Gabriel Moreno – C – (MLB)
Age: 23 | Height/Weight: 5'11, 195 | Bat/Throw: R/R | IFA: $25K (2018) – TOR | ETA: 2023
| | | | | | |
| --- | --- | --- | --- | --- | --- |
| HIT | RAW POWER | GAME POWER | RUN | FIELD | FV |
| 70/70 | 50/55 | 40/45 | 50/50 | 50/55 | 60+ |
An extremely athletic catcher with an elite hit tool and solid defense, Gabriel Moreno has become one of the safest bets behind the dish in the minors. Traded with Lourdes Gurriel Jr. for Daulton Varsho, Moreno will finally get everyday reps at the big league level in 2023.
Offense
Owning an upright stance with some weight on his back leg, Moreno starts his hands in a relaxed position then uses a barrel tip for timing. He is able to repeat this move remarkably well, timing it up with a simple stride. Seemingly always on time with a knack for manipulating the barrel and getting to tough pitches, Moreno has one of the best hit tools in the minors.
The big question for Moreno has been the power. The 22-year-old seemed to be in the midst of a breakout in that department last year, launching eight homers in 32 Double-A games before a thumb injury cut his season short.
This season, Moreno has continued to mash to a high batting average, but his ground ball rate has jumped back up by more than five percent and the extra base hits have suffered as a result.
Though not the biggest guy in the world at 5-foot-11, 195 pounds, Moreno has above average power in the tank, but the challenge is tapping into it without compromising a big part of what makes him such a highly regarded prospect: his innate feel to hit.
Moreno has flashed pull side power, posting exit velocities as high as 113 MPH and a respectable 90th percentile EV of 102.2 MPH. He is explosive rotationally, uncorking like a rubber band on pitches middle-in. Because he has such a great feel for the barrel, Moreno is comfortable using the whole field and can spoil even the toughest of pitcher's pitches.
With just a 12% strikeout rate in his Minor League career and the potential to hit for at least some power, Moreno should ride his elite hit-tool and solid approach to offensive success at the highest level. If Moreno is able to tap into just average game power, he could be a well-above average bat for any position, let alone catcher.
Defense/Speed
An athletic catcher, Moreno moves well behind the dish and has a quick release complemented by an above-average arm, helping him throw out 41% of attempted base stealers in Triple-A this season.
Moreno's receiving has earned mixed reviews in the past, but he has shown enough to leave optimism in that regard. Moreno is a gamer who pitchers enjoy as a battery mate, and he has steadily improved as he has compiled reps in the upper levels. It is safe to assume that Moreno could at least be an average defender with potential to be above-average with the glove.
Outlook
The Blue Jays had an interesting catching situation with the emergence of both Alejandro Kirk and Danny Jansen. The reality was, Moreno would've likely been getting every day reps at the big league level for a majority of MLB teams by the end of last year. Thankfully for both Moreno and the Diamondbacks, this will become a reality in 2023.
There are few catchers in Major League Baseball who can swing the bat as well as Moreno does while providing the athleticism that he brings to the table. Moreno is ready to be an everyday catcher at the highest level with a great chance to hit for average, get on base at a strong clip and provide at least average defense which should steadily improve as he earns more reps.
If Moreno can tap into at least average game power, we're probably talking about one of the most well-rounded catchers in the sport.
3. Jordan Lawlar – SS – (Double-A)
Age: 20 | Height/Weight: 6'2, 185 | Bat/Throw: R/R | 1st Round (6), 2021 (ARI) | ETA: 2024
| | | | | | |
| --- | --- | --- | --- | --- | --- |
| HIT | RAW POWER | GAME POWER | RUN | FIELD | FV |
| 50/55 | 45/50 | 40/50 | 70/70 | 45/65 | 60 |
Long viewed as a candidate to be selected first overall in 2021's MLB Draft, Lawlar was the most well-rounded prep prospect in the class and proved it by climbing all the way to Double-A in his first full professional season.
Offense
Setting up in a medium base with an equal weight distribution, Lawlar uses a gathering leg kick along with a barrel tip for timing before unleashing a lightning quick stroke.
The swing produces more quickness than raw bat speed, but there is more bat speed to come as he adds strength. Lawlar's feel to hit and approach rivals any bat from his draft class, showcasing impressive bat-to-ball skills and an advanced knowledge of the strike zone as one of the youngest hitters at each level he has been at.
Lawlar very rarely looks sped up or fooled in the box, and it always looks like he is in control of the at-bat. His swing has a tendency to get big in plus counts, similar to most young hitters, but it almost certainly won't be a problem as he matures. Lawlar shows an advanced ability to use the whole field with authority while being able to just throw his hands at a pitch with two strikes and use his speed to leg one out when he is fooled.
The power is the bigger question mark, as he may never be physically imposing. With that being said, he already flashes average power to his pull side and as he adds strength, he could provide 20 homer pop on an annual basis. Lawlar's advanced feel to hit and developing power give him great upside in the batter's box. He fits the profile of the modern leadoff hitter to a tee.
Defense
Lawlar is an elite athlete with quick-twitch actions on the defensive side of the ball. There are no questions about his ability to stick at shortstop, and his range, hands, and plus arm lead us to believe he could potentially compete for Gold Gloves.
He's also a plus-plus runner who will flash elite home-to-first times. The defensive tools are loud and he should impact the game with his glove and legs on a nightly basis.
Outlook
Lawlar is an exciting blend of polish and projection. His present feel to hit is extremely advanced as are his defensive tools. How much power he will generate is the biggest question that will ultimately determine his ceiling, but 16 homers in 99 games between Low-A, High-A, and Double-A is a great sign.
Lawlar has the ceiling of a perennial All-Star capable of impacting the game in a variety of ways. If he can tap into 20 home-run power at the highest level, we could see shades of Trea Turner. That said, his defensive ability, relatively advanced bat, and dynamic speed give him a high floor at shortstop.
4. Druw Jones – OF – (CPX)
Age: 19 | Height/Weight: 6'4, 180 | Bat/Throw: R/R | 1st Round (2) – 2022 | ETA: 2026
| | | | | | |
| --- | --- | --- | --- | --- | --- |
| HIT | RAW POWER | GAME POWER | RUN | FIELD | FV |
| 40/50 | 45/60 | 40/55 | 70/70 | 50/70 | 60 |
The son of legendary center fielder Andruw Jones, Druw has a skillset reminiscent of his father's, which helped him go No. 2 overall in last year's draft. A labrum injury while taking batting practice put an end to Jones' 2022 season before it started, though he should be ready to go by Opening Day this year.
Offense
As is the case with most prep prospects, Jones is raw in the batter's box, though he has already flashed plenty to be excited about. His swing is choppy and can leave the zone quickly, but he has also shown the ability to drive the ball with authority to all fields.
Jones relied on his natural ability and advanced approach to rake at the amateur level and has the skill set to be an above average hitter with solid power. With a big frame and plenty of room to fill out as well as a lower half that could be more involved in his swing, there's a chance that Jones could tap into plus raw power as he matures.
Defense/Speed
Much like his father, Jones already looks like he could patrol center field with the best of them. A 70-grade runner with a 70 arm and instincts you just don't see from a teenager in the outfield, Jones has a chance to win many Gold Gloves.
Jones should be a menace on the base paths as well, as he is not only fast but very quick, and the aforementioned instincts are evident as a baserunner.
Outlook
Though the injury was unfortunate as we were all eager to see Jones make his pro debut, it should hardly delay his timeline assuming he is 100% by Opening Day at the minor league level. Jones has the potential to be a true five-tool player in center field with an above average hit tool and possibly plus power.
Bloodlines, athleticism and already a special ability to play center field that has not been seen from a high school prospect in a longtime, Jones has all of the upside the Diamondbacks could want with the No. 2 pick while offering a bit less volatility than most players with his kind of ceiling.
5. Brandon Pfaadt – RHP – (Triple-A)
Age: 24 | Height/Weight: 6'4, 210 | Bat/Throw: R/R | 5th Round (149), 2019 (ARI) | ETA: 2023
| | | | | | |
| --- | --- | --- | --- | --- | --- |
| FASTBALL | SLIDER | CURVEBALL | CHANGEUP | COMMAND | FV |
| 55/55 | 60/60 | 40/45 | 50/55 | 60/65 | 55 |
Four viable offerings and plus command has helped Pfaadt get outs in even the most hitter friendly environments. Pfaadt's pitchability, polish and improving stuff have him trending towards the middle of the D-Backs rotation very soon.
Arsenal
Hardly ever handing out free passes and attacking hitters with an assortment of pitches, Pfaadt has become one of the more fun pitching prospects to watch. He may not have the kind of stuff that will frequent him on Pitching Ninja, but he has above average stuff that plays up thanks to his elite command and overall feel to pitch.
Pfaadt sets the tone with his 93-95 MPH fastball, which has ticked up since last year. It's a high spin pitch that jumps from his low release point, generating plenty of whiff in the zone. Pfaadt commands his fastball east/west and north/south, helping the above average pitch play up and set up his assortment of secondaries.
His low 80s slider flashes plus with late sweeping break. Pfaadt impressively lands the pitch for a strike 72% of the time, using it as his go-to out pitch against righties, but also has enough confidence with the pitch to backdoor and back-leg lefties.
Pfaadt's preferred weapon for left-handed hitters is his above average changeup with late arm side fade in the mid 80s. Much like the rest of his arsenal, Pfaadt has a great feel for the pitch, especially to his arm side. He's not afraid to mix the pitch in to righties as well as he does a good job of keeping it at the bottom of the zone and below.
The fourth offering for Pfaadt is his average curveball which he will mix in a few times per game to steal strikes.
Outlook
Though he may not have ace upside, Pfaadt is as much of a virtual lock to stick as a starter as there is in the system and continues to get better each time I watch him pitch. Plus command of four pitches that ticked up in 2022, it makes sense that Pfaadt kicked things into another gear this season.
Despite pitching in some of the most hitter-friendly environments in the Minor Leagues as a fly ball pitcher, Pfaadt attacked hitters relentlessly. He may be susceptible to the long ball, but solo shots hurt a pitcher much less than walks, and Pfaadt only walked 4.8% of batters last season.
The 24-year-old has the floor of a back end of the rotation starter, though I believe his pitchability and willingness to improve and tweak his craft will have him closer to a No. 3 starter with room for a bit more.
6. Deyvison De Los Santos – 3B – (Double-A)
Age: 19 | Height/Weight: 6'1, 185 | Bat/Throw: R/R | IFA: $200K – 2019 (ARI) | ETA: 2024
| | | | | | |
| --- | --- | --- | --- | --- | --- |
| HIT | RAW POWER | GAME POWER | RUN | FIELD | FV |
| 30/40 | 65/70 | 50/60 | 40/40 | 35/45 | 50 |
A free-swinger with mammoth power, De Los Santos mashed his way through Low-A and High-A thanks to his physical maturity and brute strength. It will just be a matter of if the teenager can hit enough.
Offense
There's a lot of moving parts to De Los Santos' swing, but when everything is on time, you can see his elite bat speed and plus raw power at work. De Los Santos starts with an upright stance before getting into a sizable, but slow building leg kick that starts before the pitcher even breaks his hands. De Los Santos also features a barrel tip that only makes things a bit more complicated.
De los Santos has foul pole-to-foul pole power, with many of his homers going to the opposite field. His near double plus raw power and ridiculous bat speed help him produce eye-popping exit velocities and easy carry when he hits the ball in the air. The 19-year-old posted a 90th percentile exit velocity of 107 MPH last season with a max EV of 114 MPH.
High chase rates and timing issues cause De Los Santos to put the ball on the ground far too often (56% GB rate), but he still launched 22 homers last season thanks to his impressive HR/FB rate which should be sustainably high given his big power. For De Los Santos to track closer to an average hitter, he will need to improve his timing issues and approach. He has been able to circumvent the rawness of his game off of natural ability, but the upper levels will present new challenges.
There's few teenage prospects with more impressive batted ball profiles than De Los Santos when it comes to impacting the baseball. It will be about the hit tool and approach for him to hit his massive offensive ceiling.
Defense/Speed
For a guy of his build, De Los Santos actually moves pretty well. He has a plus arm that helps his case at third and his actions became smoother as the year went on. Naturally, there's a possibility that a player like De Los Santos could become a bit heavier with his feet as he ages, but for now, he provides some optimism that he can stick at the position.
Outlook
It's easy to fall in love with the offensive upside of De Los Santos. While it would be nice if he could stick at third, his value will ultimately come from his double plus raw power and how frequently his iffy hit tool will allow him to tap into it.
De Los Santos' ability to remain productive despite his swing/approach inefficiencies is a testament to his natural ability. With a few adjustments, De Los Santos could be one of minor league baseball's breakout hitting prospects next season, but he could also find himself challenged by upper level pitching. The 19-year-old will be one of the more fascinating names to follow in the Diamondbacks system this year.
7. Ryne Nelson – RHP – (MLB)
Age: 25 | Height/Weight: 6'3, 185 | Bat/Throw: R/R | 2nd Round (56), 2019 (ARI) | ETA: 2023
| | | | | | |
| --- | --- | --- | --- | --- | --- |
| FASTBALL | SLIDER | CURVEBALL | CHANGEUP | COMMAND | FV |
| 60/60 | 50/55 | 40/40 | 45/50 | 50/55 | 50 |
A fastball-heavy starter, there was some concern when his velocity was down a tick to start the season, but he gained it all back and then some by the time he made his MLB debut in September. Nelson should have a chance to grab an Opening Day rotation spot with the D-Backs.
Arsenal
Nelson makes no secret of it, his fastball is his best pitch and he's not afraid to use it around 65% of the time. The pitch features plenty of riding life at 93-95 MPH, topping out at 97 MPH. The riding action helps Nelson miss over the top of barrels and pick up weak fly balls in bunches when he is locating it. His fastball command is strong, landing the fastball for a strike 70% of the time last season.
Though he doesn't have a wipeout secondary offering, Nelson's slider flashes above average in the low 80s. The right-hander also features an average changeup that plays up because of the way that it works off of his lively fastball that hitters tend to be geared up for. Nelson's lack of command of the pitch is what keeps it closer to an average grade than above average (53% strike), but he does a good job of maintaining his arm speed and replicating his release point. He will also mix in a get-me-over curveball to steal strikes.
Outlook
It's important to take Nelson's Triple-A stats with a grain of salt as fly ball pitchers and the PCL blend together like water and oil. As backwards as it sounds, Nelson should have an easier time keeping the ball in the yard in the big leagues. That said, he will need to improve his secondary command to reach his middle-rotation ceiling.
Nelson's plus heater and pair of at least viable secondary offerings give him the floor of a fringe five starter or swingman, but he has the goods to be a mainstay in the Diamondbacks rotation and has a great chance to claim a spot for the 2023 season.
8. Blake Walston – LHP – (Double-A)
Age: 21 | Height/Weight: 6'5, 180 | Bat/Throw: L/L | 1st Round (26), 2019 (ARI) | ETA: 2024
| | | | | | |
| --- | --- | --- | --- | --- | --- |
| FASTBALL | SLIDER | CHANGEUP | Curveball | COMMAND | FV |
| 40/50 | 55/55 | 50/55 | 40/45 | 40/50 | 50 |
A crafty lefty with room for some projection, Walston followed up a strong 2021 with a shaky 2022. The ability to mix four pitches for a strike gives him a higher floor, but his fringy fastball holds him back a bit.
Arsenal
A well-regarded quarterback in high school, Walston is an athletic pitcher who repeats his delivery well. Walston hides the ball effectively with an inward twist that makes the arm seem like the last thing coming towards the hitter.
Walston's deception helps his 91-93 MPH fastball play up at times, but also helps his two quality off speed offerings play off of the heater. The slider sits in the low 80s and Walston commands it well enough for it to be an effective weapon to both lefties and righties. He landed it for a strike 65% of the time last season.
The second above average pitch for Walston is his changeup at 83-85 MPH which he has an excellent feel for. His 63% strike rate on the pitch is above average for a changeup, and he disguises it well with the fastball thanks to his deceptive delivery. Even when he isn't racking up the whiffs in bunches, Walston gets a good amount of weak contact on the ground from his changeup.
The fourth option for Walston is a strike-stealing curveball that he will mix in around 10% of the time. The pitch has decent depth in the mid 70s, but he had the tendency to hang it last season. With improved feel to spin it and perhaps a bit more sharpness to it, the breaker could be an average big league offering.
Outlook
A pair of above average secondaries and a viable four pitch mix combined with Walston's athleticism and 6-foot-5 build make him an intriguing breakout candidate going into 2023. For Walston to reach closer to his middle rotation ceiling, he will need to see an uptick in his fastball velocity, but the aforementioned qualities lend reason to believe that Walston could have more in the tank.
His feel for both his changeup and slider along with solid command give him a solid chance of sticking as a back end starter, but an uptick in velocity paired with present his feel to pitch could make him one of the more intriguing LHP prospects in the minors.
9. Landon Sims – RHP – (CPX)
Age: 22 | Height/Weight: 6'2, 225 | Bat/Throw: R/R | 1st Round-A (34), 2022 (ARI) | ETA: 2025
| | | | | |
| --- | --- | --- | --- | --- |
| FASTBALL | SLIDER | CHANGEUP | COMMAND | FV |
| 55/60 | 60/70 | 30/45 | 50/55 | 50 |
Sims dominated college baseball as one of the best relievers in the country his first two seasons at Mississippi State before making the move to the rotation for his draft year. Unfortunately, Sims suffered a UCL tear three starts into his junior season, but that did not stop the Diamondbacks from taking him 34th overall in the 2022 draft.
Arsenal
Sims has a devastating fastball/slider combination which helped him strike out 100 batters in 56 1/3 innings out of the bullpen his sophomore season. Even in his three start stint before going down with the UCL tear, Sims rode his mid 90s fastball and mid 80s slider to domination.
The fastball sits 94-95 MPH but can touch 98 with life at the top of the zone at more than 2400 RPMs. Sims' ability to rack up in zone whiffs on his fastball and slider allowed him to confidently pound the zone in different quadrants, walking just 17 batters over his 72 innings between his sophomore and abbreviated junior season.
The slider for Sims has double plus potential with late, sharp bite. Sims commands the pitch to both sides of the plate well and is comfortable using it as a chase pitch that is buried or a back door freeze pitch.
The big key for Sims to stick as a starter is his changeup, which we hardly saw during his time in college due to the utter dominance of his two plus pitches and the majority of his innings coming out of the bullpen. Of the few changeups we have seen from Sims, the pitch looks firm with some fade. If he can even develop it to an average offering, it will likely play up due to the way it can tunnel off of his riding fastball and low, repeatable release point.
Outlook
Though there is some effort in Sims' delivery, he repeats his moves really well and looked to continue to do so when he got deeper into outings in the few looks we got. Sims should return to game action at some point in the summer and his command of two plus offerings should help him climb quickly and make up for lost time.
Sims 1-2 punch of his fastball and slider give him the floor of a high leverage reliever, but Sims has enough working for him to provide optimism that he can not only stick as a starter but develop into a middle rotation type. For him to get there, he will likely need to develop his changeup, but Sims ability to get lefties with his slider hedges the need for the changeup a bit. Especially at the lower levels.
10. Drey Jameson – RHP – (MLB)
Age: 25 | Height/Weight: 6'0, 175 | Bat/Throw: R/R | 1st Round-C (34), 2019 (ARI) | ETA: 2023
| | | | | | |
| --- | --- | --- | --- | --- | --- |
| FASTBALL | SLIDER | CURVEBALL | CHANGEUP | COMMAND | FV |
| 55/55 | 60/70 | 40/40 | 35/45 | 45/50 | 50 |
The 2022 season was a bit of a roller coaster for Jameson, but he finished on a high note with four impressive MLB starts.
Arsenal
Jameson has two fastballs that he will deploy, with a four-seamer that averages 97 MPH and a two-seamer at 94-95 MPH. Though the four-seamer is harder in the upper 90s, it lacks desired shape and tends to get hit harder, yielding an opponent OPS well over .900. The two-seamer was a ground ball machine for Jameson last season (65% GB rate) and he pounded the zone with it more confidently. Though the four-seamer is less effective overall, it is still a good swing and miss pitch to change eye levels. Still, I expect Jameson to continue to up his usage of his two-seamer.
The best pitch for Jameson is his late-breaking slider which easily grades out as plus. Jameson has a ton of confidence in the pitch, often manipulating it to have more break in the low-to-mid 80s or shorter break in the upper 80s. Righties struggled to do anything against the pitch all year, but when he is commanding it, he effectively buries it on the back leg of lefties as well.
Jameson's ability to get whiffs with his slider against opposite-handed hitters is important because his changeup and curveball are fringy. The changeup is firm in the upper 80s and he struggled to land it for a strike (52% strike). The right-hander landed his curveball for a strike even less frequently, but it can be a usable strike stealing offering early in counts if he can find a better feel for it.
Outlook
There's no doubting the electric arm talent that Jameson has. While he hovered around the strike zone enough to keep his walk rate at a respectable 8% last season, he has the tendency to miss his spots a bit too often for a predominantly fastball/slider pitcher. If one of Jameson's curveball or changeup could take a leap, it would really improve his outlook because there is some concern as to whether he will be able to get left-handed hitters out consistently at the highest level. Between the minors and majors last season, lefties had an OPS right around .950 against Jameson last year.
Increased two-seam usage should help Jameson rack up weak contact and pound the zone, but there is too much pressure on his slider to be the out pitch against hitters from both sides of the plate. Jameson may be better suited for a multi-inning relief role and spot starter, however he likely earned himself a chance as a starter first with his strong MLB cameo last year.
11. Jorge Barrosa – OF – (Double-A)
Age: 22 | Height/Weight: 5'9, 180 | Bat/Throw: S/R | IFA: $415K, 2017 | ETA: 2024
| | | | | | |
| --- | --- | --- | --- | --- | --- |
| HIT | RAW POWER | GAME POWER | RUN | FIELD | FV |
| 55/65 | 35/40 | 30/35 | 60/60 | 60/70 | 50 |
A switch-hitter with plus speed and premium defensive ability in the outfield, Barrosa is one of the higher floor prospects in the Diamondbacks system with enough projection to potentially solidify himself as an everyday outfielder. Barrosa is a patient hitter who hardly swings and misses, posting an impressive 12.7% walk rate and 15.7% strikeout rate. Barrosa's 89% zone contact was among the best in the org, and he somehow got better in that department as the year went on (92% zone contact over his final 50 games of the season). Barrosa flies and has excellent instincts in the outfield, projecting as a plus defender in center.
While the power is below average, Barrosa has the ability to surprise with just enough power to remind you that he can leave the yard. His 107 MPH max exit velocity last season is right in line with Steven Kwan. There's hope for a bit more strength to be added for Barrosa, but if not, his plus hit tool, speed and defense give him a great chance to be a big league contributor in some capacity.
12. Wilderd Patino – OF – (High-A)
Age: 21 | Height/Weight: 6'1, 200 | Bat/Throw: R/R | IFA: $985K – 2017 (ARI) | ETA: 2025
| | | | | | |
| --- | --- | --- | --- | --- | --- |
| HIT | RAW POWER | GAME POWER | RUN | FIELD | FV |
| 35/45 | 50/55 | 35/45 | 70/70 | 50/55 | 45+ |
A phenomenal athlete, double plus speed and above average exit velocities make Patino an interesting follow going into 2023. He swiped 67 bags on 76 tries last season and significantly improved at the plate. Patino is strong and hits the ball hard, but far too often on the ground. His 58% ground ball rate limited his slugging output, but when he got a hold of one, it was easy to see above average raw power. The 21-year-old produced multiple batted balls over 110 MPH and produced a 90th percentile exit velocity of 103 MPH.
Patino has the ability to be an above average center fielder as well thanks to his elite speed and already decent reads and routes. For Patino to have more consistent offensive success, he will need to cut down his high chase rates and make better overall swing decisions. That paired with getting the ball in the air more (the two usually work somewhat in tandem) could help Patino grow into an above average offensive force with all of the complementary tools you could want.
13. Dominic Fletcher – OF – (Triple-A)
Age: 25 | Height/Weight: 5'9, 185 | Bat/Throw: L/L | CBB (75), 2019 (ARI) | ETA: 2023
| | | | | | |
| --- | --- | --- | --- | --- | --- |
| HIT | RAW POWER | GAME POWER | RUN | FIELD | FV |
| 50/55 | 50/50 | 40/45 | 50/50 | 55/55 | 45+ |
The younger brother of Angels infielder David Fletcher, Dominic's above average feel to hit and average power helped him put up strong numbers between Double-A and Triple-A last season, slashing .312/.378/.486 with just a 19% strikeout rate. A zone contact percentage in the high 80s and a swinging strike rate of just 9% bode well for Fletcher's outlook in regards to making contact in the big leagues.
Though the power is just average, Fletcher uses the whole field well and finds the gaps. He hit only 12 home runs in the hitter-friendly Texas League and Pacific Coast League, but he also mixed in 57 extra base hits in 133 games. A slightly above average runner, Fletcher is strong in all three outfield spots thanks to his great instincts and efficient routes. Fletcher is an aggressive hitter and would benefit by walking more, as his profile already puts plenty of pressure on his above average hit tool.
14. Blaze Alexander – SS – (Triple-A)
Age: 23 | Height/Weight: 6'1, 170 | Bat/Throw: R/R | 11th Round (34), 2018 (ARI) | ETA: 2025
| | | | | | |
| --- | --- | --- | --- | --- | --- |
| HIT | RAW POWER | GAME POWER | RUN | FIELD | FV |
| 30/40 | 50/55 | 45/50 | 45/45 | 50/55 | 45 |
A toolsy defensive shortstop with the ability to play all over the infield, Alexander has one of the best arms in the D-backs system and enjoyed his best offensive season as a pro last year. Alexander has major whiff concerns (31% in zone whiff) but he improved against high-end velocity (.850 OPS vs. 94+ MPH). Alexander also showed gains in his overall approach, making better swing decisions and punishing more mistakes. His swing and miss issues will likely limit him a bit offensively, but with his above average power, improved approach and exciting defensive tools, he could be an intriguing super-utility type.
15. Ivan Melendez – 1B – (Low-A)
Age: 23 | Height/Weight: 6'1, 200 | Bat/Throw: R/R | 2nd Round (43), 2022 (ARI) | ETA: 2025
| | | | | | |
| --- | --- | --- | --- | --- | --- |
| HIT | RAW POWER | GAME POWER | RUN | FIELD | FV |
| 40/50 | 70/70 | 50/60 | 30/30 | 35/45 | 45 |
Elite power and major strides in the bat-to-ball department helped Melendez put up video game numbers at Texas last season hitting .387/.508/.863 with 32 homers and more walks than strikeouts. Even in his brief pro stint last year following the draft, Melendez popped a 115 MPH exit velocity clueing us into his plus plus raw power, whether he is swinging metal or wood.
For Melendez, it will be all about the bat, and specifically how frequently he can get into his monster power. His moves in the box are relatively simple and there's reason to believe that he can develop into an average hitter. If that's the case, he could be a consistent power threat in the first base and DH role.
Other Names to Watch
Justin Martinez – RHP – (Triple-A): A fastball that frequently touches triple digits paired with a plus splitter and slider that flashes above average, Martinez has an eye-catching arsenal that could work in a big league bullpen right now. It's about the command for Martinez, who walked 14% of hitters last season, but his 37% strikeout rate (including Arizona Fall League) is a testament to his high-end stuff.
AJ Vukovich – 3B/OF – (Double-A): Another Diamondbacks prospect who could benefit from swinging less, Vokovich is an exciting athlete who excelled at both baseball and basketball in high school. Though he was a fourth rounder, Vukovich signed to a well-overslot $1.25 million bonus in 2020 to forgo college.
Vukovich controls the bat pretty well for a younger hitter longer levers, but struggles to tap into his power and control his body. When he gets the ball in the air, it carries, but he just doesn't get his A-swing off as frequently as you would like for a 6-foot-5, 225 pound hitter. The 21-year-old showed flashes of what could be, going on hot streaks where the power potential was evident, but also mixed in his stretches of tough at bats. Vukovich finished the season strong, launching 8 homers over his final 25 games.
Slade Cecconi – RHP – (Double-A): A supplemental first rounder in the 2020 draft, Cecconi has a fastball that sits in the mid 90s and an above average slider. Cecconi struggled to consistently command his secondaries last season, causing him to not miss as many bats as expected, but his ability to command his above average fastball helped him keep the walks low and get by. For Cecconi to reach his back end of the rotation ceiling, he will need to find more confidence in his secondaries as he threw his fastball 60% of the time last season and only landed his secondaries for a strike around 50% of the time.
Yu-Min-Lin – LHP – (Low-A): Still just 19 years old, Lin only sits around 89-91 mph with his fastball, but boasts one of the best changeups in the D-back's system. The changeup is a screwball type pitch in the low 80s which hitters were just 14 for 83 against with a strikeout rate above 40%. Lin is small in stature so it will remain to be seen if he can get his fastball velocity up to the low 90s, but if he does, he could be an intriguing lefty arm.
Ruben Santana – INF – (CPX): Signed for $750K out of the Dominican Republic, Santana showed extremely well in the DSL and boasts and exciting blend of plus speed and some power projection.