Analysis
Justin Verlander and Max Scherzer Meet Again in the ALCS
They started the season as teammates and now find themselves squared off against each other in the ALCS between the Rangers and the Astros.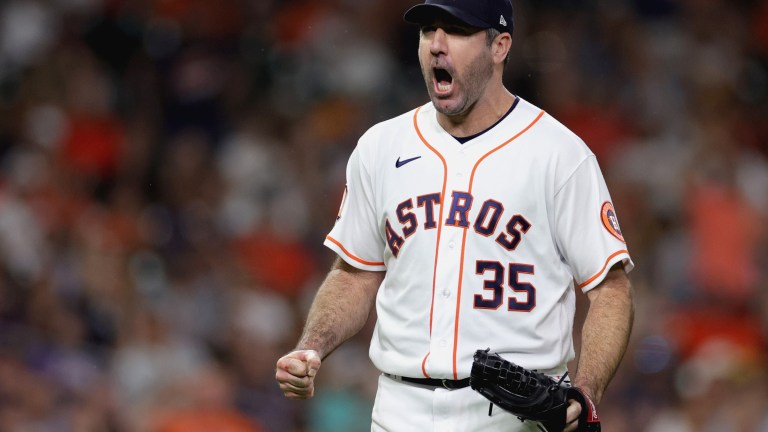 When looking at the key storylines of the 2023 ALCS, none is more fascinating from a narrative perspective than that of Max Scherzer and Justin Verlander.
In a series full of offensive stars, who will probably move the needle more when it comes to the final outcome, it is the two veterans stars that garner the most attention.
These clear-cut first ballot Hall of Famers have seen their careers intersect many times over the better part of the last two decades. A generation of baseball fans have grown up watching the stellar careers of Scherzer and Verlander.
Each made a name for themselves and became Cy Young award-winning pitchers with the Detroit Tigers, before moving on to find great success and championships with their next teams.
Both made pit stops in New York on a $43.3 million per season price tag, before ultimately getting moved within days of each other at this year's trade deadline.
When the Mets went from all-in on the Scherzer/Verlander pairing and World Series window, to all-out to sell them from prospects, the AL pennant race was more significantly impacted at the deadline than in most years before.
Other AL rivals, particularly those in the AL West, had to be concerned about the firepower these Texas teams were adding, but the real threat was always closest to home. When the Rangers moved for Scherzer, the Astros countered by adding Verlander.
For Verlander, this brought him back home, to an established dynasty he helped build. Meanwhile Scherzer joined a team trying to form their own dynasty, with a young roster that looks primed to win for years to come, who is looking to capitalize and get their first rings now.
It is easy for players to find motivation in a series like this, but when it comes to Verlander and Scherzer in particular, it would be hard to think either would have anyone else on their mind when they step on the mound knowing who is watching in the other dugout.
While they will both brush off any notion that there is a rivalry that exists, you are fooling yourself if two hyper-competitive all-time greats aren't using that fuel to light their fire and find that something extra pitching on this stage. Especially considering the journey they went on this season.
The Last Duel?
It is a shame we aren't likely to get a head-to-head matchup between Verlander and Scherzer in this series. Verlander is expected to start Game 1, whereas it would be surprising for the Rangers to deploy Scherzer off an injury before the two horses that have got them here in Jordan Montgomery and Nathan Eovaldi.
If this was all about narrative, we would see Scherzer and Verlander each start a win-or-take all Game Seven, where they would complete the type of duel that is akin to one of those face-offs in an old western movie. Instead the competition is about who wins the series and who gets the chance to add to their respective legacy.
For as much as their careers have mirrored each other, Verlander and Scherzer have not really gone head-to-head often. From 2010 through 2014, they were teammates, making the playoffs in each of their last four seasons together. During that span, the Tigers played in the ALCS three times and in the World Series once in 2012.
Unfortunately for the Tigers, they never won a championship with that duo and Scherzer left the team in free agency ahead of the 2015 season.
Verlander remained with the Tigers for a few more years but did not get another chance to pitch in October until he was traded to the Houston Astros in 2017. It is there where he first became a World Series champion, albeit on a very controversial team.
Two years later, Verlander was again pitching in the World Series, but this time with a familiar face staring him down on the other side. A familiar face with two different colored eyes.
Scherzer started Game One and Game Seven, pitching five innings of two-run ball each time in games the Nationals would win. He missed time due to an ailing back but still helped the Nationals win their first World Series title. Verlander lost both Game Two and Game Six, as he allowed seven runs in 11 innings pitched.
Last year, the Astros finally got back to the mountaintop, giving Verlander an edge over Scherzer when it comes to World Series titles with his second one.
When breaking down their career accolades, these two longtime aces are a lot closer than some would think, as both have performed at the height of the sport for the better part of the last two decades.
Who's Had the Better Career?
On the surface, most people would say that Justin Verlander has put together the better career than Max Scherzer. He has a Rookie of the Year, two ERA titles, a Triple Crown and an MVP on his resume. Scherzer has none of those things.
With that said, a look deeper into the numbers suggests that Scherzer is really not that far apart when it comes to the success he has had in his career.
Both have three Cy Youngs and have led the league in wins four times. Scherzer is the active strikeouts leader with 3,367, Verlander is second with 3,342. Verlander is the active wins leaders with 257, Scherzer is third behind him and Zack Greinke with 214.
Verlander of course had a few years head-start on Scherzer, having debuted two seasons before him.
For their careers, Scherzer has the better ERA at 3.15, while Verlander sits just behind at 3.24. Looking at their career postseason ERA's it is even closer with Scherzer sitting at 3.58, four points higher than Verlander at 3.54.
Verlander's Triple Crown/MVP campaign stands out as the best from either pitcher, and may have him remembered as the better pitcher, but that is not exactly the case.
When it comes to overall effectiveness, Scherzer actually holds the statistical edge in ERA, WHIP, FIP, K/9 and strikeout-to-walk rate. The point being, these pitchers are really right there with each other in every way, and still have the chance now to create separation at the end of their careers.
Any World Series added at this point could tip the scale in the argument for who had the better career. Verlander has the edge with two, but also the asterisk of 2017. Scherzer has won one and also took it from Verlander in a head-to-head.
Now Verlander gets the chance to exact revenge and could finish the year with his third World Series title. Scherzer is playing for his second title and could once again be part of delivering the first championship to a franchise.
There are a lot of storylines to monitor across this great ALCS matchup, but none is more fascinating and layered than the one between Scherzer and Verlander.