Analysis
Could Mark Vientos Be the New York Mets Next Pete Alonso?
Mark Vientos is starting to turn heads as a top prospect for the New York Mets, showcasing power reminiscent of Pete Alonso back in 2018.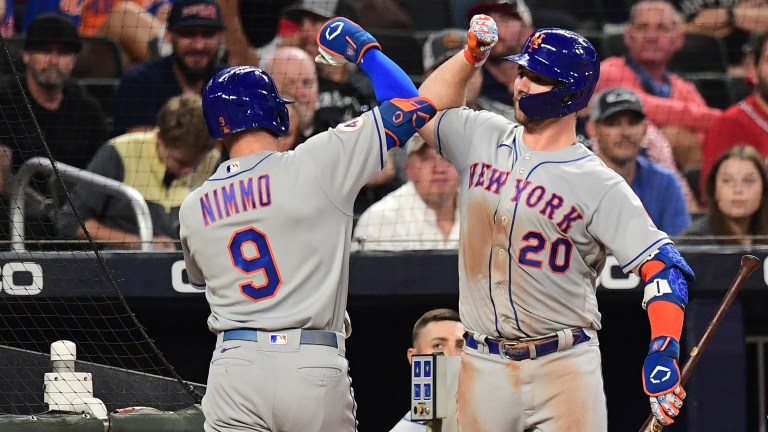 Pete Alonso had a lot to prove going into spring training in 2019. The then 24-year-old first baseman was coming off a remarkable season in the minor leagues, which saw him blast 36 home runs with 119 RBIs between Double-A and Triple-A.
Yet Alonso was never promoted to the big leagues because the Mets claimed his defense was not up to snuff. Now there was obviously some service time manipulation that could have been at play with Alonso, but at the end of the day, his glove was the only thing keeping him from becoming a cornerstone for the Mets moving forward.
Going into camp, the Mets made it clear that Alonso could win the starting first base job with a good spring and after hitting .352/.387/.620, the slugger earned his place on the Opening Day roster. Alonso would go on to be named an All-Star, win the Home Run Derby, set the MLB rookie home run record and was later named the Rookie of the Year.
He also proved to no longer be a liability defensively, as he has turned himself into an average, if not slightly above-average first baseman. The Mets currently have another prospect with a similar slugging profile that has a chance to have a big impact next season. His name is Mark Vientos.
Comparing Vientos to a Young Alonso
Vientos is coming off a breakout season in the minor leagues, which has skyrocketed his stock as a top prospect in the Mets farm system. Vientos is currently ranked No. 44 in Just Baseball's Top 100 Prospects list, after a season where he hit 25 home runs across 83 games played in Double-A and Triple-A.
Due to the unprecedented circumstances of 2020 and the lost season of minor league development, the Mets were very aggressive with Vientos heading into 2021. The 21-year-old made the jump straight from Low-A into Double-A, as fellow top third base prospect Brett Baty started the year in High-A.
Vientos got off to a slow start in Double-A, only hitting three home runs in his first month of action, but would eventually get red-hot. Overall, Vientos hit .281/.346/.580, with 22 home runs, 62 RBI and a 144 wRC+ in 72 games played with the Binghamton Rumble Ponies. He was then promoted up to Triple-A, where he finished the season.
In 11 games played with the Syracuse Mets, Vientos kept racking hitting .278/.395/.583, with three home runs to bring his season total to 25. Comparing Vientos to Alonso may seem like a stretch, as Pete has established himself as one of the top sluggers in the game, but the numbers are actually closer than you would think.
In 65 games played at Double-A in 2018, Alonso hit .314/.440/.573, with 15 home runs, 52 RBI and 180 wRC+. He then went onto Triple-A and hit .260/.355/.585, with 21 home runs, 67 RBI, 139 wRC+.
While Alonso hit 11 more home runs than Vientos, he also played in an extra 49 games and had 225 more plate appearances. If you gave Vientos an extra 225 PA, he was on pace to hit 41 home runs this year. He also outslugged Alonso .581 to .579.
Another interesting element in comparing Vientos' 2021 season to Alonso's 2018 campaign is their respective experience. Alonso played three years of college ball at the University of Florida, whereas Vientos was drafted out of high school.
By the time Alonso entered the 2018 season, he was not only two years older than Vientos was this past year, but he had also played 378 games since high school, as opposed to Vientos who had played just 222. The learning curve was much steeper for Vientos, yet the power translated in a similar way.
Now this is not me making the argument for why Vientos is going to be a better hitter then Alonso. But instead this is to point out that these two sluggers are not that different and the Mets may have another 40-home run guy waiting in the wings right now. They just have to give him the opportunity.
Where Vientos Fits on the 2022 New York Mets
So many times with prospects we focus on their liabilities instead of keying in on their strengths. With Vientos, the questions we have about him as a prospect are all tied to his glove, similar to Alonso three years ago.
Vientos was drafted as a shortstop but was quickly moved over to third base once he hit the Mets farm system. Despite having a big arm, Vientos has not yet proven he is capable of playing third base at the big league level, which has even led the Mets to trying him in a corner outfield spot at times instead.
There is no doubt he is going to have to work hard on his defense, just like Alonso did, but focusing on that is ignoring all of his incredible strengths that could have him be an impact player for the Mets as soon as next season. Also with the universal DH likely being worked into the new CBA, Vientos could have a path into the Mets starting lineup where no glove is even required.
Robinson Cano, J.D. Davis and Dominic Smith represent Vientos' main competition for DH at-bats currently on the Mets 40-man roster. By the time spring training rolls around, there is a chance that Davis or Smith could be traded, as they are reportedly on the block to be moved.
Regardless of how the rest of the offseason shakes out though, the Mets would be wise to give Vientos the same opportunity that they gave Alonso back in 2019. Give the kid a chance to win a job in spring training.
Vientos could still benefit from getting another 150-200 plate appearances in Triple-A, but if he tears the cover off the ball and proves the bat is ready to go, the Mets would be wise to not overthink this one.
Alonso rewarded the Mets handsomely when they made him their Opening Day first baseman back in 2019. Don't be surprised if Vientos has a similar impact this year as the Mets DH.