News
St. Louis Cardinals Option Shortstop Paul DeJong to Triple-A
An All-Star back in 2019, Paul DeJong's career has hit a skid as an abysmal start to the 2022 season has landed him back in the minors.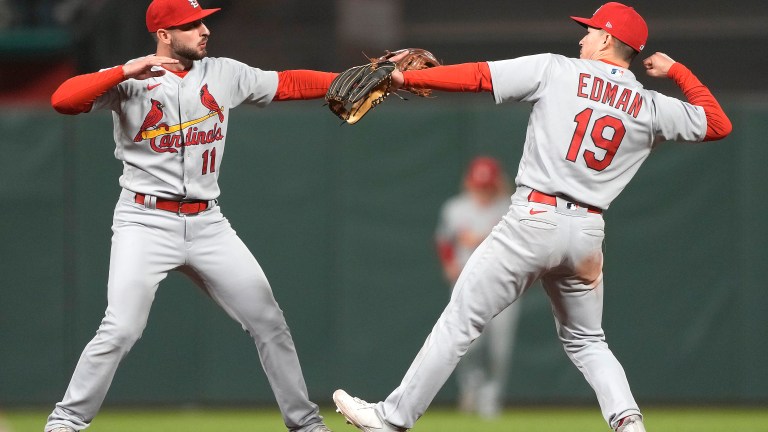 For the first time since 2017, Paul DeJong will be taking his at-bats in Triple-A and not for a rehab assignment. The 28-year-old shortstop has been optioned to the minors after a rough start in which he has just 10 hits in his first 77 at-bats.
This is a great fall from grace for DeJong, considering he was an All-Star just three years ago in 2019. That year, DeJong hit 30 home runs while playing strong defense at shortstop. The Cardinals thought they had their answer at the position long-term.
Since then, DeJong has hit .202/.284/.356, with 23 home runs and a 79 wRC+ over 182 games played. This season, DeJong has fallen even further, as he is hitting .130/.209/.208, with just one home run and a 30 wRC+.
DeJong still had three minor league options the Cardinals had available to use, which is likely the only reason he still has a place on their 40-man roster. He represents good depth at this point thanks to the glove at shortstop (4 OAA in 2021), but it's hard to count on him to rediscover anything offensively at this point.
One look at DeJong's expected metrics at Baseball Savant, and the optimism for a turnaround dissipates even further.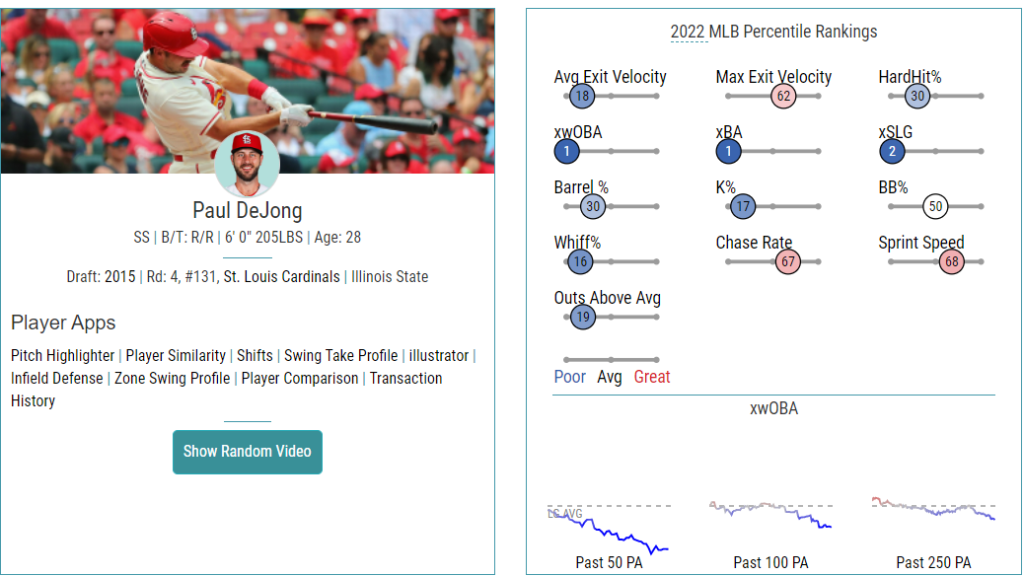 Ranking in the bottom two percentile in the league in both expected batting average and expected slugging, DeJong's bat is suspect to say the least. The only problem for the Cardinals is they don't have a lot of great options at shortstop right now.
Taking his place on the active roster is former fourth-round pick Kramer Robertson.
Robertson could get some run over at shortstop, but he is a career .248/.357/.369 hitter in the minors and offers limited upside. This season, the 27-year-old is hitting .225/.380/.400, with three home runs in 100 plate appearances.
Just last week, we explored the Cardinals lack of middle depth outside of Tommy Edman and how it could hold them back as a team this year.
Edmundo Sosa is currently on a rehab assignment as he looks to come back from COVID any day now. Sosa provides the Cardinals with another great glove in the infield, but he to is hitting well below the Mendoza line through his first 10 games played this season.
St. Louis recently promoted top prospect Brendan Donovan, who is coming off a great 2021 campaign where he hit .304/.399/.455, across three levels of the minor leagues. Donovan began 2021 in High-A and finished in Triple-A. Now he is in the show and may get some extended run with DeJong no longer taking any at-bats in the Cardinals middle infield.
Donovan can assume some playing time at second base, while Tommy Edman slides over to shortstop to give the Cardinals a decent offensive option at that premium position. The real question for the Cardinals though is how long do they wait to promote Nolan Gorman to juice this infield offensively.
Gorman checked in at No. 64 in our top 100, and is currently hitting .307/.360/.693, with 12 home runs and a 171 wRC+ in 26 games played in Triple-A.