Rankings
St. Louis Cardinals Top Prospects
A look at the St. Louis Cardinals top prospects for 2022.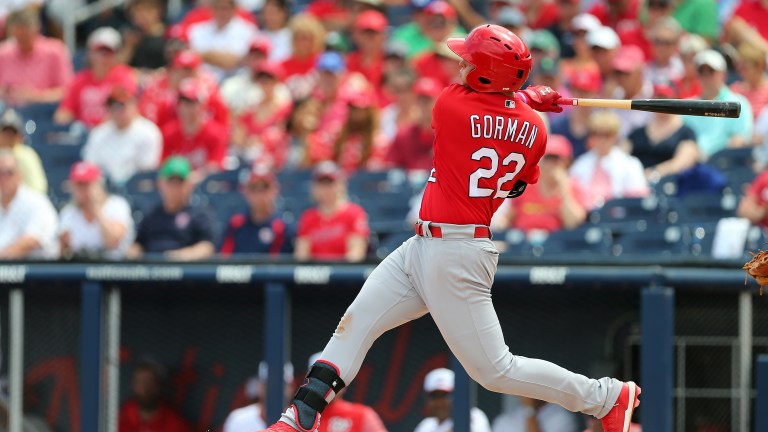 A bit of a top-heavy system, big years from several prospects in this system helped provide some balance and depth. On the top end of things, the explosion of Jordan Walker gives the Cardinals a blue-chip prospect along with comfortably top 100 guys Nolan Gorman and Matthew Liberatore.
1. Jordan Walker – 3B – (High-A)
Age: 19 | Height/Weight: 6'5, 220 | Bat/Throw: R/R | 1st Round (21), 2020 (STL) | ETA: 2023
| | | | | | |
| --- | --- | --- | --- | --- | --- |
| HIT | RAW POWER | GAME POWER | RUN | FIELD | FV |
| 35/55 | 45/75 | 50/70 | 60/60 | 40/50 | 55+ |
Offense
Starts fully upright, then sinks into his back hip in what is reminiscent of a more subtle Christian Yelich load. Hands go back with his weight as he takes his easy stride creating strong separation. Walker is a physical specimen who does not need to do much to generate power, but his ability to repeat his movements and consistently be on time is impressive for a 6-foot-5, 220lb teenager.
There were no doubts about Walker's raw power, but his hit-tool is way, way ahead of what anybody anticipated. Despite being one of the youngest players in his class, Walker started his professional career in Low-A, then hit his way to High-A, maintaining a 24% K-rate and 9% walk rate between the two levels. The 2019-2020 Georgia Gatorade Player of the Year has already produced exit velos in the 1st percentile, and terrifyingly has more in the tank. With 14 homers in just over 70 games and a wRC+ over 150, Walker could not have had a better start to his professional career.
Defense/Speed
Walker moves impressively for his size and has a massive arm. His athleticism can really be seen when he makes throws on the run and from different arm slots. His actions could use some improvement, but his strong arm and good footwork lead me to believe he will be an above-average defender.
Outlook
Walker is one of the names who could quickly ascend into the top-10. Aside from his exciting tools, 40-home run power, and more advanced feel to hit than anticipated, Walker earns high marks for his makeup and intelligence. Saying Walker is a name to watch would be putting it lightly; the kid has franchise cornerstone upside.
2. Nolan Gorman – 3B – (Triple-A)
Age: 21 | Height/Weight: 6'1, 210 | Bat/Throw: R/R | 1st Round (19), 2018 (STL) | ETA: 2022
| | | | | | |
| --- | --- | --- | --- | --- | --- |
| HIT | RAW POWER | GAME POWER | RUN | FIELD | FV |
| 40/45 | 60/70 | 50/60 | 45/50 | 40/50 | 55 |
Offense
Long lauded for his prodigious left-handed power, Gorman mashed his way to Triple-A in 2021 at just 21 years of age. Power like Gorman's from the left side is not easy to find as he has foul pole to foul pole power with the ability to hit bombs even when he's off the barrel. He has simplified his lower half this year by slowing down his leg kick which has allowed him to consistently get into good positions to do damage. He features nearly elite bat speed and combines it with big time strength, specifically in his lower half.
The lower half adjustments have also had a positive impact on his strikeout rate that peaked at 29% in 2019 and decreased to a very manageable 22% in 2021. Gorman features an aggressive approach at the plate that will need to be honed in once he reaches the big club. He has a tendency to swing at pitchers' pitches early in counts when he should be looking for pitches to drive.
The only major red flag in Gorman's offensive profile is his drastic splits against lefties that features a .589 OPS compared to .917 against right handers. Gorman's power will play in the big leagues, however, his ability to control the strike zone and hitting left handers will need to improve if he's to make a significant impact.
Speed/Defense
While Gorman came up as a third baseman, he has seen the bulk of his playing time at the keystone in 2021 at second base thanks to the presence of Nolan Arenado in Saint Louis. He isn't especially quick on the defensive side of the ball, but he does possess good hands and a rocket for an arm that should allow him to move effectively around the diamond. He's a below-average runner but thanks to his arm, a corner outfield spot isn't out of the question either.
For now, the Cardinals continue to deploy him at second base in preparation for a 2022 call-up. I was pleasantly surprised at how well he moves on the right side of the infield and his actions are strong. Gorman has an easier time than most second baseman going to his right because of his massive arm for the position. The same rings true for rushed double play turns where he may have to take the throw flat footed–the plus arm strength really shines through.
Outlook
Gorman's huge raw power will always be his calling card and the pre-swing adjustments he has made have allowed him to get to it with more consistency. Further work needs to be done regarding his plate discipline as well as his ability to hit left-handers if he's to be an impact big leaguer. With that being said, left-handed power like this in the infield is hard to find. Gorman has All-Star upside and the strides he has made in 2021 has gotten him a step closer to reaching his big time ceiling.
3. Matthew Liberatore – LHP – (Triple-A)
Age: 22 | Height/Weight: 6'4, 200 | Bat/Throw: L/L | 1st Round (16), 2018 (TB) | ETA: 2022
| | | | | | |
| --- | --- | --- | --- | --- | --- |
| FASTBALL | SLIDER | CURVEBALL | CHANGEUP | COMMAND | FV |
| 40/50 | 60/60 | 45/55 | 40/50 | 40/55 | 50+ |
Arsenal
There's a lot to like with a 6-foot-4, 22-year-old southpaw like Liberatore–especially when you consider the fact that he is athletic and repeats his mechanics very well for a pitcher of his profile. Originally a first-round pick by the Rays in 2018, Liberatore was dealt to the Cardinals as part of the Randy Arozarena deal in early 2020.
Liberatore entered the 2021 season having never pitched above Low-A due to 2020's cancellation, but his ability to throw strikes with his four-pitch mix gave the Cardinals enough confidence to start the southpaw in Triple-A.
Liberatore was effective in 2021, however he did give up quite a bit of loud contact, especially on his fastball. The lefty's heater sits around 91-94 MPH, but is low spin and lacks life. He started using a two-seam fastball more down in his final handful of starts and saw much more success with that offering in both the swing-and-miss and ground ball departments. It will be interesting to see if he phases the four-seamer out a bit in 2022 (the .912 OPS against the pitch should help encourage that).
While many regard Liberatore's curveball as his best offering, it is actually his slider that is most effective. The offering sits in the upper 80s with late horizontal break, giving hitters difficulty because of how much it looks like his fastball out of the hand. Liberatore also commands the pitch really well, using it like a cutter in on the hands of right-handed hitters, while also showing an ability to back door them as well. The southpaw uses his slider to sweep away from lefties, showcasing his strong glove-side command.
Liberatore's slider vs. his curveball is an excellent example of how we can at times be a bit too fixated with the movement profile of a pitch to the point where we ignore its effectiveness. The curve is still a great change of pace offering in the mid 70s that he can use to steal strikes or as a get-me-over, but it is just not a strikeout pitch. It grades out as above-average because of the massive vertical break, however the offering is loopy and easier to read out of Liberatore's hand.
Liberatore realized this as the season endured at Triple-A Memphis, throwing the slider nearly twice as much as his curveball by season's end. The 22-year-old's slider garnered a 24% swinging strike rate, tripling that of his curveball at 8%.
Currently, Liberatore is more comfortable using his curveball as a third pitch and third speed than his changeup. There is still some above-average potential on his changeup when it sits more in the low 80s thanks to the arm-side fade he is able to generate. At times, the change can get firm on him in the upper 80s and will be straighter.
Outlook
Matthew Liberatore entered 2021 with a little over 100 innings pitched in his entire professional career–that is nothing for an arm drafted out of high school. It wasn't until the second half of the season that Liberatore started to figure out the most effective use of his arsenal against upper level hitting.
By season's end, Liberatore was going to his slider more than his curveball and utilizing his two-seam fastball more. As a result, the southpaw enjoyed his best stretch to end the year over his final 55 innings, pitching to a 2.83 ERA and a much improved K-BB ratio.
While he could probably survive in the big leagues right now, Liberatore could use a bit more experience in the Minor Leagues before heading to St. Louis. If he continues in the direction I think he will with his pitch usage, Liberatore has a relatively high probability outcome of a middle rotation starter. If Liberatore pushes his above-average command to potentially plus command–which is not totally out of the realm of possibility given his athleticism and clean mechanics–No. 2 upside is not out of the question.
4. Ivan Herrera – C – (Double-A)
Age: 21 | Height/Weight: 5'11, 220 | Bat/Throw: R/R | IFA: $200K, 2016 (STL) | ETA: 2022
| | | | | | |
| --- | --- | --- | --- | --- | --- |
| HIT | RAW POWER | GAME POWER | RUN | FIELD | FV |
| 40/50 | 50/50 | 40/50 | 30/30 | 40/50 | 50 |
A catcher with a ton of upside on both sides of the ball, Herrera could use another year of development in the minors. The 21-year-old will be groomed next year as the potential catcher of the future as Yadier Molina says farewell.
2021 Stats (A+): .229/.342/.403, 17 HR, 30 XBH, 102 wRC+, 21.8 K%, 13.6 BB%
Offense
An upright stance, Herrera still uses his lower half well by sinking into his back side. Herrera has explosive rotational power, but will fly open prematurely at times. In an effort to control that, Herrera will start a bit closed with his stance, however he still has a turn a lot to get to the point of contact which can be seen by Herrera's posted a 50% pull rate.
While Herrera has the tendency to be out and around the baseball, he has the strength and carry to leave the yard dead central and even mishit baseballs that sailed over the wall opposite field. As Herrera gains confidence in his ability to drive the ball all over the field, his offensive consistency should continue to improve; it is a much tougher game when you are trying to catch everything out in front of home plate.
Herrera's zone contact and chase rates are well above-average, which bodes well for his overall ability to hit at the highest level. Some slight adjustments to Herrera's approach could unlock a well above-average hitter as the peripherals continue to look really strong for the young catcher. It is hard to bet against strong contact rates, above-average power and good pitch recognition.
Defense/Speed
A decent arm and pretty good mobility behind the plate, Herrera has the tools to be an above-average catcher. Some scouts were discouraged by Herrera's receiving last year and that will be a big area of focus for him moving forward. Herrera blocks well and should continue to develop into at least an average defensive catcher with a chance for some more depending on his receiving.
Outlook
As we know, offense is a scarcity at the catching position and even with a slightly down offensive season, Herrera is a safe bet to be an above-average bat at the position. Double-A is a big adjustment at the plate and behind it for a young prospect and it is important to remember that Herrera was three years younger than his competition on average last year.
Herrera projects as a bit more of a bat-first catcher, though development behind the dish could make him an above-average all around catcher at the highest level.
5. Lars Nootbaar – OF – (MLB)
Age: 24 | Height/Weight: 6'3, 210 | Bat/Throw: L/R | 8th Round (243), 2018 (STL) | ETA: 2022
| | | | | | |
| --- | --- | --- | --- | --- | --- |
| HIT | RAW POWER | GAME POWER | RUN | FIELD | FV |
| 45/55 | 55/55 | 40/50 | 55/50 | 40/50 | 45+ |
A breakout 2021 in Triple-A earned Nootbaar a big league call-up where he held his own. While the Cardinals outfield is set, Nootbaar has been a pleasant surprise for St. Louis and gives them another athletic, versatile bat.
2021 Stats (MLB): .239/.317/.422, 5 HR, 9 XBH, 101 wRC+, 22.6 K%, 10.5 BB%
2021 Stats (AAA): .308/.404/.496, 6 HR, 9 XBH, 140 wRC+, 18.4 K%, 12.5 BB%
Offense
A well-balanced hitter, Nootbaar offers a nice combination of feel to hit and above-average power potential. Nootbaar's pull-side power is comfortably above-average as the twitchy left-handed hitter unloads on baseball's middle in. While Nootbaar is not as dangerous on pitches middle away, he is very comfortable spraying the ball all over the field.
Nootbaar's athleticism allows him to repeat his pretty sizable leg kick well in order to frequently be on time and make good decisions. The 24-year-old does not expand the zone often and posted above-average zone contact marks between Triple-A and MLB.
In a game where pitchers like to challenge hitters inside with velocity, Nootbaar will be able to make himself a tough guy to beat. His ability to let the ball travel and feel for the strike zone give him a high floor as a hitter as well as his impressive pull-side pop. It's encouraging that Nootbaar does not sell out for that pull-side power, which is why I see a great chance at an above-average hitter here.
Defense/Speed
Nootbaar is an above-average defender in both corners, with solid tools across the board. There's mixed grades on his run tool, however he moves well in the outfield regardless and takes good routes. I have seen grades as low as 40 on Nootbaar's speed despite his sprint speed on Baseball Savant being in the 84th percentile.
I lean closer to an above-average run tool for Nootbaar as his athleticism can be seen in the outfield. Nootbaar even made a few spot starts in center field when his team was in a pinch. His slightly above-average arm and solid routes should make him an above-average defender long-term in either corner.
Outlook
Last year was an all-around win for Lars Nootbaar. The outfielder mashed his way to a big league debut then held his own at the highest level while becoming a fan favorite. The Cardinals wanted Nootbaar to keep his momentum going, sending him to the Arizona Fall League where he dominated to a 1.080 OPS in 18 games.
Nootbaar is a bit blocked at the moment given the elite outfield the Cardinals possess, however he offers an elite fourth outfield and bench bat option. Frankly, I think Nootbaar is capable of more as I can see an above-average regular here if he can tap into a bit more power. If another team feels the same way, I wouldn't be shocked to see Noot as a trade chip given his lack of clear MLB opportunity in 2022 following a great 2021.

6. Masyn Winn – SS/RHP – (High-A)
Outlook
7. Michael McGreevy – RHP – (High-A)
Age: 21 | Height/Weight: 6'4, 215 | Bat/Throw: R/R | 1st Round (18), 2021 (STL) | ETA: 2024
| | | | | |
| --- | --- | --- | --- | --- |
| FASTBALL | SLIDER | CHANGEUP | COMMAND | FV |
| 45/50 | 50/55 | 40/50 | 60/65 | 45+ |
A strike thrower who put together an excellent collegiate career at UC Santa Barbara, McGreevy pitched his way into the first round of this year's draft with a nation leading 10.5 K/BB rate.
2021 Stats (NCAA): 101.2 IP, 2.92 ERA, 1.180 WHIP, 115 K's, 11 BB
Arsenal
An average fastball in the 92-94 range with a bit of arm-side run, McGreevy gets the most out of the pitch with his strong command. McGreevy can pick at the corners and locates at the knees, allowing him to get a good amount of ground balls.
McGreevy also has a mid 80's slider that is more of a slurve with good downward bite that he can use to both lefties and righties as well as a changeup that looked much better than I had ever seen it in his last couple starts.
While the slider is closer to being an above-average pitch at the pro level, McGreevy's changeup has a shot to join it thanks to the late arm-side fade it has; especially if McGreevy can command it even remotely as well as his fastball.
Outlook
Strong command and an potentially viable three-pitch mix will give any pitcher a high floor, however McGreevy will need to miss more bats to maximize his potential. McGreevy's ability to throw strikes allowed him to navigate around the more than 1 hit per inning he averaged on the bump in his junior season.
Ultimately, McGreevy will need the slider and changeup to be above-average for him to attain his low-end No. 4, high-end No. 3 potential.
8. Juan Yepez – 1B/OF – (Triple-A)
Age: 23 | Height/Weight: 6'1, 210 | Bat/Throw:RL/R | IFA: $1 million, 2014 (ATL) | ETA: 2022
| | | | | | |
| --- | --- | --- | --- | --- | --- |
| HIT | RAW POWER | GAME POWER | RUN | FIELD | FV |
| 45/55 | 60/60 | 50/55 | 30/30 | 35/40 | 45+ |
A breakout year that saw Yepez launch 27 homers in the upper levels, the 23-year-old turned himself into a legitimate bat first prospect with some swing adjustments and added strength.
2021 Stats (AA/AAA): .286/.383/.586, 27 HR, 56 XBH, 154 wRC+, 18.9 K%, 11.8 BB%
Offense
The Cardinals do a great job of developing upper-level hitters and Yepez is the latest example. On top of adding 15-20 pounds in the offseason, Yepez refined his approach and adjusted his swing a bit to get the ball in the air more.
Yepez will let it eat earlier in the count with a leg kick that he times up well, but with two strikes or against pitchers who disrupt is timing, Yepez will start a bit wider with his weight stacked more on his backside and just use a toe tap. Yermin Mercedes and Triston Casas are two recent prospect examples of guys who would do this to improve their ability to be on time with two strikes, and if it is done successfully, it is a great way to mitigate K's for some hitters.
While I would like to see Yepez get into some balls the other way, his pull-side power is plus. He has the ability to turn on high-end velocity and now has the strength the to yank a hanging breaking ball over the wall in left even if he is a bit out front.
Yepez saw more and more pitches on the outer half as the year endured and that will be a way in which pitchers will look to attack him. It helps when you almost hardly miss anything middle-in, however Yepez will need to use the whole field a bit more to ensure big league success.
Defense/Speed
Not the fleetest of foot, Yepez is limited to first base or a subpar corner outfield. His arm is strong enough to play in either corner and he seems to move just well enough for his defense to potentially be palatable in a corner if he is mashing, but long-term I'd bet on Yepez winding up at first base or DH.
Outlook
There's no secret that the pressure lies fully on the bat of Yepez in terms of his big league potential. Yepez has to hit a ton to be valuable, but he did that and then some last season. The combination of power production and limited swing-and-miss is hard to find in today's game at any level. In fact, Yepez was one of three prospects in all of the Minor Leagues with 25 or more homers and a K-rate under 20%. The other two were Anthony Volpe and Jose Miranda.
Yepez has to be hoping for the universal DH as much as any prospect in baseball and if it is implemented, we could see him in the Cardinals lineup sometime next year.
9. Alec Burleson – OF – (Triple-A)
Age: 23 | Height/Weight: 6'2, 212 | Bat/Throw: L/L | 2nd Round (70), 2020 (STL) | ETA: 2023
| | | | | | |
| --- | --- | --- | --- | --- | --- |
| HIT | RAW POWER | GAME POWER | RUN | FIELD | FV |
| 45/55 | 50/55 | 40/50 | 35/35 | 40/45 | 45+ |
Burleson wasted no time in his pro debut, climbing three levels and finishing the year in Triple-A thanks to his strong approach and pitch recognition.
2021 Stats (A+/AA/AAA): .270/.329/.454, 22 HR, 40 XBH, 108 wRC+, 20 K%, 8.3 BB%
Offense
A two-way player at East Carolina, the Cardinals drafted Burleson as an outfielder and as he explained to Just Baseball back in June, the focus on just hitting has allowed him to take his offensive game to the next level.
The Cardinals have consistently been aggressive with their prospects in regards to promotions and Burleson is the latest example. Despite his numbers taking a bit of a hit in Triple-A, Burleson improved his strikeout and walk figures and looked overall more comfortable by year's end.
Burleson has an extremely quiet set up, starting pre-stacked on his backside with just a toe tap for timing. This allows him to keep his weight back and spray the ball all over the field. Burleson has enough strength to leave the yard to all fields when he really gets a hold of it, hitting a handful of opposite field home runs last season.
While Burleson may not hit towering shots or break 110 MPH exit velos, he gets good natural carry on the ball and should be a threat to hit 25+ home runs annually thanks to his high rate of contact and strong HR/FB rate, which seems sustainable.
Defense/Speed
Despite being a below-average runner, Burleson's reads and routes were solid as the year went on and his arm as a former pitcher is comfortably above-average. Burleson is capable of playing in either corner and should be an average defender at either spot.
Outlook
Nothing jumps off the page with Burleson, but he has a really sound, high-floor profile. A guy with an above-average hit tool and an ability to eke out every ounce of his slightly above-average power is usually a safer bet, which is why Burleson was able to accommodate the aggressive assignments.
Given how crowded the outfield situation is for the Cardinals, it was a bit surprising to see Burleson pushed all the way to Triple-A Memphis. I expect him to spend most of next year in Triple-A with the chance at a call up if the Cardinals are in a pinch.
10. Joshua Baez – OF – (Complex)
Age: 18 | Height/Weight: 6'4, 220 | Bat/Throw: R/R | 2nd Round (54), 2021 (STL) | ETA: 2025
| | | | | | |
| --- | --- | --- | --- | --- | --- |
| HIT | RAW POWER | GAME POWER | RUN | FIELD | FV |
| 20/45 | 60/70 | 35/60 | 55/45 | 40/50 | 45 |
It was a rough debut for Baez at the complex, but the 18-year-old outfielder was always viewed as a project. It could be a while until we see Baez climb through the Minor League ranks, however if he puts it all together he will be well worth the wait.
23 Complex Games: .158/.305/.303, 2 HR, 6 XBH, 29.5 K%, 14.7 BB%
Offense
Baez has crazy raw power and an already insanely physical body, but a swing that is nowhere near ready to compete at the professional level. While it is hard to judge Baez off of 23 Complex League games, the issues with Baez's swing were visible in the showcase circuit against some of the more talented arms.
When you're 6-foot-4, 220 pounds with above-average run times and are able to avoid stiffness at the plate, there is plenty to be hopeful for and that is why Baez was an overslot second-round pick and is in the Cardinals top 10 prospects.
A lot of what Baez was able to get away with against lower-end velocity was exposed against stronger competition, however the physical tools Baez possesses gives him a good chance to be able to make the adjustments needed. He often looked rushed at the plate and caught in between. I expect Baez to show up in 2022 with a new looked set up and approach in which case anything can happen, he's that physically gifted.
Defense/Speed
An above-average runner, Baez ran a 6.67 60-yard dash at Perfect Game's National Showcase and can motor pretty well once he gets going. A two-way prospect in high school, Baez possesses a plus arm and can run it up to 96 on the mound. While it may be fair to assume that the big bodied Baez may slow down a tick, his presently above-average speed and plus arm give him a good chance to be an above-average defender in a corner outfield spot.
Outlook
It is nearly impossible to project a prospect with Baez's raw tools. If he puts it all together, he could turn into one of the most exciting prospects in the Cardinals system, however there is a lot that needs to be pieced together at this point.
The Cardinals bet on their ability to develop by giving Baez an above-slot $2.25 million and it will be interesting to see how things go. Baez will take some time, but he is just way too special tools wise to ignore.
Other Names to Watch
Brendan Donovan – INF – (Triple-A): A former seventh-round pick in 2018, Donovan has mashed since his arrival to professional baseball, earning an addition to the 40-man roster in order to protect him from the Rule 5 Draft. Donovan has played six different positions in the Minor Leagues and could be a utility man for the Cardinals as soon as next year.
Pedro Pages – C – (High-A): A former sixth-round pick, Pages has swung the bat surprisingly well for a catching prospect taken in Day 2 and has shown some ability behind the dish.
Wilfredo Pereira – RHP – (High-A): Pereira masques a meager fastball with an assortment of nasty secondaries. The right-hander racked up a ton of swing-and-miss with his slider, curveball and disappearing changeup. Pereira's four-pitch mix makes him a name worth following.
Freddy Pacheco – RHP – (Triple-A): Pacheco was unhittable at times last season, striking out a whopping 44% of batters between three levels. His upper 90s fastball and wipeout slider make him a potential bullpen option for the Cardinals next year.