Analysis
Crushing Cutters Has Helped These Hitters Reach New Heights
Brent Rooker, Paul DeJong, and Rodolfo Castro have hitting better than ever, and their success against cutters is a major reason why.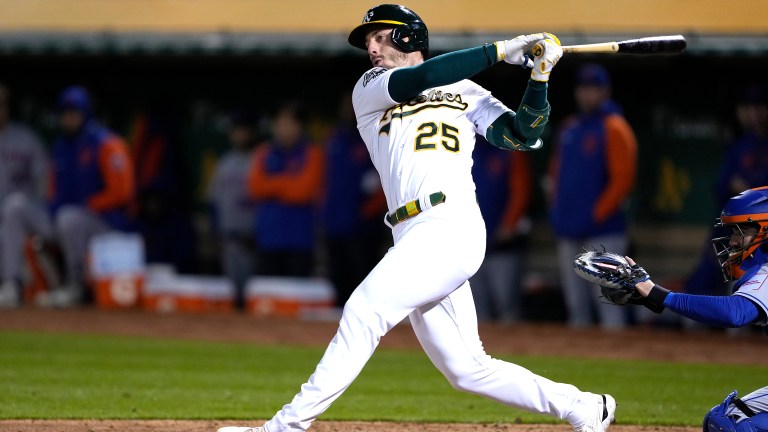 Last season, the sweeper was the hot new pitch taking the league by storm. Use of the breaking pitch was up 133%, and nearly twice as many pitchers used a sweeper as did the year before (per Baseball Savant).
The sweeper is still rising in popularity, and it's no surprise that this gravity-bending pitch is the talk of the town. Sweeper usage is up another 57%, and more than 100 different pitchers have tried their hand at the pitch in 2023. However, it's not the only offering we're seeing more frequently this season.
Use of the cut fastball is up by 12.5% this year, and cutters have accounted for just over 8% of all pitches thrown. An additional 35 pitchers have thrown a cutter than had at this point last season. Increased cutter usage is part of an ongoing trend, but this year's increase is the biggest spike we've seen in recent memory: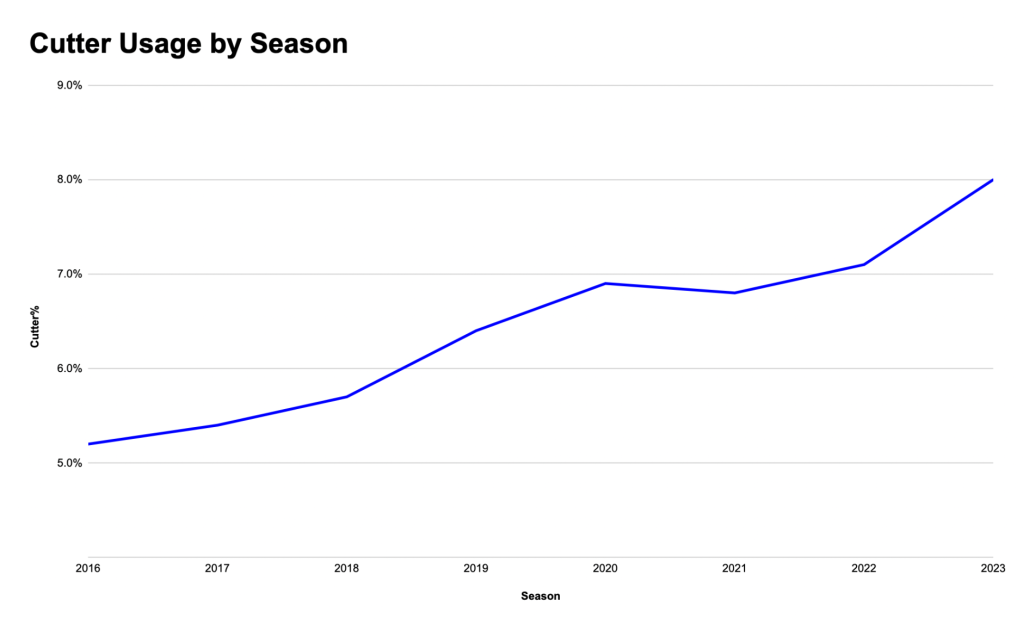 Moreover, the cutter isn't just popular – it's effective. Cut fastballs have already accumulated a -20.9 run value this year, putting the pitch on pace to be far more valuable than it's been in any of the past five seasons.
With all this in mind, it stands to reason that hitters who can handle the cutter would be well-equipped to thrive in 2023. I ran a quick check on Baseball Savant, and indeed, the top three hitters against cutters this season (ranked by wOBA, min. 25 cutters faced) are all having career years: Brent Rooker, Paul DeJong, and Rodolfo Castro.
Brent Rooker – OF/DH, Oakland Athletics
2023 Stats: 38 G, 157 PA, 11 HR, .295/.408/.605, 180 wRC+
2023 vs. Cutter: .957 wOBA, .887 xwOBA
Just Baseball's Clay Snowden wrote about Brent Rooker's hot start more than a month ago, and the A's slugger hasn't slowed down even a bit. In the 28 games since, he has crushed another seven home runs, and his 173 wRC+ ranks among the best in baseball. Suffice it to say, Rooker has been one of the biggest surprises of the 2023 campaign.
One reason for his success? Pulverizing cut fastballs. Cutters account for only 5% of his pitches seen, but three of his 11 home runs. His average exit velocity against the pitch is 98.4 mph. And that's just his average. Six of the seven cutters he's hit into play have come off the bat faster than 101 mph.
To make this all the more impressive, it's not like Rooker has only been teeing off against weaker opponents. He smacked a cutter for a home run off Shohei Ohtani and another for an RBI single against Kodai Senga. Ohtani is one of the best pitchers in baseball, and Senga throws one of the nastiest cutters in the game.
To be clear, we're talking about a tiny sample size here (get used to that disclaimer, it's going to come up again). The season is only seven weeks old, and Rooker has only seen 32 cutters. Simply put, there's not enough data to presume he'll continue crushing cutters all year long. Nonetheless, it's clear his success against the pitch has helped fuel his blazing-hot start.
Paul DeJong – SS, St. Louis Cardinals
2023 Stats: 20 G, 78 PA, 6 HR, .282/.346/.577, 151 wRC+
2023 vs. Cutter: .939 wOBA, .731 xwOBA
Paul DeJong is in the midst of a bounceback for the ages. Granted, he's only played 20 games, but it's hard not to get excited about his nine extra-base hits and 151 wRC+. After all, this is a guy who hit below the Mendoza line from 2020-'22 with a meager 77 wRC+. Even at his best, he was hardly more than a league-average hitter.
DeJong has had success against cutters in the past, and this year he's been fortunate enough to see the pitch 10% of the time. Two of his five homers have come off the cutter (and one against cutter king Corbin Burnes, no less), and his average EV against the pitch is 93.5 mph.
His plate discipline has also been a promising sign. DeJong has done a good job laying off cutters outside the zone (52% of cutters he's seen have been called balls), and he drew a particularly impressive four-pitch walk (all cutters) against Kenley Jansen in the ninth inning of a close ballgame. He went on to score the tying run, and the Cardinals took the lead soon after.
The sample size for DeJong is as small as it is for Rooker, so the key takeaway is the same: he probably won't continue punishing cutters quite like this, but his early success against cut fastballs has helped him get off to an excellent start.
Rodolfo Castro – INF, Pittsburgh Pirates
2023 Stats: 39 G, 123 PA, 5 HR, .260/.366/.452, 125 wRC+
2023 vs. Cutter: .922 wOBA, .662 xwOBA
Rodolfo Castro isn't putting up jaw-dropping numbers like Rooker or DeJong, but he's been a consistent contributor for the Pirates all year. His emergence has helped Pittsburgh to weather the loss of shortstop Oneil Cruz.
Castro has taken fewer plate appearances than Rooker and sees a lower percentage of cutters than DeJong, but because of his excellent plate discipline, he has seen more total pitches, and therefore more cutters, than either of them.
Indeed, Castro's sharp eye has been particularly effective against the cutter. His in-zone swing rate against cutters is up to 80%, while his chase rate is down to 11.8%. He has also done a good job fouling off cutters to prolong at-bats; he has hit .333/.500/.833 with two walks and a home run in eight plate appearances after fouling off a cutter.
Meanwhile, his biggest hit against the cutter itself came just a couple of days ago, when he sent an offering from Eduardo Rodriguez into the seats. Rodriguez is in the midst of a career year, and his cutter has been one of the best in the game.
---
Brent Rookie, Paul DeJong, and Rodolfo Castro have all enjoyed great success against cutters this season. Will they continue to punish this particular pitch for the rest of the year? That remains to be seen. But thus far, crushing cutters has helped them all reach new heights.