Analysis
St. Louis Cardinals Trade Deadline Outlook
Currently sitting in second place in the NL Central, the St. Louis Cardinals are a deadline move or two away from becoming a legit contender.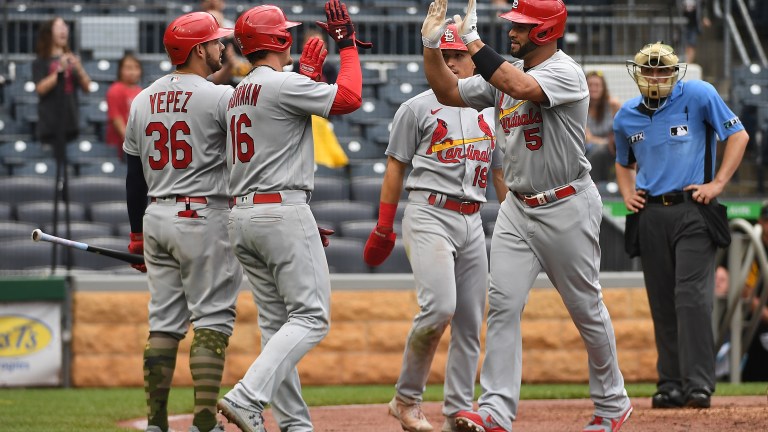 The St Louis Cardinals currently sit in second place, 3.5 games back in the NL Central and one back in the Wild Card. The roster is constructed well with a mixture of veterans and budding young talent, but a few holes still remain. With the division still in play, the Cardinals should go into the deadline looking to add.
Starting Pitching
Rotation: Adam Wainwright, Miles Mikolas, Dakota Hudson, Jordan Hicks, Matthew Liberatore, Jack Flaherty (IL), Steven Matz (IL)
In 2021, St. Louis positioned themselves to be less aggressive buyers at the deadline. The result? Two near 40-year-old lefties past their prime. J.A. Happ and Jon Lester might get you through the season, but not through the playoffs.
As the deadline approaches, the Cardinals find themselves in the same position of need. Steven Matz and Jack Flaherty were supposed to help anchor this rotation, but injuries have held them to a very limited role. These injuries have lead to a bigger opportunity for Miles Mikolas, a veteran who has struggled with injuries throughout his career.
Now healthy, Mikolas has strung together a very impressive first half posting a 2.72 ERA and 0.99 WHIP. Mikolas plus the ageless wonder, Adam Wainwright, make for a nice one-two punch. It's three through five that brings questions and concerns to Cardinals fans. Liberatore is a highly-rated prospect who has shown flashes, but does not quiet look ready to be a reliable option. Hudson can be your number five, and Hicks looks to be transitioning back to the bullpen.
Targets
A true ace would change the trajectory of this team. If the Cardinals reach the playoffs, relying on nearly 41-year-old Wainwright and Mikolas, especially if they go on short rest, is risky business. The problem is, two of the top two arms on the market come with caveats.
Cincinnati's Luis Castillo and Tyler Mahle will be rumored to many teams over the next few weeks. However, trades within a division are rare and costly. If that eliminates trading with the Reds, Oakland's Frankie Montas becomes the number one target.
Oakland started their rebuild in the offseason targeting mostly older prospects and overlooked young talent with MLB experience. Players who could help the Athletics sooner, rather than later. The Cardinals have several players who fit this profile such as Nolan Gorman, Mathew Liberatore, Brendan Donovan, and Juan Yepez. Now the Cardinals need to decide if they are willing to subtract from their young contributing talent to land an ace.
Middle Infield
Current Options: Tommy Edman, Edmundo Sosa, Nolan Gorman, Brendan Donovan (UTL), Paul DeJong (Minors)
Paul DeJong has been mostly a starter for the past five seasons in St. Louis. After getting the Opening Day start this season, he now finds himself in the minors. Tommy Edman has taken over at shortstop, but his bat profiles better at second. His versatility allows the Cardinals to target either a second baseman or shortstop, depending on what the market has to offer.
The Cardinals promoted top 100 prospect Nolan Gorman to see if he could be the answer at second base. Through 43 games, Gorman has been pretty streaky but still carries a 128 wRC+. If the Cardinals feel like the rookie can continue to produce enough at second, they will have to be ok with shortstop not producing much power.
St. Louis could be perfectly content with Edman and Gorman as the starters. I doubt they are as content with the depth. Sosa has an underwhelming bat, DeJong is in Triple-A, and Donovan has been used more as a high level utility man.
Targets
The Cardinals could go in several directions to sure up the middle infield. If a starting caliber shortstop is too expensive or not available, they could focus on second base. If they are happy with Gorman, add a veteran backup. A player with versatility that could also help with outfield depth would be ideal.
The Royals Whit Merrifield is rumored every deadline, and I think this year he's finally on the move. Merrifield would be a great fit in St. Louis bringing a righty bat to platoon with Gorman while also providing depth in the outfield. The Cardinals value steals, ranking fourth in that department, and Merrifield would give them another plus baserunner.
The Cardinals are a very good team a piece or two away from being great. In a division that is so weak, there's not reason not to go for it. We all know Albert Pujols came back to be part of something special, and a magical year is within reach.