Analysis
Should the Mets Trade Francisco Alvarez for Juan Soto?
Mets top prospect Francisco Alvarez is a non-starter in almost any trade negotiations, but Juan Soto could just be the exception.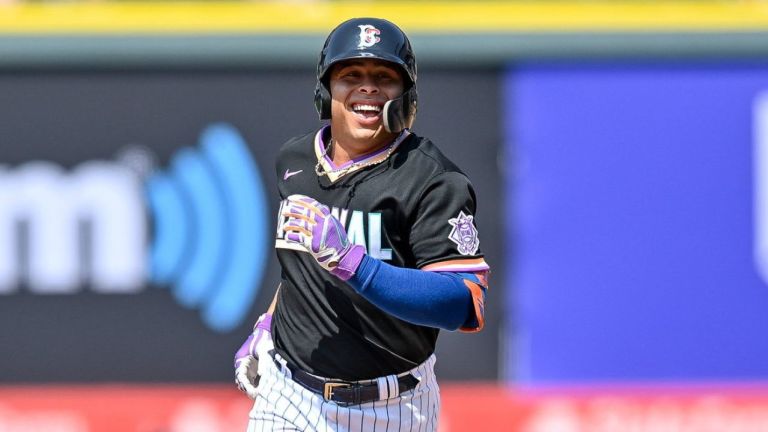 The term untouchable is often thrown around regarding top prospects in baseball, but not often do we really get to test that theory. Teams value the top prospects in their system greatly and when it comes down to the absolute top guy, they rarely move them in any deal.
Then again, no one is ever really untouchable. Especially when a 23-year-old superstar (with control) is made available, who could catapult a team from contender to World Series favorite.
That is exactly what happened this weekend when the Washington Nationals put Juan Soto on the trade block, creating a firestorm that has every fun on Twitter mocking trades that would land a top-five hitter in baseball in the middle of their favorite team's lineup.
For the New York Mets, the discussion around Soto is rather simple. Are you willing to part with a catcher that could be the top prospect in all of baseball to try to win a World Series with Juan Soto right now.
How Can't-Miss is Francisco Alvarez as a Prospect?
Francisco Alvarez may be a bit a short of life experience, but he certainly is not short of confidence. During spring training, the 20-year-old prospect was asked about his goals this season and he loudly proclaimed one giant one.
That he would be up in the majors this season.
The idea that the Mets would promote the crown jewel of their farm system before his 21st birthday seemed ludicrous at the time. Along with needing his bat to be ready, the Mets have to make sure they develop the catcher properly behind the dish, as the luxury of having this level of a premium offensive talent at the catcher position is as tantalizing as it gets.
When Aram Leighton wrote about him in our preseason top 100 list, he made a comp that was bold and yet not far-fetched when he alluded to the fact that the Mets might have their next Mike Piazza in Alvarez. The slugger was the No. 5 prospect on that last list, but has a chance to be even closer to the top in our midseason update.
After a very strong season split between Low-A and High-A in 2021, New York placed Alvarez in Double-A Binghamton to start this season. Now a few months later, Alvarez has earned a promotion to Triple-A and is just one stop away from making his lofty preseason prediction come true.
Success in Double-A
Francisco Alvarez hit the ground running as a Binghamton Rumble Pony, homering in each of his first three games this season. Alvarez would homer again in his sixth game and carried a .375/.429/1.000 slash line on April 17th.
Teams began to catch on to Alvarez after that and the catcher endured the worst slump of his young career. Alvarez struggled for the remainder of April, before those woes followed him into May. At his lowest point on May 11th, Alvarez was hitting .209/.314/.419. He had not homered since that game on April 17th, as he ended up with a streak of 30 games without hitting a longball.
That all changed on May 26th, when Alvarez erupted for a two-home run game that reinvigorated his season. Prior to that game, Alvarez had begun to swing the bat a bit better, raising his average over 50 points from where it stood a few weeks before.
Once the homers started coming though, they didn't stop.
From May 26th through his promotion to Triple-A on July 2nd, Alvarez blasted 14 home runs in 21 games. He hit .319/.418/.731, with 21 of his 38 hits going for extra bases during that span. This led to his promotion to Triple-A, as teams began to just pitch around Alvarez entirely by the end of his stint in Double-A.
All told, Alvarez played 67 games at Double-A and hit .277/.368/.553, with 18 home runs, 47 RBIs and a 148 wRC+. Since the start of the 2021 season, Alvarez leads all of Mets prospects with 42 home runs hit across 174 games played.
Is Alvarez Really Untouchable?
If you asked me this question a week ago, I would say absolutely. In fact, somebody floated the idea of the Mets trading Alvarez for Mike Trout and I loudly proclaimed on my podcast that I would hang up the phone. Trout is the best player in baseball, but he is 30 years old. Juan Soto is only 23.
As a long-suffering fan, the idea of adding Soto to compliment Pete Alonso and Francisco Lindor in the middle of the Mets lineup is too tantalizing to pass up. Soto immediately vaults the Mets into the conversation with the Dodgers as the best team in the National League and if Jacob deGrom return to form in the second half, they might just be the actual favorite.
This season, the Mets are getting absolutely no production from the DH spot in their lineup. As a team, Mets DH's are hitting .220/.301/.369, with just nine home runs and 45 RBIs. Remove Pete Alonso's 21 games as a DH and you strip five of the home runs and 19 of the RBIs from the team's total.
Bottom line, they absolutely have to address their need for another big bat in the middle of their lineup for the second half and there is not a better option in baseball than Juan Soto.
Soto is having a "down-year" as he is hitting just .250, but still has 20 home runs and a 152 wRC+. Alonso has four more home runs than Soto, but since he gets on-base at a .339 clip compared to Soto at .405, his wRC+ is 13 points lower at 139. Point being, Soto would instantly become the Mets best hitter.
There is no question that if the Mets acquired Soto, Steve Cohen would give him the blank check he requires to spend the remainder of his career in Queens. This is why you would even consider trading the best prospect you have had since Darryl Strawberry, because Soto is so young and could be the cornerstone you build your entire franchise around.
With that said, this would no be a one-for-one swap. Alvarez is just the center of what would be a much larger trade, where the Mets would essentially hand their farm system to Nationals, while also potentially talking on Patrick Corbin's contract in the deal.
Soto was thriving at the big league level at just 19 years old and was winning a World Series at age-20. If the Mets really believe in Alvarez as a prospect, the smartest move is to show some patience and wait for him to become the next cornerstone of the Mets.
Will Alvarez Make His MLB Debut in 2022?
Regardless of what happens from here, this season is already a success for Francisco Alvarez. Earning a promotion to Triple-A is about all you could have realistically asked for from the 20-year-old, who is still playing in just his second full season above rookie ball.
Now Alvarez will have to once again prove himself at a new level before we can even began to talk about what he could bring to the New York Mets.
Through his first eight games in Syracuse, it does appear like Alvarez needs a little more seasoning in the minors. He is just 2-for-23 with seven walks across his first 30 plate appearances. Definitely way too early to be concerned, but it does show that baseball is a game of adjustments and while Alvarez's bat is almost MLB-ready, there is still a lot he has to learn.
As much as the Mets could use Alvarez's bat in the lineup, this is not the type of prospect that you rush based on need. James McCann is on the IL now with an oblique strain, but that should have no consequence on what the Mets do with Alvarez.
Alvarez will decide when he is ready for the big leagues with his play at Triple-A and until he really forces the Mets hand, expect them to take a cautious approach. Not only does Alvarez have to prove the bat is MLB-ready but he also has to prove he can guide a veteran pitching staff at such a young age.
The idea of Alvarez being the starting catcher by the playoffs is a little far-fetched because of the steep learning curve he would need to overcome defensively. Still, there is a path to playing time at the big league level for Alvarez and its one that we have already discussed in this article.
The Mets have gotten next to no production from their DH position and are still searching for answers as we near the trade deadline. Alvarez could fill that void at DH, without having to worry about the pressures of leading a staff as a young catcher.
Last week, I wrote about how it is time for the Mets to promote fellow top prospect Mark Vientos to fill that void at DH. If he's not the answer though, Alvarez becomes the next logical solution that could change the trajectory of the Mets this season when it comes to internal options.
Mets fans can dream all they want about the possibility of Soto being on the Mets, but in reality, the future is very bright with Alvarez and that is where fans really should pin their hopes.