Analysis
The Time is Now for the Mets to Promote Mark Vientos
After struggling all year to find production at DH, the New York Mets could soon look to Triple-A to find the missing piece to their lineup.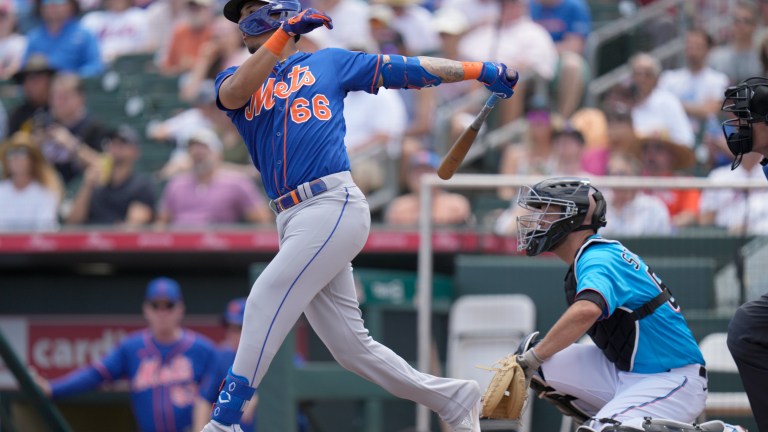 Playing against the Lehigh Valley Iron Pigs on Friday night, Mark Vientos batted third for the Syracuse Mets in what was his 66th career game at Triple-A. The 22-year-old slugger earned a late-season promotion to Syracuse in 2021, finishing off a season where he hit 25 home runs in 83 games played.
Vientos did not get off to great start this season, but really began to turn things around once the calendar turned to May. As the weather warmed up, so did Vientos' bat and that right-handed stick has been scorching hot lately.
Having already homered in each of his last two games, Vientos went for the trifecta last night and came up with his 14th home run of the season.
Not many hitters in baseball have the kind of power to get under a pitch and still drive it out of the yard in deep right center field. Vientos has crazy pop and does not have much left to prove at the minor league level before we see him at the show.
While the Mets have been one of the game's most prolific offenses this season, they have a lineup devoid of real home run threats outside of Pete Alonso and Francisco Lindor. Adding Vientos into that lineup could be the perfect final piece to take the Mets to another level.
The question is, will they pull the trigger on promoting their top prospect sooner rather than later?
The Mets Designated Hitter Problem
If there is one position in the Mets starting lineup that has been a bit of a revolving door this season, it's their DH spot. First occupied by Robinson Cano, the Mets have tried Dominic Smith, JD Davis and Nick Plummer as designated hitters this year and none of them have found much success.
Across their first 77 games played, Mets designated hitters are batting .228/.311/.379, with eight home runs and 35 RBIs. Their .690 OPS ranks 19th among MLB teams, as does their eight home runs. Now those stats become even more glaring when you remove Pete Alonso from the equation.
The Mets first baseman has started 17 games at DH this year and has hit five home runs with 17 RBIs in those starts. Remove Alonso's home run and RBI totals and the Mets have only gotten three home runs and 18 RBIs in the other 60 games out of their DH spot.
Mark Vientos can certainly do better than that.
The only problem the Mets have is that they are in a bad place with a pair of underperforming veterans on their roster in Davis and Smith. Just last month, Smith was teammates with Vientos in Syracuse, after a midseason demotion saw the 27-year-old back in the minors for the first time since 2018.
Davis on the other hand is the de facto primary DH right now, but has far but run away with the job. In 32 games as the Mets DH, Davis is hitting .270/.354/.396, with a pedestrian .750 OPS. While he can keep the line moving, Davis does not add much thump to the Mets lineup.
Since 2021, Davis has only hit seven home runs across 124 games played. Meanwhile in the upper levels of the minors, Vientos has hit 39 home runs in 138 games played. Considering the Mets DH problem is something they are looking to solve before the playoffs, it would be wise to take a look at Vientos now, before deciding if they need to make a move at the deadline.
Is Vientos Really Ready?
Simply put, if Mark Vientos hits his ceiling, he will be a 40-HR hitter in the big leagues. That is the type of potential we are talking about with this former second round pick.
Drafted back in 2017, Vientos was only 17 years old when he began his professional career. Prior to the 2021 season, the highest level Vientos had played was in Low-A back in 2019. After losing a year of his development in 2020, the Mets aggressively placed the slugger in Double-A to start the season last year.
While he stumbled out of the gate, Vientos went on to have a very strong season in Double-A, hitting .281/.346/.580, with 22 home runs and a 144 wRC+ in 72 games. He was then promoted to Triple-A, where he played 11 games to finish the season.
If you compare the 66 games Vientos has played at the highest minor league level to the numbers Pete Alonso put up in Triple-A back in 2018, you can get a sense of the type of player the top prospect could be once promoted.
| | | | | |
| --- | --- | --- | --- | --- |
| Triple-A Stats | Slash Line | HR | BB% | K% |
| Pete Alonso | .260/.355/.585 | 21 | 11.0 | 25.9 |
| Mark Vientos | .256/.359/.521 | 17 | 13.0 | 30.8 |
Now no one is saying Vientos is going to be the next Alonso. Pete was a far more complete hitter when he made his debut on Opening Day in 2019. Alonso had 41 extra-base hits in 67 games at Triple-A, where Vientos has just 27. He also drove in 67 runs, compared to Vientos, who has 39 RBIs in Triple-A.
Still, if Vientos can even be a 70% facsimile of Alonso, isn't that better than anything the Mets have at DH right now?
The 22-year-old will strike out a ton, but at least he has learned how to take his walks to make up for all the swing-and-miss in his game. When he does connect, Vientos hits baseballs a very long way.
After hitting just .164/.257/.311, with only one home run in April, Vientos has really found his footing over the last few months. Since May, he is hitting .291/.394/.599, with 13 home runs.
Of the 16 games the Mets have left before the All-Star break, the only team they are playing that is over .500 is the Atlanta Braves. New York plays two more games this weekend against the Rangers, before traveling to Cincinnati to take on the Reds at the Great American (Bandbox) Ball Park.
The Mets will then return home for a four-game set against the Marlins, before heading out to Atlanta for three and then to Chicago for four against the Cubs to close out the first half. Right now, Vientos could get acclimated to the big league level against some bad teams, while also playing in some pretty hitter-friendly ballparks.
Considering how hot he is, and the slate that is in front of them, this really is the perfect time for the Mets to promote Vientos. It is time to give the DH of the future a chance to earn his place now in the present.