Analysis
Shohei Ohtani vs. Aaron Judge: Who Deserves the AL MVP?
Aaron Judge is having a historically great season, but has he done enough to supplant the reigning MVP in Shoehi Ohtani?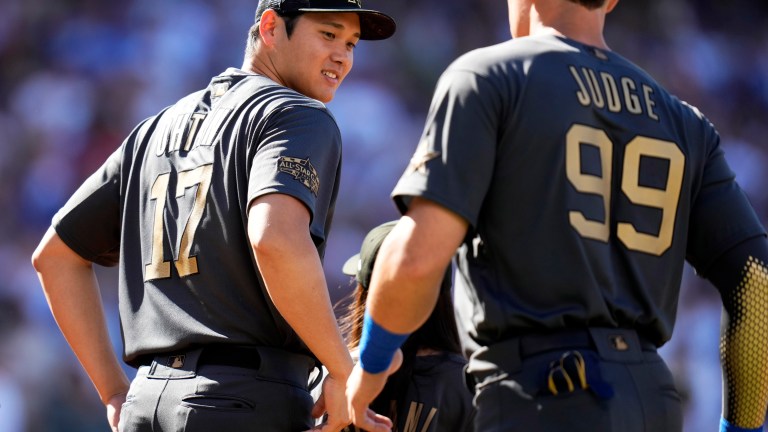 The biggest headline over the past week in MLB has been the great debate on who should win the AL MVP. Aaron Judge or Shohei Ohtani?
Aaron Judge is currently on pace to beat Roger Maris' single season record of 61 home runs, and generational two-way player Shohei Ohtani has performed as not just a top-15 hitter, but a top-15 pitcher as well.
It's the hardest topic in the game to discuss. It would take a monumental effort to unearth any Shohei Ohtani season, but it seems Judge is making an incredible case to do so. Vladimir Guerrero Jr. almost won a Triple Crown last season and was unable to even sniff a first-place vote as Ohtani gained his first MVP.
It's hard to argue against Ohtani. This is the type of player we've never seen in our lifetimes, a true unicorn in the sport today. But Judge on the other hand, is having an offensive season like no other. Has he proved that he deserves this prestigious award? Or does another immaculate season from Shohei prove to be the ultimate trump card? Let's take a dive.
Aaron Judge's MVP case
2022 Stats: .302/.403/.682, 1.085 OPS, 202 wRC+, 54 HR, 117 RBI, .450 wOBA, 2 OAA, 8.9 fWAR
The offensive output we are seeing from Aaron Judge might be something we will never see again in our lifetimes. With 31 games remaining in the regular season, the slugger needs to mash eight more home runs to beat Roger Maris' single season record of 61 home runs. Judge's current total of a 202 wRC+ would be the highest in a single season since 2004, when Barry Bonds clipped a 233 wRC+.
As of today, Aaron Judge leads baseball in pretty much every single offensive statistical category. This includes HR (54), RBI (117), runs (109), XBH (76), SLG (.682), OPS (1.085), OPS+ (201), wRC+ (202), total bases (330), fWAR (8.9), and bWAR (8.2). Simply dominant. And yes, he clears Ohtani in every single one of these categories.
And not to mention, the 6'7″, 282-pound demon has also swiped 15 bags, a career-high. He's done it all on the offensive side of the ball.
His Baseball Savant Page really shows how incredible he's been with the bat this year. He ranks in the 100th percentile of all hitters in average exit velocity, xwOBA, hard hit rate, expected slugging, and barrel percentage. The thing bleeds red!
Not to mention, the page shows that Judge is ranked in the 74th percentile in outs above average… while playing in his secondary position. The outfielder has spent 100 more innings in center field as compared to his primary position in right. His ability to cover any outfield spot where the Yankees have had holes is a phenomenal attribute to his game.
There have been points in time this season where Judge has completely carried the load of his team's offense. As he is set to become a free agent at the end of the season, this might be the greatest "walk" year of all time.
The largest argument that you will find on the internet in this MVP race is found in WAR. I'd like to add another statistic into this race, and that's win probability added (WPA). As for Judge compared to Ohtani, he tops him in both of these spots.
Judge's fWAR of 8.9 is larger than Ohtani's total fWAR of 7.9. As far as WPA, Judge has accumulated a 6.27 on the season. Ohtani? 4.22. Statistically speaking, Judge has added more wins to the Yankees than Ohtani has with the Angels.
Judge's historic offensive season combined with the value he brings to the Yankees as a team make him a clear-cut MVP candidate. The resume he brings to the table speaks for itself, as he is a worthy opponent to take down Ohtani.
Where would the Yankees be without Judge?
With their massive slumps recently, probably nowhere to be seen. But has he done enough to defy the odds and win his first MVP award?
Shohei Ohtani's MVP case
2022 Hitting Stats: .270/.360/.537, .898 OPS, 148 wRC+, 32 HR, 85 RBI, .378 wOBA, 3.5 fWAR
2022 Pitching Stats: 11 wins, 136 IP, 2.58 ERA, 2.54 FIP, 181 K, 33% K%, 6% BB%, 1.04 WHIP, 4.4 fWAR
When we speak about Shohei Ohtani's MVP case, we must evaluate what it means to be the "MVP". Not only is the phenom a 148 wRC+ hitter with 32 home runs, but he's also a Cy Young candidate with the ninth-lowest ERA in the game. He's everything as advertised.
Not to mention, he's elevated his game as a pitcher this year, posting better numbers all across the board. Ohtani's ability to both hit and pitch at the highest level make him the most valuable player in the sport by a measurable amount.
The player's 7.9 total fWAR is the second-highest mark in MLB behind Judge. Not to mention, he is completely carrying the Angels at this stage of the game. Shohei leads the Angels in batting average (.270), home runs (32), OBP (.360), hits (130), pitcher wins (11), ERA (2.58) and strikeouts (181). Friendly reminder, this is the same team that employs Mike Trout. Impressive stuff.
Ohtani just a week ago became the first player EVER to reach 10 pitcher wins and smack 30 home runs in the same season. This league has been around for nearly 120 years, and he accomplished that feat. Judge's historic offensive season may be the most impressive we've seen in 20 years, but Shohei's greatness will last an entire lifetime.
He's slugged 32 home runs this year, which is good for sixth-best in MLB. And his 2.58 ERA is the fifth-best mark in the American League. He's doing it all right now, and has had an incredible push during the month of August.
Since August 1st, Shohei has slashed .316/.388/.675 with a whopping 192 wRC+. He began the calendar month at 22 bombs. Since then, he's mashed 10 into the seats, driving in 23 runs and scoring 20 himself.
And on the mound, he's been a force to be reckoned with. During his six starts since August 1st, Ohtani has thrown 36 innings with a 1.96 ERA. He's struck out eight hitters per nine and is only walking two, adding 1 WAR to his entire season total. He's ramped up this MVP race with his recent performances and this deserves to be recognized.
Shohei Ohtani's value as both a hitter and a pitcher prove how important he's been to his team in 2022. Does Aaron Judge pitch? Didn't think so. As the award states, Ohtani is indeed the Most Valuable Player in the sport at this current moment and will be for years to come. In contrast, does Judge's historic season overshadow another masterclass from the Japanese import?
The Final Verdict
Aaron Judge is the 2022 American League MVP.
As it currently stands, Aaron Judge is on pace to break the single season home run record by two bombs and will have had the greatest offensive season by any player since the steroid era. The WAR and WPA totals suggest that Judge has been more valuable to his team than Ohtani has, despite Ohtani's dominance on the mound.
It's a known fact that Shohei Ohtani should be in contention for the MVP award every single season he touches the diamond, strictly because of the versatility he brings to the table. To beat him, you have to do something historic. If Judge breaks the record, and maintains his wRC+ total or higher, he fully deserves this award.
Yes, Shohei's season has been amazing. But Judge's season will belong in the record books as he could break a record that has stood for nearly 80 years. This will come down to the wire. And truly, there's no right or wrong answer in this equation. Both are uber-talented competitors at the top of their game. And we as fans, are all here to witness both players' greatness.