Analysis
Early 2023 AL and NL MVP Odds: Ohtani and Acuña Lead the Pack
Through the first third of the 2023 season, Shohei Ohtani and Ronald Acuña Jr. are the frontrunners in their respective leagues to win the MVP.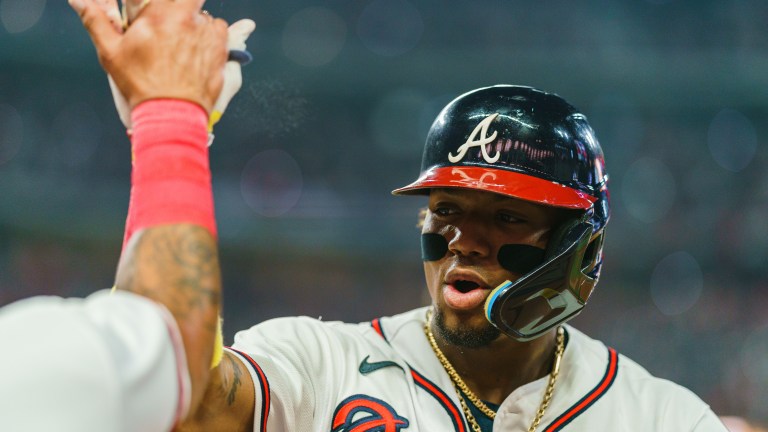 We have now watched over two months of Major League Baseball play out during the 2023 season, and players around the league are starting to stand out for their work on the diamond.
There are guys like Aaron Judge and Shohei Ohtani, who continue to prove they are among the best performers in the game and then there are players like Ronald Acuña Jr. who is finally putting it altogether after a few seasons battling back from a tough knee injury.
Now is the perfect time to check in on the MVP future odds for this season, to see where the value lies in betting on who will take home the top player award.
All odds are provided from our partners at BetMGM. If you sign up to BetMGM with our promo code JUSTBASEBALL you will receive up to $1,000 in Bonus Bets back if your first bet doesn't win.
AL MVP Odds
Shohei Ohtani: -125
Aaron Judge: +700
Yordan Alvarez: +1600
Marcus Semien: +2000
Mike Trout, Wander Franco, Bo Bichette: +3000
Randy Arozarena, Adley Rutschman: +3300
Vlad Guerrero Jr: +4000
The odds-on favorite to win the MVP in the American League is of course Shohei Ohtani. What he does as a two-way player is unmatched when it comes to value for a franchise. Ohtani is an ace and top flight slugger, which is a package that is impossible to match.
Aaron Judge had to play so far out of his mind in a contract year to beat Ohtani last season and now it is Ohtani who is playing for the contract. Judge still has 19 home runs, a .676 slugging percentage and a 189 wRC+, but Ohtani is sitting with 16 home runs and 96 strikeouts.
If there were a player who could put up the type of gaudy offensive season that could push Ohtani, it would of course be Judge again, so there is value to lay a wager on him but its still pretty hard to see anyone else winning the award except Ohtani.
At the same time, there is a world where a player wins the MVP for having a career year, paired with great team success as their best player, for which any of Marcus Semien, Wander Franco, Bo Bichette, or Adley Rutschman could qualify.
NL MVP Odds
Ronald Acuña Jr.: +115
Freddie Freeman: +500
Mookie Betts +1000
Pete Alonso +1200
Juan Soto: +2000
Paul Goldschmidt, Fernando Tatis Jr.: +2500
Bryce Harper, Sean Murphy, Matt Olson: +4000
Luis Arraez: +5000
The NL MVP race is way more wide-open, although Ronald Acuña Jr. is certainly the early frontrunner. Acuña is hitting .331/.404/.555, with 12 home runs, 28 steals and a 157 wRC+.
The 25-year-old is pacing the National League in fWAR, along with teammate Sean Murphy, at 2.9 and has a legitimate chance to hit 30 home runs and swipe 60 bags this season.
Beyond Acuña, Freddie Freeman is having another excellent season with the Dodgers and is the type of consistent player that you can bet on and feel confident that the numbers won't fall off midseason. The same could be said about his teammate Mookie Betts.
Pete Alonso, Juan Soto, Fernando Tatis Jr. and Paul Goldschmidt all belong to the class of players who are great on teams who have underwhelmed this year, who could become MVP candidates if they lead a big comeback push for a playoff spot. Bryce Harper would belong to that group as well, but is playing from behind after missing the start of the season.
Last but not least, it would be foolish not to mention Mr. .400 himself, Luis Arraez, who is sitting with +5000 odds despite leading the league in batting. Arraez is about as dark of a horse as you'd find in an MVP race, but if he pulls off the impossible he can certainly take home on the award.
And by the impossible, I mean lead the Marlins into the playoffs. Throw in hitting .400 in the process and you never know how much of a narrative push he can get from voters.