Analysis
Aaron Judge is Powering Himself to an All-Time MVP Campaign
Aaron Judge might just chase down Roger Maris this season, as he is putting together a historic home run hitting MVP campaign for the Yankees.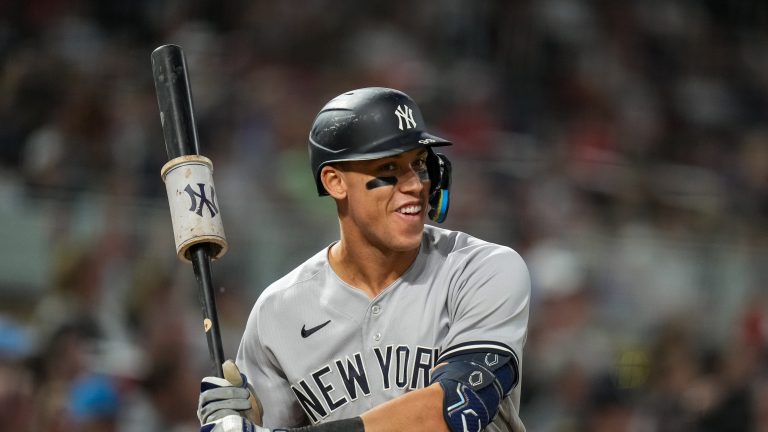 It's no secret that Aaron Judge is the best player on the planet right now. His 46 home runs through his first 112 games is astounding, as he only mashed 39 in 148 games last season. The Maris record of 61 is well in reach and could still be achieved.
Judge has accumulated a 199 wRC+ this season, meaning he is 99% better than the league-average hitter. It's very well a possibility that he could clip the first ever season above a 200 wRC+, not including Juan Soto's tally of 201 in the shortened 2020 season. With that being said, his 2022 campaign could go down as one of the greatest seasons of all-time if he keeps up this pace.
To unearth the greatness of Shohei Ohtani takes an incredible amount of effort. A two-way player with a sub 2 ERA who mashes 40 bombs a year should be the MVP without a doubt. Despite this, Judge is the MVP favorite. The right fielder's 7.5 fWAR leads all of MLB, with Ohtani trailing by nearly an entire point and a half at 6.1.
Reminder, Ohtani is a player that can accumulate WAR at the plate and on the mound. Judge's presence in the outfield, and especially at the plate, make him the undisputed MVP.
It's difficult to truly grasp how great Aaron Judge has been in 2022. On a given night where he doesn't hit a home run, it's a surprise. As a Yankee fan, I have gotten so accustomed to watching the 30-year-old mash one every single night. It's truly the greatest season I've personally experienced in my lifetime, and if you're reading this, there's a high chance this is the best one you've ever seen too.
Keeping up with the Greats
Believe it or not, Judge's slugging percentage of .678 is the second-highest mark since 2005 by any hitter. His 1.076 OPS is the 13th-highest in that span, and his projected home run total of 62 will be the closest any player has come to breaking Maris' record since teammate Giancarlo Stanton hit 59 bombs in 2017.
Judge's tally of 43 home runs is included in a legendary list of players after their first 106 games… here is the list.
Most home runs through 106 team games
45 – Barry Bonds, 2001 – total 73
45 – Mark McGwire, 1998 – total 70
44 – Babe Ruth, 1921 – total 59
43 – Aaron Judge, 2022 – total ???
43 – Babe Ruth, 1928 – total 54
Judge's tally of 46 home runs is already the 14th-highest by a Yankee all-time, surrounded by names like Ruth, Gehrig, DiMaggio and Rodriguez. It's truly a legendary achievement by a player of this caliber. Judge has shot himself into the status of former Yankee greats with these achievements. The slash line of .300/.397/.674 with an insane ISO of .374 is incredibly impressive.
Comparably, his .374 ISO is far and beyond Yordan Alvarez's mark of .325, the second-highest mark in the league this season. He is mashing the life out of the ball right now.
Getting back to the home runs, there have only been six players since 2000 who have hit more than 55 home runs in a season. Mind you, some of these individuals have steroid links so we can't even really determine if they were legitimate. But Judge, without the juice, is right up there. Here's the list.
Players with 55 or more home runs in a single season (Since 2000)
73 – Barry Bonds, 2001
64 – Sammy Sosa, 2001
59 – Giancarlo Stanton, 2017
58 – Ryan Howard, 2006
57 – Luis Gonzalez, 2001
57 – Alex Rodriguez, 2002
There is a very legitimate chance that Judge can end up on this list come season's end. With 50 games left this season, it'll take another crazy run from the right fielder. But it's without a doubt a possibility.
With the Yankees struggling like they have as of late, a spark could be provided from this guy, who could potentially reach Maris' record.
The greatest walk year ever?
It's been well documented that Aaron Judge will be a free agent following the 2022 season. I have spoken on numerous occasions about how Brian Cashman and the front office need to pay this man, and he's proved why with this historic campaign.
Judge turned down a seven-year, $210 million extension in the offseason. It's blatantly clear now that he is worth way more than this offer, and fully bet on himself this season.
Judge has placed himself in a position where he could be among some of the highest earners in the sport. To be fair, he has been the best player in baseball this season and will fully deserve whatever's coming his way. Other famous walk years we have seen big-time sluggers get the bag including Jason Giambi, Alex Rodriguez, Jim Thome, and Adrian Beltre.
Simply based off of wRC+, Judge's current tally of 199 would surpass all of those names in a contract season. He would be the highest earner out of the group due to the inflation of modern-day contracts. It's unclear whether or not the Yankees are willing to give Judge the money that he deserves, but someone will give it to him.
Aaron Judge is the New York Yankees. Sure, the team has the richest history in the entire sport with 27 World Series rings and a plethora of legendary players. Still, the Yankees are finished if Judge walks in the offseason.
He is the backbone of the franchise, the leader in the clubhouse, the captain. Look anywhere around Yankee Stadium on any given game day and all you see is 99 on the backs of thousands of fans. He has carried this team through multiple rough stretches this season, including their current slump.
If this organization refuses to give him the money he deserves, it will be the biggest letdown in Yankees history.
The best player in the entire sport?
It's an interesting conversation when we talk about who really is the greatest player in the game. You can make any list you want to in any order. But to me, Shohei Ohtani has to be number one. Strictly because he has dominated the game at the plate and the mound, Ohtani tops my personal list. But when you move on from that, who's at number two?
Our very own Peter Appel has declared his love for Mookie Betts, believing he should claim that spot besides Ohtani. But for me personally, it's Aaron Judge.
All Rise for the Judge
Judge's production in the outfield and at the dish have been second to none during the 2022 season. He ranks in the 100th percentile among all players in average exit velocity, xwOBA, barrel percentage, hard hit rate, and expected slugging. Oh, and he ranks in the 98th percentile or above in max exit velo and expected batting average. Combined with the 46 home runs and his whopping 199 wRC+, he's been the best hitter in the game. And I don't think it's particularly close.
Not to mention he plays stellar defense in both right and center field. Judge has stacked up 3 OAA and ranks in the 84th percentile among all defenders in the league. Not to mention he possesses an absolute cannon for an arm, with runners hardly daring to run on the judge. The ground Judge is able to cover in center field at 6'7″, 282 pounds is absolutely remarkable.
Aaron Judge is one of the best defenders in the modern game, and has cemented himself as the league's best hitter this season. Whether this trend will continue or not is yet to be seen, but for me, he's the second-best player in MLB.
With the chance of being among some of the most elite home run totals of all time, the wRC+ record, and a plethora of other accomplishments on tap, we are truly witnessing history this season.