Analysis
Is Aaron Judge on Pace for the Greatest Contract Year Ever?
At the quarter-mark of the season, Aaron Judge is playing better in his contract year than any player ever has before hitting free agency.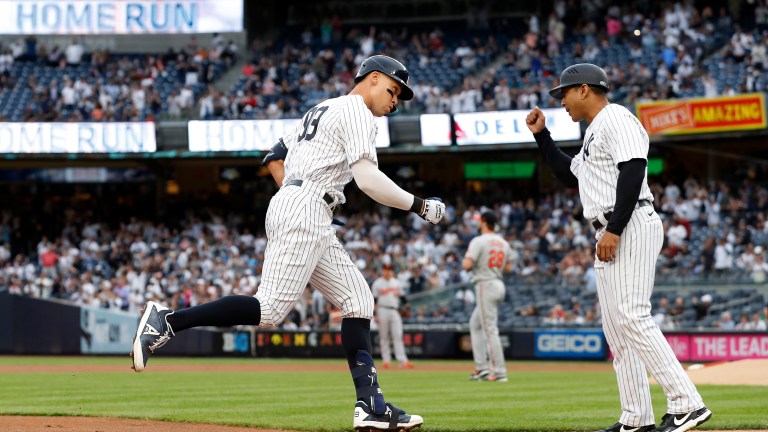 This offseason the New York Yankees reportedly offered Aaron Judge a seven-year, $213.5 million contract extension. On top of what he was bringing in his final season of arbitration, that would have been an eight-year, $230 million contract.
Getting paid just less than $30 million a year ($28.75 AAV) is nothing to sneeze at, especially considering Judge's injury history, but the 30-year-old knew he was worth way more. When on the field, Judge is capable of being the best player in baseball.
So far this season, he has been exactly that.
Obviously an argument can be made for MLB's fWAR leader Manny Machado (3.4), or even Mike Trout, but what Judge has done through a quarter of a season has been simply remarkable. He is leading the best team in baseball and is pacing the league with 17 home runs in 42 games played.
Judge's 209 wRC+ trails only Trout (216), but his absurd .688 slugging percentage and .375 ISO are the best marks in baseball. If he can maintain this production for the remainder of the season, Judge may damn-near double the value of that $213.5 million extension he was offered a few months ago.
Last year, Judge put together his first completely healthy season since his record-setting Rookie of the Year campaign back in 2017. The right fielder played in 148 games, made his third All-Star appearance, won his second Silver Slugger and finished fourth in the AL MVP voting.
If Judge can stay on the field again, there is no telling what kind of awards and records he could pile up in what could be his last season in pinstripes.
Through 42 games the numbers for Judge are something out of a video game. If we extrapolate his stats out over 150 games played, Judge could be on pace for an unprecedented season playing out a contract year.
Since 2000, no player has ever posted a wRC+ over 200 in a contract year. Judge's .688 slugging percentage would be a record as well. When it comes to home runs, Judge is on pace to hit 60, which would be six more than Alex Rodriguez hit before opting out of his contract with the Yankees in 2007.
While free agency has existed since 1972, player movement for nine-figure contracts really wasn't popularized until the turn of the century. Looking back over the last 22 seasons, I wanted to know who had the best contract year in MLB history and what would it take for Judge's to be better.
Here is my top 10 list of the greatest contract years in MLB history:
1. Jason Giambi 2001, (193 wRC+)
Traditional Stats: .342/.477/.660, 38 HR, 87 XBH, 120 RBI, 109 R, 671 PA
Advanced Stats: 19.2% BB%, 12.4 K%, 193 wRC+, .465 wOBA, 9.2 fWAR
We are going in a descending order with this list to get right to the season Aaron Judge will have to eclipse to have the greatest contract year in MLB history. Jason Giambi's 2001 campaign, which was famously depicted in the beginning of Moneyball, was incredible.
Remember how the Athletics couldn't pay Giambi and Damon? Well here is why.
Jason Giambi had 671 plate appearances for the 2001 Oakland Athletics. He got on base 331 times, leading the AL in walks (129).
Unfortunately for Giambi, the baseball community was not understanding of the fact that on-base percentage was more important than batting average, because he was absolutely snubbed from winning back-to-back MVP awards.
In 2000, Giambi won the lone MVP of his career when he hit .333/.476/.647, with 43 home runs, 137 RBIs and a 183 wRC+. Giambi posted a 7.7 fWAR in his MVP season, which was 1.5 wins less than the mark he posted in 2001.
Instead of Giambi winning the award, it was Ichiro Suzuki who took home the honors, winning both the Rookie of the Year and the MVP in the same season. Suzuki was great, don't get me wrong. He led MLB with 242 hits and 56 stolen bases, taking the nation by storm with his unconventional approach to hitting.
Still, Suzuki only edged out Giambi by eight points to win the batting title but had an on-base percentage nearly 100 points lower than Oakland's first baseman. Even worse, Suzuki's .838 OPS was almost exactly 300 points lower than Giambi's!
Hitting free agency as a back-to-back MVP would have been unprecedented. If Judge wins the MVP this year (like Giambi should have), he could go down as having the greatest contract year ever.
Contract: Seven-year, $120 million with the New York Yankees
After Giambi posted his video game numbers in Oakland, George Steinbrenner brought the slugger over to the Yankees on a $120 million contract. Giambi joined the Yankees when they were a year removed from a five-year period where they won four World Series from 1996 through 2000.
The Yankees did not win any World Series in Giambi's seven years with the club, then won one as soon as he left in 2009. That does not mean the lack of success was his fault though. Giambi posted a 143 OPS+ in his Yankees career, which was just one point lower than the 144 OPS+ he posted in Oakland.
2. Alex Rodriguez 2007, (175 wRC+)
Traditional Stats: .314/.422/.645, 54 HR, 85 XBH, 156 RBI, 143 R, 708 PA
Advanced Stats: 13.4% BB%, 16.9 K%, 175 wRC+, .445 wOBA, 9.6 fWAR
In 2007, Alex Rodriguez was the undisputed best player in baseball. Having already signed a 10-year, $252 million contract (we'll talk about that one later), Rodriguez was in line to cash in again thanks to an opt-out clause in the deal that allowed him to hit free agency following his age-31 season.
Over the first six years of the deal, Rodriguez won two MVPs and led the league in home runs four times. Acquired by the Yankees in a trade prior to the 2004 season, Rodriguez had achieved a lot of personal accolades in New York, but the team couldn't get over the hump.
This is why it was extremely controversial when agent Scott Boras announced that Rodriguez would opt out of his contract during the 2007 World Series with the Boston Red Sox on the verge of winning their second title in four years.
If we look back at the season A-Rod had in 2007, there was never any question what he was going to do with that opt-out clause, because he was incredible.
Rodriguez led the league in runs (143), home runs (54), RBIs (156), SLG (.645), OPS (1.067) and OPS+ (176) and went on to win his third MVP. Still young enough to sign another decade-long deal, the decision to opt out was an absolute no-brainer.
Contract: 10-year, $275 million
While A-Rod's next decade with the Yankees was filled with controversy, he did ultimately get the job done and delivered a World Series title to New York in 2009.
3. Jim Thome 2002, (189 wRC+)
Traditional Stats: .304/.445/.677, 52 HR, 73 XBH, 118 RBI, 101 R, 613 PA
Advanced Stats: 19.9% BB%, 22.7 K%, 189 wRC+, .461 wOBA, 7.3 fWAR
Jim Thome deserves third mention on this list because he is the only player other than A-Rod to eclipsed 50 home runs in a contract year. Thome also has the distinction of being the only Hall of Famer on this list.
Establishing himself as a starter in 1994, Thome hit 324 home runs in his nine seasons before hitting free agency in 2002. That was the seventh-most home runs hit during that span (have to love the steroid era).
During his contract year, Jim Thome led the league in walks (122), slugging percentage (.677), OPS (1.122) and OPS+ (197). Along with having the top home run total on this list, Thome also led this group in slugging. Aaron Judge is currently outslugging that mark though with his .688 SLG.
Contract: Six-year, $85 million with the Philadelphia Phillies
In his first season playing in the National League with the Phillies, Thome tied A-Rod for the MLB-lead with his 47 home runs.
4. Adrian Beltre 2004, (161 wRC+)
Traditional Stats: .334/.388/.629, 48 HR, 80 XBH, 121 RBI, 104 R, 657 PA
Advanced Stats: 8.1% BB%, 13.2 K%, 161 wRC+, .423 wOBA, 9.7 fWAR
This is the one guy that I struggled with where to place on this list. Based solely on wRC+, Manny Ramirez was better, and he also produced more runs despite getting 125 less plate appearances than Adrian Beltre.
Still, Beltre gets into our top-four, as he damn-near posted a 10-win season in 2004.
Across his 21-year big league career, Beltre accumulated 3,166 hits and 200 of them came in his last season with the Los Angeles Dodgers in 2004. This was the one time in his career where he eclipsed 200 hits, with 48 of them leaving the yard for the MLB-lead in home runs.
You could make the argument that Beltre deserved to win the MVP in his contract year. That is, of course, only if Barry Bonds didn't exist. Bonds won his fourth-consecutive MVP in 2004, posting an absolutely absurd 233 wRC+ and 11.9 fWAR.
Still, Beltre was great and was able to parlay his strong season into a five-year deal with the Seattle Mariners.
Contract: Five-year, $64 million
Outside of a couple of Gold Gloves, Adrian Beltre's career in Seattle was rather uninspiring. So much so in fact that he was forced to sign a one-year prove-it deal with the Boston Red Sox after his previous five-year deal expired.
What did Beltre do on his next contract year, you ask?
He peppered the Green Monster with a league-leading 49 doubles and made his first All-Star team. Beltre also won the second Silver Slugger of his career, with both of them coming in contract years. He would go on to win two more during the final eight years of his career, after finding a home playing with the Texas Rangers.
5. Manny Ramirez, 2000 (182 wRC+)
Traditional Stats: .351/.457/.697, 38 HR, 74 XBH, 122 RBI, 92 R, 532 PA
Advanced Stats: 16.2% BB%, 22.0 K%, 182 wRC+, .477 wOBA, 4.8 fWAR
Everyone remembers the Red Sox version of Manny Ramirez, but we never talk about how awesome this guy was in his final two years in Cleveland. In 1999, Ramirez led MLB with 165 RBIs. What is crazy about his 2000 season is that he had 38 home runs and 122 RBIs, but played in only 118 games.
Over a two-year span, Ramirez played in 265 games and drove in 287 runs. Stretch that out to include the 145 RBIs Ramirez had in 1998 and your talking nearly 450 RBIs in three seasons. Insanity.
In his contract year in 2000, Ramirez was the best hitter in baseball not named Jason Giambi.
Contract: Seven-year, $119 million with the Boston Red Sox
Want to talk about consistency?
Check out Manny Ramirez's respective career numbers with Cleveland and Boston.
Cleveland (8 seasons): .313/.407/.592, .998 OPS
Boston (8 seasons): .312/.411/.588, .999 OPS
Steroids might keep him out of the Hall of Fame, but there is no question that Manny Ramirez is one of the greatest hitters this game has ever seen.
6. Prince Fielder 2011, (160 wRC+)
Traditional Stats: .299/.415/.566, 38 HR, 75 XBH, 120 RBI, 95 R, 692 PA
Advanced Stats: 15.5% BB%, 15.3 K%, 160 wRC+, .410 wOBA, 4.7 fWAR
The award for my favorite player on this list goes to none other than Prince Fielder. Now only 38 years old, Fielder could still be playing baseball if not for a career-ending neck injury. What we forget however, is that Fielder was once one of the game's most durable players.
From 2006 through 2013, Fielder missed just 13 games over eight seasons, playing all but one game in the final five years of that stretch. He played 162 during his contract year in 2011, his final season with the Milwaukee Brewers.
Across seven seasons in Milwaukee, Fielder hit 230 home runs and drove in 656. He was a three-time All-Star and won two Silver Sluggers, with one coming in his contract year in 2011.
That season, Fielder was the most feared hitter in baseball as he was intentionally walked more than anyone (32 IBB). He ended up finishing third in the NL MVP voting though, losing the award to teammate Ryan Braun.
Contract: Nine-year, $214 million with the Detroit Tigers
Fielder was solid in his two years spent in Detroit, hitting .295/.387/.491, with 55 home runs and 214 RBIs. He played in every game of those two seasons, before getting traded to the Texas Rangers prior to the 2014 season.
7. Alex Rodriguez, 2000 (158 wRC+)
Traditional Stats: .316/.420/.606, 41 HR, 77 XBH, 132 RBI, 134 R, 672 PA
Advanced Stats: 14.9% BB%, 18.0 K%, 158 wRC+, .431 wOBA, 9.5 fWAR
If you really want to get technical, this was the only contract year of Alex Rodriguez's illustrious MLB career (second one was an opt-out). While he was a polarizing player, you can make the argument that nobody did more for players when it came to free agency than A-Rod.
In the span of eight years, he signed two different record-setting contracts that were each worth more than a quarter of a billion dollars. Having made his MLB debut at just 18 years old, Rodriguez had the good fortune of hitting free agency after his age-24 season.
In 2000, Rodriguez concluded a seven-year career with the Seattle Mariners were he hit .309/.374/ .561, with the first 189 of his eventual 696 career home runs. Four times an All-Star in Seattle, Rodriguez would go on to enjoy more success in each of his next two stops, with the first one being an incredible three-year run in Texas with the Rangers.
Contract: 10-year, $252 million with the Texas Rangers
We always remember Yankees A-Rod, but let's take a moment to appreciate how awesome he was with the Rangers. Rodriguez averaged over 50 home runs and 130 RBIs a season in Texas and won his first MVP in 2003. He also won two Gold Gloves and three Silver Sluggers, cementing his status as the game's best player.
8. Anthony Rendon, 2019 (155 wRC+)
Traditional Stats: .319/.412/.598, 34 HR, 81 XBH, 126 RBI, 117 R, 646 PA
Advanced Stats: 12.4% BB%, 13.3 K%, 155 wRC+, .413 wOBA, 6.8 fWAR
In 2019, Anthony Rendon had the contract year of all contract years. A year where he not only posted career-best numbers across the board, but also won the World Series with the Washington Nationals, putting up great postseason numbers along the way.
Rendon was drafted by the Nationals with the sixth overall pick of the 2011 MLB Draft and spent the first seven seasons of his career in D.C.
The third baseman was one of the most consistently solid players in baseball, but did not make an All-Star Game until 2019. He ended up finishing third in the NL MVP voting and won his second Silver Slugger Award.
Like the next guy on this list, Rendon got his nine-figure bag from the Los Angeles Angels.
Contract: Seven-year, $245 million with the Los Angeles Angels
Rendon actually had a solid season in the COVID-shortened 2020 campaign (150 wRC+), but has posted an OPS below .750 over the last two seasons.
9. Josh Hamilton, 2012 (141 wRC+)
Traditional Stats: .285/.354/.577, 43 HR, 76 XBH, 128 RBI, 103 R, 636 PA
Advanced Stats: 9.4% BB%, 25.5% K%, 141 wRC+, .387 wOBA, 4.9 fWAR
Josh Hamilton's career was defined by it's great highs and awful lows, as he dealt with his well-documented issues with drug and alcohol abuse. There was however a five-year window from 2008 through 2012 where Hamilton was one of the best players in baseball for the Texas Rangers.
Hamilton hit 150 home runs during that span, where he was an All-Star every season. He won a batting title in 2010, hitting .359/.411/.633, with 32 home runs and 100 RBIs en route to winning the AL MVP and his second of three Silver Sluggers.
In 2012, Hamilton won his third and final Silver Slugger and finished fifth in the AL MVP voting. At 31 years old, the former first overall pick from the 1999 MLB Draft was finally a free agent. He went on to sign a five-year nine-figure deal with the Los Angeles Angels.
Contract: Five-year, $125 million with the Los Angeles Angels
Hamilton's injuries and drug abuse issues both arouse again under his new contract, and he only played 240 games with the Angeles in 2013 and 2014 before getting traded back to the Rangers in 2015. Hamilton played 50 games with Texas that season, but injuries ultimately ended his career early.
10. Marcus Semien, 2021 (131 wRC+)
Traditional Stats: .265/.334/.538, 45 HR, 86 XBH, 102 RBI, 115 R, 726 PA
Advanced Stats: 9.1% BB%, 20.2 K%, 131 wRC+, .368 wOBA, 6.2 fWAR
We conclude our list with one of the most recent contract year explosions. One that netted Marcus Semien a nine-figure contract after signing a one-year, prove-it deal with the Toronto Blue Jays.
Some would argue Carlos Correa had the better contract year, as he posted a slightly better wRC+ (134 compared to Semien's 131) and also posted a nearly identical fWAR despite playing 14 less games. But I'm giving Semien the nod thanks to the 45 home runs and the fact that he finished third in the AL MVP race.
Semien also played every single game of his contract year, only White Merrifield joined him in playing 162, and lead the MLB with 726 plate appearances. Semien actually posted a slightly better season in 2019, when he also finished third in the AL MVP race, but as a member of the Oakland Athletics.
After a down 2020, Semien signed with the Blue Jays and proved that 2019 was no fluke. He also took home hardware for the first time, winning a Gold Glove and a Silver Slugger Award.
Contract: Seven-year, $175 million with the Texas Rangers.
Unfortunately the first year of his new contract has not gone well, as Semien is currently one of the biggest disappointments in baseball with no home runs through his first 39 games played as a Ranger.