Analysis
San Francisco Giants Trade Deadline Outlook
Coming off an amazing 2021 season, the Giants have come back to Earth in 2022, yet still find themselves in the thick of the Wild Card race.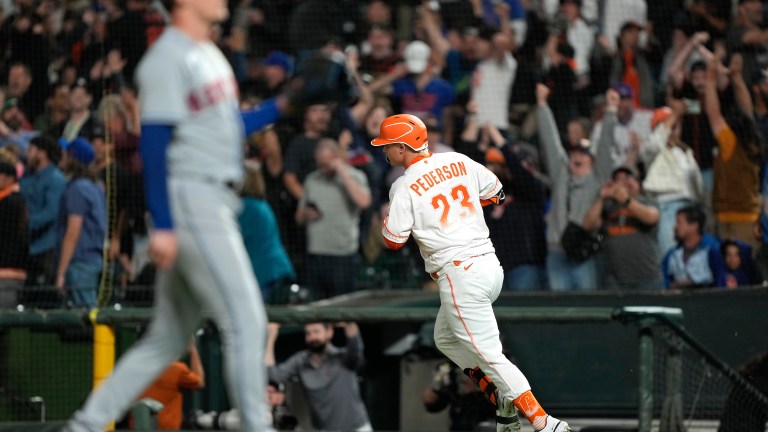 Coming off an MLB-best 107 wins last season, the San Francisco Giants entered 2022 with massive expectations. It was always unlikely they could match the magic of last year, but for such a successful organization, nothing short of competing for the NL West crown would suffice.
The Giants have had a very solid season so far, they are 48-43 and a half-game back in the Wild Card as of the All-Star Break. Yet 2022 has been disappointing so far for the city by the bay. The Giants have fallen from fifth to 10th in team wRC+—though their total has fallen just from 108 to 107. Their team ERA has fallen from second to 10th, from 3.25 to 3.76.
However, nothing has fallen off harder than the Giants defense. The Giants were a good defensive team in 2021, posting 32 defensive runs saved (DRS). This year they are third-worst in that category with -28. Only the Reds and Nationals are worse by the DRS metric.
All of that has led to a big falling off from the Giants in 2022, at least by their standards. At the break last year, San Francisco was 25 games over .500 and two games up in the division. Currently, they are 12.5 behind the runaway Dodgers and 2.5 back of the Padres for second in the NL West.
It leaves them in an interesting spot at the deadline as they can go in multiple directions. They have the arsenal of assets to acquire immediate help and launch themselves into a run in August and September. They also seem to have a low ceiling, possibly making them hesitant to auction off the future for a short-term fix.
The Giants are a prideful organization that have shown their main goal is winning championships. However, they built one of the most sustainable winners we have ever seen last decade and obviously know what it takes. The best idea seems to find a mix of these two options by buying pieces that will set them up to win for years to come.
Of course, there is the nuclear option that many big clubs will be considering this summer: Juan Soto. The Giants have been mentioned as a player for Soto and have the means to get it done. Having recently spent four days at Oracle Park watching the Giants, one thing became clear: they need star power. Let us start there.
The Soto Option
The Giants desperately need a star to reignite an offense that does not have a lot of firepower. They can score in bunches but they have been inconsistent, going through really tough stretches at times this season. With the retirement of Buster Posey and Kris Bryant walking in free agency, San Francisco does not have that guy to hold it all together in the middle of the lineup. Brandon's Crawford and Belt are legends in San Fran, but they have regressed following their 2021 resurgences.
This is why I believe they should make a play for Aaron Judge this offseason, but now the Soto option has emerged. Is there any more perfect fit for what the Giants need than Juan Soto?
His gorgeous left-handed swing plays perfectly to pepper McCovey Cove with dingers, and his pole-to-pole power will help overcome a tough hitting environment. Triples alley in right-center seems like it's just waiting for Soto to find it.
Some have argued that Soto could go down as the best left-handed hitter since a certain Giants legend. That, of course, is Barry Bonds who reached McCovey Cove 35 times in his career as a Giant. He only played six seasons in Oracle Park—imagine how many the 23-year-old Soto could rack up if he spends the rest of his career there.
Soto is far from a great defender, but you can ignore that considering the boost his bat would provide. It would allow the Giants to seek out cheaper defensive options in center and left to improve the struggling defense. Soto does not solve all the offensive issues by himself, but would cover up a lot of them. The Soto effect will trickle down the lineup and make the job of players around him easier. Plus, he would be in a much-improved lineup than the one he is in now, allowing him to see better pitches and do more damage.
The price would be incredibly steep. San Francisco would likely have to part with most of their top prospects to even get Washington to listen. Some combination of Marco Luciano, Kyle Harrison, Luis Gonzalez, Heliot Ramos, Luis Matos and Casey Schmitt are all likely to be involved. Not to mention the ensuing extension, as Soto famously just turned down a 15 year, $440 million offer from the Nationals.
This is the most epic of the buy for the future options the Giants have this deadline. There are some less wild ones that we can dive into now.
The Sun Shines On The Bay
There is definitely light on the horizon for the Giants as a franchise right now. They are playing well despite a flawed roster and have reinforcements on the farm. They have plenty of financial flexibility and the ability to make trades for impact players. There is no real reason for them to sell and plenty of reason to set up a bright future.
Going all-in for rentals is not the best course of action for San Francisco. They should be looking for controllable talent that can contribute this year and beyond. If they do not lay it all on the line for Juan Soto, there are plenty of other directions they could go.
One area besides defense where the Giants need to significantly improve is the bullpen. Last season, the Giants had the best bullpen ERA in the league. This season, the Giants have the eighth-worst ERA in the league among relievers. This can been attributed to major regressions by Jake McGee—recently DFA'd—and Tyler Rogers—the wicked sidearmer who seems to have been figured out by Major League hitters. McGee's 2.72 ERA from last season jumped to 7.17 in 2022, and Rogers' went from 2.22 to 4.64.
Perhaps no name on the market should be more enticing to San Francisco than Pirates closer, David Bednar. The 27-year-old right hander has four years of control after 2022 and was just named an All-Star. He posted a 2.23 ERA in 61 games in 2021, and is following that up with a 2.89 ERA in 37 appearances this season.
It is not very often that an All-Star reliever with that many years of control becomes available via trade. Not only that, Bendar has shown the ability to go beyond one or even two innings, making him even more valuable at the back-end. The Giants should be blowing up Ben Cherington's phone this month trying to get Bednar to the bay.
Adding pitching should not stop in the bullpen. The addition of Carlos Rodón has been fantastic for the Giants, but beyond him and Logan Webb, there have been mixed results. Alex Cobb has a 4.09 ERA, Alex Wood's ERA is 4.20 and Anthony Desclafani is down for the year.
If I am calling the shots, I am looking for a starting pitcher with control beyond 2022 or even 2023. The two hottest names on the market are Reds righty Luis Castillo and Athletics right-hander Frankie Montas. However, both of them are free agents after the 2023 season. They are also not as good as another arm that could possibly be available, who is under control through 2024.
Enter Pablo López of the Miami Marlins, arguably the most underrated starter in the league. The Marlins have an insane pipeline of pitching and a desperate need for offense. López is a name Miami could reluctantly move in order to acquire a proven Major League bat. I am not sure the Giants could make a great offer in that regard to the Marlins, but they could definitely offer one of their top hitting prospects for him.
Either way, the Giants should have their eye on starting pitching, and it is within their best interest to go for arms with control. That gives them a better chance to extend whoever they may acquire and set up the next great core in San Francisco.
What is the Best Path for the Giants?
There are plenty of other ways the Giants can go at the deadline. They can look for offense, as we talked about earlier they need plenty of that. Mainly in the outfield where they need defensive help as well. That option seems like a weaker one, where rentals would be available.
Is it really worth it to give up assets just to make a push for a Wild Card spot when you are only a half-game out?
This is why I think the best way to go is add controllable players that can help make the push for this year while also setting the Giants up for the future. The A's seem to be open to continue tearing it down and Ramon Laureano has two more years of control. His defense has regressed a bit, but he has the tools and 115 wRC+ this season.
Ian Happ could be a logical option for the Giants as well. He has one more year of control after this season, and defensive versatility in the outfield and at second base. The switch-hitting Happ has improved mightily against lefties this year, helping him post 126 wRC+. He has 6 DRS in the outfield this season and the Giants have always been a fan of players that can slot in at multiple positions.
There will obviously be guys the San Francisco front office has in mind that I have not discussed here. They love to bargain shop and maximize rejects that they see have one particular talent they believe can make them valuable. There are plenty of other bullpen options on one-year deals that they could pursue as well.
Of course they could always stay pat and just make some minor moves. They are right in the Wild Card race, and improvements in key areas could push them into the Postseason. Maybe they feel that pursuing Aaron Judge free agency this offseason is their best bet for establishing a new core.
Either way, with their track record of success, it is hard to imagine the Giants not improving their squad in one way or another. If they are aggressive this July, we could be looking at the next great era of the San Francisco Giants.
Oh and just for fun, here is a really pretty picture I took of the most beautiful park in the country when I was there last week.