Analysis
Pablo López Deserves More Love
The Miami Marlins No. 2 starter has pitched like an ace this year, currently leading all pitchers with MLB's lowest ERA.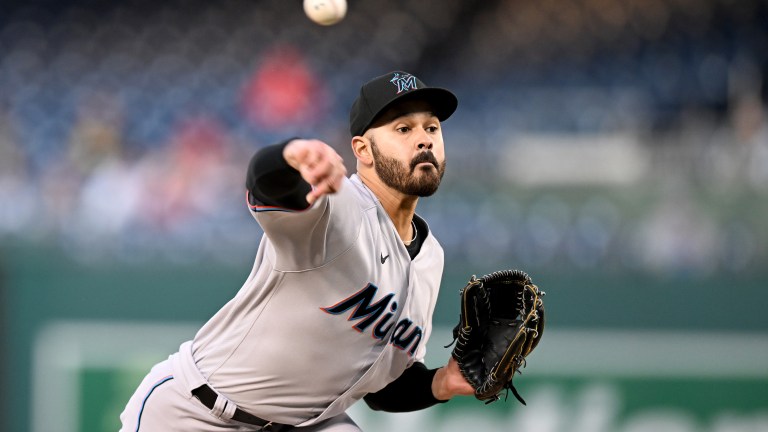 The Marlins are really good at developing pitching. If you did not know that, you must be new here.
They are so good in fact that their ace, Sandy Alcantara, has a 3.03 ERA this year and has not even been the best pitcher on the team.
That title belongs to Pablo López, who currently leads the league in ERA at an even 1.00. He sits seventh in fielding independent pitching (FIP) at 2.16 and has already accumulated 1.2 fWAR through six starts.
López came to Miami from the Mariners in a July 2017 trade for reliever David Phelps and has improved every year. He received an emergency call up in 2018 and impressed so much he stuck for the rest of the season.
López struggled in 21 starts in 2019, but made a huge jump year-over-year into 2020. In the COVID-shortened season he posted a 3.61 ERA, compared to 5.09 the year before, and boosted his K/9 from 7.68 to 9.26.
Now López is cementing himself as one of the best number two's on one of the best staffs in baseball. Overshadowed at times by the dominance of Alcantara and the potential of southpaw Trevor Rogers, he has quietly been the Marlins most steady hand for a few years now. With López taking another massive leap in 2022, it is time he finally gets the attention he deserves.
Being The Change
The change the Marlins made with Pablo López that unlocked his potential was increasing the use of his changeup. From 2019 to 2020, his changeup usage spiked from 22% to 29.9% and is topping out at 36.8% in 2022.
Since 2019, his K% has risen from 20.4% to 25.5% so far in 2022, topping at 27.6% in 2019. Basically, his changeup usage has directly coincided with an increase in strikeouts as well an over 5% increase in swing-and-miss.
Take a look at López's baseball savant page and his percentiles among starting pitchers. Despite not having an overpowering arsenal—his fastball averages 93 mph—he is able to be so effective because of the deception of his pitches.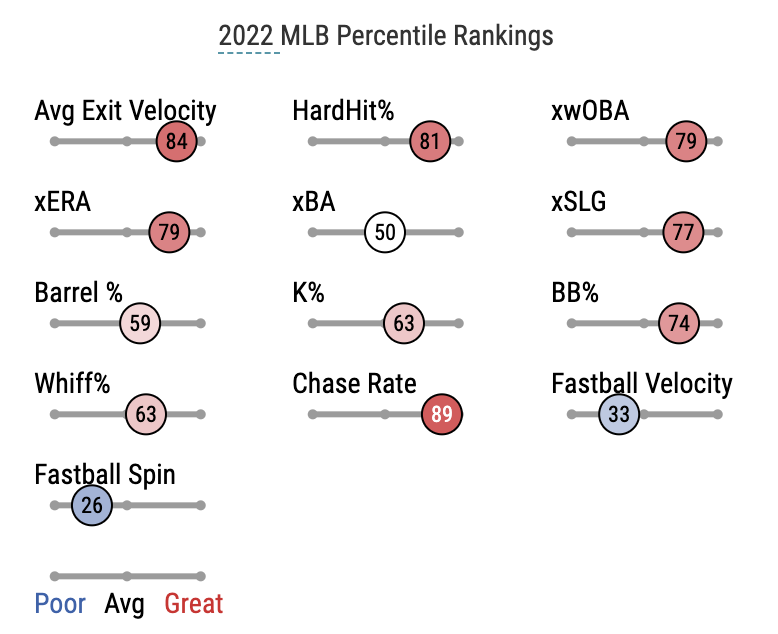 His changeup is so effective because it has both above-average horizontal and vertical movement. So far in 2022, the horizontal movement (17.4 inches) on his changeup is 2.5 inches above average while the vertical movement (33.1) is 2.8 inches above average.
That pitch has taken another leap forward in 2022 and is legitimately a top-five pitch in all of baseball. Using run value, López's changeup ranks as the fourth-best pitch among all Major League pitches, behind Chad Kuhl's slider and Justin Verlander and Carlos Rodon's fastballs.
Not only are teams not scoring against it, they can barely touch it either!
Hitters are swinging through his changeup 41.1% of the time, an 8% jump from last season. That is the second-highest Whiff% of any pitch in the league (min. 50 PA) behind Kevin Gausman's disgusting splitter.
Any way you slice it Pablo López possesses one of the best pitches in all of baseball. The Marlins have a serious knack for developing nasty changeups—see Alcantara, Max Meyer and Edward Cabrera among many others—but López's is the best among all of them.
The Leap
As great as his changeup is, López still does not possess the greatest stuff. The main reason he has become so effective is his pitchability.
Pitch Profiler is a website that ranks pitchers based on stuff and pitching. In their Stuff+ stat, López's 98 grade ranks in the 32nd percentile. However in Pitching+, his 120 grade is in the 86th percentile among all pitchers.
The main thing he has done is attack the arm side of the plate with his changeup. Just look at the distribution of his strikeouts in 2022, the vast majority coming on the third-base side of the plate.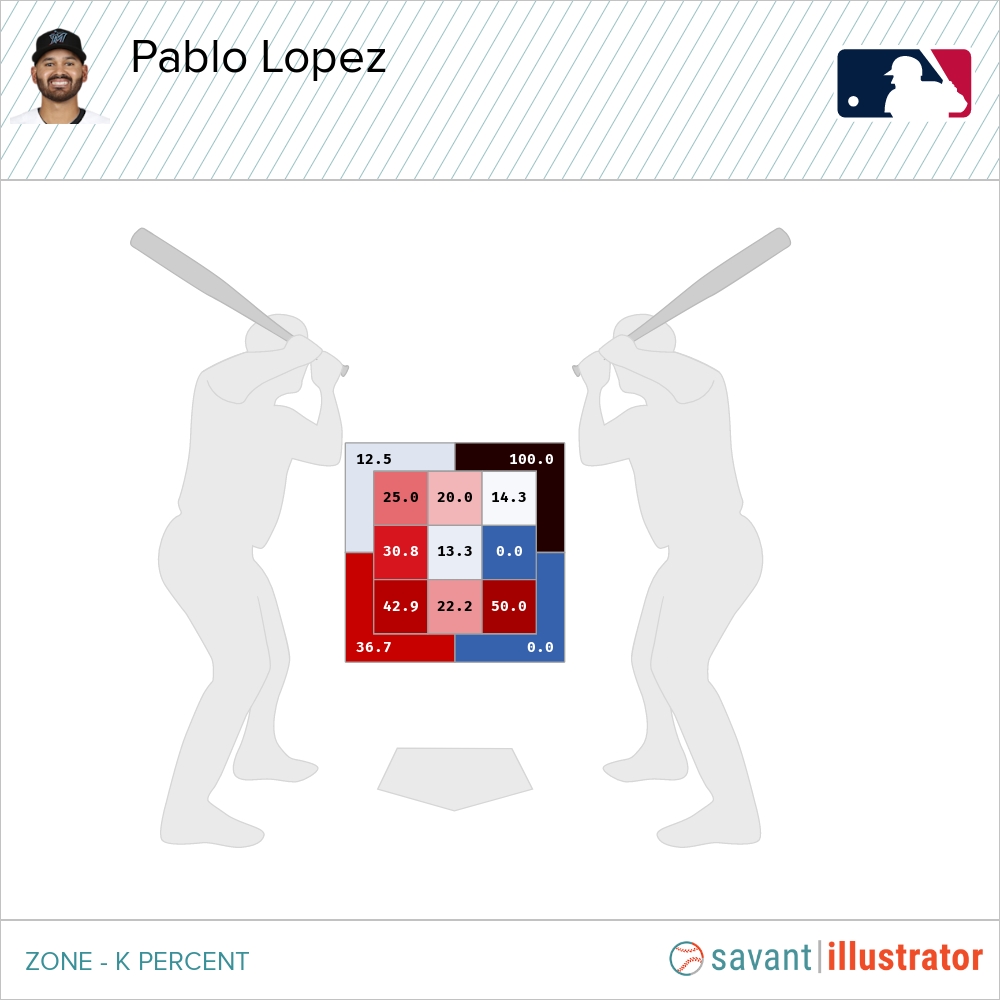 He has learned to take advantage of the arm-side run on his changeup and sinker to play off of the glove-side run on his fastball and cutter. He uses his fastball (39.5%) and changeup (36.8%) almost interchangeably, but does possess three other pitches he can use effectively.
Early in his career, López was a fastball, changeup, curveball guy that used his off-speed pitches almost equally. Once he made his changeup his primary off-speed offering and dropped his curveball usage (19.2% in 2019 to 7% in 2020), everything changed. The Fish also added a cutter to his repertoire in 2020, giving him another pitch that goes the other way.
Now López brings five serious offerings to the mound that he can throw at any time and it makes him incredibly dangerous. Mel Stottlemyre Jr. is a master of teaching pitchers how to pitch, and he has done that so effectively with López.
The Marlins do have guys that simply overpower hitters with stuff, but Pablo López overpowers hitters with sheer pitching. He is so much fun to watch because of the way he mixes and matches and constantly has hitters off balance.
He may be the best watch among all Marlins pitchers and based off the attention he receives, you would never know it.
Becoming Elite
The Marlins organization has shown they are one of the best in the game at developing pitching and Pablo López may just be their masterpiece. Now the next step is for him to become widely-regarded as one of the best in the game.
How can that happen? He has to stay healthy. López has never made more than 21 starts in one season and has maxed out at 111.1 innings. The Marlins have been reluctant to make him a guy that pushes seven or eight innings because of the worries about his health.
Last year, he went 102.2 innings but made just one start after July 11. He went seven innings four times but completed eight just once. Compare that to Alcantara who went at least eight seven times and added in a complete game.
López has already gone at least seven twice this year, including eight shutout innings in his last start. It was a huge bounce back after his only rough one of the season, when he allowed four runs in 4.2 innings.
While the Marlins have two aces based on performance, it is not until López shows he can give you six-or-seven strong 30-plus times a year before they truly have two aces.
Either way, it is time López begins to get the respect he deserves. He is arguably the best pitcher in the league this year and has had one of the most steady improvements of any pitcher in baseball.
López is also one of the nicest people you will ever meet. He is quiet, but always has a smile on his face and is open with the media. He is intuitive, constantly giving exceptional and insightful responses about what is working for him or what is not working. While he may not have the electric personality of a Jazz Chisholm Jr., he is just as likable.
Pablo López is one of the easiest guys in the league to root for and may be one of the best people as well. Add in his exponential improvement and the 26-year-old Venezuelan may be staring down the barrel of a very special career.